If Jaguars want an impact tight end, they'd better act quickly in the draft – Jacksonville Jaguars Blog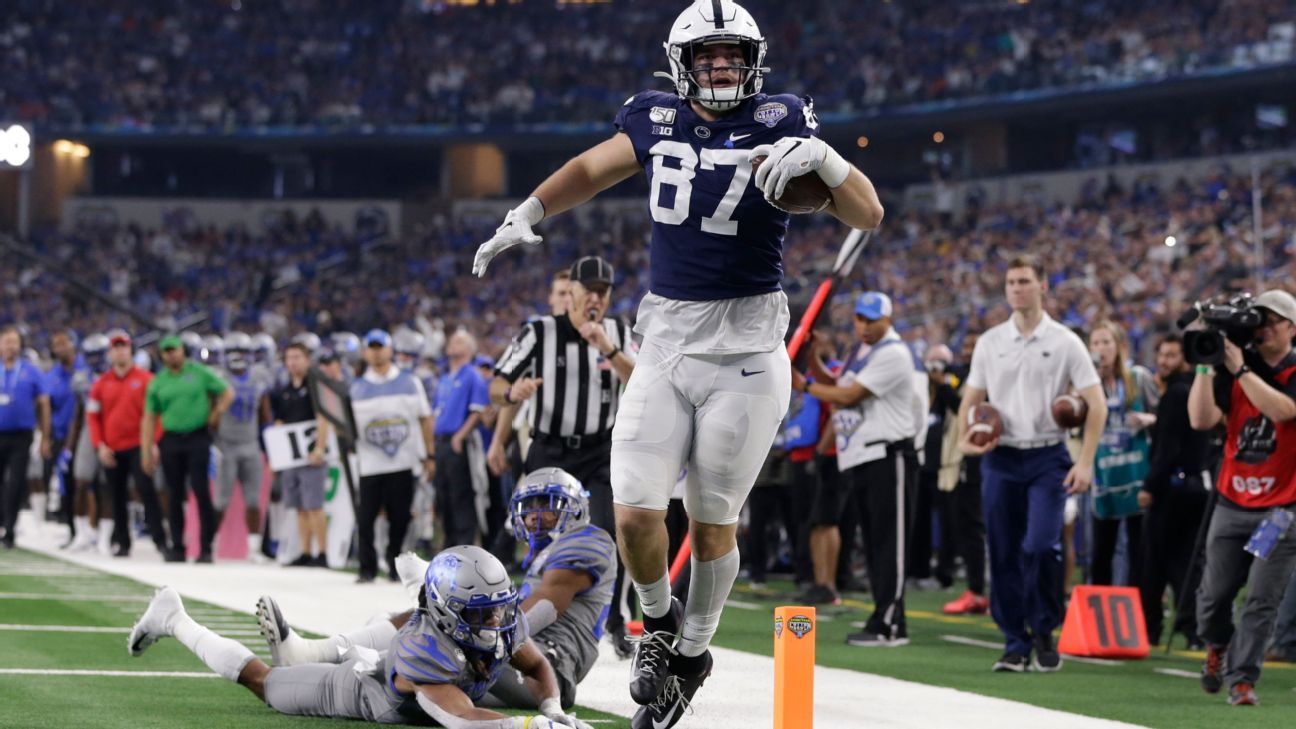 JACKSONVILLE, Fla. — Coach Urban Meyer was pretty clear the Jacksonville Jaguars needed a pass-catching tight end, and since they didn't sign one in free agency it's equally clear it will be a priority in the draft.
The Jaguars had better pick one in the first three rounds, though, because recent history shows that it's hard to find an impact tight end after that. It's not impossible — Antonio Gates was undrafted, Delanie Walker was a sixth-round pick, and George Kittle was a fifth-round pick, for example — but drafting one early is a much better option.
In looking at the highest-producing tight ends over the past 20 years, 13 of the top 20 in terms of receptions were first- or second-round picks. Tony Gonzalez, the NFL's all-time receptions leader among tight ends (and third overall), was a first-round pick. Rob Gronkowski, who has the third-most TD catches among tight ends since 2001 with 86, was a second-round pick. Zach Ertz, who holds the single-season record for most receptions by a tight end (116 in 2018), was a second-round pick.
Four more of the top 20 were third-round picks, including Jason Witten, whose 1,228 receptions are second only to Gonzalez among tight ends and rank fourth overall in NFL history, and Travis Kelce, who surpassed 100 catches twice in the past three seasons. Jimmy Graham and Jared Cook also were third-round picks.
• Answering offseason fantasy questions
• How narrative around Texans' Watson flipped
• Do Packers need to recommit to Rodgers?
• Why WFT's priority in draft could be LT
• How Malcolm Butler fits with Cardinals
Only three of the top 20 players were taken after the third round: Gates, Walker and Owen Daniels (fourth round).
So the Jaguars' best chance of landing a tight end that can be a major part of the passing game — something that hasn't happened much around here, and certainly never to the extent of what the players mentioned above have done — is to find one by the end of Day 2 of the draft. The Jaguars have five picks in the first three rounds (two each in the first and second rounds) and are likely taking quarterback Trevor Lawrence first overall.
Florida's Kyle Pitts will almost assuredly be long gone by the time the Jaguars pick 25th, but there are some other intriguing prospects — such as Penn State's Pat Freiermuth, Boston College's Hunter Long and Miami's Brevin Jordan — that the Jaguars could target in the second or third round. Freiermuth could be the pick to start the second round.
There's no guarantee about any of those players and the Jaguars shouldn't force the pick, but if they do have good evaluations on any of them and believe they can be impact players, then it's better to take them in the second or third rather than waiting at the position or hoping they slide.
The Jaguars' draft history with tight ends is … not good. They've drafted nine since the team's inception (including Derek Brown in the 1995 expansion draft), but just two earlier than the fourth round: Marcedes Lewis (28th overall in 2006) and Josh Oliver (third round in 2019). Lewis is the franchise's all-time leader among tight ends in receptions (375), receiving yards (4,502) and TD catches (33), and he's third overall in the first two categories and second only to wide receiver Jimmy Smith in touchdown catches.
Oliver played in four games and had just three catches in his first two seasons because of injuries, and the Jaguars traded him to Baltimore last month for a conditional seventh-round draft pick in 2022.
Of the remaining nine players in the franchise's top 10 in terms of tight end receptions, six were either free-agent signees, signed off the street, or acquired via trade: Kyle Brady, Pete Mitchell, James O'Shaughnessy, Julius Thomas, Clay Harbor and Tyler Eifert.
After Lewis, the best tight end the Jaguars have drafted is George Wrighster, a fourth-round pick in 1990 who went on to catch 94 passes for 850 yards and nine touchdowns in his six-year career.
Jaguars tight ends have rarely been prominent parts of the passing game. Only three in franchise history have caught 48 or more passes — an average of just three per game over 16 games — in a single season: Mitchell (52 in 1996), Brady (64 in 2000) and Lewis (58 in 2010 and 52 in 2012).
Three catches per game, even for a run-oriented team, isn't asking too much. Especially since the Jaguars haven't exactly had dynamic receivers since Jimmy Smith retired after the 2005 season. They've had only three receivers record 1,000-yard seasons since then (Allen Robinson and Allen Hurns in 2015 and DJ Chark Jr. in 2019) and have had only two players with 70 or more catches in a season (Robinson in 2015-16 and Chark in 2019).
Tight end is a priority in the NFL today more than ever and the Jaguars should treat it as such.
Robert Nkemdiche happy to have opportunity to play football again with Seattle Seahawks
RENTON, Wash. — Robert Nkemdiche let out a howl and pumped his arm in celebration after one of his turns in a drill Wednesday. After another, he did a running hurdle, then shouted something inaudible back at his fellow defensive linemen.
The 2016 first-round pick of the Arizona Cardinals is getting a chance to resurrect his career with the Seattle Seahawks after a year away from football, and he's enjoying it. That much has been clear from the first two practices of Seattle's mandatory minicamp.
"Being out here with these guys and competing and playing football, smelling the grass, all this, it's what I missed," he said. "This is the fun stuff."
In June 2019, Nkemdiche was arrested on an outstanding traffic warrant after he was pulled over for speeding on his way to a Cardinals practice. He arrived to training camp later that summer out of shape, according to coach Kliff Kingsbury, and was waived with a failed-physical designation before the season.
Nkemdiche then signed with the Miami Dolphins but was waived after playing in two games. While a free agent, he served a two-game suspension for a violation of the NFL's performance-enhancing drugs policy.
"It wasn't fun," the 26-year-old Nkemdiche said of his year away from football. "It wasn't a good time. But like I said, being back here, this is exciting for me. This is what I love to do. I'm just happy to have the opportunity to be back here and to be able to play football again."
The Seahawks signed Nkemdiche in April to a one-year deal for the veteran minimum of $990,000, none of which is guaranteed. It's a low-risk flier that reflects how Nkemdiche isn't assured of sticking with the Seahawks, but he has made a positive impression so far.
"He's got a really good spirit about him," coach Pete Carroll said. "He's upbeat, active, he's explosive and has really good quickness, he's over 300 pounds and he moves really well. He's going to be a real competitive part of this group and he's a little different than some of the other guys, so we see some flexibility in where we can play him and move him around."
Nkemdiche recorded zero sacks and zero starts in 17 games over his first two seasons in Arizona, then had 4.5 sacks in 10 games (six starts) in 2018 before a knee injury ended his season.
The Seahawks have Poona Ford locked into one starting spot at defensive tackle. They brought back 34-year-old Al Woods as an early-down option after Jarran Reed's bizarre departure. Woods was also out of football last year, having taken a COVID-19 opt-out. Seattle's defensive tackles behind Ford, Woods, Nkemdiche and Bryan Mone have played sparingly, if at all, in the NFL.
"Because he's been out of football for a bit, I'm hoping for his sake that everything just keeps moving along because he's applying himself, his mentality is like he has this second chance on his football life and he knows that, which is really important," Carroll said. "He's trying to seize every opportunity. He's been a real — not a surprise as much as just, we're really happy to have him as part of this and we think he's going to be a factor."
Nkemdiche said he feels like a rookie again and that he has a newfound respect for football, adding: "I never want the opportunity to be taken away from me again."
He was asked whether he's viewing this as his last chance.
"Yeah," he said. "It's the only chance I'll need, though."
Son of former Carolina Panthers TE Greg Olsen goes home after heart transplant
The 8-year-old son of retired Carolina Panthers tight end Greg Olsen went home on Wednesday less than two weeks after successfully undergoing a heart transplant.
But before TJ left Levine Children's Hospital in Charlotte, North Carolina, he fulfilled a promise made to his parents to ring the bell that patients often do when they are released.
As the elder Olsen has done throughout the process, he shared the moment on social media.
"Ever since TJ was admitted into the ICU a little less than a month ago in heart failure, he would lay in bed at night and talk about 'ringing the bell!'" Olsen wrote on Instagram. "We didn't know what that journey would look like or how long it would take, but he promised [his mother] @karenolsen29 and I that he was going to do it."
TJ was born in 2012 with a congenital heart defect that required four surgeries, including three open heart procedures and the installation of a pacemaker. The transplant was needed when his heart began to fail.
"TJ's positive attitude and selflessness throughout has been an inspiration to us all," Olsen continued in his message. "Never did he feel sorry for himself or play the victim. All he did was talk about what the future held and the things he looked forward to doing."
As he has throughout the process that began with a May 24 post in which Olsen wrote TJ's "heart is reaching its end," Olsen thanked everyone for their support, prayers and words of encouragement.
"Today we 'rang the bell,' and for the first time our family [is] whole again," Olsen wrote.
Vince Wilfork's son charged with stealing $300,000 of dad's jewelry, including New England Patriots Super Bowl rings
The son of former NFL defensive lineman Vince Wilfork was arrested last month and charged with stealing more than $300,000 of his father's jewelry, including two New England Patriots Super Bowl championship rings, according to a police complaint released by the Galveston (Texas) County District Attorney's Office.
Police allege that Wilfork's son, D'Aundre Holmes-Wilfork, 23, sold the rings and other jewelry after stealing them.
Wilfork, who played for the Patriots from 2004 to 2014 before finishing his career with the Houston Texans from 2015 to 2016, had contacted police on May 10. He said his two Super Bowl rings were missing, along with two AFC championship rings, and a 2001 Miami Hurricanes national championship ring, among other items including necklaces, bracelets and earrings.
Holmes-Wilfork was arrested May 22.
According to the police complaint, Wilfork told authorities that he did not report the jewelry missing or stolen immediately because he was unsure if it was packed in storage. On May 10, he said he received an email from a lifelong Patriots fan informing him of a post in a memorabilia group saying that his Super Bowl rings were for sale, which led to the filing of a police report.
Police made contact with the individual who posted the rings on the memorabilia group. The individual told police he purchased them from Wilfork's son for $62,000 in 2020. The rings have since been turned over to police, according to the complaint.
Police also discovered that eight other pieces of Wilfork's jewelry were sold in March of 2020, for $4,600.
Wilfork, 39, is considered one of the greatest defensive linemen in Patriots history. He was the team's first-round draft choice in 2004, and also was recognized for his off-field philanthropy in 2010 when he was presented the team's prestigious community service award. Wilfork, who lost his father to diabetes, raised hundreds and thousands of dollars for diabetes-related causes, and was also a strong supporter of charities that promote education and health for children.