From $248 to $622K – NFL players to bring in a wide range of bonuses
Sometimes the best feeling can be finding an extra $20 in a pair of jeans you have not worn in a while.
Now imagine what it must be like when you learn you have found an extra $622,056.
The NFL's performance-based pay system has been around since 2002, when it was included in the ratification of the collective bargaining agreement, and it rewards players who have had high playing time but are making low base salaries.
This year, the league divvied up $8.55 million per team for veterans and rookies, and while the checks won't hit the players' accounts until 2024 at the earliest, it's still good to know there will be some money coming in.
Here's a look at some of the notable performance-based bonuses that were distributed:
Big money
Alex Cappa, a 2018 third-round pick, played all 1,070 snaps for the Tampa Bay Buccaneers in 2020 at guard, winning a Super Bowl ring along the way. Because of the NFL's performance-based pay system, Cappa earned a league-high extra $622,056 on top of his $750,000 base salary.
He was one of 26 players to have earned at least $500,000. He wasn't the only Buccaneer, either. Safety Jordan Whitehead earned $555,455. A fourth-round pick in 2018, Whitehead started every game for the Super Bowl champs and had two interceptions.
Small money, but …
At the other end of the spectrum is Cincinnati Bengals center B.J. Finney. He collected the smallest bonus, just $248 for two snaps on special teams.
But Finney was able to double dip. He also earned $3,668 from the Seattle Seahawks, who dealt him to Cincinnati in the Carlos Dunlap trade in October 2020. Finney signed a one-year deal with the Pittsburgh Steelers this offseason.
Offensive lineman Marcus Martin, who split the 2020 season between two teams, was also a double-dipper. He earned $2,839 from the Detroit Lions and $591 from the New England Patriots.
The rest of the top 10
Arizona Cardinals tackle Kelvin Beachum collected the second-highest check at $604,185 after starting every game. Not bad for a player who signed a few weeks before training camp began. This offseason, he signed a two-year, $4 million deal with the Cardinals.
The remainder of the top 10 includes: Buffalo Bills corner Taron Johnson ($578,749), Los Angeles Rams guard Austin Corbett ($572,736), Detroit cornerback Amani Oruwariye ($572,067), Chicago tackle Germain Ifedi ($570,571), Steelers offensive lineman Chukwuma Okorafor ($567,469), Minnesota Vikings offensive lineman Dakota Dozier ($561,469), Baltimore Ravens safety DeShon Elliott ($557,477) and Whitehead ($555,335).
The bottom 10
Finney was one of 13 players to earn bonuses of less than $1,000, with Houston Texans quarterback AJ McCarron receiving the second-smallest check at $316.
In spots 3 through 10: Seattle linebacker D'Andre Walker ($453), Carolina offensive tackle Matt Kaskey ($542), Green Bay defensive tackle Anthony Rush ($547), Martin ($591), New York Giants wide receiver Alex Bachman ($600), Jacksonville Jaguars place-kicker Stephen Hauschka ($740), Philadelphia Eagles tackle Prince Tega Wanogho ($781), Tennessee Titans offensive lineman Isaiah Wilson ($924) and Washington Football Team tackle Saahdiq Charles ($924).
There could not have been a more disappointing season for anybody other than Wilson, the Titans' first-round pick.
The players selected immediately before Wilson at No. 29 overall — Ravens linebacker Patrick Queen and Miami Dolphins cornerback Noah Igbinoghene — earned $181,141 and $139,826 respectively.
The Titans traded Wilson to the Dolphins earlier in the offseason and he has already been released.
Big names, small money
Playing on his rookie contract from 2016 to 2019, Dallas Cowboys quarterback Dak Prescott regularly cashed in quite well in the performance-based pay system, earning more than $1 million total in his first four seasons.
Last year, Prescott had the highest base salary in the NFL at $31.4 million, playing on the quarterback franchise tag. He was also limited to five games because of a compound fracture and dislocation of his right ankle. His take from the 2020 performance-based pay system: $5,653.
Giants running back Saquon Barkley suffered a season-ending knee injury in Week 2. He collected $4,786. San Francisco 49ers defensive end Nick Bosa (knee) played just two games as well, and he earned $4,279. Cleveland Browns wide receiver Odell Beckham Jr. lasted seven games before a knee injury. He received $14,669.
Jacksonville Jaguars waive RB Ryquell Armstead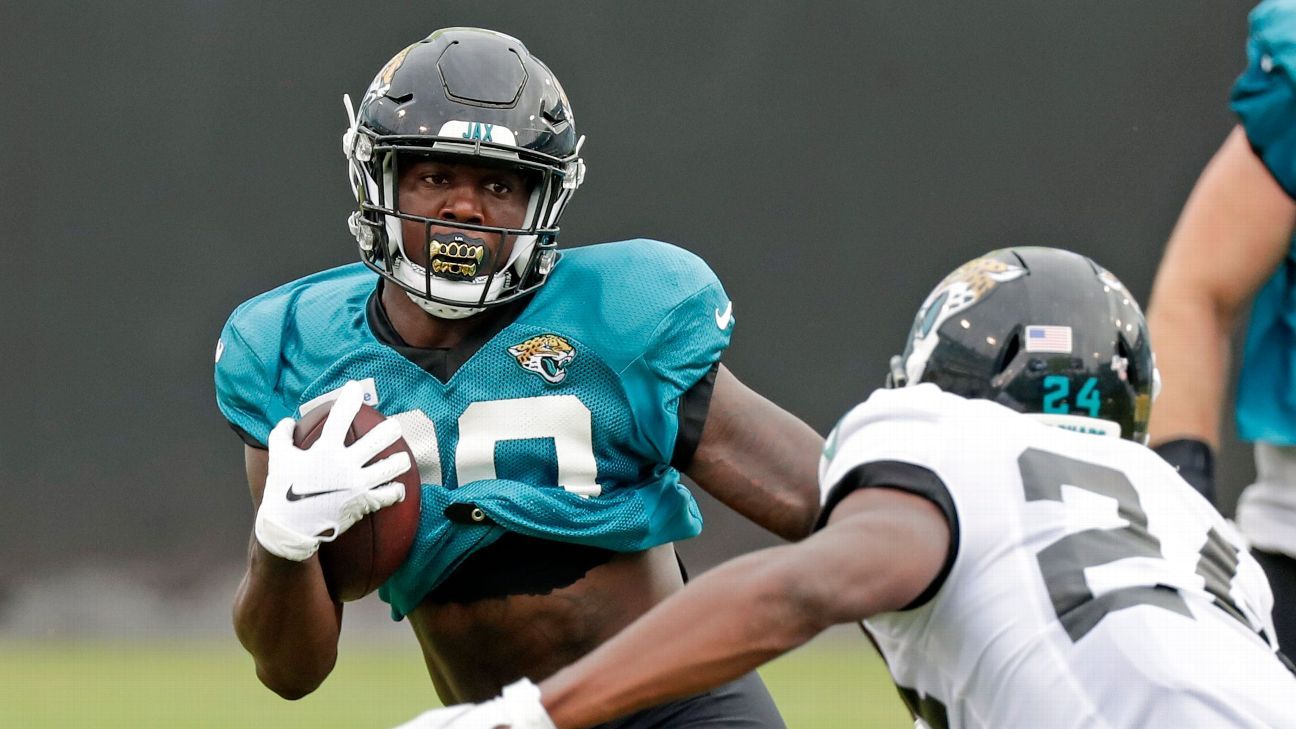 JACKSONVILLE, Fla. — The Jacksonville Jaguars waived running back Ryquell Armstead, who missed the entire 2020 season because of complications related to COVID-19.
Armstead, 24, was twice placed on the reserve/COVID-19 list last season. He spent 19 days on the list the first time, then dealt with a groin injury and another illness before going back on the list. Players are placed on the reserve/COVID-19 list if they test positive for the virus or have been in close contact with someone who has.
Armstead was a fifth-round pick in 2019 and ran for 108 yards on 35 carries as a rookie. He was likely to have a larger role on offense last season with the team's decision to cut Leonard Fournette, but undrafted rookie James Robinson went on to win the starting job and ran for 1,070 yards and seven touchdowns, and catch 49 passes for 344 yards and three TDs.
The Jaguars drafted former Clemson running back Travis Etienne 25th overall last month.
Also on Monday, the Jaguars announced they've signed sixth-round draft pick Jalen Camp, a wide receiver from Georgia Tech.
San Francisco 49ers sign receiver Marqise Lee after tryout
The San Francisco 49ers signed veteran wide receiver Marqise Lee to a one-year contract Monday after he tried out for the team at its rookie minicamp over the weekend.
He caught passes from 49ers rookie quarterback Trey Lance on Friday during the portion of practice open to the media. The 49ers waived wide receiver Austin Proehl on Monday to fit Lee on their 90-man roster.
Lee, 29, opted out of the 2020 season due to the COVID-19 pandemic after signing with the New England Patriots as a free agent. The Patriots released him in March.
The 2014 second-round draft choice out of USC spent the first six years of his career with the Jacksonville Jaguars, having signed a four-year contract worth $34 million in March 2018. But he played in only six games after signing that big deal, having missed the 2018 season after suffering a torn ACL, MCL and PCL in his left knee during the preseason.
He joins a 49ers wide receiver depth chart led by Deebo Samuel, Brandon Aiyuk and Richie James that currently includes Trent Sherfield, Jalen Hurd, Travis Benjamin and Mohamed Sanu, among others.
Lee has 174 catches for 2,184 yards and eight touchdowns in 59 career games.
Denver Broncos add Minnesota Vikings' Kelly Kleine to front office in historic scouting hiring
The Denver Broncos have hired Kelly Kleine as the executive director of football operations and special advisor to general manager George Paton, the team announced Monday.
Kleine, 30, is believed to be the highest-ranking female scouting executive ever with an NFL team.
"Kelly is a rising star in the NFL, and we're fortunate to add someone of her caliber to the Denver Broncos," Paton said in a statement announcing the news. "Having worked with her for nine years in Minnesota, Kelly has a strong understanding of all aspects of football operations and player evaluation along with outstanding leadership qualities. She will be a tremendous resource with her experience on the pro and college sides as well as her knowledge of our grading scale and football calendar."
Kleine will be the primary liaison for the team's football operations and oversee various areas of the pro and college scouting departments, including player evaluation and preparation for the NFL draft and free agency. She will also oversee the Broncos video and equipment departments.
Kleine spent 10 seasons in Minnesota where she most recently served as the manager of player personnel and was also a college scout. The Wisconsin native got her start in the NFL as a public relations intern with the Vikings in 2012, while finishing her undergraduate degree at the University of Minnesota. She entered the scouting department as an administration intern in 2013 before becoming a scouting assistant in 2014 before being promoted to the team's college scouting coordinator from 2015-18.
As the manager of player personnel/college scout, Kleine scouted the Midwest region and was the liaison between all off-site scouts and the front office. Her job in scouting carried operations responsibilities in Minnesota where she scheduled and facilitated predraft visits as well as interviews for the Vikings at the annual scouting combine.