Chicago Cubs' Craig Kimbrel gets five outs to notch 350th save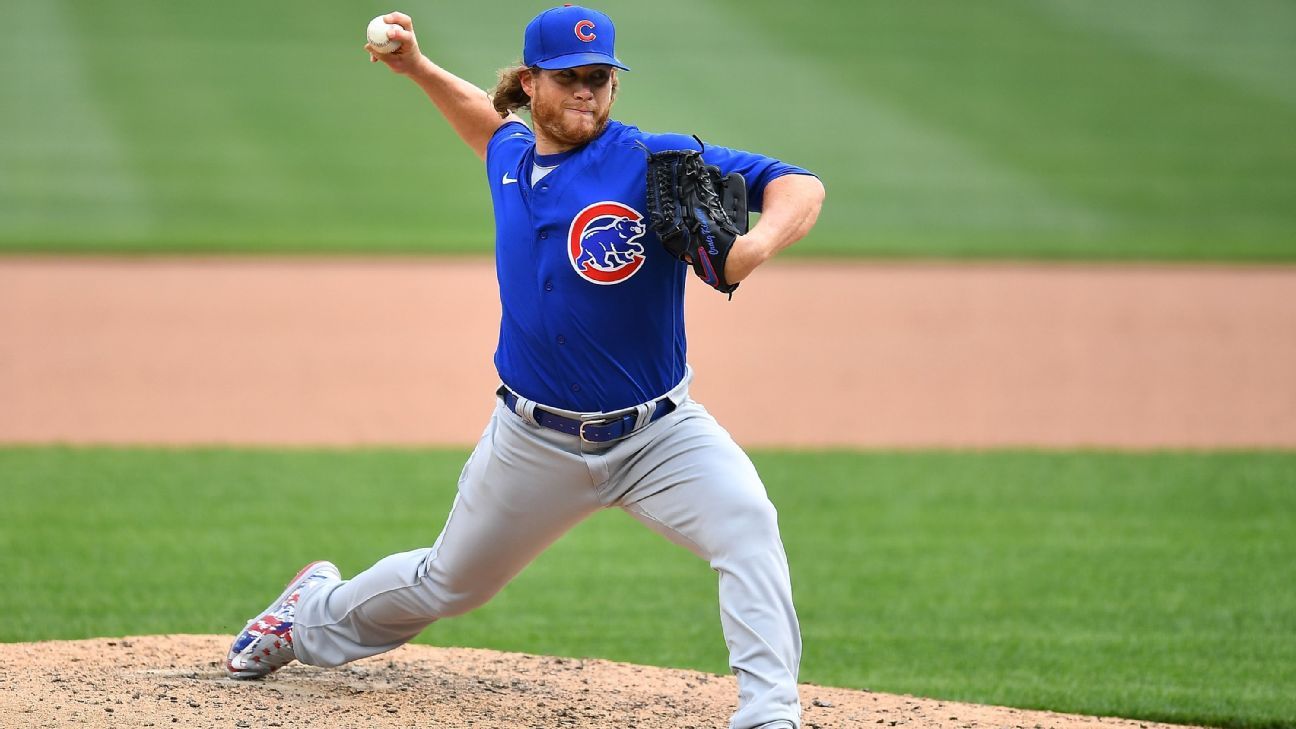 PITTSBURGH — Craig Kimbrel's two-year journey through the wilderness appears to be over.
The seven-time All-Star stuff is back. And the Chicago Cubs closer used every bit of it while finishing off the reeling Pittsburgh Pirates in a 4-2 win on Thursday to become the 12th pitcher in major league history with 350 career saves.
Kimbrel struck out Dustin Fowler and pinch-hitter Wilmer Difo with the bases loaded to end the eighth, then retired the Pirates in order for his first five-out save of his 12-year big league career.
"It's a tremendous accomplishment," Kimbrel said. "Glad I was able to get here. Plan is to get to 400 now."
Kimbrel's 22-pitch performance didn't exactly leave him gassed. The 32-year-old spent nearly an hour going through his usual postgame workout routine.
"He's a special one and we're fortunate to have him," Chicago starter Jake Arrieta said after working six innings to improve to 2-0. "He's going to climb the ranks. Especially with the stuff that he still has. He might end up being No. 1 at the end of the day."
A prospect that seemed far-fetched during Kimbrel's well-documented struggles. He slogged through 2019 and 2020, going 0-5 with a 6.00 ERA in 41 appearances for Chicago.
It is fast becoming a somewhat distant memory. Kimbrel has yet to allow a hit in 4⅔ innings in 2021. Asked what the difference is between now and the last couple seasons, Kimbrel just shrugged his shoulders.
"Throwing strikes," he said with a laugh.
Chicago White Sox's Jose Abreu dealing with ankle injury suffered on game-winning slide
Reigning American League MVP Jose Abreu will miss the Chicago White Sox's three-game series against the Minnesota Twins due to an ankle injury he suffered while scoring the game-winning run against the Kansas City Royals on Sunday.
The White Sox said Monday that X-rays on Abreu's ankle were negative but that an MRI showed inflammation, forcing the team to sit the slugger for the Twins series in Minneapolis.
He is expected to return to the lineup this weekend against the New York Yankees.
Abreu scored from third base on a Wade Davis wild pitch, capping the White Sox's ninth-inning rally in a 4-3 win against the Royals on Sunday.
It capped a tough weekend for the slugger, who suffered a facial contusion, laceration and bruised left knee Friday in a nasty-looking collision with Hunter Dozier.
Atlanta Braves' Huascar Ynoa out 'a couple months' after breaking hand punching bench
Atlanta Braves right-hander Huascar Ynoa was placed on the 10-day injured list Monday with a fractured right hand suffered when he punched the dugout bench in Milwaukee on Sunday.
Manager Brian Snitker told reporters on Monday that Ynoa will be sidelined "a couple months" with the injury.
"That's a tough one. He got frustrated after his outing [Sunday] and punched the seat in the dugout and broke his hand. It's going to be a couple months that he'll be down, then we'll have to get him built back up. I hate to see that. The young guy was doing so well. That's a big loss for us," he told reporters, according to the Atlanta Journal-Constitution.
Ynoa allowed a season-high five runs on nine hits and two walks while striking out six over 4⅓ innings Sunday in the Braves' 10-9 loss to the Milwaukee Brewers. He had surrendered just one earned run over his previous three outings.
Ynoa has impressed this season with a 4-2 record and 3.02 ERA in eight starts for a Braves team without All-Star right-hander Mike Soroka, who has been sidelined by an Achilles injury.
Soroka, who tore his Achilles tendon last August, had a setback last week and underwent exploratory surgery on Monday. There is no timetable for his return.
The Braves recalled right-hander Edgar Santana from Triple-A Gwinnett in a corresponding move.
The Associated Press contributed to this report.
Depleted New York Mets place Michael Conforto, Jeff McNeil on IL with hamstring injuries
The New York Mets have placed right fielder Michael Conforto and second baseman Jeff McNeil on the 10-day injured list Monday with hamstring injuries, further depleting their starting lineup.
Both players suffered their injuries in Sunday's 7-1 loss to the Tampa Bay Rays, who swept a weekend series against the Mets.
The additions of Conforto (strained right hamstring) and McNeil (strained left hamstring) increases the number of Mets starting position players on the IL to four with center fielder Brandon Nimmo (bruised left finger) and third baseman J.D. Davis (left hand sprain) currently sidelined. Mets ace Jacob deGrom (tightness in right side) also is on the injured list.
The Mets recalled two outfielders from Triple-A Syracuse on Monday in corresponding moves, adding Johneshwy Fargas and Khalil Lee to the major league roster. In addition, the Mets transferred reliever Seth Lugo to the 60-day IL.
Despite the injuries, the Mets (18-16) enter Monday's game against the Atlanta Braves with a ½-game lead over the Philadelphia Phillies (21-20) in the NL East standings. Atlanta (19-21) is two games back.