Why did the New York Giants gamble in NFL free agency? Losing was a factor – New York Giants Blog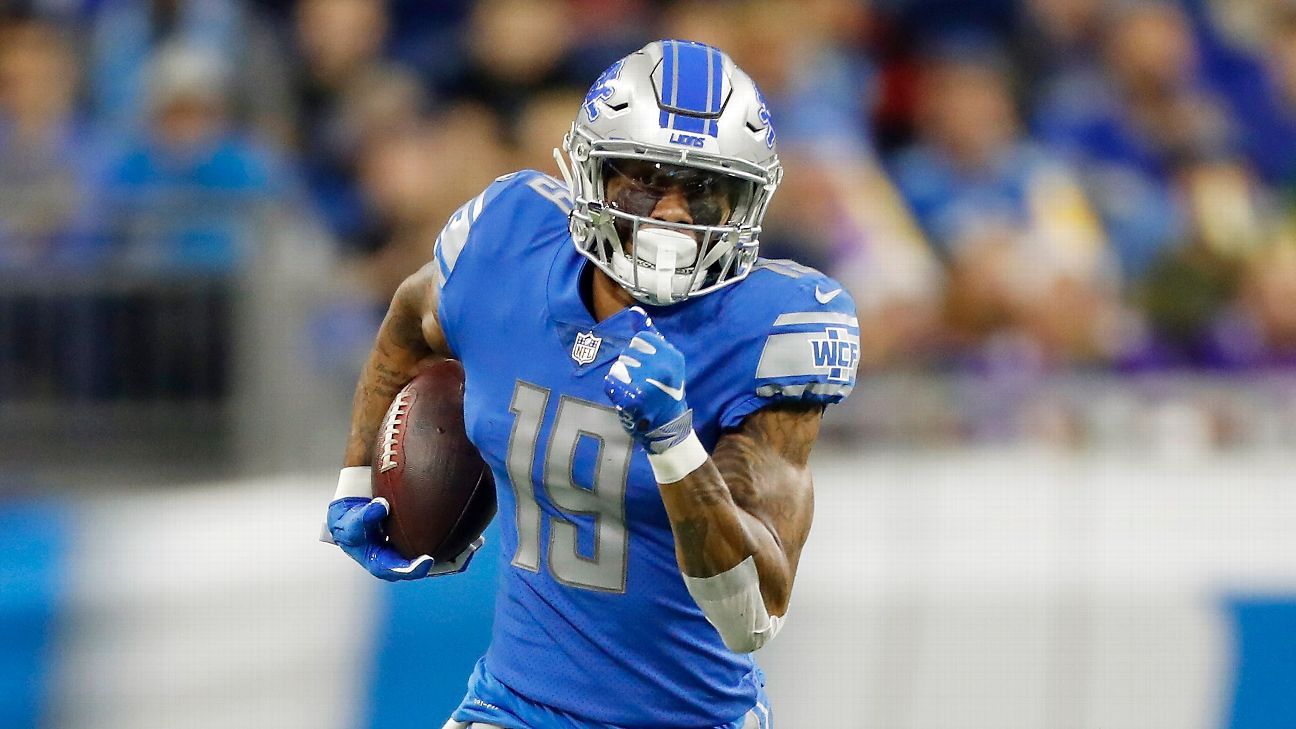 EAST RUTHERFORD, N.J. — What the New York Giants did last month in NFL free agency with their own signings was out of character.
Not because they spent big. Giants oo-owners John Mara and Steve Tisch have done that before, and not so long ago — see 2016, when New York signed defensive tackle Damon Harrison, pass-rusher Olivier Vernon and cornerback Janoris Jenkins.
But those 2016 signings served as a cautionary tale, because since making the playoffs at 11-5 that season, New York has fallen on hard times and all of those big-name additions were ex-Giants before the 2019 season ended.
And this year the massive financial commitments, which included $73 million fully guaranteed for five of their free agents, came with an added risk the Giants usually avoid: Injury.
Wide receivers Kenny Golladay and John Ross, tight end Kyle Rudolph, defensive lineman Danny Shelton and cornerback Adoree' Jackson missed more games combined last season than they played. Each was sidelined at least four games, and Golladay, Jackson and Ross sat out at least 10. Rudolph was even found to need foot surgery after agreeing to terms. The Giants still signed him, previous terms untouched.
It's an eye-opening approach for a typically risk-averse organization.
"Hurt guys get hurt," general manager Dave Gettleman told the Giants' website just last year. "That's a phrase we have in scouting. It's just the truth. It's very difficult for hurt guys to last. They just manage to get hurt."
Well, that would be a bad sign for the Giants' two offseason headliners. Golladay missed 11 games last season with hamstring and hip injuries. He's played 16 games once in his four professional seasons. Jackson has missed 18 games the previous two seasons with knee and foot injuries.
Just last offseason in coach Joe Judge's first year working with Gettleman, the Giants were especially conservative at the top end of free agency, opting for health over flash. Their two biggest signings were middle linebacker Blake Martinez and cornerback James Bradberry. Martinez hasn't missed a game since his rookie season and Bradberry missed four games in his first four years.
What prompted this sudden change of heart from the organization? It is not as if the Giants' medical staff has been overhauled. Most of the key figures have been long-standing members of the organization. The front office also remains mostly unchanged from the past few years.
This about-face is likely more about feeling the need to take a risk on high-end players given the state of the roster. The Giants needed a massive influx of talent this offseason, and even the best players in free agency come with some risk. Spending on players at the top of the market almost always comes back to desperate teams making exceptions and taking calculated risks for talent. That seems to be the case here.
The losing in recent years was a factor. The Giants' 18-46 record over the past four seasons is tied with the New York Jets for the worst in the NFL during that span, and it has taken its toll. Mara admitted as much last week.
"It's been a very difficult four- or five-year period for us and I'm tired of the losing and of having the postseason press conference trying to explain what went wrong and why I think we're making progress," Mara said. "It's time for us to start winning some more, and that's one of the reasons we spent the money we did."
The Giants can only hope that frustration has not clouded their judgment. They remain in the midst of a rebuild that now has been accelerated. Some sort of tangible results are expected immediately after this kind of spending frenzy.
With the Giants' biggest free-agent acquisitions it was imperative that before the significant financial commitments were made ($40 million guaranteed for Golladay, $26.5 million for Jackson) there was a visit. The medical evaluations were critical components. Golladay's hip and Jackson's knee went through the Giants' gauntlet. They passed the necessary tests.
"That was certainly an important factor and that's why it was so critical that they take complete physicals and that we have our medical people take a good look at them," Mara said. " … I was convinced, particularly in Kenny's case and also in Adoree's case, that they were healthy and would be expected to contribute fully in 2021, but that's a huge thing when you're laying out that kind of money.
"You have to make sure that these guys are healthy. We believe that they are and time will tell."
Time also will tell us whether these were the right moves at the right time with Judge having already laid the groundwork for success this past season. Or whether this was a slightly altered version of 2016 that is destined for a similar fate.
NFL mandatory minicamps 2021 — Derek Carr's stance, Julio Jones' debut, Tua Tagovailoa's rough day and more
From quarterback Derek Carr making a bold statement about his commitment to the Las Vegas Raiders to Miami Dolphins quarterback Tua Tagovailoa throwing five interceptions in a heavy rainstorm to wide receiver Julio Jones taking the field in the Tennessee Titans No. 2, some of the big names in the NFL made waves on Tuesday during NFL mandatory minicamps.
Eighteen NFL teams opened their mandatory three-day minicamps this week. Ten held theirs last week, with four teams electing to cancel. Teams that opted out of mandatory minicamps this week are the Houston Texans, Indianapolis Colts and San Francisco 49ers. The Philadelphia Eagles were the first team to skip theirs when they did so a week ago.
While practices were underway for half the league, much of the talk of Tuesday's camps included the players who haven't stepped foot on the field because of ongoing contract negotiations. Dolphins cornerback Xavien Howard, New England Patriots cornerback Stephon Gilmore and Seattle Seahawks safety Jamal Adams were among the notable players absent from their respective team facilities.
Teams already have been going through organized team activities, but this marks the first time that many veterans will take the field since the end of the 2020 NFL season. That includes some players who joined new teams this offseason, including prized free agents and edge rushers Matt Judon (Patriots) and Yannick Ngakoue (Raiders).
Here are some snapshots, many from ESPN's NFL Nation reporters who are on the scene at this week's activities, from Tuesday's minicamps:
Jump to the best of the day:
Photos | Videos | Quotes

Top news of the day
Carr says he has no desire to leave Raiders
Las Vegas quarterback Derek Carr re-asserted his desire to remain with the team that drafted him in the second round in 2014. "I'd probably quit football if I had to play for somebody else," Carr said.

Howard not at Dolphins camp over 'unique' situation
Xavien Howard, who hasn't shown up to any portion of the Dolphins' voluntary offseason program this year, was not in attendance for minicamp meetings Tuesday, and he's officially a holdout as he seeks a new contract. Coach Brian Flores noted the cornerback's situation is "unique" in regard to his contract because Howard feels like he has outplayed the five-year, $75.25 million extension he signed in May 2019.
Packers QB Aaron Rodgers jokes about 'quiet offseason'
The reigning MVP, who has dominated the NFL headlines this spring because of his dissatisfaction with Green Bay, showed his sense of humor during a promotional video in advance of the July 6 golf match featuring Rodgers and PGA Tour star Bryson DeChambeau against Tom Brady and Phil Mickelson.
---
Best videos
Julio Jones footwork drill with WR coach Rob Moore. Nice grab at the end. pic.twitter.com/SnLSPThdT6

— TURRON DAVENPORT (@TDavenport_NFL) June 15, 2021
Cam Newton with a little hop in his step upon arrival. pic.twitter.com/y37cfPjGKr

— Mike Reiss (@MikeReiss) June 15, 2021
Joe Burrow News Conference https://t.co/Ve1fqIbpv6

— Cincinnati Bengals (@Bengals) June 15, 2021
We had to mute the video because we don't own the rights to the music, but just know @JIHADWARD17 was vibing during the stretch period!@BaptistHealthJx | #DUUUVAL pic.twitter.com/mGeveT6t7h

— #DUUUVAL (@Jaguars) June 15, 2021
Day 1 of minicamp is in the books after this play by the first team in the red zone. Chad Beebe make a catch in the corner of the end zone; think Mackensie Alexander was supposed to be on him. pic.twitter.com/Q9HNDbyIjx

— Courtney Cronin (@CourtneyRCronin) June 15, 2021
I got you!! 😂 https://t.co/jlh7Zwe7nb

— Joe Haden (@joehaden23) June 15, 2021
we missed this pic.twitter.com/1q4J8FDpg4

— Los Angeles Chargers (@Chargers) June 15, 2021
Off & running at Day 1️⃣ of minicamp! pic.twitter.com/bcVONrlpsI

— Denver Broncos (@Broncos) June 15, 2021
Day 1 of Dolphins mandatory minicamp. Tua Tagovailoa going through some warmup reps. pic.twitter.com/31nTB9DXY3

— Cameron Wolfe (@CameronWolfe) June 15, 2021
That "just signed" feeling 🖊@jayceehorn_10 pic.twitter.com/fekObNBPIH

— Carolina Panthers (@Panthers) June 15, 2021
In this clip for the first time this offseason are Star Lotulelei (98), Jerry Hughes (55), Mario Addison (97) and Vernon Butler (94)#Bills pic.twitter.com/sBI4R4HM6X

— Marcel Louis-Jacques (@Marcel_LJ) June 15, 2021
"Dude is fast, shifty! Like a Muggsy Bogues." @BrandonW_66 on @Jkdobbins22 🤣🤣🤣 pic.twitter.com/RSA2F2adM2

— Baltimore Ravens (@Ravens) June 15, 2021
.@LaurentDTardif is ready to get back to work 👏 pic.twitter.com/nEY8zkYaXQ

— Kansas City Chiefs (@Chiefs) June 15, 2021
#Browns RB Nick Chubb, on signing a potential extension this summer: "Cleveland is where I want to be…" pic.twitter.com/2wwntIKZn8

— Jake Trotter (@Jake_Trotter) June 15, 2021
---
Quotes of the day
"I played with Julio [Jones], Mohamed Sanu, since Day 1, those guys, I feel like I've been moving toward that way of I can do it by myself. Obviously I'm not by myself, we have other players who are really good, but I feel like I've been ready and I just needed an opportunity to get in those positions."

Falcons wide receiver Calvin Ridley
"I was surprised. … You never like to see things like that."

Chiefs tight end Travis Kelce on Le'Veon Bell's comments about coach Andy Reid
"I wore 9 in college my senior and junior year. I'm one of 10 children, so I got 9 siblings – every time I go out there, I represent them. I like 9; that's one of the reasons I rock it. And 99 was taken, so I chose to use the new rule."

Patriots linebacker Matthew Judon on his jersey number
"You don't feel like yourself, even when you pass the symptoms. There's a certain level or feeling you have when you're ready, and COVID made it a little harder to get to that good feeling."

Ravens defensive end Calais Campbell has had no post-COVID issues the past couple of months
---
Best photos
📍Vegas pic.twitter.com/S46WirbKaO

— Las Vegas Raiders (@Raiders) June 15, 2021
Mekhi Becton says he's at a "good weight" right now. Asked his weight, he said he didn't know off hand. #Jets pic.twitter.com/6aqq99fkzF

— Rich Cimini (@RichCimini) June 15, 2021
Here to 𝗛 𝗨 𝗦 𝗧 𝗟 𝗘. pic.twitter.com/2GuxKobTs3

— Chicago Bears (@ChicagoBears) June 15, 2021
Las Vegas Raiders QB Derek Carr says he has no desire to leave team
HENDERSON, Nev. — Las Vegas Raiders quarterback Derek Carr, an annual subject of trade rumors and innuendo, re-asserted his desire to remain with the team that selected him in the second round of the 2014 NFL draft.
"I'd probably quit football if I had to play for somebody else," Carr said following Tuesday's mandatory minicamp practice in his first public comments since the end of last season. "I am a Raider for my entire life. I'm going to root for one team for the rest of my life — it's the Raiders. So, I just feel that so strong in my heart I don't need a perfect situation … to make things right.
"I'd rather go down with the ship, you know what I'm saying, if I have to."
Carr, who turned 30 in March, had been asked about how several of his contemporaries had aired their grievances publicly this offseason, from Deshaun Watson to Russell Wilson to Aaron Rodgers, and why Carr, who has had far from an optimal roster and situation in his career with the Raiders, had remained silent.
"I'm that old-school mentality — I'm playing for one team and that's it," he said. "Whether we've won enough or not, I literally give every bit of energy and effort that I can to this organization and when I sign a contract, I completely, in my mind, have to fulfill that. I committed to that. I put my name on paper.
"It's just how I was raised. I'm from Fresno, California. Born in Fresno. My dad worked in the car business, my mom helped with substitute teaching and all different kinds of stuff at the church, so we didn't have a whole bunch of stuff growing up, so I don't need much."
Carr signed a five-year, $125 million extension with the Raiders in June 2017 that briefly made him the highest-paid player in the history of the NFL.
And after starting his career 0-10, Carr was one win from evening his career record in Week 3 of the 2017 season. But the Raiders went into a tailspin and Carr's career record is now 47-63. Carr's 63 losses are the most by a quarterback in his first seven NFL seasons.
Carr, though, is coming off career highs in passing yards (4,103) and passer rating (101.4) for the Raiders, who went 8-8 last season.
"I think Derek Carr had his best year yet under Jon Gruden," Raiders general manager Mike Mayock said this offseason. "I think he's one of the top quarterbacks in the NFL and we couldn't be happier with him, and I tell you every year, we evaluate every position, every year. I have no idea who might call me or who might not call me, so you have to do the evaluations both on your own players and every other player in the league and you got to stack your boards and understand what league value is all around the league, and we do that.
"But if you're asking me about Derek, I mean I think Jon and I would both stand shoulder to shoulder and pound the table for Derek Carr."
Despite the relative lack of team success, Carr has set Raiders career franchise records for passing yards (26,896) and touchdown passes (170) and he is in line for a potential extension.
"For me, it's more about loyalty, it's more about being the same guy every single day," Carr said. "My goal… was, when I got here, to give everything I have to this organization, let our fans know I'm giving it all I have and I will always continue to do that … whether the situation is great or not, that's OK.
"People can say whatever they want. I know what I've put on film; I know the things I've been able to accomplish, and I still want more. There's still more and I want to do it here. I don't want to do it anywhere else."
'I just knew it wasn't my time' Chicago Bears tight end Jimmy Graham recounts serious spring car accident
LAKE FOREST, Ill. – Chicago Bears tight end Jimmy Graham admitted on Tuesday that he was fortunate to avoid serious injury after being involved in a single-vehicle rollover crash in Miami back in early March.
Prior to the start of Chicago's mandatory three-day minicamp, Graham calmly recanted the harrowing story of how, on the day of the accident, he had to swerve to avoid a disabled car in the center lane of the highway as he and his dog, Ginger, were taking an early morning drive to the airport.
"I was on the turnpike and I saw a cop going kind of down this off-ramp with his lights off, he was reversing, so I got over two lanes and the sun is kind of coming up," Graham said on Zoom. "So as I'm going over [a] hill I look up and there is a disabled vehicle in the center lane, and I'm going about 90 MPH. Probably about 15 yards away [from the disabled car], I swerved to the left and barely missed him but I was headed for a bridge so I kind of had to make a last-minute decision so I decided to turn right, and flip it to avoid jumping that [bridge].
"I ended up rolling – the cop said four times – and skidded on the roof for about 100 yards. It was a wild one."
Both Graham and Ginger walked away from the wreck unscathed, but the end result could have been much worse.
"I was talking to the cop, right after the accident, and talking to my mechanic, and it really felt like a game. Everything was really slow. I can remember making every decision. I can actually remember my phone floating up in the air – I could see the time. I just knew it wasn't my time. I was like there is no way I'm going die over something this stupid.
"But obviously I was extremely lucky."
Graham, who was not found to be at fault, expressed gratitude to the police officers and first responders who arrived quickly on the scene.
Graham, 34, had 50 catches for 456 yards and eight touchdowns for the Bears last year. The five-time Pro Bowl selection is entering his second season with Chicago.