Washington hires NFL's first Latina coordinator of football programs
The Washington Football Team announced Wednesday that it has hired Natalia Dorantes to serve as its coordinator of football programs, making her the first Latina to fill that role in the NFL. Dorantes also will become the third woman to have this job.
Dorantes will work closely with and coordinate schedules across various departments within the team, from medical to scouting. She will work closely with Washington Football Team coach Ron Rivera.
Callie Brownson, the Cleveland Browns' chief of staff, and Sarah Hogan, the Atlanta Falcons' coordinator of head coach operations, are the other women in similar roles.
Dorantes participated in the NFL's women's coaching forum in February and was part of Rivera's virtual roundtable. She told The Athletic that she first reached out to Rivera during that event via direct message on Twitter, simply trying to get "on his radar."
We've hired Natalia Dorantes as Coordinator of Football Programs.

📰 https://t.co/WNO0ohQy9O pic.twitter.com/QJVxa4gxTC

— Washington Football Team (@WashingtonNFL) April 7, 2021
She was Texas A&M's communications coordinator for the football team; she joined the Aggies in 2017 as a creative recruiting coordinator after serving as a social media content creator for the NFL that same year.
Before that, Dorantes was a social media intern for the Arizona Cardinals in 2015 and '16. She was a social media student intern for Arizona State's athletics department from 2014 to 2015.
In the past 16 months, Washington has hired a Hispanic coach (Rivera), the NFL's first black president (Jason Wright), the NFL's first Black female assistant coach (Jennifer King) and the first woman as part of a team's broadcast booth (Julie Donaldson, who also serves as the senior vice president of media). Washington hired a Black general manager earlier this offseason in Martin Mayhew.
Rivera told the team's website that he typically handled the role Dorantes will handle. But while undergoing cancer treatments this past season, he sought to lighten his load. And, he told the team's site, he liked not having to do certain tasks and sought to hire someone for that role permanently. Rivera, the top football person in the organization, said one reason he wanted a general manager was to have someone who could perform tasks that free him up to focus more on coaching.
Jimmy Garoppolo first to text Trey Lance after San Francisco 49ers made pick, John Lynch says
SANTA CLARA, Calif. — In the moments after the San Francisco 49ers selected quarterback Trey Lance with the third pick of the NFL draft on Thursday night, one of the first things incumbent starter Jimmy Garoppolo did was reach out to the rookie who is expected to eventually replace him.
"One thing that was really heartwarming to me, I heard last night that Jimmy reached out [to Lance]," general manager John Lynch said Friday night. "Trey was here today and Trey told us that the first text he got was from Jimmy Garoppolo. So, that's pretty special. I think it speaks to his class."
That the Niners took Lance was no surprise to Garoppolo, who had been informed by Lynch and coach Kyle Shanahan that they intended to take a quarterback on March 26, the day the team traded with the Miami Dolphins to move up from No. 12 to No. 3.
Since then, the Niners have been holding videoconferences as part of their offseason program, and Shanahan said Friday he has kept Garoppolo abreast of the team's plans. Because of that, Shanahan and Lynch did not need to reach out to Garoppolo after making Lance's selection official.
"Jimmy knew what the deal was," Shanahan said. "We have Zoom meetings every day. I got to see him on Zoom earlier that day and we had meetings and stuff. Jimmy has been great. … Jimmy is taking it as a business approach. I think he's excited for right now, just talking to him, and he's ready to come here and get back to being healthy and playing with our team. And if we have him compete, I know he's ready to compete."
The Niners have been adamant that Garoppolo will remain in the fold despite the fact they traded up to select Lance. Although there has been speculation about a possible trade, Shanahan reinforced that message on Thursday, and, for now at least, it seems Garoppolo will be back, possibly as part of a competition if things develop that way.
Lance arrived in the Bay Area with his family on Saturday and spent a little time with Shanahan and Lynch before he went to look for a place to live. Lance is slated to meet with quarterbacks coach Rich Scangarello on Saturday to get a head start on learning his new playbook before heading home with his family on Sunday.
From there, Lance will return to the Bay Area the Wednesday before May's rookie minicamp and will then be back for good. For his part, Lance said Thursday he's looking forward to working with Garoppolo.
"I'm just focused on getting there, learning as much as I possibly can, getting to know Jimmy and the guys in the room and learning and getting to know him and becoming close with him," Lance said. "And just learning as much as I can and at that point, obviously competing."
Green Bay Packers draft Amari Rodgers amid ongoing questions about Aaron Rodgers' future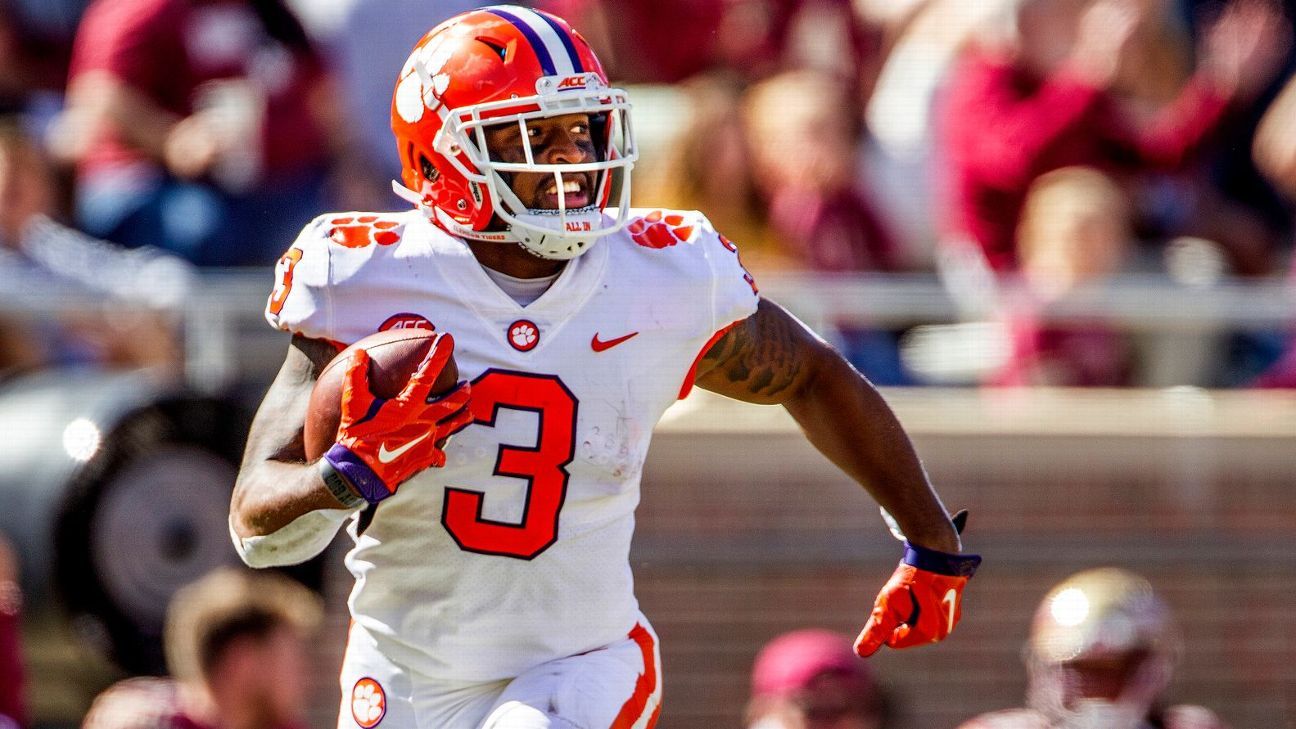 GREEN BAY, Wis. — Before this year's NFL draft, Amari Rodgers called the Green Bay Packers his "dream scenario," in part because of the opportunity to catch passes from reigning NFL MVP Aaron Rodgers.
The former Clemson star still hopes that's the case even though things have deteriorated between the quarterback and the organization.
But it doesn't sound like general manager Brian Gutekunst picked Rodgers as peace offering to his franchise quarterback.
"I hope everybody on our team and within our building is excited about adding Amari," Gutekunst said Friday. "I think it was something we wanted to add — we've wanted to add for a few years — that guy that can play inside and do some returning. So yeah, I hope everybody's pleased with it."
It was the first time since his inaugural draft in 2018 that Gutekunst picked a receiver, and by trading up to take the 5-foot-9, do-it-all slot receiver in the third round (No. 85 overall), it became the highest spot the Packers have drafted a receiver since Davante Adams in the second round (53rd overall) in 2014.
Adams set the franchise record with 115 catches last season — 82 more than any other Packers receiver to account for the largest gap between team No. 1s and 2s in the league, according to ESPN Stats & Information.
For his part, Amari Rodgers said he was aware of the news that broke Thursday, when ESPN detailed Aaron Rodgers' desire to move on and not play for the Packers again.
"Of course I want to catch passes from the reigning MVP, future Hall of Famer," Amari Rodgers said. "So I know for sure I would love to have the opportunity to play for somebody like him on the field and also Davante, too, so I'm looking forward to that.
"We've got the same last name, so of course that's pretty cool that we have the same last name. He's an amazing quarterback. I've been watching him my whole life. It's actually amazing and surreal that I get the opportunity to play with a quarterback like him."
Amari Rodgers' father, Tee Martin, played quarterback in the NFL and is the Baltimore Ravens receivers coach. But Martin also coached former Packers receiver Randall Cobb in college at Kentucky, and the Packers may be looking to use Rodgers in a similar role to what Cobb played in Green Bay.
"Since Randall Cobb left, everybody in my family felt like they haven't had a slot player like him," Rodgers said. "They just felt like it was a good fit for me to go there with Aaron Rodgers, him being the prolific quarterback that he is, and with Davante, being that he is a prolific receiver that he is, to bring me in to take a little attention off of him.
"I feel like that'll be perfect. My skill set and what I'm able to do in the offense, I feel like it's something that will be able to help the offense for sure."
In his last season at Clemson, 86% of Rodgers' targets came in the slot, while just 31% of Aaron Rodgers' attempts in 2020 were targeting the slot, according to ESPN Stats & Information.
"He fills so many holes for us," Gutekunst said. "That's one of the reasons why we traded up for him was because not only as a punt returner and a slot receiver, but as you guys have seen over the past couple years the creativity that [coach] Matt [LaFleur] has within his offense, some of the jet sweeps and screens."
As for the other Rodgers, Gutekunst said he did not speak with his unhappy quarterback on Friday in part because of the business of the draft. A day after saying he received one call about a trade but reiterated that he would not trade Aaron Rodgers, Gutekunst said he received no calls about it on Friday.
The trade for the receiver, however, became an early priority. Gutekunst said he considered taking Amari Rodgers in the second round but instead took Ohio State center Josh Myers at No. 62.
"After I got off the phone [with Myers], I turned around to see if we could get back up to get Amari," he said. "A couple of my guys had gone down to get something to eat, so we had to get everybody back on the phones fast. But we were trying pretty significantly to get up to go get Amari. It took us a little while longer than we wanted to. We paid a little bit of a price but I thought it was important because of the value of the player I wanted."
Gutekunst gave up the first of the Packers' two fourth-round picks (No. 135 overall) to the Tennessee Titans to move up from 92 to 85.
Los Angeles Rams select Tutu Atwell in NFL draft, not worried about speedy WR's size
MALIBU, Calif. — The Los Angeles Rams wasted no time finding another weapon for new quarterback Matthew Stafford in the NFL draft.
The Rams picked Louisville receiver Tutu Atwell with their first selection of this year's draft Friday in the second round at No. 57 overall.
The 5-foot-9 Atwell, who weighed 155 pounds at his pro day last month, is the lightest player drafted into the NFL since at least 2006.
"I see a player who plays a lot bigger than that," Rams coach Sean McVay said. "I've been around some of these guys that don't measure as big, but they play big."
Shortly after he was drafted, Atwell was unfazed when asked by reporters about his stature.
"I just come with a chip on my shoulder at all times, no matter was the situation is," said Atwell, who caught 140 passes for 2,307 yards and 20 touchdowns in three seasons at Louisville. "I'm a go-getter."
The Rams signed veteran receiver DeSean Jackson to a one-year, $4.5 million contract in free agency but entered the draft with the priority of adding another speedy, deep-threat receiver.
Atwell is expected to be a reliable target on intermediate and deep routes, and McVay says the rookie also has some similarities to Jackson.
"The ability to stretch the top shelf of the coverage, I think he really does an excellent job of tracking the ball effortlessly down the field," McVay said, adding that was among traits that made Jackson "so special."
Atwell joins a receiving corps that also includes Robert Woods, Cooper Kupp and Van Jefferson, who was selected with a second-round pick last year.