San Diego Padres star Fernando Tatis Jr. won't need surgery for shoulder injury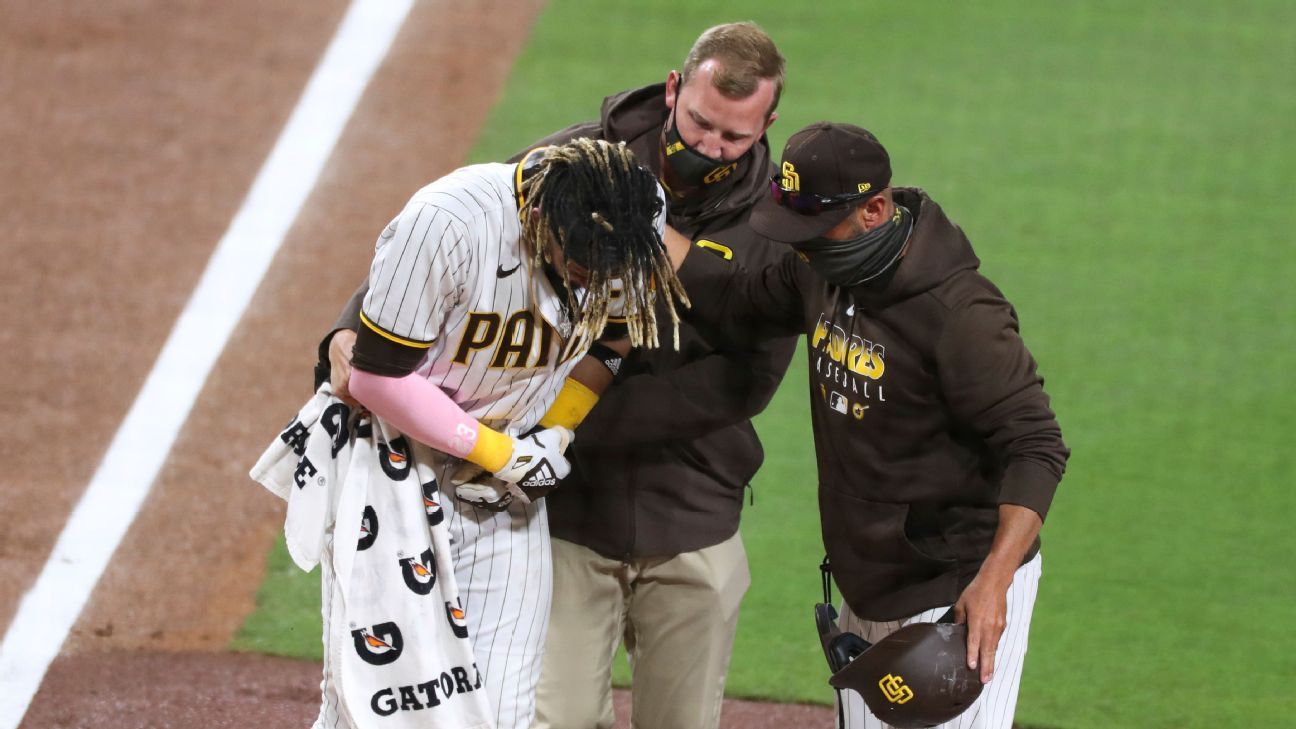 San Diego Padres star shortstop Fernando Tatis Jr. has been placed on the 10-day injured list but will not need surgery after the latest injury to his troublesome left shoulder, general manager A.J. Preller said Tuesday.
Tatis suffered the injury on a hard swing Monday and left San Diego's 3-2 loss to the San Francisco Giants. The Padres on Monday said Tatis had suffered a shoulder subluxation, which is a partial dislocation of the joint.
Preller said Tuesday that further exams showed a slight labrum tear consistent with a subluxation. He said the injury is "nonsurgical."
The Padres hope Tatis can return as quickly as 10 days. Preller said the shortstop has full range of motion and that he wanted to be in the lineup Tuesday.
"In general for us, I think it's just being safe, giving the left shoulder inflammation and some of the instability [a] chance to calm down," Preller said.
Padres manager Jayce Tingler told reporters after the Giants game that Tatis had experienced minor dislocations in the past but said Monday's incident was the most pain he had ever seen Tatis in. Tingler also said the nagging shoulder issue might have been bothering Tatis "more than we realized."
Tatis crumpled to the ground in pain after swinging and missing at a 2-2 pitch from San Francisco's Anthony DeSclafani in the third inning, leaving Petco Park in silence. He walked off the field with assistance from Tingler and a trainer, cradling his left arm against his body.
Tatis also left a game late in spring training with left shoulder discomfort after making a backhand play but returned two days later. Tingler said then that Tatis had been dealing with left shoulder discomfort since his minor league days. Tatis later said he'd had it since rookie ball.
Tatis, 22, struggled through the first five games of this season, batting just .167 and committing five errors, although he hit a 465-foot home run Sunday in a loss to the Arizona Diamondbacks. He signed the longest contract in big league history on Feb. 22 — a 14-year, $340 million deal.
If Tatis is sidelined for an extended period, Tingler said San Diego's "first option" at shortstop would be rookie Ha-Seong Kim, who replaced Tatis on Monday. Jake Cronenworth, Jorge Mateo and Tucupita Marcano also potentially could play shortstop.
ESPN's Alden Gonzalez and Jesse Rogers and The Associated Press contributed to this report.
Los Angeles Dodgers' AJ Pollock (hamstring) likely headed to IL, Dave Roberts says
Los Angeles Dodgers left fielder AJ Pollock left Friday night's 9-6 win over the Miami Marlins with a left hamstring strain and is likely headed for the injured list, manager Dave Roberts said.
Pollock was making his first start since straining his left hamstring last week in a 9-2 loss to the Los Angeles Angels.
In the second inning Friday, Pollock singled in the game's first run but aggravated his hamstring injury when he took third base on Austin Barnes' RBI double. Pollock was removed for a pinch-runner.
"He felt it grab, so kind of right now, with where we're at, I assume it's gonna be an IL and we'll probably have a move tomorrow," Roberts said.
Pollock is batting .277 with four home runs and 17 RBIs in 32 games.
Jarred Kelenic has Mariners 'excited' as first MLB homer keys big night
SEATTLE — At two minor league levels, the first hit for prized Seattle prospect Jarred Kelenic was a home run.
Same start in the majors.
Kelenic made his first career hit extra memorable with a two-run homer and later added a pair of doubles, leading the Mariners to a 7-3 win over the Cleveland Indians on Friday night.
After going hitless in his big league debut Thursday night, Kelenic brought the Seattle crowd to its feet with a long ball in the third inning. He stayed with an off-speed pitch from Aaron Civale, but still had the power to drive it 403 feet out to right-center field.
The ball was clocked at 109.3 mph off the bat, and Kelenic's sprint around the bases seemed just as fast. He embraced fellow young Seattle star Kyle Lewis in the dugout with a bear hug and tipped his cap to the fans when their standing ovation didn't stop.
"I didn't even know that that's what they wanted, until people were like, 'Get out there.' I didn't know what was going on until I realized that everyone was standing up," Kelenic said. "But that's something I've always imagined."
Kelenic, 21, became the youngest Mariners player to homer since Adam Jones in 2006 and joined Lewis in hitting a home run for their first major league hits. Lewis did it in September 2019.
Kelenic also homered for his first hits at Class A Modesto in 2019 and with Triple-A Tacoma earlier this month.
"A lot to get excited about. Big night for him tonight and his family and our team quite frankly," Seattle manager Scott Servais said. "It's loud in here, guys are excited, they know what he can bring and he's going to continue to have fun, that's for sure."
Kelenic added a pair of hustling doubles in the fifth and seventh, the second scoring Sam Haggerty to give Seattle a 5-1 lead.
Kelenic became the fifth player in Mariners history with three or more hits in his first two career games, and the first since Carlos Guillén in 1998. Kelenic also is the 18th player in baseball history with three or more extra-base hits in his first two career games.
"I'm a competitor. I want to win. I want to bury our opponents, each and every night," Kelenic said. "It really bugs me when I give away at-bats or if I don't execute on what I'm trying to do."
The Associated Press contributed to this report.
Kansas City Royals 3B Hunter Dozier to IL, Chicago White Sox 1B Jose Abreu day-to-day after collision
Chicago White Sox first baseman Jose Abreu and Kansas City Royals third baseman Hunter Dozier both left Game 1 of Friday's doubleheader after they collided in the second inning.
Dozier, who left with a quad contusion and neck discomfort, was placed on the seven-day concussion injured list, and the club recalled Kelvin Gutierrez from Triple-A Omaha prior to Game 2 of the doubleheader.
Abreu is day-to-day after leaving the game with a facial contusion, laceration and bruised left knee. The initial assessment for a concussion was negative.
"He's doing well enough that he wants to play the second game [of the doubleheader]," White Sox manager Tony La Russa said. "He's bruised. He's sore. It could have been worse. … There's a sense of relief."
The nasty collision occurred after Dozier popped up right in front of home plate. As Sox catcher Yasmani Grandal and Abreu converged on it, Dozier started to run to first base, and, while avoiding Grandal, he ran right into Abreu, who was looking up at the ball.
The two hit the ground hard. They lay next to each other for several moments as they were attended to by their respective training staffs. Eventually, both walked off the field with assistance.
"It was extremely scary in the moment," White Sox pitcher Lucas Giolito said. "That was a big collision. [Abreu's] taking some hits and gets right back up. After a minute, he got up and said he was fine and could keep playing. That's the type of player that he is. He'll do anything for this team.
"It was a huge relief going in and seeing he's good, in high spirits. He'll probably be back playing tomorrow."
Abreu is the reigning AL MVP and a big part of Chicago's success this season. Dozier has been struggling and is in the midst of an 0-for-31 skid. Grandal took over at first base, and Zack Collins came in to catch for the White Sox. Hanser Alberto took over at third base for the Royals, who ended up snapping an 11-game skid with the 6-2 win.