Tampa Bay Rays CF Kevin Kiermaier placed on 10-day IL with left quad strain
ST. PETERSBURG, Fla. — The Tampa Bay Rays have placed center fielder Kevin Kiermaier on the 10-day injured list with a left quadriceps strain.
The team announced the move prior to Tuesday night's game at Boston. The defensive whiz experienced tightness in his leg Monday night before being removed from the lineup during the third inning of an 11-2 loss to the Red Sox.
Infielder Kevin Padlo was recalled from the taxi squad to replace Kiermaier.
The Rays also claimed catcher Deivy Grullón on waivers from the Cincinnati Reds. Right-handed reliever Chaz Roe (right shoulder strain) was transferred to the 60-day IL to create an opening on the 40-man roster.
Chicago White Sox manager Tony La Russa admits he didn't know extra-inning rule
Chicago White Sox manager Tony La Russa is under the microscope again.
La Russa said he didn't fully know the extra-inning rule that would have allowed him to avoid using closer Liam Hendriks as a baserunner in a 0-0 game against the Reds on Wednesday in Cincinnati.
Hendriks had double-switched into the game in the bottom of the ninth inning, taking the No. 5 spot in the batting order, which made the last out in the top of the frame. Per MLB rules, as extra innings begin, the spot in the order to make the last out in the previous inning becomes the baserunner at second base. However, if that spot is occupied by a pitcher, the team has the option to use the preceding player in the batting order as the runner. In this case, it would have been Jose Abreu.
"I didn't know that," La Russa said after the 1-0 loss. "We all thought Liam was going to be the runner. I wasn't aware Abreu could have run. I thought it was the guy that made the last out or the spot in that order."
Besides the obvious injury risk to a player who has run the bases once in his entire career, the choice to run Hendriks impacted the inning. While he was on third base with one out, Reds catcher Tucker Barnhart didn't hesitate to throw to second base to nail Leury Garcia, who was trying to steal — despite the potential winning run at third. Barnhart knew Hendriks likely wasn't going to go home on a double-steal attempt.
"[Garcia] can run," La Russa said. "We wanted to be aggressive. They threw him out."
Even in talking out the White Sox strategy, the team was concerned with Hendriks' safety. La Russa said he was hoping for an easy sacrifice fly or another way for Hendriks to score that wasn't stressful. It didn't matter after Billy Hamilton struck out to end the inning.
"We were going to try and avoid any kind of contact at home plate," La Russa said.
La Russa admitted he wasn't aware of the rule until hearing it read by a reporter in the postgame Zoom session.
"I'm guessing you know the rules better," he said. "Now I know."
The White Sox named La Russa their manager in October.
New York Mets pitcher Jacob deGrom could return to mound Sunday vs. Arizona
ST. LOUIS — New York Mets ace Jacob deGrom could return to the mound on Sunday against Arizona at Citi Field.
DeGrom had soreness in a back muscle after his last outing against Boston on April 28 and was scratched from a scheduled start against St. Louis on Tuesday night. He said he intends to play catch Thursday and hopes to get the go-ahead for a bullpen session Friday.
Mets manager Luis Rojas said that a successful bullpen on Friday would put deGrom on track to start Sunday.
"I was a little bit more sore after my last start. Didn't think too much of it," deGrom said Wednesday. "I noticed my mechanics were off. Looked at some of the video and got some of the numbers, and my arm was down a little bit and … flying open. So that's obviously going to put more stress on my arm."
Rojas said a scan Tuesday showed inflammation of the latissimus dorsi muscle, a back muscle that connects the upper arm to the spine and the hip.
"Feeling good now. The plan is to see the doctor again tomorrow and let him reevaluate," deGrom said. "It's in a good spot, I guess. If it kind of creeps up towards the armpit, then it's not good, but the spot it's in is definitely manageable."
DeGrom said he threw a bullpen last weekend in Philadelphia and first informed the training staff of the issue on Monday. He contacted the team on Tuesday after he woke up and the soreness had not alleviated. The Mets then scratched him, but the game was rained out and rescheduled as part of a doubleheader Wednesday.
DeGrom, a two-time NL Cy Young Award winner, has been baseball's most dominant pitcher this season, with a major-league-best 0.51 ERA in five starts. He has 59 strikeouts in 35 innings with just four walks. Still, he is just 2-2.
The 32-year-old right-hander has reached 100 mph on 46 of 473 pitches this season and lowered his career ERA to 2.55, overtaking Hall of Famer Tom Seaver (2.57) as the Mets' career leader.
Joey Votto of Cincinnati Reds suffers broken left thumb after being hit by pitch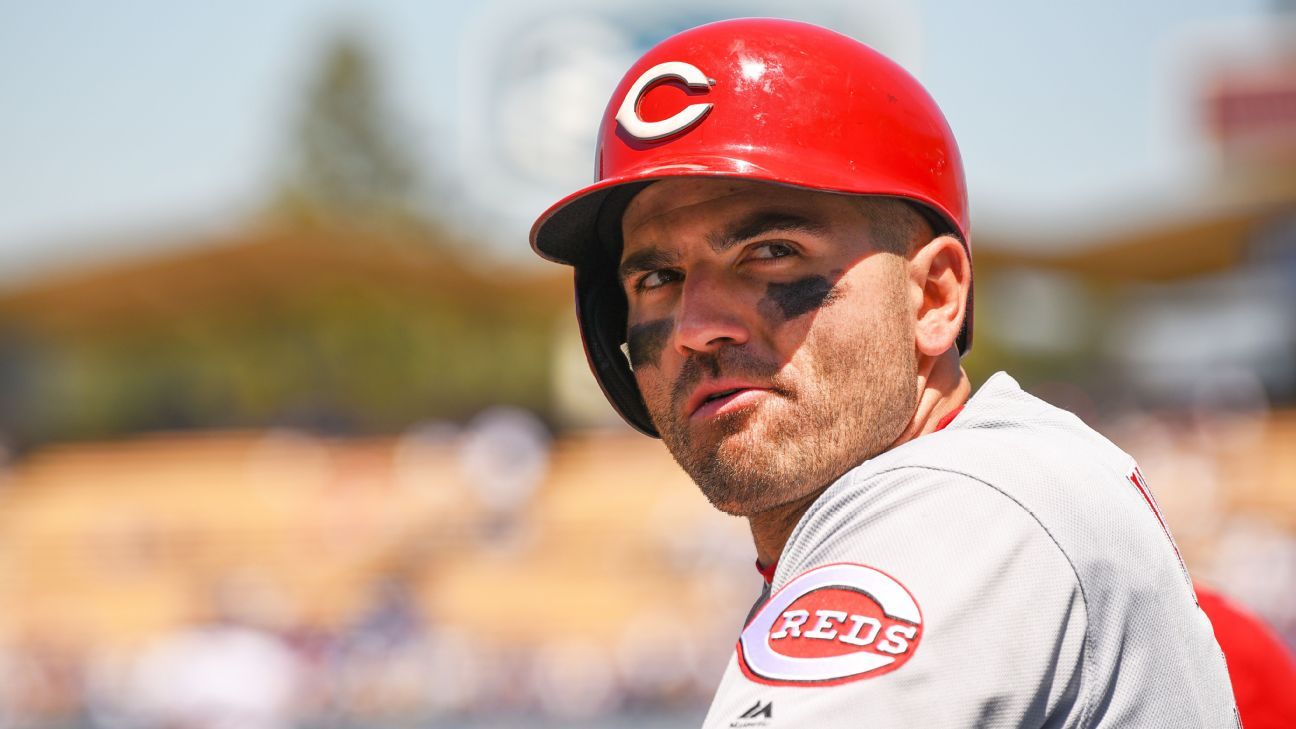 Cincinnati Reds first baseman Joey Votto suffered a broken left thumb in the team's 1-0 victory against the visiting Chicago White Sox on Wednesday.
Votto is not expected to need surgery but could miss up to a month.
Kyle Farmer is among the options at first.
"We'll figure it out," manager David Bell said.
Votto was hit by a Dallas Keuchel pitch in the fourth inning. He remained in the game, but in the sixth was replaced at first base by Farmer.
"I knew I was in pain," Votto said after the game, according to MLB.com. "I thought I was being a baby. I just wanted to stay in the game, but I didn't think I could grip the bat and I was having a hard time putting my glove on. I could run and I was moving well, and I thought, 'Just give it some time, it should shake at some point. Maybe it's just one of those [where] your thumb gets jammed in a door or something like that and it just goes away.' It broke, what are you going to do?"
Keuchel expressed regret.
"It's a joy to pitch against him," Keuchel said. "You never want that to happen. I wish him well."
Votto is hitting .226 with five home runs and 17 RBIs.
Information from The Associated Press was used in this report.