Minnesota Vikings CB Jeff Gladney turns self in on assault charge
Minnesota Vikings cornerback Jeff Gladney turned himself in to the Dallas County Jail on Monday following a family violence assault charge, according to the Dallas Police Department.
Police said the charge stems from an incident on Friday when Gladney allegedly assaulted a 22-year-old woman.
"We are aware of Jeff's arrest and are gathering additional information," the Vikings said in a statement Monday. "We take this matter very seriously, as the reported allegations are extremely disturbing. At this time we will have no further comment."
Gladney, 24, was a first-round draft pick out of TCU in 2020 and started 15 games for Minnesota last season.
Motivated Cam Newton unfazed by New England Patriots' decision to draft quarterback Mac Jones, 'the right pick in my opinion'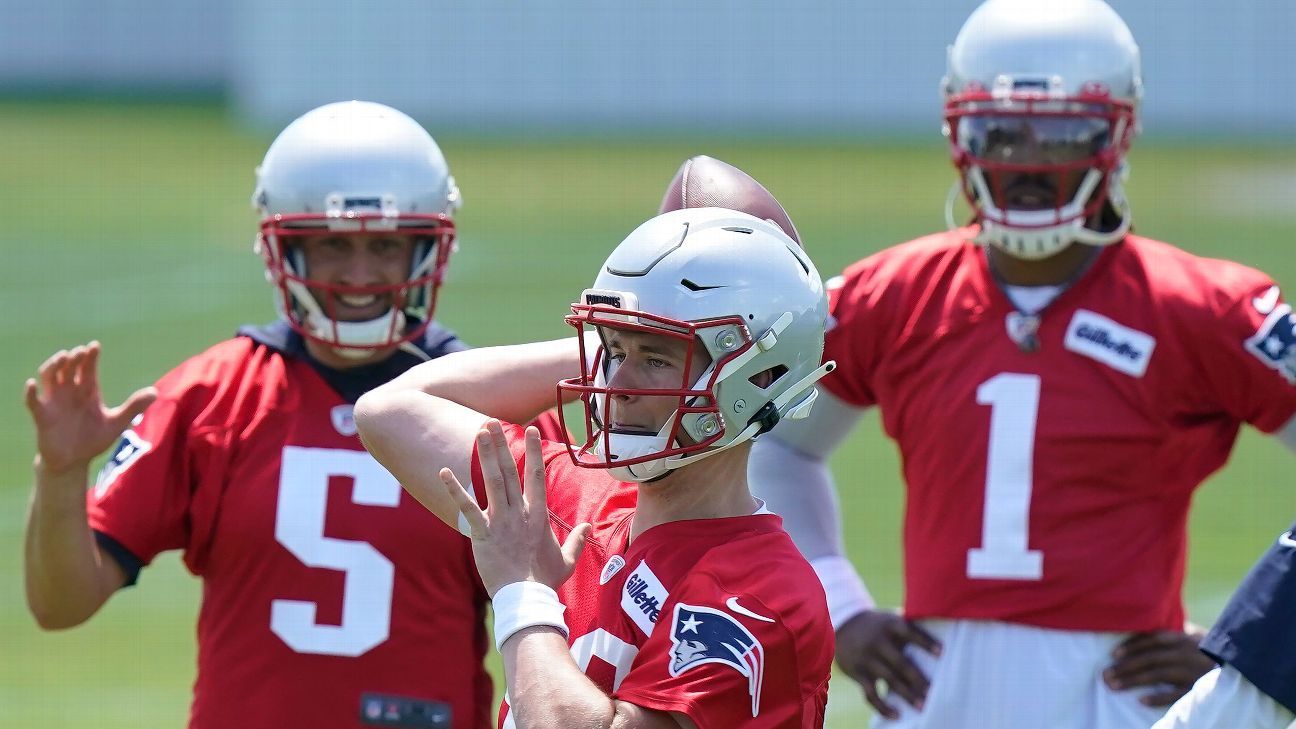 FOXBOROUGH, Mass. — New England Patriots quarterback Cam Newton said Tuesday that there is no extra motivation for him after the team selected Alabama's Mac Jones in the first round of the NFL draft, 15th overall.
"Absolutely not. He was the right pick in my opinion. He was the best player available, and that's what the NFL draft is for," Newton said Tuesday in his first remarks to New England reporters since re-signing in March.
"As far as having any chip on the shoulder, you're stating the obvious. I don't need too much to get myself going. It's no disrespect to Mac. It's no disrespect to Bill [Belichick] and his decision. I support it 110%, because you still have to do what's right for the organization, for the long haul."
Belichick has said that Newton is the team's quarterback while leaving the door open that he could face a challenge for the job in the future. That could come in training camp, a more competitive environment in which Belichick often says the focus shifts more to evaluation.
Newton has taken top repetitions in spring teaching-based practices, and over the last two days of mandatory minicamp, he's been followed by Jones. Newton, who has a long list of nicknames for teammates, refers to Jones as "Mac and Cheese."
"Mac and Cheese, he's pretty cool. He's quiet. I think he's trying to figure everybody out," Newton, 32, said. "I've been there before. I've been a rookie and I've been a first-round pick, where so much is asked from you.
"He's doing a great job with being everything that's advertised — from a leadership perspective, he's holding himself accountable. That's all you can ask from a young player."
Jones, 22, referred to Newton as a "good mentor." The two are joined in the quarterback room by third-year player Jarrett Stidham and veteran Brian Hoyer, and Newton said they all push each other.
"As a competitor, I'd be a fool if I didn't think Brian Hoyer wants to be a starter. I'd be a fool not to think 'Mac and Cheese' wanted to be a starter. I'd be a fool if Jarrett Stidham didn't want to be a starter. You'd be a fool to think that I don't want to be a starter," said Newton, who previously missed three spring practices with a right hand injury before returning on Friday.
"But those things happen with the comfort of understanding the system. We all know nothing is going to be given to nobody. And it's just that competition each and every day with yourself that is going to bring the best out in everybody else."
When Newton first joined the Patriots in 2020, it wasn't until July, and he acknowledged Tuesday that the challenge of keeping up with the team's vast offensive system was overwhelming by the end of the season. He said he's "grateful to have another opportunity" to learn it, this time with the benefit of spring practices.
"In the latter part of the season, it just caught up to me. I was thinking too much. There just wasn't enough hours in the day," he said. "You can't simulate real, live bullets and that's what it came down to."
Cincinnati Bengals' Joe Burrow still on track for Week 1, hopes to reach '100%' before training camp
CINCINNATI — The best-case scenario occurred for Cincinnati Bengals quarterback Joe Burrow on his road to recovery: absolutely nothing.
Burrow's surgically repaired left knee showed no troublesome signs through the team's 10 offseason practices, including Tuesday's mandatory minicamp. Burrow's optimism for playing in Cincinnati's season opener against the Minnesota Vikings remains intact. With the knee still around 85%, he said, the goal is for the 2020 top overall draft pick to get back to full strength ahead of training camp.
"The knee still has a little ways to go, but my upper body, my right leg, everything else feels better than it ever has before," Burrow said. "When I'm on the field and executing, I'm playing better than I ever have before. So I'll continue the program we were on and get back to 100% before camp."
Burrow participated in all nine of the team's organized team activities and the mandatory minicamp that ended after the first of three scheduled days. Bengals coach Zac Taylor canceled the last two days, citing the team's full participation and quality work over the past month. Bengals safety Jessie Bates suggested the team's rising COVID-19 vaccination rates also played a role in the early dismissal.
Burrow displayed his progress during Tuesday's workout at Paul Brown Stadium. He worked on rolling out of the pocket and throwing on the move. In 7-on-7 drills, Burrow didn't throw a single incompletion, with the session highlighted by a pass down the right hashmarks to wide receiver Stanley Morgan. Burrow watched from behind during the team's 11-on-11 drills as quarterback Brandon Allen took reps.
Throughout the offseason workouts, the Bengals have worked extensively to protect their franchise quarterback, who tore multiple ligaments in his left knee. Burrow hasn't faced a pass rush yet — even during the team's half-speed walkthrough sessions closed to the media — for precautionary reasons, Taylor said.
However, the coach was encouraged by Burrow's activity and progress in recent weeks.
"He's done a great job," Taylor said. "He looks good, certainly not all the way there yet, so there's still a process we have to follow leading into training camp, but you guys have been out there. I think everybody's optimistic."
Taylor didn't want to make any definitive statements on Burrow's Week 1 availability, or even on whether Burrow will get reps in preseason games.
But Burrow said he was happy with the state of his knee as the team prepares for the start of training camp at the end of July.
"I'll be ready to go for the season as long as there's no setbacks," Burrow said. "Right now, it's looking good."
NFL mandatory minicamps 2021 — Derek Carr's stance, Julio Jones' debut, Tua Tagovailoa's rough day and more
From quarterback Derek Carr making a bold statement about his commitment to the Las Vegas Raiders to Miami Dolphins quarterback Tua Tagovailoa throwing five interceptions in a heavy rainstorm to wide receiver Julio Jones taking the field in the Tennessee Titans No. 2, some of the big names in the NFL made waves on Tuesday during NFL mandatory minicamps.
Eighteen NFL teams opened their mandatory three-day minicamps this week. Ten held theirs last week, with four teams electing to cancel. Teams that opted out of mandatory minicamps this week are the Houston Texans, Indianapolis Colts and San Francisco 49ers. The Philadelphia Eagles were the first team to skip theirs when they did so a week ago.
While practices were underway for half the league, much of the talk of Tuesday's camps included the players who haven't stepped foot on the field because of ongoing contract negotiations. Dolphins cornerback Xavien Howard, New England Patriots cornerback Stephon Gilmore and Seattle Seahawks safety Jamal Adams were among the notable players absent from their respective team facilities.
Teams already have been going through organized team activities, but this marks the first time that many veterans will take the field since the end of the 2020 NFL season. That includes some players who joined new teams this offseason, including prized free agents and edge rushers Matt Judon (Patriots) and Yannick Ngakoue (Raiders).
Here are some snapshots, many from ESPN's NFL Nation reporters who are on the scene at this week's activities, from Tuesday's minicamps:
Jump to the best of the day:
Photos | Videos | Quotes

Top news of the day
Carr says he has no desire to leave Raiders
Las Vegas quarterback Derek Carr re-asserted his desire to remain with the team that drafted him in the second round in 2014. "I'd probably quit football if I had to play for somebody else," Carr said.

Howard not at Dolphins camp over 'unique' situation
Xavien Howard, who hasn't shown up to any portion of the Dolphins' voluntary offseason program this year, was not in attendance for minicamp meetings Tuesday, and he's officially a holdout as he seeks a new contract. Coach Brian Flores noted the cornerback's situation is "unique" in regard to his contract because Howard feels like he has outplayed the five-year, $75.25 million extension he signed in May 2019.
Packers QB Aaron Rodgers jokes about 'quiet offseason'
The reigning MVP, who has dominated the NFL headlines this spring because of his dissatisfaction with Green Bay, showed his sense of humor during a promotional video in advance of the July 6 golf match featuring Rodgers and PGA Tour star Bryson DeChambeau against Tom Brady and Phil Mickelson.
---
Best videos
Julio Jones footwork drill with WR coach Rob Moore. Nice grab at the end. pic.twitter.com/SnLSPThdT6

— TURRON DAVENPORT (@TDavenport_NFL) June 15, 2021
Cam Newton with a little hop in his step upon arrival. pic.twitter.com/y37cfPjGKr

— Mike Reiss (@MikeReiss) June 15, 2021
Joe Burrow News Conference https://t.co/Ve1fqIbpv6

— Cincinnati Bengals (@Bengals) June 15, 2021
We had to mute the video because we don't own the rights to the music, but just know @JIHADWARD17 was vibing during the stretch period!@BaptistHealthJx | #DUUUVAL pic.twitter.com/mGeveT6t7h

— #DUUUVAL (@Jaguars) June 15, 2021
Day 1 of minicamp is in the books after this play by the first team in the red zone. Chad Beebe make a catch in the corner of the end zone; think Mackensie Alexander was supposed to be on him. pic.twitter.com/Q9HNDbyIjx

— Courtney Cronin (@CourtneyRCronin) June 15, 2021
I got you!! 😂 https://t.co/jlh7Zwe7nb

— Joe Haden (@joehaden23) June 15, 2021
we missed this pic.twitter.com/1q4J8FDpg4

— Los Angeles Chargers (@Chargers) June 15, 2021
Off & running at Day 1️⃣ of minicamp! pic.twitter.com/bcVONrlpsI

— Denver Broncos (@Broncos) June 15, 2021
Day 1 of Dolphins mandatory minicamp. Tua Tagovailoa going through some warmup reps. pic.twitter.com/31nTB9DXY3

— Cameron Wolfe (@CameronWolfe) June 15, 2021
That "just signed" feeling 🖊@jayceehorn_10 pic.twitter.com/fekObNBPIH

— Carolina Panthers (@Panthers) June 15, 2021
In this clip for the first time this offseason are Star Lotulelei (98), Jerry Hughes (55), Mario Addison (97) and Vernon Butler (94)#Bills pic.twitter.com/sBI4R4HM6X

— Marcel Louis-Jacques (@Marcel_LJ) June 15, 2021
"Dude is fast, shifty! Like a Muggsy Bogues." @BrandonW_66 on @Jkdobbins22 🤣🤣🤣 pic.twitter.com/RSA2F2adM2

— Baltimore Ravens (@Ravens) June 15, 2021
.@LaurentDTardif is ready to get back to work 👏 pic.twitter.com/nEY8zkYaXQ

— Kansas City Chiefs (@Chiefs) June 15, 2021
#Browns RB Nick Chubb, on signing a potential extension this summer: "Cleveland is where I want to be…" pic.twitter.com/2wwntIKZn8

— Jake Trotter (@Jake_Trotter) June 15, 2021
---
Quotes of the day
"I played with Julio [Jones], Mohamed Sanu, since Day 1, those guys, I feel like I've been moving toward that way of I can do it by myself. Obviously I'm not by myself, we have other players who are really good, but I feel like I've been ready and I just needed an opportunity to get in those positions."

Falcons wide receiver Calvin Ridley
"I was surprised. … You never like to see things like that."

Chiefs tight end Travis Kelce on Le'Veon Bell's comments about coach Andy Reid
"I wore 9 in college my senior and junior year. I'm one of 10 children, so I got 9 siblings – every time I go out there, I represent them. I like 9; that's one of the reasons I rock it. And 99 was taken, so I chose to use the new rule."

Patriots linebacker Matthew Judon on his jersey number
"You don't feel like yourself, even when you pass the symptoms. There's a certain level or feeling you have when you're ready, and COVID made it a little harder to get to that good feeling."

Ravens defensive end Calais Campbell has had no post-COVID issues the past couple of months
---
Best photos
📍Vegas pic.twitter.com/S46WirbKaO

— Las Vegas Raiders (@Raiders) June 15, 2021
Mekhi Becton says he's at a "good weight" right now. Asked his weight, he said he didn't know off hand. #Jets pic.twitter.com/6aqq99fkzF

— Rich Cimini (@RichCimini) June 15, 2021
Here to 𝗛 𝗨 𝗦 𝗧 𝗟 𝗘. pic.twitter.com/2GuxKobTs3

— Chicago Bears (@ChicagoBears) June 15, 2021