Atlanta Braves acquire Orlando Arcia in trade with Milwaukee Brewers, source says
The Atlanta Braves acquired versatile infielder Orlando Arcia from the Milwaukee Brewers on Tuesday, a source confirmed to ESPN.
Arcia, 26, has spent all six of his major league seasons with Milwaukee. He has one hit in 11 at-bats this season, and he had a .260 batting average in 2020 with 5 home runs and 20 RBIs.
He has mostly played as a shortstop but has also seen time at third base and in the outfield.
Overall, he has a career .244 batting average with 42 home runs, 180 RBIs and 39 stolen bases.
He had signed a one-year, $2 million deal with the Brewers in December.
New York Yankees' Giancarlo Stanton (quad) out; Aaron Hicks has torn tendon sheath
BALTIMORE — In addition to their COVID-19 outbreak woes, injuries have started piling up for the New York Yankees, with Giancarlo Stanton and Aaron Hicks out of the lineup for Friday night's series opener against the Baltimore Orioles.
Stanton was scratched from the lineup about an hour before first pitch due to left quad tightness, the club announced, replacing him with catcher Gary Sanchez batting fourth in the DH spot.
Manager Aaron Boone also revealed during his pregame media availability that Hicks, who had undergone imaging after suffering from left wrist soreness, was diagnosed with a torn tendon sheath.
Stanton's career in pinstripes has had a seemingly never-ending list of trips to the IL. Nonetheless, this season he has been one of the few shining spots in a Yankees lineup that has failed to live up to its preseason expectations. Stanton is the Yankees' leader in almost every offensive category, including home runs (9), RBIs (24) and slugging (.534).
The Yankees did not give additional details on Stanton's status, but Boone said before the game that he was so encouraged by his conditioning that the team was considering having him work out in the outfield. Stanton has been deployed solely at DH in the 33 games he has started this season.
Hicks, like most of the Yankees' hitters, has been subpar at the plate, hitting just .194/.294/.333 with four home runs this season.
Boone said that Hicks, a switch-hitting 31-year-old, is currently taking anti-inflammatory medication to treat the wrist injury, which might require just an IL stint or even allow him to return to the lineup in the next few days. But it's possible that Hicks could potentially need season-ending surgery.
"The MRI did reveal that he tore the sheath that holds the tendon in place. He started some medicine and we'll see how he responds in the next couple of days. Sometimes that works and kind of declares itself at that point. Surgery could be on the table at some point, as well. But we won't know that for a couple of days," Boone said. "I think it could go either way. In these cases, it seems like a lot of times, the medicine works and knocks it out. If not, then surgery could be on the table."
Boone said that Hicks' type of injury cannot be traced back to a particular play, and that it could have happened even up to "a couple of years ago." A torn wrist tendon sheath is an injury similar to the one suffered by former Yankees first baseman Mark Teixeira in 2013, which allowed him to play all but 15 games that season.
In other injury news, Rougned Odor, who is eligible to come off the 10-day IL on Saturday, has not fully recovered from a right knee sprain. Boone said Odor could return during the Yankees' four-game set against the Texas Rangers later in the week but hinted that his return was more likely to happen during the club's next homestand. The Yankees traded for Odor after the Rangers designated him for assignment ahead of the start of the 2021 season.
It wasn't all bad news on the injury front for the Yankees Friday night, with Boone announcing that he expected shortstop Gleyber Torres, who was placed on the COVID IL after testing positive for the coronavirus Thursday, to return to the team "real soon."
The Yankees are still dealing with a coronavirus outbreak that has affected eight members of their traveling party, including first-base coach Reggie Willits, third-base coach Phil Nevin and pitching coach Matt Blake. Torres is the only player to have tested positive during the club's current outbreak.
Boone did say that one of the individuals who tested positive has already registered at least one negative test, but did not name that person. Players who test positive for COVID-19 have to isolate for a minimum of 10 days, but the MLB/MLBPA joint committee is able to clear them earlier if they are completely asymptomatic and have multiple negative laboratory PCR tests.
Los Angeles Angels push Shohei Ohtani's start vs. Indians back due to fatigue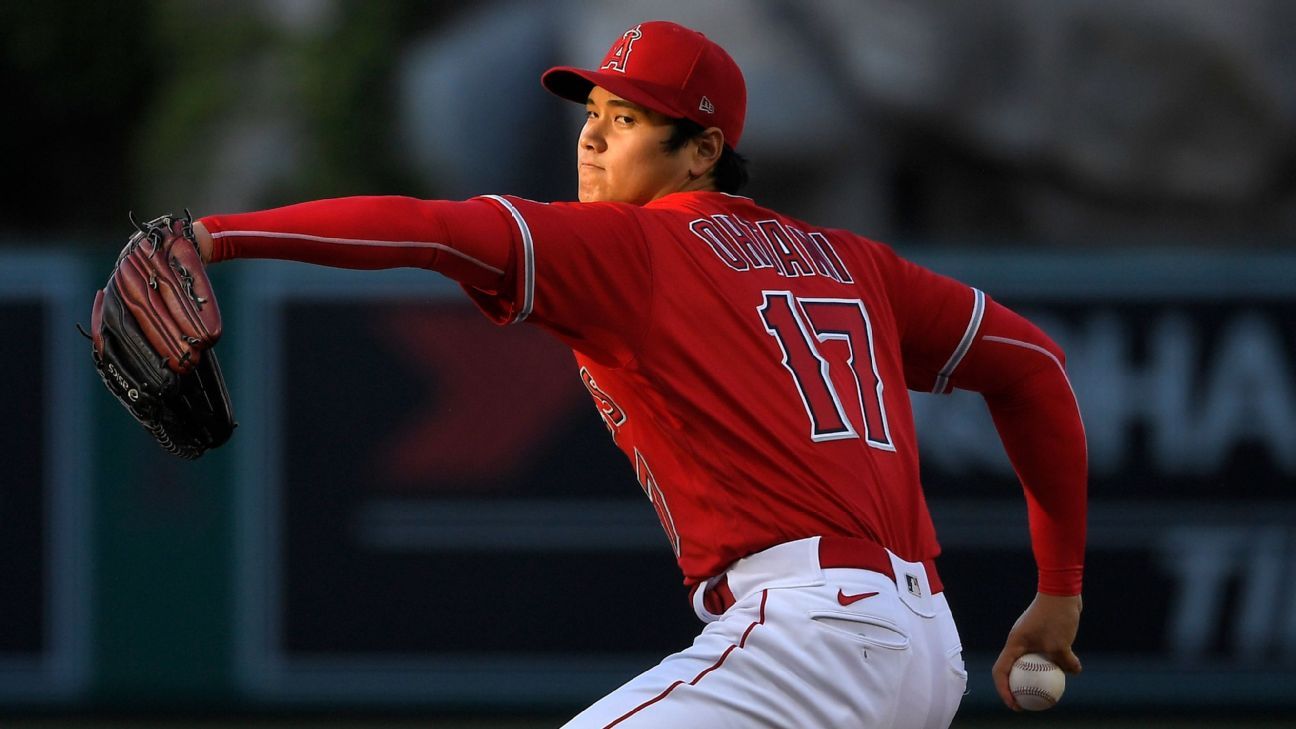 Los Angeles Angels star Shohei Ohtani's scheduled start against the Cleveland Indians on Tuesday has been pushed back due to general fatigue, manager Joe Maddon said before Friday's game against the Boston Red Sox.
Ohtani looked dominant in his last start, allowing just one run across seven innings on Tuesday against the Houston Astros. Maddon said he opted for caution with his two-way star after noticing Ohtani looked off during his stint as a designated hitter on Wednesday.
"We're going to move him back, but we don't know to when," Maddon said. "But there's no blisters. Nothing. Just being proactive. It's in his best interest, too. To me, the day after he pitched the other day, he looked a little bit fatigued at the plate. It set off a little bit of an alarm for me."
Ohtani won't be skipped in the rotation, according to Maddon, and his start will be pushed back just one to three days. He was in the lineup as a DH for Friday's game against the Red Sox.
Braves say outfielder Ronald Acuna Jr. still nursing sore ankle but could return Saturday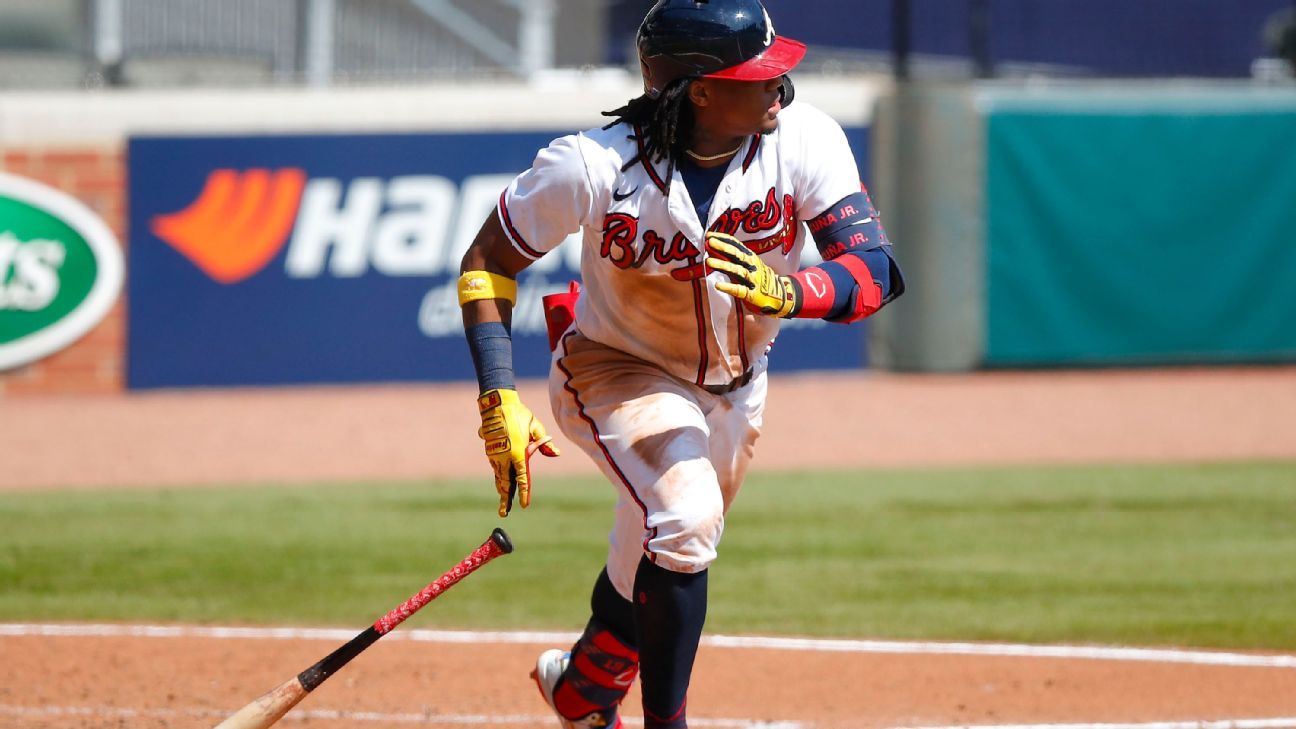 Atlanta Braves star Ronald Acuna Jr. was not in the lineup for Friday's game against the Milwaukee Brewers after injuring his left ankle running to first base on Thursday afternoon.
Acuna, 23, landed awkwardly on the ankle after passing first in the eighth inning of the Braves' 8-4 loss to the Toronto Blue Jays. X-rays were negative, but the ankle is still sore.
"It felt good getting off the plane last [Thursday] night, but there was no way he could play today," Braves manager Brian Snitker said. "He jammed it pretty good. It's just hard to put a lot of weight on it right now."
Snitker deemed the injury a twisted ankle but not of the more serious high ankle variety. He's still hopeful he'll play this weekend.
"They'll do some more tests this afternoon just to make sure," Snitker said. "The training staff said there's a chance to get the swelling out and he could be good to go tomorrow [Saturday]."
Acuna leads the National League in home runs, runs scored and total bases.