49ers take advantage of tough market to retain more free agents – San Francisco 49ers Blog
SANTA CLARA, Calif. — At the end of every season since they took over the San Francisco 49ers in 2017, coach Kyle Shanahan and general manager John Lynch have made a habit of having honest conversations with every player on the roster.
For pending free agents, those conversations often include blunt assessments of their future with the team. Sometimes, it's good news: The Niners value that player and vow to do all they can to bring him back. In others, it's not, as the salary cap dictates not everybody can stay, and hard decisions will have to be made.
On the heels of last year's 6-10 finish, Lynch and Shanahan found themselves delivering far more bad news than good. The 49ers had roughly 40 players headed for some form of free agency and didn't have a ton of cap space, especially following a sizable, pandemic-driven drop in the salary cap from $198.2 million to $182.5 million.
It left Lynch and Shanahan believing they'd have to say goodbye to most of those free agents, even those they preferred to keep.
"We try to be as upfront and honest, as forthright with these guys [as possible]," Lynch said. "We try to understand that, yes, it's a business, but we can still get close with these guys as well. I think it serves you well in a situation like this. And there were a lot of great surprises, to be honest with you."
The 49ers were able to re-sign eight of their unrestricted free agents and four more contributors who were restricted free agents number. With some savvy salary-cap maneuvering from Paraag Marathe, the team's executive vice president of football operations and his staff, the 49ers re-signed those players for a combined 2021 cap cost of $30,649,500 — an average of $2,554,125 per player.
As it turned out, the drastic drop in the salary cap actually worked in the 49ers' favor. San Francisco did have to pay mostly top dollar to keep the three in-house players they valued most: left tackle Trent Williams, fullback Kyle Juszczyk and cornerback Jason Verrett.
But what they didn't expect, at least not to this extent, was the cap drop would lead to a tight squeeze on the league's middle class.
For good, accomplished players such as cornerback K'Waun Williams, defensive tackle D.J. Jones and safety Jaquiski Tartt, the combination of the cap squeeze and injury issues meant their best offers were for one year at prices below what they'd have likely received in a normal offseason.
All three started at least half the games for the 2019 NFC championship team. Their combined 2021 cap number? $5,583,750, according to OverTheCap.com. Had the cap risen as expected, Jones alone might have gotten a contract with that type of cap number in the first year.
"A guy like D.J. Jones, we never thought we'd have an opportunity to bring him back," Lynch said. "Those decisions you make are gut-wrenching in terms of prioritizing because you like them all. But you have to say, 'OK, we're going to try to get these guys done; these guys might outprice themselves for what we can do.'
"Unfortunately for those guys, this was a weird year where the cap came down drastically and there were a lot of players left out there. The hard thing is when players have performed and then the market's not there."
The market left teams like San Francisco standing firm on its offers and pitching continuity and familiarity. The idea was simple: Stay in a place you've had success, stay healthy, play well and hit the market again in 2022 when the cap spikes.
"What we tried to do is say, 'Look, if it's a one-year deal, we know you, you know us, this is a great place for you to go show your value so that next year you can go do this again,'" Lynch said. "Maybe at that point, we can be a be a part of it."
The implications of those moves also set the stage for the Niners' biggest move of the offseason: trading up for the No. 3 pick in the NFL draft, a franchise-altering move that will end with them landing their quarterback of the future and, possibly, keeping veteran quarterback Jimmy Garoppolo, too.
With much-improved injury luck, the 49ers believe they still have a roster than can return to Super Bowl contention next season, which is a big part of why they're showing some willingness to keep Garoppolo while a rookie quarterback waits his turn.
In addition, had they lost more of those key in-house free agents, they would have been forced into picking for need in the draft. For example, had Trent Williams left, the Niners almost certainly would have had to target a left tackle in the first round.
Once that business was taken care of, the Niners felt confident enough in the roster to trade the No. 12 pick in this year's draft, first- and third-round selections in 2022 and a first-round choice in 2023 to the Miami Dolphins for that No. 3 pick.
"There was no set plan, but we also knew, hey, in free agency, the way the salary cap just went, there's a chance we won't be able to sign back many of our own guys," Shanahan said. "That's what our players and us were worried about all season. It was tough to go through that.
"Fortunately for the 49ers, we were able to. But you never knew that until free agency. And we're not going to know, we didn't know anything until the draft, at least after we made this trade, we got a much better understanding of what we're going to do in the draft."
Bruce Arians to Tampa Bay Buccaneers
TAMPA, Fla. — Tampa Bay Buccaneers coach Bruce Arians hasn't felt the need to bring in a specialist to talk to his players about the COVID-19 vaccine, which some players leaguewide have expressed skepticism about in recent days.
While Washington Football Team coach Ron Rivera brought Harvard immunologist Kizzmekia S. Corbett in to speak to his players Tuesday night, Arians said Thursday, "I'm the specialist."
He told players, "If you want to go back to normal, get vaccinated."
Arians said the Bucs are holding a vaccine drive for players and their families at the facility.
"There's going to be a long line over there right now," Arians said. "We were pretty short up until now. Hopefully we have a pretty good line."
Previous vaccine drives have also taken place at the facility for coaches and support staff members. The goal is to have 85% of the team vaccinated, which Arians feels they'll be much closer to after the drive.
"Everybody's tired of meeting out here and eating outside, and doing all those things we had to do last year," Arians said. "It's still a personal choice, but I don't see a reason not to be vaccinated."
When asked if any players expressed concern or skepticism, as Washington's Montez Sweat did Wednesday, Arians said, "I haven't spoken to anybody that's resisted it. They're just too lazy to get one."
Outside linebacker Shaq Barrett said he and his wife, Jordanna, both received the vaccine. Their four children aren't old enough to qualify for the vaccine at this time, as the CDC currently recommends children ages 12 and older receive vaccines.
Barrett missed the season finale against the Atlanta Falcons because he was a close contact of a teammate who tested positive, despite never testing positive himself. Still, he was forced to quarantine for five days. His children were home-schooled in 2020 and did not have play dates with other children because of concerns about the virus.
"It's 'to each their own.' I recommend it," Barrett said Thursday. "I don't know why people wouldn't get it. But whatever makes you comfortable, whatever helps you sleep at night, you do that. But I would like for 85% of the team to be vaccinated."
Kansas City Chiefs hope Kyle Long back by start of regular season after leg injury in practice
KANSAS CITY, Mo. — The Chiefs are hopeful guard Kyle Long can return for the start of the regular season after he injured his leg Wednesday, sources told ESPN.
Long was signed by the Chiefs in the offseason after he ended his retirement after one year. He wrote about the injury on Thursday on his Twitter account.
"I did everything I could to get back for football," Long said. "Zero regrets. … Focusing on controlling the things I can control. Yesterday was not one of those things!"
I did everything I could to prepare to get back for football. Zero regrets. I've been getting better everyday and having so much fun with my new team. Focusing on controlling the things I can control. Yesterday was not one of those things! Thanks for the well wishes.

— Kyle (@Ky1eLong) June 10, 2021
Long, 32, was working as the starting right guard at offseason practice. Other candidates to start include Laurent Duvernay-Tardif and rookie Trey Smith.
Drafted 20th overall by the Chicago Bears in 2013, Long missed just one game over his first three seasons, in which he was selected to three consecutive Pro Bowls, but appeared in just 30 regular-season contests over his last four years with the team because of a variety of injuries. He announced his retirement in January of last year.
NFL Network first reported that Long had suffered a leg injury.
Fantasy Football cheat sheets – Updated 2021 player rankings, PPR, non-PPR, depth charts, dynasty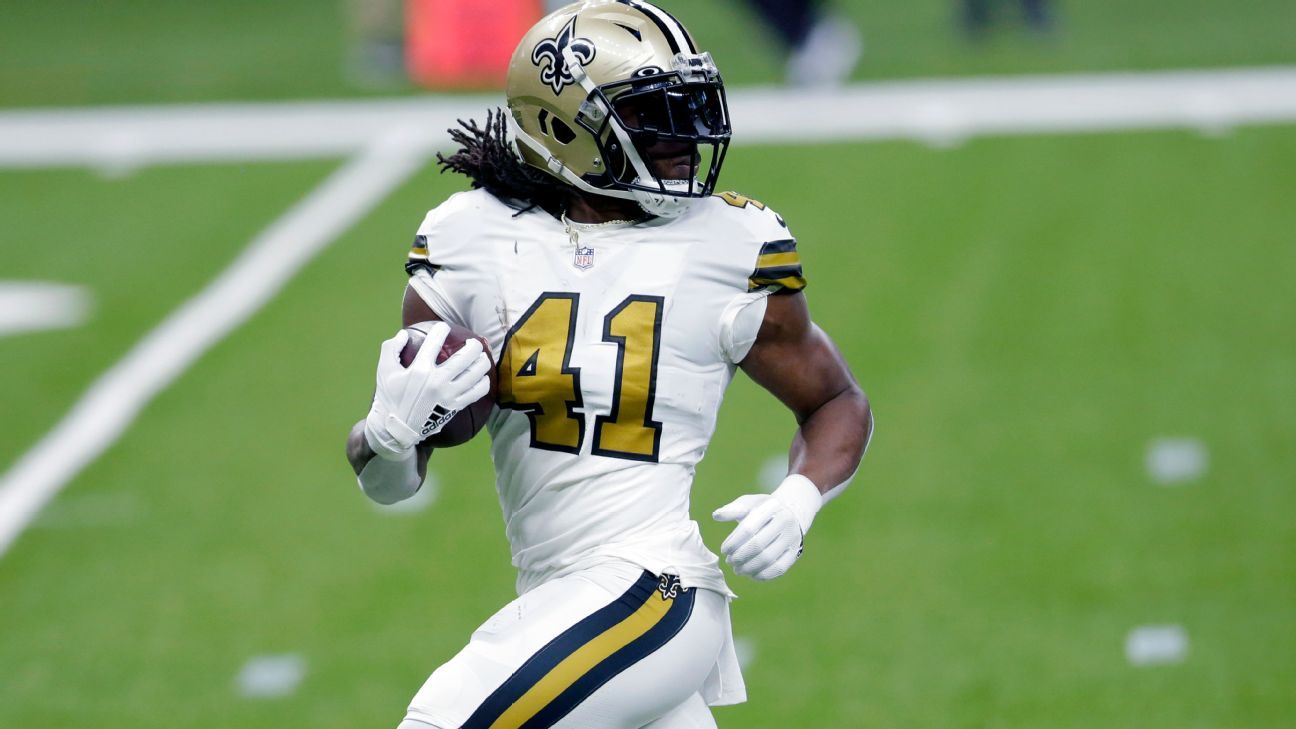 If you're seeking a one-stop shop for updated 2021 fantasy football rankings and cheat sheets throughout the summer, you've come to the right place. Below, you will find them for PPR and non-PPR formats, as well as dynasty leagues.
PPR positional cheat sheet
One sheet with players broken down by position, including overall rank, salary-cap value and bye weeks for leagues that award one point for each catch. Download »
PPR top-300 cheat sheet
This sheet features 300 players in order of overall draft value, with positional rank, salary-cap value and bye-week information for leagues that reward each catch with a point. Download »
Non-PPR positional cheat sheet
For leagues using the scoring format that doesn't award an extra point for each reception. One sheet with players broken down by position, including overall rank, salary-cap value and bye weeks. Download »
Non-PPR top-300 cheat sheet
This sheet features 300 players in order of overall draft value, with positional rank, salary-cap value and bye-week information. Download »
Mike Clay's team-by-team projection guide
If you want the full breakdown for all 32 teams, you've come to the right place. Download »
NFL team depth chart cheat sheet
Fantasy depth charts for each NFL team: top two QBs, three running backs, four wide receivers, two tight ends and a kicker. Prioritized by fantasy value in PPR leagues rather than role defined on a traditional NFL depth chart, includes players' positional ranks. Download »
Dynasty cheat sheet
Features the top 240 players and 60 best rookies to make all of your keeper and dynasty league decisions. Includes the age of players at the start of the 2021 season. Download »
*All cheat sheets are in PDF format. Your device must be equipped with a PDF reader for you to access and print the cheat sheet.