Browns get a leader in linebacker Anthony Walker while secondary elevates to elite – Cleveland Browns Blog
BEREA, Ohio – Free agency came and went last month. And once again, the Cleveland Browns made big moves to improve their roster. Last offseason, Cleveland prioritized shoring up its offense. This time, general manager Andrew Berry focused on defense, signing five players so far with a chance to win starting jobs in training camp.
Here's a breakdown of the signings, with insight from the reporters who covered those players at their previous stops:
Safety John Johnson III
The scoop from NFL Nation: "Johnson proved himself as a versatile playmaker and leader over four seasons. He has the ability to play free and strong safety and can play deep or in the box. A team captain in 2020, Johnson served as the defensive signal caller where his intelligence and maturity played a key role on the NFL's top-ranked defense. In four seasons, including 48 starts (Johnson was placed on injured reserve after six games in 2019 because of a shoulder injury), Johnson has eight interceptions and 32 pass deflections." – Rams reporter Lindsey Thiry
My take: Johnson could honestly prove to be one of the top free-agent signings anywhere. He solves the biggest question mark on Cleveland's entire roster. And he gives the defense another proven leader. Johnson should have a major impact on the field and in the locker room, and if Cleveland takes another step forward next season, he'll figure to be a huge reason why.
He said it: "You talk about coming from the No. 1 defense, you have Aaron Donald Jalen Ramsey. I see Denzel Ward and Myles Garrett as the same thing. What I see right now is just a lot of guys who can play football, who love to play football and who have played great football. I just want to come in and be a leader and just give them tips that I have learned over my career and things that I saw even last year that got us to such a great defense, a top-ranked defense. I just want to be a guy that people can just feel my vibe and it will rub off on people." – Johnson
Linebacker Anthony Walker
The scoop from NFL Nation: "He was never the best linebacker on the Colts, but it was no secret that he was veteran leader of that group. He was very well respected in the locker room (see Darius Leonard's Twitter). Walker struggled in pass coverage against faster tight ends, and only played 18 snaps in the playoff game at Buffalo. But what he lacked in athleticism he made up with incredible smarts (Northwestern education). But it became more and more obvious as the season went on that Bobby Okereke was the player the Colts preferred at middle linebacker. – Colts reporter Mike Wells
My take: Walker takes over the B.J. Goodson role, and should see a lot of snaps next season as the veteran presence playing alongside Mack Wilson, Sione Takitaki and Jacob Phillips. And Walker's problems in coverage during the regular season could be mitigated by defensive coordinator Joe Woods' 4-2-5 scheme — although, in the playoffs, offenses like Kansas City will find and create the mismatch if Walker is on the field.
He said it: "You talk about a team that's a fourth-and-one away from beating the Kansas City Chiefs and going on to the next round. A team that you could say is a couple pieces away or maybe a play or two away from being in talks of playing in the Super Bowl last year. You join a team like that with the culture they are building, the team, the comradery, all of that stuff — I'm a small part of joining a great organization and an organization that is turning in the right direction." – Walker
Cornerback Troy Hill
The scoop from NFL Nation: "Hill is coming off a breakout season. The seventh-year pro mostly served as a backup in his first three seasons in L.A. until the Rams underwent a major shakeup in their secondary in 2019 and Hill took over as a starter opposite of Jalen Ramsey. Last season, Hill shifted inside to play slot cornerback. He intercepted three passes and scored three defensive touchdowns. Hill has proven an ability to defend on the inside and on the perimeter. In six seasons, Hill has seven interceptions and 29 pass deflections." –Thiry
My take: Hill steps into the spot Kevin Johnson manned last year, and the Browns are banking Hill will give them a better-tackling, quicker option. Hill is more of a natural at the nickel, and should help Woods' defense work more effectively than it did at times last season.
He said it: "It definitely feels like a homecoming. A lot of my blood relatives are still out in Ohio in Youngstown or Columbus. Just being able to come back home and give them an opportunity to make more games – even though that is going to hurt my pockets with all them tickets – it's an exciting process for me. Just growing up, knowing what Ohio football is, how much they cherish Ohio football, the fanbase in Cleveland and everything that comes along with it, I'm excited to be out here. It kind of reminds me of being a kid again and playing ball as a kid. It's going to be fun." – Hill
• Can Bears ever break vicious QB cycle?
• Falcons have options in draft at No. 4
• Browns sign leader in LB Walker
• Jets' Darnold would 'embrace' rookie competition
• Patriots pause at QB with Cam, Stidham
Defensive tackle Malik Jackson
The scoop from NFL Nation: "Jackson remains an effective interior pass rusher (18 QB pressures in 2020) who can line up outside on occasion. He's not as dominant as he was in his Jacksonville days, but his ability flashes plenty when healthy. His time in Philadelphia was a disappointment overall, largely because of a LisFranc injury that sidelined him for just about all of the 2019 season. Perhaps he'll be more of a consistent force at his next stop, but it's probably best to set expectations slightly lower than that." – Eagles reporter Tim McManus
My take: If he's healthy, Jackson will compete for a starting job alongside Sheldon Richardson with Andrew Billings, who opted out of last season due to COVID-19. Jackson could make an impact if healthy. But that will be the predominant question until he proves again that he can stay on the field.
He said it: "I'm way more comfortable, a lot stronger and there are no more mental roadblocks of having a foot injury. I feel like I'm just going to come back and feel a lot more confident." – Jackson
Defensive end Takkarist McKinley
The scoop from NFL Nation: "Yeah, the Raiders had plans for McKinley, given they signed the 2017 first-round pick on Nov. 23 (after he already had failed physicals with the Bengals and 49ers), placed him on IR four days later and then designated him to return on Dec. 15. Thing was, McKinley, who had 16.5 combined sacks his first three years, never played a down for Las Vegas. Rather, he used the facilities to rehab and the Raiders, who obviously saw enough potential in him to keep him on the roster to the bitter end, thought they might get him to re-sign. Instead, McKinley heads to Cleveland with more question marks than answers. Again." – Raiders reporter Paul Gutierrez
My take: In theory, McKinley is the type of end who could complement Myles Garrett well starting opposite him. Garrett's speed often forces quarterbacks to step up into the pocket. McKinley, with his power, can collapse the pocket from the other side, preventing mobile QBs from escaping. McKinley has the talent. But his health and head will need to be right for him to give the Browns what they need up front.
He said it: "Life is a rollercoaster. For me, the biggest thing is to learn from my mistakes. I am not perfect. I made a lot of mistakes in my past. However, if I want to grow from that, I just do not make the same mistake twice. As far as the opportunity goes, sometimes a fresh start is the best thing for everyone. I am just very, very excited to be a part of the Cleveland Browns knowing how bad they wanted me and knowing the opportunity that lies in front of me." – McKinley
Fantasy Football cheat sheets – Updated 2021 player rankings, PPR, non-PPR, depth charts, dynasty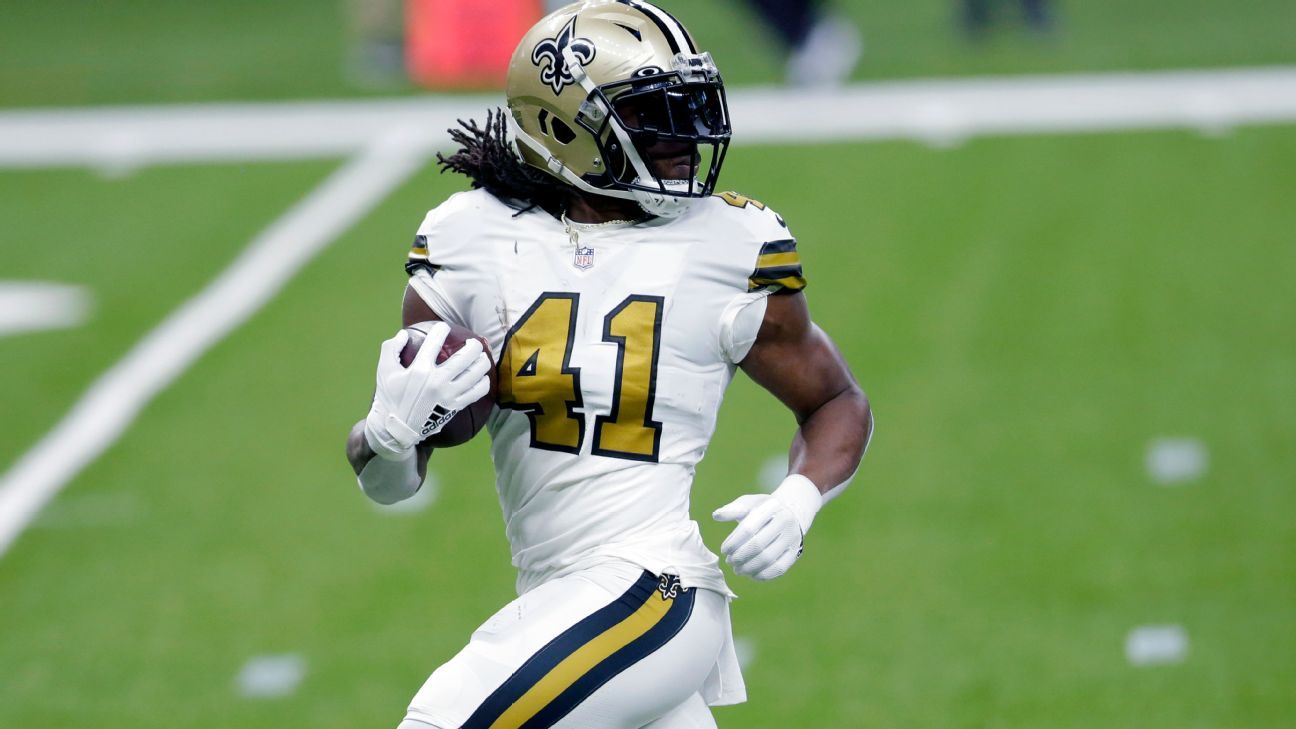 If you're seeking a one-stop shop for updated 2021 fantasy football rankings and cheat sheets throughout the summer, you've come to the right place. Below, you will find them for PPR and non-PPR formats, as well as dynasty leagues.
PPR positional cheat sheet
One sheet with players broken down by position, including overall rank, salary-cap value and bye weeks for leagues that award one point for each catch. Download »
PPR top-300 cheat sheet
This sheet features 300 players in order of overall draft value, with positional rank, salary-cap value and bye-week information for leagues that reward each catch with a point. Download »
Non-PPR positional cheat sheet
For leagues using the scoring format that doesn't award an extra point for each reception. One sheet with players broken down by position, including overall rank, salary-cap value and bye weeks. Download »
Non-PPR top-300 cheat sheet
This sheet features 300 players in order of overall draft value, with positional rank, salary-cap value and bye-week information. Download »
Mike Clay's team-by-team projection guide
If you want the full breakdown for all 32 teams, you've come to the right place. Download »
NFL team depth chart cheat sheet
Fantasy depth charts for each NFL team: top two QBs, three running backs, four wide receivers, two tight ends and a kicker. Prioritized by fantasy value in PPR leagues rather than role defined on a traditional NFL depth chart, includes players' positional ranks. Download »
Dynasty cheat sheet
Features the top 240 players and 60 best rookies to make all of your keeper and dynasty league decisions. Includes the age of players at the start of the 2021 season. Download »
*All cheat sheets are in PDF format. Your device must be equipped with a PDF reader for you to access and print the cheat sheet.
From Liberia to the Ravens: How Gus Edwards' journey came full circle – Baltimore Ravens Blog
OWINGS MILLS, Md. — Baltimore Ravens running back Gus Edwards was about sign his two-year $10 million extension on Monday when he thought to pick up his phone and share the moment with his father.
"What's crazy is that my father is actually in Liberia right now," Edwards said. "He was like, 'I'm at the house right now.'"
Edwards lived in Liberia until he was five years old, when he immigrated to the United States with his mother. Edwards' aunt was fortunate to go to America after winning a lottery as part of the Diversity Visa program, and the family decided Edwards' father and sister would be the two members who would accompany her. A few years later, Edwards joined them, escaping the country during the Second Liberian Civil War.
Edwards, 26, doesn't remember much about his time in Liberia, outside of taking his farewell pictures on his last day there. On Monday, he posted a picture on Instagram of his father standing in front of his childhood home, which showed the crumbling concrete steps and the deteriorating cinder block walls. Edwards then signed his new deal with Baltimore, which gave him a $3.75 million signing bonus as well as a sense of his journey coming full circle.
"It was just fantastic — just seeing everything come together," Edwards said. "It's been a blessing."
A journey 🙏💜 @GodsGiftGus13 pic.twitter.com/7DpW98z93a

— Baltimore Ravens (@Ravens) June 7, 2021
Edwards is a punishing downhill runner in the only NFL offense to ever total more than 3,000 yards rushing in consecutive seasons. He's often been overlooked, maintaining a low-key personality while playing behind the likes of Mark Ingram II and J.K. Dobbins.
But few players have been as efficient as Edwards. Of the 31 players who have run the ball at least 400 times over the past three seasons, only two have averaged more yards per carry than Edwards (5.20): former NFL MVP Lamar Jackson (6.0) and two-time Pro Bowl running back Nick Chubb (5.23).
"He deserves a lot more credit than he gets," tight end Mark Andrews said at the end of last season. "He's the heart and the soul of our team with everything he does, the way he runs the ball. He breaks tackles left and right. He's a beast."
Just like he fights for every yard, Edwards had to battle for his spot in Baltimore after being the team's No. 5 running back three years ago. Undrafted out of Rutgers in 2018, Edwards was cut before the regular season, as the Ravens kept Alex Collins, Buck Allen and Kenneth Dixon at running back.
Edwards was signed to the Ravens' practice squad, but he had to bide his time. When Dixon went on injured reserve with a knee injury after the season opener, Baltimore promoted De'Lance Turner instead of Edwards to replace Dixon.
It wasn't until Turner hurt his hamstring in early October that Edwards was placed on the 53-man roster. And it wasn't until Jackson took over as the starting quarterback midway through the season that Edwards got a shot to start.
Meshing instantly in Baltimore's new read-pass option attack, Edwards produced 654 yards rushing in the final seven games of 2018, which ranked behind only Saquon Barkley and Derrick Henry over that span.
"He's a guy who we all root for," Ravens coach John Harbaugh said. "I think he's a really good fit in our offense, and he understands that. He's just a really good fit, also, in our personality as a football team. We appreciate him and the way he plays, and the way he carries himself. He's just really the most deserving guy."
In each of the past two years, the Ravens have added to the backfield, signing Ingram in free agency in 2019 and drafting Dobbins in the second round in 2020. But Edwards has kept plowing ahead, gaining a first down on an NFL-best 30.9% of his carries since 2018.
"That's one person, for sure, when you're in the hole with [him], you've got to brace yourself and get ready, because Gus is 'Gus the Bus' for a reason," Ravens linebacker Patrick Queen said. "He earned that money."
A restricted free agent, Edwards could have tested the market after the season. Instead, he struck a deal with Baltimore that places him among the top 20 highest-paid backs in the league in average per year.
Staying at a place that feels like home, especially with the path Edwards has taken, means a lot to him.
"I feel like I have unfinished business here," Edwards said. "I'm comfortable here, I'm happy here and it works for me. In one way or another, I was hoping to stay. I'm just blessed."
Tim Tebow won't be the first NFL training camp sideshow
The Jacksonville Jaguars signed Tim Tebow, and everyone lost their dadgum minds.
It seemed outrageously unacceptable that the Jaguars would devote a training camp roster spot to a 33-year-old who hasn't played football in six years and is attempting to transition from quarterback to tight end. It wasn't hard to feel cynicism toward the Jaguars and Tebow, especially when his jersey quickly jetted to the top of the NFL's sales list.
There is, however, another way to view the training camp sideshow coming to Jacksonville later this summer, one that is decidedly less angry and more in line with NFL history. As it turns out, lots of NFL teams have used summer roster spots for less-than-super-serious purposes. They just came at a time when there was less scrutiny on every personnel move.
Some of those experiments worked out, most of them did not. But all of them have provided lasting wrinkles in the story of pro football. What follows are a handful of notable examples, all reminders that football is supposed to be fun and that some teams don't take the 90th roster spot as seriously as you.


No one laughed when Lesnar started telling people that he wanted to try pro football. At 26, he was eight years removed from his last high school game. But he had rare physical traits, as a 286-pound professional wrestling champion who ran the 40-yard dash in 4.7 seconds and had a 35-inch vertical leap. He also benched 475 pounds, squatted 695 pounds and had delivered a convincing mean streak via his WWE character.
The Vikings were a natural landing spot, given his history as an All-American wrestler at the University of Minnesota. Coach Mike Tice was hoping to spice up camp, if nothing else, and owner Red McCombs knew a winning sideshow when he saw one.
Wearing No. 69, Lesnar appeared in preseason games as a defensive tackle and a cover man on kickoffs. His most notable moment, though, was getting involved in a series of fights with Kansas City Chiefs offensive linemen during a joint practice. At one point, Lesnar ripped the helmet off a Chiefs player and, after being sent to the sidelines, stirred nearby fans into a frenzy.
Ultimately, the learning curve proved too steep. Lesnar went back to wrestling and kept pushing for new areas to dominate. He found one a few years later and won the undisputed heavyweight championship in the UFC.
---
1963: George Plimpton in Detroit Lions camp
Plimpton, 36 at the time, was a writer who helped pioneer immersive sports journalism. In other words, he figured that a good way to report on something was to participate in it. So he started pitching NFL teams on a training camp invite as a "last-string quarterback" to give him material for a book. Plimpton found a taker in the Lions, who hadn't been to the playoffs in five seasons and wouldn't go back for another eight.
The book was called "Paper Lion," in which Plimpton demonstrated the wide gap between amateur and professional athletes. Coaches and team executives were aware of the bit, but Plimpton asked them not to tell players because, he wrote, "I'd like to be thought of as just another rookie."
Wearing No. 0, Plimpton got a handful of snaps in an intrasquad scrimmage — the offense moved backward on each play — and had hoped to play in a preseason game before commissioner Pete Rozelle barred it, according to later reports. But the experience was rich enough to spawn a book that led to a movie starring actor Alan Alda, who received a Golden Globe Award nomination for his performance. The Lions went on to 5-8-1 record, missing the playoffs, but their issues went far deeper than a pretend backup quarterback.
Five decades later, Plimpton's book spawned a similar project. Author Stefan Fatsis convinced the Denver Broncos to let him kick in their 2008 camp and later published a book titled, "A Few Seconds of Panic."
---

NFL teams had been pursuing track stars for decades by the time Nehemiah entered the scene. But Nehemiah, who had set a world record in 110-meter hurdles the year before, generated a frenzy among NFL squads when he expressed a desire to play in the NFL. Washington figured it had the inside track on signing him, given Nehemiah's time as a University of Maryland student, but the 49ers swooped in with the first contract guarantees in franchise history to secure him as a training camp receiver.
In reality, those guarantees ensured that Nehemiah would make the team — even though it had been five years since he played football. Given his speed, it made sense to put him on the field if for no other reason than to stretch defenses.
Like his track/football predecessors, he struggled with drops. For a time, his name was synonymous with the idea that elite speed can't paper over inexperience with the game itself. But the real turning point in his career, he later told Sports Illustrated, came when he was knocked unconscious by a hit in 1983.
In 40 games over three seasons, Nehemiah caught 43 passes for 357 yards and four touchdowns.
---

1969: Jimmy "Oops" Hines in Miami Dolphins camp
A gold medalist at the 1968 Olympics, Hines was the first man to break 10 seconds in the 100-meter dash. That was more than intriguing for NFL teams, who had also pursued fellow 1968 star Tommie Smith and would later do the same for John Carlos. The Dolphins, who were in their third year of existence and had a combined 7-21 record in their previous two seasons, drafted Hines in 1968. Based on his 100 time, Hines qualified as the fastest player in the history of the NFL at that point.
But he had never played football before, and let's just say Hines earned his nickname during training camp. After assigning him the No. 99, the Dolphins found out that he couldn't catch the ball with any consistency. They didn't give up on him, however. After all, you can teach people to catch, but you can't teach speed. Or so they thought.
Hines spent the 1968 season on a taxi squad. He made it onto the field for nine games in 1969 for the Dolphins and one for the Chiefs in 1970. He finished his NFL career with two receptions for 23 yards, one 7-yard carry and a 22-yard kickoff return.
---

1965: "Bullet" Bob Hayes in Dallas Cowboys camp
Some of these unorthodox experiments have actually worked. To be fair, Hayes had more football experience than most of the other track stars that NFL teams later tried to convert. He had been recruited to play football at Florida A&M, where he also developed into an Olympic-level sprinter.
The Cowboys and Denver Broncos both used future draft picks to secure his rights in 1964, after which he went to the Olympics and won two gold medals. He joined the Cowboys in the summer of 1965. No one knew what to expect, but his impact was immediate: Hayes' speed was the talk of camp.
"It was like he was melting, he was so fast," fellow receiver Frank Clarke reportedly said.
He could catch, too. Defenders couldn't stay with him, and they lost ground on even the shortest routes. Hayes led the league in touchdown receptions in both 1965 and 1966. His speed changed the game, requiring defensive coaches to sharpen zone defenses and sparking an intense scouting search for speed from any source.
Hayes was inducted into the Pro Football Hall of Fame in 2009, having finished his career with a telling average of 20 yards per reception.