Patriots hit pause at QB with Cam Newton and Jarrett Stidham … for now – New England Patriots Blog
FOXBOROUGH, Mass. — Quick-hit thoughts/notes around the New England Patriots and NFL:
1. QB checkpoints: Timing and leverage are often two of the most important factors for striking deals, and they are at the heart of the Patriots' current quarterback decision-making approach.
Coach Bill Belichick is sometimes fond of saying "Last time I checked, our first game isn't until September." That basically explains why the Patriots are pressing the QB "pause" button at the moment, with owner Robert Kraft expressing support for Cam Newton and Jarrett Stidham in 2021, while also acknowledging the team has to solidify the position long-term.
Here are three key checkpoints to watch:
Draft (April 29-May 1): Selecting at No. 15 in the 2021 NFL draft, the Patriots likely won't be in position to land a top prospect unless they move up. ESPN draft analyst Todd McShay has them jumping to No. 11 to pick Ohio State quarterback Justin Fields in his most recent mock draft. But the QB class goes beyond the top five of Trevor Lawrence, Zach Wilson, Mac Jones, Trey Lance and Fields. And if the Patriots follow a path similar to what they did in 2014 with Jimmy Garoppolo (second round, No. 62) — with Florida's Kyle Trask, Stanford's Davis Mills, Texas A&M's Kellen Mond and Wake Forest's Jamie Newman among the second-tier options — they could go into 2021 with Newton/Stidham/prospect, hold firm, and see where the chips fall.

End of organized team activities/start of training camp (mid-June/late-July): At this point, the San Francisco 49ers would have a better grasp of their comfort level with their No. 3 overall pick, and if it might be realistic to turn the team over to him. If so, that could lessen their asking price for Garoppolo. In turn, the Patriots will also have more information on Newton and Stidham from OTAs to gauge if their offseason analysis that both could be the answer in 2021 has merit. That intelligence would dictate how far the Patriots might be willing to extend in a potential trade offer.

Opening weekend (early September): Once Garoppolo is on the 49ers' roster for the first game of the season, his $24.1 million salary is guaranteed. That's a true leverage point to see how committed the 49ers are to carrying both Garoppolo and the No. 3 pick for the 2021 season — especially when considering future extensions for defensive cornerstones Fred Warner and Nick Bosa. It also assumes Garoppolo doesn't force his exit before that point, which as of now, doesn't seem to be part of his thinking. This might be late from a Patriots standpoint, but given Garoppolo's background in the system, still tenable for a player they view favorably.
Todd McShay breaks down the potential fit of quarterback Mac Jones with the 49ers.
2. Culture starts at top: Kraft's conference call with reporters on Wednesday, as part of his annual Q&A at the time of the NFL's owners meeting, struck a chord from the standpoint the culture of every organization starts at the top. Kraft was direct, passionate and even critical at times (e.g. the team's recent draft results). Some organizations might accept a 7-9 season as part of the ebb and flow of an NFL structure that is geared toward everyone being 8-8. Kraft, who has spent an NFL-record $165 million in guaranteed money since free-agent negotiating began March 15, made it clear the Patriots do not.
3. McDaniels and QBs: It wasn't a coincidence Patriots offensive coordinator Josh McDaniels was present at Alabama's pro day on Tuesday, followed by Florida's on Wednesday. It gave him a close-up look at Jones, followed by Trask, and highlighted how he will be a leading voice as the Patriots consider draft options. While it now seems clear Jones won't be available for New England, there is still value in getting the most thorough scouting report to provide a comparison point to other QB prospects.
4. Patriots' 'different' approach: One popular follow-up question from Kraft's comments was about his belief he has seen a "different approach" with the team's draft-based scouting. What exactly is different? Other than Dave Ziegler earning a promotion following Nick Caserio's departure to become Texans GM, the staff essentially remains intact, with Ziegler having previously mentioned Eliot Wolf, Steve Cargile and Brian Smith among those playing notable roles in the transition. Matt Patricia is also making his presence felt. Perhaps that's what Kraft meant when he said of free agency: "This was a team effort on the part of our personnel department. There's three or four [who were] very active with Bill. They were so thorough."
5. Stability counts: While Kraft's remarks on the team's recent drafts could be viewed as a challenge of sorts to Belichick, not to be overlooked was something Kraft also said about how much he values their extended time together. "He's been with us for 21 years. He's maybe the best ever to do it. I don't think [stability and] continuity in coaches in the modern era has been stable. I'm pretty happy with our working relationship." Belichick is easily the NFL's longest-tenured head coach followed by Sean Payton (Saints, 15 years) and Mike Tomlin (Steelers, 14 years).
• Grading the biggest deals » | Top 100 »
• Best remaining » | Free agency buzz »
• Experts debate free-agency signings »
• See more on free agency »
6. Times change: In a reminder of how times change, former Patriots vice president of player personnel Scott Pioli was reflecting on the team's 2001 free-agent splurge on "The Peter King Podcast," noting how it was 23 players signed for a total of $2.5 million in signing bonus money, and there were no private planes and limos on the recruiting visits. Those prices don't exist today, and the in-person visits are mostly a thing of the past.
7. Meritocracy returns: One other point Pioli made about the early years that has relevance today was when he said: "The New England Patriot model was really meritocracy. The best players were going to play." Because of a decline in overall talent in recent years, there wasn't as much internal competition at various positions to allow that type of meritocracy to truly manifest itself. Now, with an infusion of free-agent talent across several positions, and what the Patriots hope will be a productive draft, the thinking among some in the organization is that they can get back to that.
8. Draft nugget: The Patriots own 10 selections in the draft, which is the type of volume they have grown accustomed to. Since the draft was shortened to seven rounds in 1993, they have selected at least 10 players in 13 of 28 drafts. The highest total of selections the Patriots have made is 13, in 1996. That was followed by 12 picks in both 2009 and 2010.
9. Ticket value: When a team raises ticket prices, it usually results in a headline. In the spirit of fairness, there should be a headline when ticket prices not only remain flat, but the value of season-ticket members' 10-game package increases with the addition of a ninth regular-season game in 2021 in place of a second preseason game. That's what happened last week for Patriots season-ticket members; like a stock portfolio gaining value without having to make an additional investment.
10. Did You Know: The Patriots' 29 trades in the 2019 to 2021 calendar years are the most in the NFL, according to ESPN Stats & Information, followed by the Dolphins (26), Raiders (20) and Seahawks (20).
Denver Broncos WR DaeSean Hamilton tears knee ligament in workout away from team facility, sources say
ENGLEWOOD, Colo. — Broncos wide receiver DaeSean Hamilton, whom Denver was trying to trade in recent days, has suffered a torn knee ligament in a workout away from the team's complex, team sources told ESPN.
Hamilton suffered the injury Friday morning, and had not been working out at the team's suburban Denver facility, sources said.
Hamilton is the second Broncos player to have suffered a significant injury away from the team's complex after tackle Ja'Wuan James suffered a season-ending Achilles tendon injury earlier this month. James was officially released Friday.
The Broncos were seeking to trade Hamilton, who was a fourth-round pick in the 2018 draft, over the past week and had talks with at least one team as recently as Thursday. The Broncos, given Courtland Sutton's return from last season's ACL tear and the depth at wide receiver overall, were expected to waive Hamilton if no trade partner could be found before they began their OTAs later this month.
The Broncos will begin "Phase 2" of their voluntary offseason program Monday.
The NFL Players Association had advised players not to take part in voluntary workouts at team facilities this offseason. The Broncos players were among the first to issue a joint statement in April saying they would boycott the voluntary workouts, and the team has still had a little more than 20 veteran players working out at the facility at various times in April and May.
James' injury has already been a flashpoint between the NFL and the NFLPA over the "non-football injury" designation. That designation means teams are not required to pay players their full base salaries if they were injured outside of team facilities.
The day after James was injured earlier this month, he was specifically named in a memo from the NFL's management council to team executives and head coaches. In that memo it was outlined under the "Non-Football Injuries" designation that teams like the Broncos would have "no contractual obligation" to pay players like James who were injured away from the team facilities.
The memo also outlined why a player's salary would be paid if the injury had been suffered during a workout at a team's complex. The memo also said: "Clubs are encouraged to remind players of the significant injury-related protection provided if they choose to work out at the club facility and the risks they undertake in choosing to train at a non-NFL location."
The NFLPA responded two days later in an email to players that said: "It was gutless to use a player's serious injury as a scare tactic to get you to come running back to these workouts."
The email added: "This memo is another sign of what they think of you and also affirms that they simply want to control you year-round in any and every way that they can."
James' release Friday had a vested veteran, non-football injury, post-June 1 designation.
The Broncos are essentially voiding $10.58 million worth of guarantees James had for the season — $10 million in base salary in addition to a 17th game check, added when the schedule was increased.
The Broncos will carry a $13 million "dead money" charge against this year's salary cap after James' release. James and the NFLPA could file a grievance to try to recover some of the money he lost with the release.
Earlier Friday, James had posted on social media that his "surgery went well," adding: "Appreciate everyone reaching out. Always remaining positive & striving to be better than yesterday."
Given the Broncos were trying to trade Hamilton and were poised to waive him if they didn't find a trade partner, his situation might be handled differently than James' by the team as both players are likely headed for injured reserve at some point.
Hamilton's base salary for the 2021 season was scheduled to be $2.183 million, while James has a $10 million salary guarantee.
Hamilton, who has struggled with drops and some confidence issues that have followed some of those drops, had 81 receptions over his first three seasons combined and five career touchdowns. He had 23 catches for 293 yards and two touchdowns last season.
Fully vaccinated NFL players, staff can shed masks at team facilities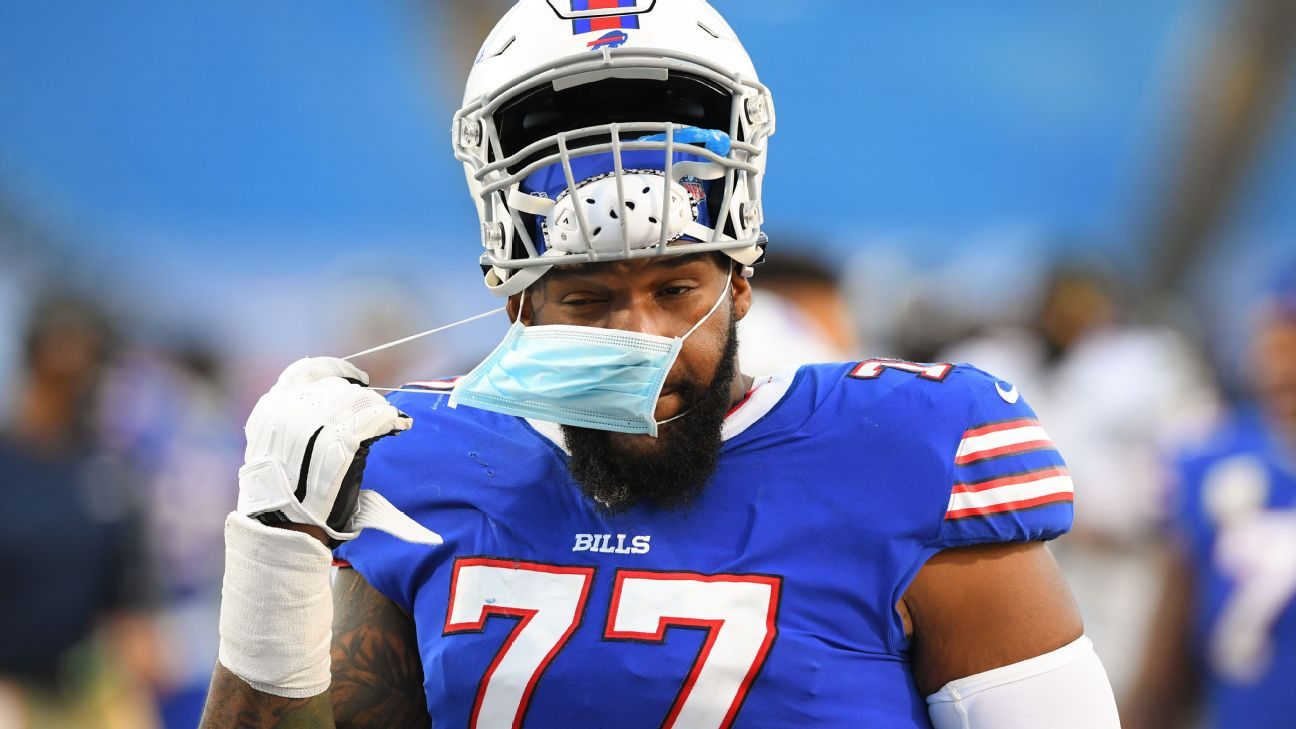 Fully vaccinated NFL players and staff will no longer be required to wear masks at team facilities, the league informed clubs in a memo Friday. The policy change is effective immediately.
The NFL's health and safety department made the decision after the Centers for Disease Control and Prevention updated its COVID-19 mask guidelines for the United States on Thursday. People are considered fully vaccinated if 14 days have passed since their second shot of the Pfizer and Moderna vaccines or their single shot from Johnson & Johnson.
The league is encouraging but not requiring players to get vaccinated. Non-players are expected to be vaccinated unless they have a medical or religious exemption. Those who are not vaccinated will not be allowed to interact with players.
Cleveland Browns coach Kevin Stefanski learned of the news on the practice field during rookie camp Friday. The reigning NFL Coach of the Year was able to take his mask off for the first time as a head coach.
"It felt pretty good," Stefanski said. "There were some people I didn't realize what they looked like."
According to the memo, the NFL expects additional modifications to come that will reflect "the greatly reduced risk of viral infection and transmission in fully vaccinated individuals."
The Associated Press contributed to this report.
New York Giants' Kadarius Toney does drill shoeless due to 'wrong size' cleats
EAST RUTHERFORD, N.J. — New York Giants first-round pick Kadarius Toney's first practice with the team did not go exactly as planned. That was evident when he was seen running an individual wide receiver drill Friday without a cleat.
Shoeless KT was born out of necessity because of what he termed the "wrong size" cleats.
Toney was seen fiddling with his right cleat early during Friday's rookie minicamp practice. At different points during the workout he changed cleats, added socks, changed socks, worked with the equipment staff and even the training staff. He even kneeled off to the side and looked downright uncomfortable at times.
It's fair to say on this one he didn't start out on the right foot. Instead, he started out barefoot.
"I think they did the wrong size. Just figuring it out right now," Toney said afterward. "I ended up getting it eventually."
Well, at least not before the session was over. Despite returning for a special teams period late in practice, Toney was on the side as his teammates ran conditioning drills to finish the day.
It was an unusual first impression, no doubt.
"Yeah, it was kind of, yeah, basically just cleat," Toney said. "I mean, yeah, it was just a safer route to go [on the conditioning], I guess you could say."
The Giants traded back in the first round of last month's draft and used the 20th overall pick to select Toney out of the University of Florida, where he was first-team All-SEC last year.
But everything is new now that he is a professional, including his equipment. Toney signed an apparel deal with Adidas before the draft, according to his Instagram account.
Coach Joe Judge considered this rookie minicamp, which began Friday, as a sort of orientation for the rookies. But he probably did think that meant figuring out what size shoe would fit his top pick in this year's draft.
"You know what, first day on the field I think there's a little bit of equipment issue," Judge said. "We have to get that straightened out and make sure our guys hit the field with equipment they are comfortable with. We'll handle that, make sure it's not an issue going forward."
Day 2 is scheduled for Saturday. Hopefully with two properly fitted cleats.