President Joe Biden calls no limit on fans at Texas Rangers' stadium 'not responsible'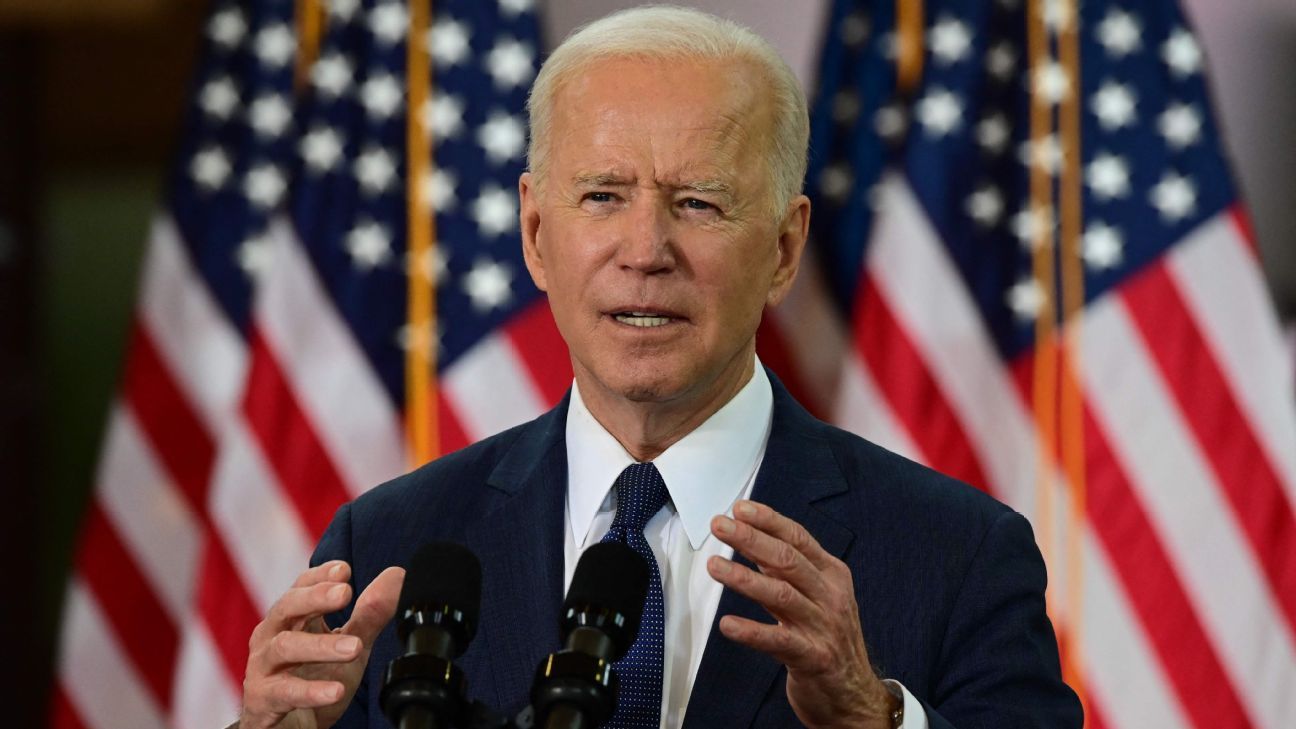 President Joe Biden, speaking the night before major league ballparks reopen to fans throughout the country, stressed the importance of wearing masks and continuing to abide by health and safety protocols to prevent the spread of COVID-19, calling it "a mistake" for the Texas Rangers to open their stadium at full capacity for Opening Day.
Biden made his comments as part of an interview with ESPN's Sage Steele that will air on SportsCenter at 11 p.m. ET on Wednesday.
The Rangers' Globe Life Field, which can seat 40,300, is the only Major League Baseball stadium that will allow 100% crowd capacity on Opening Day.
"Well, that's a decision they made. I think it's a mistake," Biden said. "They should listen to Dr. [Anthony] Fauci, the scientists and the experts. But I think it's not responsible."
The Washington Nationals will open their stadium to 5,000 fans on Thursday, a 12% capacity that is tied with the Boston Red Sox for the lowest in the sport. Several teams hope to join the Rangers on the 100% milestone over the summer. The NFL, meanwhile, is already making plans to host fans at full capacity when its season opens on Sept. 9, commissioner Roger Goodell said earlier this week.
When asked how he would advise players who might feel hesitant about receiving the COVID-19 vaccine, Biden said: "I would say I'm President of the United States and I got vaccinated. I don't have an unimportant job. Would I take the vaccine if I thought it was going to hurt me? We have done incredible research on the vaccines and they have shown that they work. We have to get to the point where enough people have taken the vaccine so we diminish the possibility for it to spread."
As a way to potentially incentivize players to receive one of three approved vaccines, Major League Baseball sent a memo to teams on Monday that outlined relaxed protocols for vaccinated players, coaches and staff members, allowing them the freedom to eat at restaurants, gather indoors and fully utilize clubhouse amenities, among other activities. The league has specified two sets of relaxed protocols, one for individuals two weeks removed from being fully vaccinated and the other for teams that get 85% of their Tier 1 employees fully vaccinated.
People throughout the industry have previously expressed concern that enough players would agree to vaccinations for relaxed protocols to kick in. But St. Louis Cardinals manager Mike Shildt said Wednesday that his team had already reached that mark, and Houston Astros third baseman Alex Bregman expressed confidence that his team would eventually do the same. Other clubs are expected to follow.
"Well, that's a decision they made. I think it's a mistake. They should listen to Dr. [Anthony] Fauci, the scientists and the experts. But I think it's not responsible."

President Joe Biden on full capacity at Globe Life Field on Opening Day
The Nationals, however, announced that they received a positive COVID-19 test from an undisclosed player and that four other players would miss Thursday's opener against the New York Mets under the contact-tracing protocol.
Biden noted that more than 600 million doses of the three vaccines — Pfizer, Johnson & Johnson and Moderna — have been purchased by the U.S. government and that 75% of people age 65 and older have received at least one of them.
"We are moving across the board that way," Biden said. "That's going to diminish the prospects of its spread. In terms of it being responsible [for stadiums to open at full capacity] — you see what's happening in Europe now when they lifted the mandates. I don't know why we don't just follow the science and beat this — just flat out beat it. We are going to have enough vaccinations, vaccinators. We've opened places. We're doing everything we can to make it clear to people, 'Get the vaccine as quickly as you can get it.' By the end of [April], we're going to be in a position where everyone can get the vaccine."
As MLB and the MLB Players Association grapple with player vaccinations and how they affect the ever-evolving health-and-safety protocols, the league and the union are also monitoring a potential controversy around July's All-Star Game in Atlanta. Georgia Gov. Brian Kemp signed into law last week a sweeping Republican-sponsored bill that includes new restrictions on voting by mail and greater legislative control over how elections are run, one that, critics say, will disproportionately disenfranchise voters of color.
MLBPA executive director Tony Clark previously said he "would look forward" to discussions around moving the Midsummer Classic out of Truist Park, and Biden, a Democrat, said he would "strongly support" such a decision.
"People look to them," Biden said, referring to professional athletes and their outsized platforms. "They're leaders. Look at what happened with the NBA, as well. Look what's happened across the board. The very people who were victimized the most are the people who are the leaders in these various sports, and it's just not right. This is Jim Crow on steroids what they're doing in Georgia and 40 other states. What's it all about? Imagine passing a law saying you cannot provide water or food for someone standing in line to vote. Can't do that? Come on. Or you're going to close the polling place at 5 o'clock when people just get off? This is all about keeping working folks that I grew up with from being able to vote."
Biden described his wife, Dr. Jill Biden, as a diehard fan of Philadelphia sports teams and said the best athletes in his family are women, noting that one of his granddaughters is all-state in two sports. Biden and his wife hosted Olympic gold medalist Megan Rapinoe and her U.S. women's soccer teammate Margaret Purce in the Oval Office last Wednesday, then watched Rapinoe speak at an "Equal Pay Day" event in which she said she has been "devalued" as a woman.
The U.S. Census Bureau estimated that in 2019 women earned 82 cents for each dollar paid to a man.
"I just don't think it's right and don't think it's fair," Biden told Steele. "That's why I supported Title IX."
Ahead of city council vote on stadium proposal, A's president says 'Our future in Oakland is hanging in the balance'
Eight Oakland City Council members will cast non-binding votes for a proposed $12 billion development and ballpark plan on Tuesday morning. An affirmative vote will simply keep the ambitious project alive, but a dissenting vote, the Oakland Athletics say, will kick-start the team's relocation efforts.
Speaking roughly 22 hours before that crucial vote, A's president Dave Kaval still didn't know what to expect.
"Our future in Oakland is hanging in the balance," Kaval said in an interview with ESPN on Monday afternoon, "and we are doing everything we can to get a 'yes' vote tomorrow on our plan and keep the A's rooted in Oakland. But we don't know if we're gonna get a positive vote. There's still a lot of areas we're apart significantly with the city, and we go into the vote not knowing how it's gonna play out."
A two-decade-long process to secure a new stadium in the Bay Area has reached what Major League Baseball commissioner Rob Manfred referred to as "the end" prior to last week's All-Star Game. There have been unsuccessful proposals in San Jose, Fremont and multiple sites in Oakland, most notably around Laney College. Renovations of the current Coliseum site, where the A's have played since 1968, have been deemed nonviable largely because of the team's stated desire for a downtown location.
All that is seemingly left to prevent the A's from leaving Oakland — and following the recent paths of the NBA's Golden State Warriors and the NFL's Las Vegas Raiders — is a 35,000-seat waterfront ballpark proposal within the Howard Terminal site in the Port of Oakland.
The A's made public proposals in April stating that they would privately finance the ballpark, which will cost an estimated $1 billion, while also providing $450 million in community benefits and arranging for an additional $11 billion in private investment to eventually build up the surrounding neighborhood. But the City of Oakland made a counter-proposal on Friday that Kaval said "lacks details and specifics and really doesn't answer any of the questions that we have that need to be addressed to continue to move forward."
The biggest issue stems from the $855 million the A's have asked the city to pay in infrastructure improvements using taxes generated by the project. The A's proposed two infrastructure financing districts to cover that cost, but the city rejected the proposal to create an additional district at nearby Jack London Square, leaving what Kaval estimated as a $352 million shortage that the A's would have to cover.
"That's an extraordinary sum of money," said Kaval, who has been leading the A's stadium efforts since joining the team in November of 2016. "And not having specificity is a key concern. There's also concern about additional taxes that they're putting on the project — condo transfer tax, a transportation tax that obviously push up the cost as well. Those are all items that are problematic. And we've been clear that the project can only do so much. We can't solve all of Oakland's problems, but we can do a lot to make this a better community and keep the A's here for many generations to come. And that's why we're looking for an affirmative vote on our plan."
The A's need at least five council members to approve their plan, or four council members plus Oakland Mayor Libby Schaaf. Kaval said there has been "continuing negotiations" over the weekend and into Monday but that the two sides "remain significantly apart."
The Mayor's Office declined to comment when reached by ESPN on Monday. Justin Berton, a spokesperson for Mayor Schaaf, released a statement saying: "The City and the A's are continuing their dialogue today with the shared goal to make a world-class ballpark a reality. The City will continue to advocate for a proposal that supports and serves Oakland and our entire region, provides affordable housing, public parks, great jobs and other direct benefits for the community — all without risk to our Port, our taxpayers, or the City or County's general funds."
The A's lease at what is now called RingCentral Coliseum expires after the 2024 season. If ultimately approved, the Howard Terminal ballpark wouldn't be ready until 2027, leaving the A's with a two-year gap to cover in Oakland.
In the meantime, team officials have continue exploring Las Vegas and its surrounding areas as an alternative. Kaval and A's owner John Fisher have made three trips to South Nevada this year and plan to return there on Wednesday. Manfred said last week that it would be "a mistake" to refer to the Vegas option as a bluff, calling it "a viable alternative for a major league club." A "no" vote on Tuesday — City Council members will meet at 9 a.m. PT — could trigger conversations with other potential relocation sites such as Portland, Nashville, Vancouver and Montreal, among others.
Kaval isn't clear on whether the city would ultimately vote on the A's plan, which was presented to Oakland officials at the start of 2021, or the city's counter offer from Friday, adding that a "yes" vote on the latter would be "akin to a 'no' vote" because the team does not approve.
"In many ways we're down to our last at-bat in Oakland," Kaval said. "But if we get a win tomorrow, and an agreement we agree with, we can send it into extra innings and hopefully get the final victory in the fall."
Baltimore Orioles ace John Means 'ready to go,' will return from shoulder injury to start Tuesday
ST. PETERSBURG, Fla. — Baltimore Orioles ace John Means will return from a left shoulder strain to start Tuesday night against the Tampa Bay Rays.
The left-hander, 4-2 with a 2.28 ERA in 12 starts this season, last pitched on June 5 against Cleveland. He made three minor league rehab outings, including a three-inning stint with Triple-A Norfolk last Thursday.
"It felt great," Means said on Monday. "Yeah, I'm ready to go."
Means threw a no-hitter, falling short of a perfect game because of a wild pitch on a third strike, against Seattle on May 5.
"We're going to closely monitor him. I'm not going to push him in any sort of way his first couple starts," Orioles manager Brandon Hyde said. "Once he gets settled back in after these first couple starts I hope he does finish like he did last year, that he was one of better starting pitchers in the American League. How he started the year this year, the same way."
Baltimore entered Monday with an AL-worst record of 30-62.
Means missed an Opening Day assignment in 2020 due to a shoulder injury. The problem is an area of muscles in the back of the shoulder.
"Since I throw so many change-ups, it gets a little tighter than most people but it's something that I need to take care of," Means said. "It's something that I didn't and I was just cruising there for so long, and didn't really want to change anything, wanted to stay out of the training room as much as possible. But that was stupid on my part. Now I know that I've got to keep that up and keep that spot as loose as possible so the rest of my muscles aren't doing too much."
Baltimore All-Star center fielder Cedric Mullins was rested in Monday night's series opener against the Rays.
"Not much of an All-Star break," Hyde said. "I want to keep him fresh in the last 70-plus games."
Miami Marlins put Jazz Chisholm Jr., Garrett Cooper on 10-day injured list
WASHINGTON — The Miami Marlins placed infielder Jazz Chisholm Jr. and infielder/outfielder Garrett Cooper on the 10-day injured list Monday after the pair got hurt a day earlier at Philadelphia.
Chisholm left in the first inning with a left shoulder contusion following a diving attempt on Bryce Harper's single in short right field.
Cooper departed in the eighth inning after a collision at first base with Travis Jankowski. He has a left elbow sprain.
The Marlins open a three-game series against the Washington Nationals on Monday night.
Miami recalled outfielder Lewis Brinson and selected right-handed relief pitcher Andrew Bellatti from Triple-A Jacksonville.