Francisco Lindor says he felt comfortable with New York Mets before signing $341 million deal
Francisco Lindor has yet to play a game in New York City, but the comfort the 27-year-old shortstop felt in the New York Mets clubhouse during spring training gave him the confidence to commit to the team in the long term.
"The group of guys and girls that we have in the clubhouse, they are committed to winning. They want to win. They want to improve," Lindor told reporters Tuesday. "They want to get better every single day, and that says a lot that we are in a position that we have a good team. They want to get better and want to continue to get better and improve to bring that championship and to continue to carry on and improve. That, to me, that's what I look for in a franchise."
When Lindor signed his 10-year, $341 million contract — the largest ever for a major league shortstop — on Wednesday night, he wanted to scream with joy. But given that he was sitting in a hotel room and didn't want to bother the neighbors, he kept the noise to himself before calling his loved ones.
"I screamed a little bit, but I wish I was at my house where I could've jumped in the pool, hugged everybody, kissed everybody," Lindor said.
The mega-contract makes Lindor the face of the franchise in one of the most scrutinized media markets in the America. Since he debuted in 2015, Lindor has posted the third-most fWAR (29.2) among active players behind only Mike Trout (46.4) and Mookie Betts (38.4). The star shortstop downplayed the pressure that comes with the contract and said he planned to play with "a lot of pride."
"I'm very proud of my game, and this logo right here. I've got to go out every single day and defend it. Play with a lot of pride," Lindor said. "Play for what I have in my chest. The number next to me, there's 341 million reasons for me to go out there and play the game the right way."
With a self-imposed extension deadline of Opening Day, Lindor and the Mets went down to the wire before coming to terms on the agreement. After a dinner with owner Steve Cohen in Florida, both Lindor and the team gathered a sense of the middle ground the two sides needed to reach in order to come to an agreement.
"[The dinner] helped a lot because we got a sense of where we both were. The offer that was out there, we threw out a number, but that wasn't a line in the sand.," Lindor said. "It gave a sense of where we were to Steve and it gave a sense of where he was. He's all about winning, and we won with this. Both sides are happy. I can't wait to be stuck to his hip for the next 11 years."
In the past 24 hours, Lindor said, he has heard from many friends around the game such as fellow shortstops Carlos Correa and Javier Baez, former teammates like Michael Brantley, and Utah Jazz guard Donovan Mitchell, who is a Mets fan and celebrated the signing on Twitter. While Lindor called the extension "a dream," he also indicated that he's immediately ready to get back to work.
"Whether it was my rookie season or sophomore season or third or fourth year and on, I want to put up good numbers to win. I want to win," Lindor said. "If I put up good numbers, I give my team a chance to win. It was going to be another year. It was obviously a big year because I was going to end up with no contract at the end of the year. There's a sense of urgency of putting the best numbers I can to help my team win, and it's still going to happen, and it's going to happen next year and the following year and the following year. It's not going to stop."
Lindor will be 38 years old when his contract expires. When asked what kind of player he will be in 2032, he kept his answer simple.
"I'll be a bad mother F'er," he said.
Kansas City Royals 3B Hunter Dozier to IL, Chicago White Sox 1B Jose Abreu day-to-day after collision
Chicago White Sox first baseman Jose Abreu and Kansas City Royals third baseman Hunter Dozier both left Game 1 of Friday's doubleheader after they collided in the second inning.
Dozier, who left with a quad contusion and neck discomfort, was placed on the seven-day concussion injured list, and the club recalled Kelvin Gutierrez from Triple-A Omaha prior to Game 2 of the doubleheader.
Abreu is day-to-day after leaving the game with a facial contusion, laceration and bruised left knee. The initial assessment for a concussion was negative.
"He's doing well enough that he wants to play the second game [of the doubleheader]," White Sox manager Tony La Russa said. "He's bruised. He's sore. It could have been worse. … There's a sense of relief."
The nasty collision occurred after Dozier popped up right in front of home plate. As Sox catcher Yasmani Grandal and Abreu converged on it, Dozier started to run to first base, and, while avoiding Grandal, he ran right into Abreu, who was looking up at the ball.
The two hit the ground hard. They lay next to each other for several moments as they were attended to by their respective training staffs. Eventually, both walked off the field with assistance.
"It was extremely scary in the moment," White Sox pitcher Lucas Giolito said. "That was a big collision. [Abreu's] taking some hits and gets right back up. After a minute, he got up and said he was fine and could keep playing. That's the type of player that he is. He'll do anything for this team.
"It was a huge relief going in and seeing he's good, in high spirits. He'll probably be back playing tomorrow."
Abreu is the reigning AL MVP and a big part of Chicago's success this season. Dozier has been struggling and is in the midst of an 0-for-31 skid. Grandal took over at first base, and Zack Collins came in to catch for the White Sox. Hanser Alberto took over at third base for the Royals, who ended up snapping an 11-game skid with the 6-2 win.
New York Yankees' Giancarlo Stanton (quad) out; Aaron Hicks has torn tendon sheath
BALTIMORE — In addition to their COVID-19 outbreak woes, injuries have started piling up for the New York Yankees, with Giancarlo Stanton and Aaron Hicks out of the lineup for Friday night's series opener against the Baltimore Orioles.
Stanton was scratched from the lineup about an hour before first pitch due to left quad tightness, the club announced, replacing him with catcher Gary Sanchez batting fourth in the DH spot.
Manager Aaron Boone also revealed during his pregame media availability that Hicks, who had undergone imaging after suffering from left wrist soreness, was diagnosed with a torn tendon sheath.
Stanton's career in pinstripes has had a seemingly never-ending list of trips to the IL. Nonetheless, this season he has been one of the few shining spots in a Yankees lineup that has failed to live up to its preseason expectations. Stanton is the Yankees' leader in almost every offensive category, including home runs (9), RBIs (24) and slugging (.534).
The Yankees did not give additional details on Stanton's status, but Boone said before the game that he was so encouraged by his conditioning that the team was considering having him work out in the outfield. Stanton has been deployed solely at DH in the 33 games he has started this season.
Hicks, like most of the Yankees' hitters, has been subpar at the plate, hitting just .194/.294/.333 with four home runs this season.
Boone said that Hicks, a switch-hitting 31-year-old, is currently taking anti-inflammatory medication to treat the wrist injury, which might require just an IL stint or even allow him to return to the lineup in the next few days. But it's possible that Hicks could potentially need season-ending surgery.
"The MRI did reveal that he tore the sheath that holds the tendon in place. He started some medicine and we'll see how he responds in the next couple of days. Sometimes that works and kind of declares itself at that point. Surgery could be on the table at some point, as well. But we won't know that for a couple of days," Boone said. "I think it could go either way. In these cases, it seems like a lot of times, the medicine works and knocks it out. If not, then surgery could be on the table."
Boone said that Hicks' type of injury cannot be traced back to a particular play, and that it could have happened even up to "a couple of years ago." A torn wrist tendon sheath is an injury similar to the one suffered by former Yankees first baseman Mark Teixeira in 2013, which allowed him to play all but 15 games that season.
In other injury news, Rougned Odor, who is eligible to come off the 10-day IL on Saturday, has not fully recovered from a right knee sprain. Boone said Odor could return during the Yankees' four-game set against the Texas Rangers later in the week but hinted that his return was more likely to happen during the club's next homestand. The Yankees traded for Odor after the Rangers designated him for assignment ahead of the start of the 2021 season.
It wasn't all bad news on the injury front for the Yankees Friday night, with Boone announcing that he expected shortstop Gleyber Torres, who was placed on the COVID IL after testing positive for the coronavirus Thursday, to return to the team "real soon."
The Yankees are still dealing with a coronavirus outbreak that has affected eight members of their traveling party, including first-base coach Reggie Willits, third-base coach Phil Nevin and pitching coach Matt Blake. Torres is the only player to have tested positive during the club's current outbreak.
Boone did say that one of the individuals who tested positive has already registered at least one negative test, but did not name that person. Players who test positive for COVID-19 have to isolate for a minimum of 10 days, but the MLB/MLBPA joint committee is able to clear them earlier if they are completely asymptomatic and have multiple negative laboratory PCR tests.
Los Angeles Angels push Shohei Ohtani's start vs. Indians back due to fatigue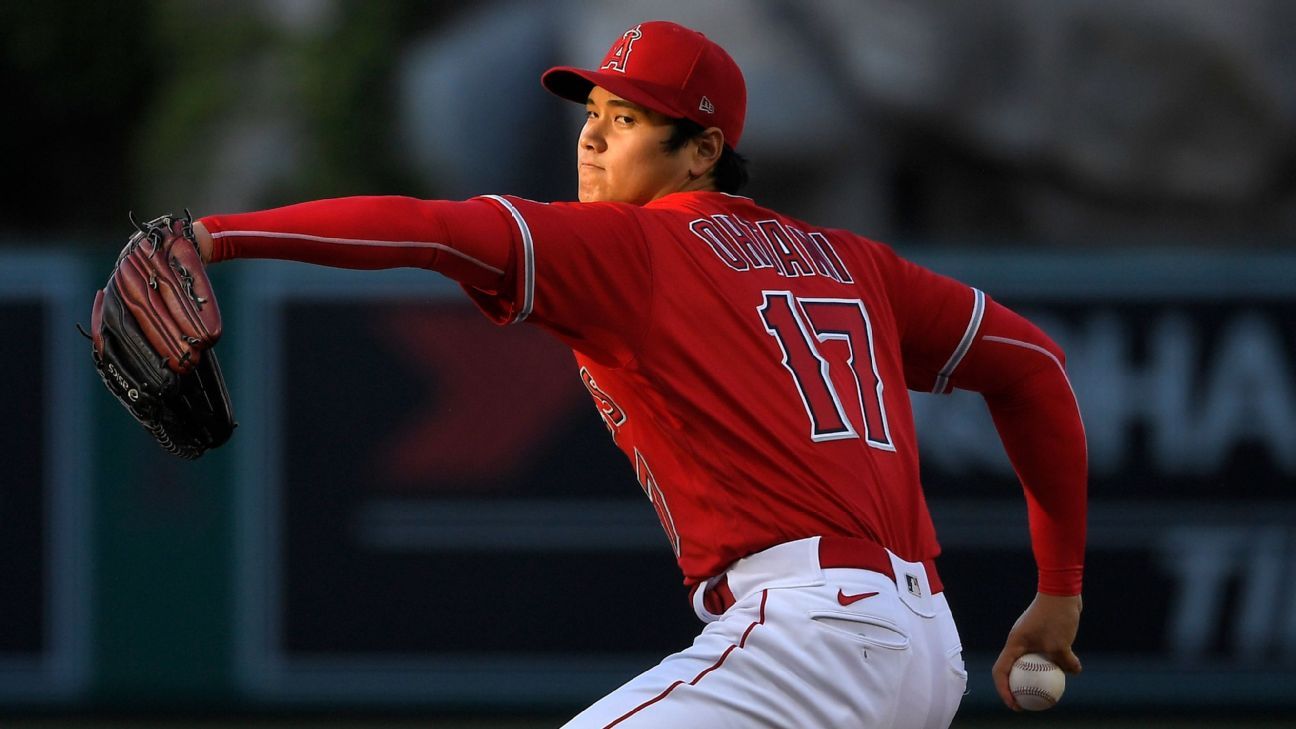 Los Angeles Angels star Shohei Ohtani's scheduled start against the Cleveland Indians on Tuesday has been pushed back due to general fatigue, manager Joe Maddon said before Friday's game against the Boston Red Sox.
Ohtani looked dominant in his last start, allowing just one run across seven innings on Tuesday against the Houston Astros. Maddon said he opted for caution with his two-way star after noticing Ohtani looked off during his stint as a designated hitter on Wednesday.
"We're going to move him back, but we don't know to when," Maddon said. "But there's no blisters. Nothing. Just being proactive. It's in his best interest, too. To me, the day after he pitched the other day, he looked a little bit fatigued at the plate. It set off a little bit of an alarm for me."
Ohtani won't be skipped in the rotation, according to Maddon, and his start will be pushed back just one to three days. He was in the lineup as a DH for Friday's game against the Red Sox.