2021 MLB Opening Day lineups for every game
Major League Baseball is back for a full 162-game 2021 season after a very unique 2020. Not sure who is starting for your team on Opening Day? We're tracking batting orders from across the league as teams start to play in front of their home fans again for the first time since the pandemic began.
The start of this season will be the first chance for New York Mets fans to see new face of the franchise Francisco Lindor, St. Louis Cardinals fans to check out offseason acquisition Nolan Arenado and San Diego Padres fans to see what ace Yu Darvish can do in his new home.
Check back for updates as teams announce their starting lineups for all of Thursday's games, beginning with an AL East Toronto Blue Jays at New York Yankees showdown at 1 p.m. ET on ESPN.
As MLB starts, sign up to play ESPN fantasy baseball here and get ready for Opening Day with predictions and Jeff Passan's 20 biggest questions heading into the season. Plus, check out our depth charts for all 30 teams and complete season preview coverage.
---
Blue Jays
Lineup TBA
Yankees
1. DJ LeMahieu (R) 2B
2. Aaron Judge (R) RF
3. Aaron Hicks (S) CF
4. Giancarlo Stanton (R) DH
5. Gleyber Torres (R) SS
6. Gio Urshela (R) 3B
7. Gary Sanchez (R) C
8. Jay Bruce (L) 1B
9. Clint Frazier (R) LF
---
Indians
1. Jordan Luplow (R) CF
2. Cesar Hernandez (S) 2B
3. Jose Ramirez (S) 3B
4. Eddie Rosario (L) LF
5. Franmil Reyes (R) DH
6. Josh Naylor (L) RF
7. Yu Chang (R) 1B
8. Roberto Perez (R) C
9. Andres Gimenez (L) SS
Tigers
1. Robbie Grossman (S) LF
2. Jeimer Candelario (S) 3B
3. Willi Castro (S) SS
4. Miguel Cabrera (R) 1B
5. Jonathan Schoop (R) 2B
6. Nomar Mazara (L) DH
7. Wilson Ramos (R) C
8. Victor Reyes (S) RF
9. JaCoby Jones (R) CF
---
Lineups TBA
---
Pirates
1. Adam Frazier (L) 2B
2. Ke'Bryan Hayes (R) 3B
3. Bryan Reynolds (S) LF
4. Colin Moran (L) 1B
5. Kevin Newman (R) SS
6. Gregory Polanco (L) RF
7. Jacob Stallings (R) C
8. Anthony Alford (R) CF
9. Chad Kuhl (R) P
Cubs
Lineup TBA
---
Braves
1. Ronald Acuna Jr. (R) RF
2. Ozzie Albies (S) 2B
3. Freddie Freeman (L) 1B
4. Marcell Ozuna (R) LF
5. Travis d'Arnaud (R) C
6. Dansby Swanson (R) SS
7. Austin Riley (R) 3B
8. Cristian Pache (R) CF
9. Max Fried (L) P
Phillies
1. Andrew McCutchen (R) LF
2. Rhys Hoskins (R) 1B
3. Bryce Harper (L) RF
4. J.T. Realmuto (R) C
5. Alec Bohm (R) 3B
6. Didi Gregorius (L) SS
7. Jean Segura (R) 2B
8. Adam Haseley (L) CF
9. Aaron Nola (R) P
---
Lineups TBA
---

Lineups TBA
---
Lineups TBA
---
Lineups TBA
---

Lineups TBA
---
Lineups TBA
---
Lineups TBA
---
Lineups TBA
---

Lineups TBA
Philadelphia Phillies catcher J.T. Realmuto back from COVID-19 IL after one day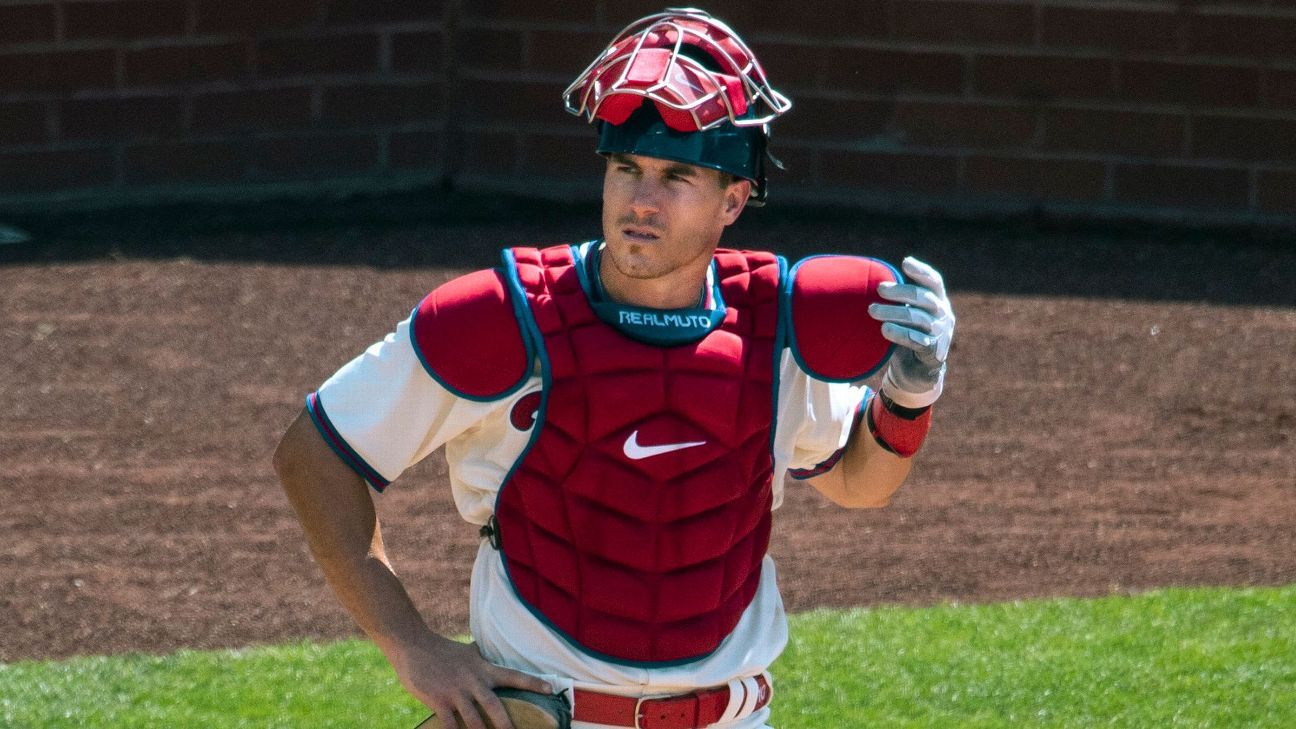 DUNEDIN, Fla. — Philadelphia Phillies catcher J.T. Realmuto is back in the starting lineup one day after being placed on the COVID-19-related injured list.
Realmuto was cleared to return by Major League Baseball, and was the designated hitter and batting fourth on the posted lineup for Friday night's game against the Toronto Blue Jays in Dunedin, Florida.
Realmuto felt ill and had a fever Wednesday night and was placed on the IL in accordance with MLB protocols. He didn't accompany the team on its flight to Florida but traveled on his own.
The Blue Jays are playing their third and final homestand at their spring training ballpark because of COVID-19 protocols in Canada. Toronto will be shifting games to Buffalo, New York, next month.
Realmuto left Tuesday's game against the Washington Nationals after taking a foul ball off his left knee and sat out Wednesday night due to bruising and soreness.
Realmuto is hitting .314 with four homers and 16 RBI. The two-time All-Star is in the first season of a five-year, $115.5 million deal.
A player goes on the COVID-19 IL by testing positive himself or for contract-tracing purposes after possibly being exposed to someone who tested positive.
Chicago White Sox 1B Joe Abreu, Kansas City Royals 3B Hunter Dozier exit after nasty collision
Chicago White Sox first baseman Jose Abreu and Kansas City Royals third baseman Hunter Dozier both left Friday's game after they collided in the second inning of Game 1 of a doubleheader between the teams.
Abreu is day-to-day after leaving the game with a facial contusion, laceration and bruised left knee, the team announced. The initial assessment for a concussion was negative.
The Royals did not disclose Dozier's status.
The nasty collision occurred after Dozier popped up right in front of home plate. As Sox catcher Yasmani Grandal and Abreu converged on it, Dozier started to run to first base, and, while avoiding Grandal, he ran right into Abreu, who was looking up at the ball.
The two hit the ground hard. They lay next to each other for several moments as they were attended to by their respective training staffs. Eventually, both walked off the field with assistance.
Abreu is the reigning AL MVP and a big a part of Chicago's success this season. Dozier has been struggling and is in the midst of an 0-for-31 skid. Grandal took over at first base, and Zack Collins came in to catch for the White Sox. Hanser Alberto took over at third base for the Royals.
Chicago Cubs activate Jake Arrieta, Nico Hoerner from injured list for Tigers series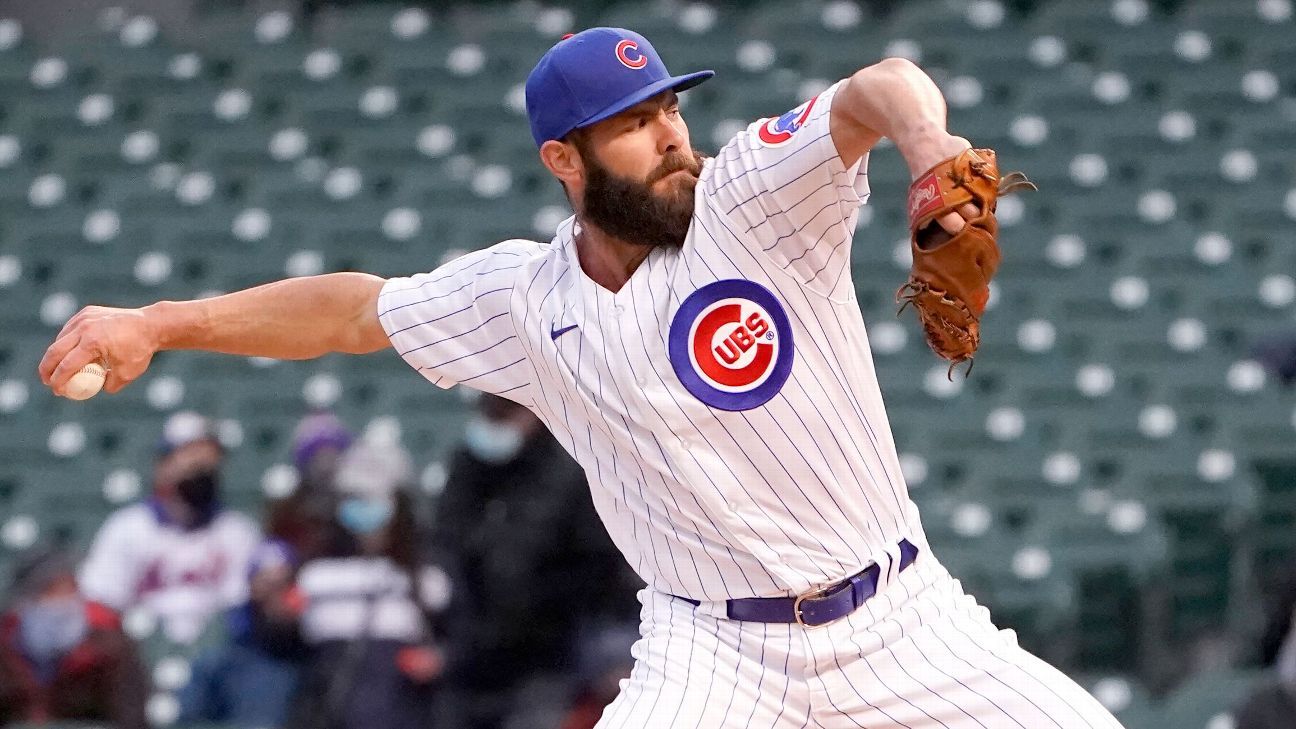 The Chicago Cubs have activated pitcher Jake Arrieta and infielder Nico Hoerner from the 10-day injured list while optioning hurler Jason Adam and outfielder Nick Martini to Triple-A Iowa.
Arrieta, 35, missed one start due to a cut on his thumb, but he'll take the mound Friday night against the Detroit Tigers. He's 3-3 with a 4.31 ERA for the Cubs this season.
Hoerner, 24, missed time after colliding with center fielder Ian Happ as the two chased down a fly ball. Happ remains on the injured list with bruised ribs. Hoerner was hitting .389 with a .500 on-base percentage before the injury.