Washington Nationals player tests positive for COVID-19; 4 teammates and 1 staff member also quarantined
The Washington Nationals will be down five players and a staff member for Opening Day after a player tested positive for COVID-19, general manager Mike Rizzo said Wednesday.
"We are following MLB protocols and CDC protocols and working closely with the league to determine our next steps," Rizzo said. "It will be a lot of balls in the air until then."
The positive result came from a test conducted Monday, while the Nationals were still in Florida for spring training. Word of the test came a little after 1 a.m. Wednesday, after the team already had traveled home to Washington, where the club is scheduled to host the New York Mets on Thursday night for Opening Day.
The flight home was where there was close contact between the player who tested positive and the four teammates and staff member who are now quarantining. All six individuals will miss Thursday's opener, but their status after that is unclear.
Per MLB's health and safety protocols for 2021, the player who tested positive will be required to isolate for a minimum of 10 days, receive appropriate care and monitoring from the club medical staff, and be cleared by the Joint Committee and the individual's team physician following a mandatory cardiac evaluation and a determination that the individual no longer presents a risk of infection to others.
Rizzo did not identify any of the six members of the organization who are involved.
"We'll have some roster decisions to make depending on how this all shakes out before Opening Day," Rizzo said. "This is just a small blip on our radar screen. We're going to handle it and take it in stride."
The Nationals — who had planned to have a workout at their stadium on Wednesday, before it was called off because of rain — did not have a single player test positive during their six weeks of spring training camp in West Palm Beach, Florida. The team has not yet been vaccinated.
Rizzo said he has received one shot of the vaccine already and will advise players to get it as soon as they are eligible, but will leave the decision up to them.
Thursday's starting pitcher, Max Scherzer, was not on the team flight and traveled separately with his family. Rizzo said the team underwent a new round of COVID-19 tests Wednesday, as was previously scheduled — a combination of rapid tests and MLB-mandated saliva tests.
Rizzo noted there are players available to be brought in from the club's alternative training site in Fredericksburg, Virginia.
"This is the reason you have 60 good players in the organization, to kind of prepare for these type of … scenarios."
The Associated Press contributed to this report.
Milwaukee Brewers reunite with John Axford via trade with Toronto Blue Jays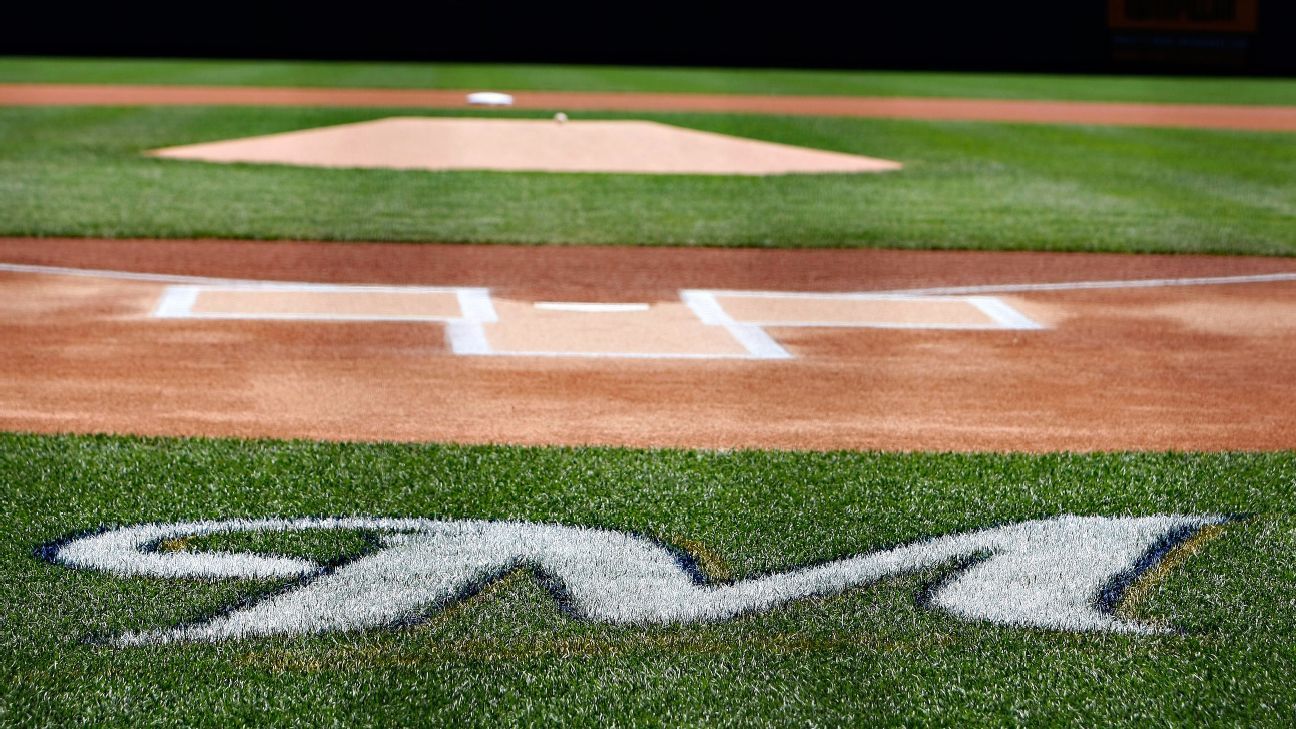 MILWAUKEE — Reliever John Axford's comeback attempt is taking a detour from Toronto to Milwaukee, where the veteran right-hander started his major league career and had his greatest success.
Brewers president of baseball operations David Stearns announced Monday that the team had acquired Axford, 38, from the Blue Jays for cash considerations.
Axford hasn't pitched in the major leagues since 2018 and began this season as a studio analyst on the Blue Jays' television broadcast crew. After pitching for Canada in an Olympic qualifier, Axford signed a minor league contract with the Blue Jays on June 24.
He went 1-0 with an 0.84 ERA in nine relief appearances for the Blue Jays' Triple-A Buffalo affiliate. Axford struck out 14 batters and allowed three walks and two hits in 10⅔ innings. Opposing batters were hitting .061 against him.
Although Major League Baseball's trade deadline was Friday, this move was allowed because Axford is a minor league player who wasn't on anyone's 40-man roster.
Axford pitched for the Brewers from 2009 to 2013 and set a team record by collecting 46 saves in 2011. During that season, Axford had a franchise-record 43 consecutive saves without a blown opportunity.
He collected 106 saves during his five-year stint in Milwaukee and ranks second to Dan Plesac (133) on the franchise's career saves list.
Axford owns a career record of 38-34 with a 3.86 ERA and 144 saves in 543 games with Milwaukee, St. Louis (2013), Cleveland (2014), Pittsburgh (2014), Colorado (2015), Oakland (2016-17), Toronto (2018) and the Los Angeles Dodgers (2018).
He will wear No. 59, the number he wore during his previous stint with the Brewers. Bench coach Pat Murphy is switching his jersey number from 59 to 00.
The addition of Axford marks the National League Central-leading Brewers' latest move to boost their bullpen. They acquired left-hander Daniel Norris from the Detroit Tigers and right-hander John Curtiss from the Miami Marlins on Friday.
Japan rallies past United States in 10 innings to reach Olympic baseball semifinals
YOKOHAMA, Japan — Yuki Yanagita tied it with an RBI grounder off Scott McGough in the ninth inning, Takuya Kai hit a winning single against Edwin Jackson in the 10th and Japan beat the United States 7-6 Monday night to reach the Olympic baseball semifinals.
Japan overcame a 6-5, ninth-inning deficit against McGough, a 31-year-old former Miami Marlins reliever with 16 saves in his third season with the Central League's Yakult Swallows. He walked Seiya Suzuki with one out as rain started to fall, then allowed a single to Hideto Asamura that put runners at the corners.
Yanagita hit a chopper to second, driving in a run on the groundout.
Under tournament rules, extra innings start with runners on first and second, an even more extreme distortion than the Major League Baseball runner-on-second rule used since the start of the 2020 pandemic season.
Ryoji Kuribayashi (1-0) retired the side in order in the top half, and Jackson (0-1), a 37-year-old veteran of a record 14 major league teams, relieved in the bottom of the inning.
Pinch hitter Ryoya Kurihara sacrificed, manager Mike Scioscia went to the mound and the U.S. went to a five-man infield.
Kai, who had entered as a defensive replacement, lined the next pitch off the right-field wall.
Japan (3-0) will play South Korea (3-1) on Wednesday night for a spot in the final.
The U.S. (2-1) fell into the losers bracket of the double-elimination second round. To reach this weekend's final, it must beat the winner of Tuesday's elimination game between the Dominican Republic (1-2) and Israel (1-3), and then the Japan-South Korea loser.
Boston Red Sox prospect Triston Casas hit a tiebreaking, three-run homer in the fifth inning for a 6-3 lead after Todd Frazier started a comeback from a 2-0 deficit with an RBI double off former New York Yankees teammate Masahiro Tanaka.
Host Japan, seeking its first baseball gold medal, chased Tampa Bay Rays prospect Shane Baz in the third inning.
Tanaka, who returned to Japan this season after seven years in New York, left in a three-run fourth after Mark Kolozsvary's run-scoring single and a go-ahead single by No. 9 hitter Nick Allen.
Hayato Sakamoto, the 2019 Central League MVP for the Yomiuri Giants, tied it 3-3 in the bottom half against former St. Louis Cardinals pitcher Brandon Dickson with his second double, but the U.S. broke ahead in the fifth against right-hander Koyo Aoyagi.
Eddy Alvarez, the 2014 speedskating silver medalist turned baseball player, and Tyler Austin singled. That brought up Casas, a 21-year-old Double-A player and former first-round draft pick, whose go-ahead, two-run homer decided Saturday's win over South Korea. He drove an outside 2-1 pitch to the opposite field for a 6-3 lead.
Japan pulled within a run in the bottom half against Anthony Carter when Suzuki, Japan's 2019 Home Run Derby champion, crushed a leadoff homer, Asamura doubled and Ryosuke Kukichi hit a run-scoring infield single. Texas Rangers minor leaguer Ryder Ryan came in and escaped further damage.
Baseball is being played at the home of the Central League's Yokohama DeNA BayStars, and while most games have taken place in a nearly empty 34,000-seat stadium, there were perhaps 150 media and volunteers in the seats for the high-profile matchup.
Tanaka, naturally wearing pinstripes but with a J on his cap rather than an interlocking NY, gave up three runs and six hits in 3⅔ innings. He was pitching in the Olympics for the first time since 2008, when he threw seven scoreless innings as part of a staff that included Yu Darvish.
A two-time All-Star for the Yankees, the 32-year-old right-hander returned to Japan this season and is 4-5 with a 2.86 ERA for the Pacific League's Tohoku Rakuten Golden Eagles.
With Scioscia and the U.S. bench barking at plate umpire Kwang Hoe Kang of South Korea, Casas walked with one out in the fourth and scored on Frazier's two-hopper to the wall.
Eric Filia was grazed on the right elbow by the next pitch and Kolozsvary hit a tying single on the next. Jack Lopez pinch hit for Bubba Starling and struck out. Allen, the No. 9 hitter, drove an outside pitch down the right-field line for a double and a 3-2 lead.
Tanaka, head down, walked briskly to the dugout.
Japan went ahead in the third after Sakamoto doubled on a catchable ball that Starling failed to come up with as he crashed into the center-field wall, and 2020 Pacific League batting champion Masataka Yoshida and 2015 Pacific League MVP Yanagita had RBI singles around a pair of walks.
Dickson, a 36-year-old right-hander who has played in Japan and Triple-A since 2012, walked Munetaka Murakami leading off the fourth and Sakamoto tied the score 3-3 with an RBI double high off the 16-foot left-field wall for his third hit.
SOUTH KOREA 11, ISRAEL 1
Former big league outfielder Hyun Soo Kim, who played for the Baltimore Orioles and Philadelphia Phillies in 2016-17, capped a seven-run fifth with a two-run homer off 34-year-old left-hander Jeremy Bleich, a Pittsburgh Pirates advance scouting assistant who retired as a professional player in 2019.
Kim hit his second double of the game with two outs in the seventh against 42-year-old right-hander Shlomo Lipetz, who will return to his day job at New York's City Winery after the Olympics. Soo scored on Hye-seong Kim's single, making this the first game of the tournament cut short under an Olympic rout rule.
Israel (1-3) plays an elimination game Tuesday against the Dominican Republic (1-2).
Ji-hwan Oh hit a two-run homer in the second as South Korea took a 3-0 lead. Baek-ho Kang had four of South Korea's 18 hits.
After Danny Valencia's bases-loaded walk cut the lead to 3-1 in the fifth, Sang-woo Cho (1-0) retired Ryan Lavarnway on an inning-ending humpback liner to the pitcher.
South Korea broke open the game in the bottom half against Chicago Cubs minor leaguer Alex Katz, who was charged with six runs — five earned — in one-third of an inning.
Joey Wagman (0-2), released from the Oakland Athletics' farm system in 2018, faced 22 batters and gave up three runs, 10 hits and three walks in 3⅔ innings.
Mookie Betts goes 'back to my roots' at second base, homers in Los Angeles Dodgers' victory
PHOENIX — Mookie Betts looked right back at home playing his original position on Sunday.
Betts hit a homer in his first game back from the injured list and made a stellar defensive play at second base to help the Los Angeles Dodgers routed the Arizona Diamondbacks 13-0 to win two of three in the series.
"It was a lot of fun going back to my roots," said Betts, who usually plays in the outfield. "It was good easing myself back into play."
With a sore left hip, manager Dave Roberts and Betts thought it wise to let him play second — the position he played when he came up with Boston in 2014 — to reduce the strain.
His hip didn't seem to be a problem. In the first inning, he took a hit away from Arizona's Drew Ellis. Playing on the shortstop side of the bag in the shift, Betts went back for a popup like a wide receiver hauling in a pass over his shoulder.
"That catch changed the landscape of the game," Roberts said.
The Dodgers then scored five runs in the second, chasing Caleb Smith after Albert Pujols' bases-clearing double capped the scoring in the inning.
Betts later turned a double play when playing behind second, running to the base and firing to first to complete it. He's likely to return to right field on Tuesday when the Dodgers host their 2017 World Series nemesis, the Houston Astros.
All told, Betts, who played one game at second last season for the Dodgers, had two putouts and three assists in the victory.
Trea Turner, acquired from Washington last week, is expected to play second and Max Scherzer is scheduled to start Wednesday in the second of the two-game set. Scherzer joined the team in Arizona on Saturday.
"It's going to be a fun homestand," Roberts said.
The Dodgers also play the crosstown rival Los Angeles Angels at Dodger Stadium later this week.
Justin Turner hit his 20th homer with a three-run shot in the seventh and Betts connected off catcher Bryan Holaday, pitching the ninth, for his 15th. Betts was 2-for-5 with a walk and two runs scored.
One run would have been enough for the Dodgers. Julio Urias (13-3) pitched five scoreless innings and three relievers gave up no hits over the last four, capping the four-hit shutout.
AJ Pollock peppered his former team with four hits, extending his hitting streak to 11 games.
"He's carrying us right now," Roberts said of the outfielder, who is batting .526 against Arizona this season over nine games.
Smith (3-8) struggled to find the strike zone for the Diamondbacks, walking five in 1⅔ innings and throwing 70 pitches. The last pitch was Pujols' three-run double on a full count. He walked Chris Taylor with the bases loaded to force in the first run.
"I hate walking guys. I'm not going to be able to sleep tonight," Smith said. "Walks have killed me. I've gotta figure it out."
Manager Torey Lovullo stuck with his starter because he got two outs after loading the bases before walking Taylor, giving up an infield hit to Turner and finally Pujols' big hit.
"You want to give your starting pitcher a chance to work through those early-inning problems," Lovullo said. "We needed Caleb to give us four or five innings. We were trying to get him through."
Urias finished at 83 pitches, walking none and striking out seven while limiting Arizona to four singles.
To make room for Betts, the Dodgers optioned utility man Zach McKinstry to Triple-A Oklahoma City. Los Angeles also selected the contract of RHP Yefry Ramirez from Oklahoma City and sent RHP Mitch White, Saturday night's starter, back to the Triple-A team.
The Associated Press contribute to this report.