Seattle Seahawks giving WR Tyler Lockett a $69.2M extension, source says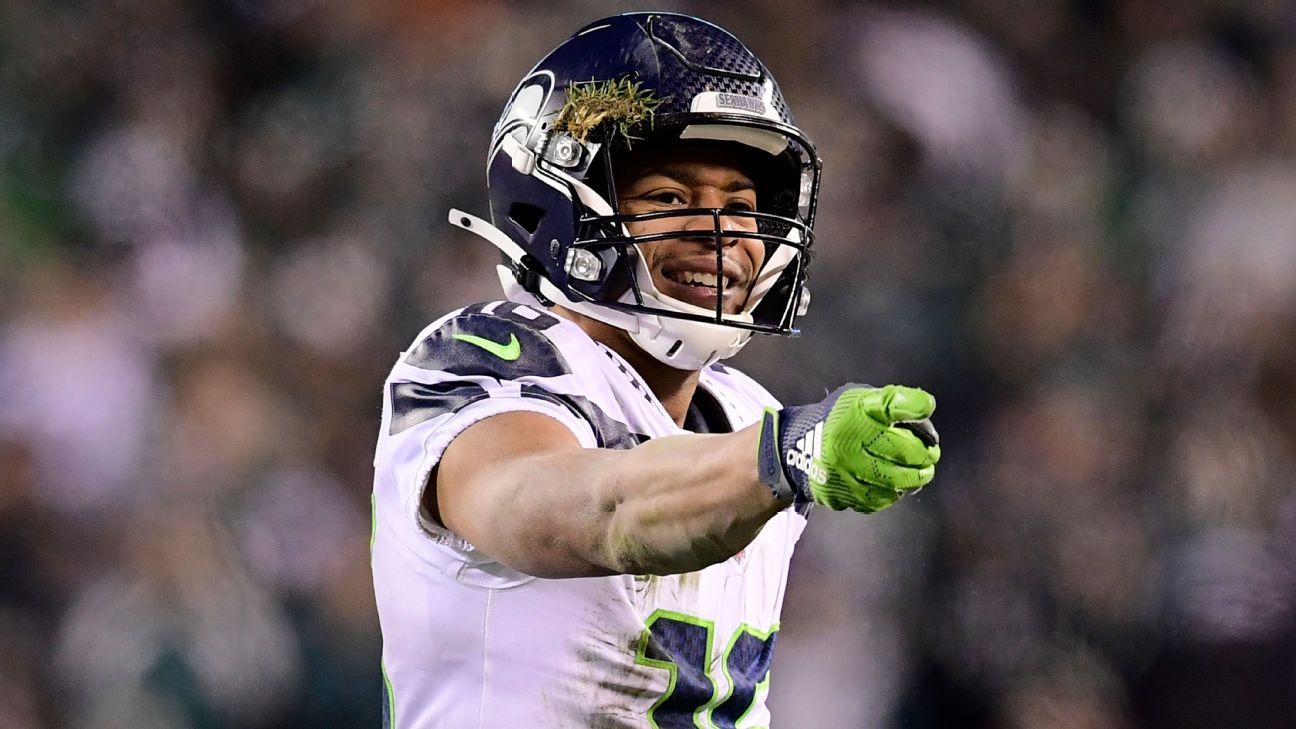 SEATTLE — The Seahawks are giving wide receiver Tyler Lockett a four-year, $69.2 million contract extension that includes $37 million guaranteed, a source told ESPN's Adam Schefter on Wednesday.
Lockett was entering the final season of a three-year, $31.8 million extension he signed in 2018. He has had his three best seasons since then, with 28 receiving touchdowns (fifth among NFL wide receivers) and 3,076 yards (13th).
The $17.3 million new-money average in Lockett's extension ranks 10th among NFL wide receivers, according to Spotrac.com.
The 28-year-old Lockett was a third-round pick by Seattle in 2015. He made the Pro Bowl and was a first-team All-Pro as a returner in his rookie season then came back from a compound leg fracture late in the 2016 season to start every game in 2017. He has since supplanted the retired Doug Baldwin as Seattle's No. 1 receiver. Last season, Lockett and DK Metcalf became only the second pair of Seahawks receivers in team history to top 1,000 yards in the same year.
With Metcalf a year away from becoming eligible for what is expected to be a massive payday, there was no guarantee that Seattle would reinvest in Lockett with a third contract.
Lockett has shown a knack for improbable catches. Among players with at least 200 targets, he has the second-highest catch percentage over expectation since 2018 at plus-12%, according to NFL Next Gen Stats. That ability was on display during an overtime loss to the Arizona Cardinals last season, when Lockett turned in the most productive game of his career with 15 catches for 200 yards and three touchdowns.
"It's one thing to make a catch like that some time in your life, but to do it every time you get a chance, it's pretty crazy — and particularly under pressure and the stress of the game and the situation, all that," coach Pete Carroll said after that game. "He's a phenomenal, phenomenal football player."
Quarterback Russell Wilson and Baldwin celebrated Lockett's extension on Twitter:
The homie!!! @TDLockett12 Let's go!!!
You deserve it all! Love you bro! 💪🏾🙌🏾

— Russell Wilson (@DangeRussWilson) March 31, 2021
Yo @TDLockett12 you got the lunch bill the next 16 times!

— Doug Baldwin Jr 🌹 (@DougBaldwinJr) March 31, 2021
Lockett was set to have the third-largest cap hit of any Seahawks player in 2021 at $14.95 million. His extension is expected to lower that number and give Seattle some needed breathing room against the cap. That could help explain the timing of Lockett's extension, which comes much earlier in the offseason than when the Seahawks typically do new deals for players who are already under contract.
Indianapolis Colts, Darius Leonard working on lucrative contract extension, sources say
Linebacker Darius Leonard is expected to make more than $19 million per year when he and the Indianapolis Colts reach a contract extension, sources told ESPN's Adam Schefter.
In the wake of the San Francisco 49ers' reported five-year, $95 million extension with All-Pro linebacker Fred Warner, Leonard is considered next in line to sign a big contract, with sources telling Schefter that the Colts' two-time Pro Bowler is expected to sign a four-year deal.
Leonard, who is set to make $3.4 million in the final season of his rookie contract in 2021, gave a shoutout to Warner on Twitter on Wednesday, writing "Congratulations my guy!!!"
Leonard, who turns 26 next Tuesday, was a first-team All-Pro for the second time in 2020, when he had three sacks, three forced fumbles and two fumble recoveries while helping the Colts return to the playoffs after a one-year absence. He was the Defensive Rookie of the Year in 2018, when he led the NFL in tackles.
Sources — Fred Warner, San Francisco 49ers agree on 5-year, $95 million extension
All-Pro linebacker Fred Warner and the 49ers agreed Wednesday on a five-year, $95 million extension that will tie him to San Francisco through the 2026 season, sources tell ESPN's Adam Schefter.
Warner, who was entering the last year of his current deal, will receive $40.5 million guaranteed as part of the extension, a source told Schefter.
The $40.5 million is the second-highest guaranteed total for a non-edge-rushing linebacker in the NFL, according to ESPN Stats & Information, behind C.J. Mosley's $51 million guaranteed with the New York Jets.
Warner, 24, said earlier this offseason that he wanted to be a "Niner for life." The former third-round draft pick was selected to the Pro Bowl for the first time last season after recording 125 tackles and two interceptions.
Warner ranks seventh in the NFL in tackles since 2018 (366), and is one of two players with at least 250 solo tackles (252) and more than 15 pass breakups (16) over the last three years, joining Seattle's Bobby Wagner.
Don't sell Panthers' Christian McCaffrey short after injury-plagued 2020 – Carolina Panthers Blog
CHARLOTTE, N.C. — Stephania Bell chuckled when told durability and size were factors in the Carolina Panthers' Christian McCaffrey falling to No. 5 in ESPN's recent ranking of the NFL's top running backs based on input from league executives, coaches, scouts and players.
Bell, ESPN's football injury analyst, understands the Panthers star missed 13 games in 2020 because of multiple injuries — high ankle sprain, shoulder, quadriceps. She also understands none were serious enough to justify surgery or indicate a trend for the 5-foot-11, 205-pound McCaffrey.
"When you put it all together in the context of what he's done in his career, college and pro, and his ability to stay on the field and play the position he does, I'm not really worried about him," Bell said.
Bell called each of McCaffrey's injuries "unlucky" and not an indication the 25-year-old is on the decline as happens to many backs on their second contract.
"Combine his talent and utilization and what he can do and how much he can touch the ball and how much of a threat he can be," Bell said. "I don't know if there's anybody else that I want."
The rankings had McCaffrey behind Tennessee's Derrick Henry, New Orleans' Alvin Kamara, Minnesota's Dalvin Cook and Cleveland's Nick Chubb.
McCaffrey, who in 2019 became the third player in NFL history to have 1,000 yards rushing and receiving in the same season, dropped from second heading into last year.
Bell reminded Chubb has to share carries with Kareem Hunt and Cook (5-10, 209) has a history of injuries going back to college, including an ACL injury as a rookie in 2017.
"Nobody's taking the ball away from Christian McCaffrey," Bell said of McCaffrey, whose 926 touches during his first three seasons without injuries ranked second in the league. "If you're looking at productivity … I would probably put him at the top."
Despite missing most of last season, McCaffrey's average of 1,456.5 yards from scrimmage per season since entering the league ranks second to Kamara's 1,541 and his 114.1 scrimmage yards per game ranks first. McCaffrey has three fewer touchdowns than Kamara's 48, and Kamara has missed four games in four seasons. Despite playing three games in 2020, McCaffrey became the third player in NFL history with at least 3,000 career rushing yards and 2,500 receiving in his fourth season.
In terms of durability, McCaffrey hadn't missed a game before last season. He's been the same reliable player for the Panthers he was at Stanford, where in 2015 he broke Barry Sanders' NCAA record for all-purpose yards with 3,864. He accounted for a whopping 44% of Carolina's yards from scrimmage in 2019, by far the highest in the league, according to ESPN Stats and Info.
Still, an NFL offensive coach told Fowler: "If you value durability as far as criteria, then I'm not sure he'll hold up. Love the player, but at that size with the injuries, I'm just not sure."
No offense to the coach, but Bell finds it "funny" the notion that Cook and others could be considered less of an injury risk than McCaffrey.
"I wonder if any of those GMs or coaches or whoever would really take all those guys over McCaffrey if they had a choice," she said.
In terms of touches, don't expect last season to impact the 364 McCaffrey averaged in 2018 and '19.
"My mindset has not changed with Christian McCaffrey," offensive coordinator Joe Brady said. "You can obviously see the difference when Christian McCaffrey is on the football field. You can see the production of it.
"I told Christian I don't want Christian to be anything more than Christian McCaffrey. He doesn't have anything to prove to me, to prove to anybody else."
McCaffrey takes his durability seriously. He spends countless hours working out so he can handle the heavy load. He's even come to grips with taking time off during the week during the season to let his body recover.
So when McCaffrey says he's "back to 100%" it's not wishful thinking. And he's not changing his workout program that takes in many fundamentals of a track athlete because of the injuries. He continues to work with Colorado-based trainer Brian Kula, who has worked with him since the 2018 offseason. He's developed a trust in Kula that he calls a "powerful feeling."
Some of McCaffrey's workout routines seen on Instagram are as amazing as his feats on the field.
"The last thing you should do whenever bad stuff happens is overcomplicate and overthink," McCaffrey said during offseason workouts. "I've been playing football since I was seven. I've had a lot of success in my career."
McCaffrey looks at least season almost as though it didn't happen, reminding "sometimes freak stuff happens." He doesn't think about the injuries because he's moved forward. He says football is a "meditation" for him and he believes the more you think the worse you play.
"I know how to play this game at a high level," he said. "I know how to train. I know how to take care of myself. Sometimes, you just get unlucky.
"My mind is good. My body's even better, and I'm fired up."