Jed Hoyer confident Chicago Cubs will 'reach an agreement' with three-time All-Star Anthony Rizzo
CHICAGO — Despite a halt in negotiations, Chicago Cubs President of Baseball Operations, Jed Hoyer, says he's "very confident" he'll be able to sign long-time first baseman Anthony Rizzo to a contract extension before he becomes a free agent in November.
Rizzo, 31, indicated on Monday he would rather not negotiate during the season.
"Ultimately, the timing doesn't matter," Hoyer said Wednesday afternoon. "What matters is we're able to reach an agreement. I respect his desire to put a deadline on it. That's his decision and one that I respect completely but our door is open. We have no reason not to talk in-season.
"I'll honor that but I'm optimistic we'll reach an agreement."
The sides are far apart on a new deal, according to sources familiar with the negotiations. Rizzo is at the end of a 7-year, $41 million contract, signed in 2013, which included two team option years, in 2020 and 2021.
"With [the] Opening Day deadline, we feel really strong about it," Rizzo said of ending talks. "We've had enough time to talk and figure it out. I've told my agents not to talk to me about it anymore."
But Rizzo left open the door, if anything dramatic changes with the team's offer. In fact, his last deal, back in 2013, was signed in May. Players are often unwilling to discuss contract terms during the season as it can provide for a distraction. Hoyer was asked what gives him confidence a deal can be made.
"I know more about the negotiations than what is out there," Hoyer said. "I've expressed to him how we see a path to a deal."
Rizzo is hoping for a contract closer to what Paul Goldschmidt received with the St. Louis Cardinals. At the same age Rizzo is now, Goldschmidt signed for $130 million over five years. The Cubs are offering significantly less.
Rizzo is a three-time All-Star and four-time Gold Glove winner, helping the Cubs to a World Series title in 2016. He and teammates Javier Baez and Kris Bryant will all be free agents at the end of the 2021 season. Baez and Bryant also aren't expected to sign back with the team before Opening Day though Hoyer indicated he's been in touch with both players. Neither has a firm offer in hand, according to league sources.
Rizzo was the focal point of Hoyer's zoom with reporters after he publicly indicated that a deal wasn't imminent. The new Cubs President expressed his affection for Rizzo who he drafted and traded for twice in his career.
"I've told Anthony over and over I really want him here for a long time," Hoyer said. "I've also articulated the Cubs position to him very clearly. I think he knows where we stand. The most important thing is he knows we want him back."
Cleveland Indians manager Terry Francona misses second game with head cold
CLEVELAND — Indians manager Terry Francona missed his second straight game Sunday with a head cold.
President of baseball operations Chris Antonetti said Francona is "still under the weather" and the team's medical staff felt he would benefit from another day resting at home. He will get more time to recover with the Indians off Monday.
"More than anything we want to make sure it doesn't continue to get worse, and we're trying to minimize the chance that it spreads," Antonetti said. "He's still not feeling great, but hopefully he turns the corner soon."
Antonetti said Francona, who is in his ninth season with Cleveland, had a negative COVID-19 test.
Several of the Indians players were dealing with congestion and other cold symptoms when they returned from a recent road trip.
Francona, 62, also missed Saturday's 8-2 loss to Tampa Bay. The Rays have beaten the Indians 11 straight times.
Indians bench coach DeMarlo Hale is filling in with Francona out.
Yoan Moncada initially ruled safe after missing home plate; call triggers two challenge requests
Chicago White Sox runner Yoan Moncada missed home plate and was called out in a game against the Milwaukee Brewers on Saturday after a long video review in which each team asked for a challenge.
The play happened in the top of the fifth inning with the bases loaded and the ChiSox trailing 4-0 in Milwaukee. With Moncada on third base, second baseman Leury Garcia hit a dribbler in front of the plate which Brewers starter Corbin Burnes grabbed and flicked toward home for the force out. He missed his catcher with the throw just as Moncada crossed the plate — though he clearly stepped over it.
Home plate umpire Jeremie Rehak made a safe signal, apparently not seeing the miss by Moncada. After a mound visit with Burnes, manager Craig Counsell decided to challenge the play. Moncada was ruled out but then White Sox manager Tony La Russa asked for a rules challenge of his own.
La Russa previously worked with the league on video review rules and thought the Brewers had violated procedures.
"We were always looking at things teams would do that would increase the number of seconds or minutes they had to make the call," he explained after the 6-1 loss. "One of them was a trip to the mound. I said 'something isn't right here.'"
La Russa told the umpires he thought video challenges could not be instituted after a mound visit.
"They said that's not true," La Russa stated.
The other issue was Rehak's safe call. If a runner isn't tagged at home nor touches the plate, the umpire isn't supposed to make a call at all. It could have impacted Moncada's actions as he went back to the dugout instead of trying to touch home plate, assuming he was safe.
La Russa indicated it was still Moncada's responsibility no matter what the umpire did.
"If he knew he missed it, he should have gone back and touched it," La Russa said. "The umpire said 'safe' so he assumed he had touched it."
The play made a big difference in the game. Instead of 4-1, bases still loaded and no outs, the score remained 4-0 with one out. Burnes forced in a run when he walked the next batter but the White Sox would not score again.
Afterward, Moncada didn't make any excuses for his gaffe.
"I missed home plate," he said through an interpreter. "I thought I stepped [on it] but obviously I didn't. "It was my fault. It happened."
Cleveland Indians manager Terry Francona sent home with head cold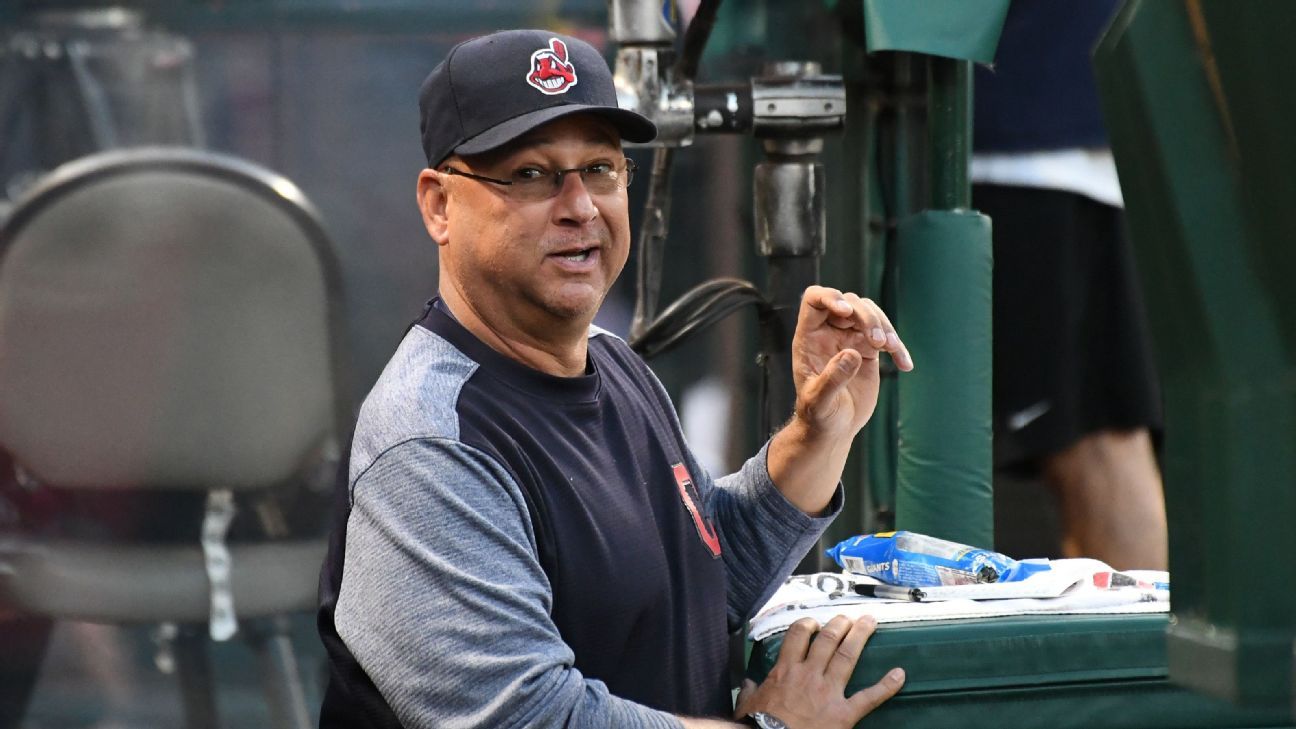 CLEVELAND — Indians manager Terry Francona wasn't in the dugout Saturday night for his club's game against Tampa Bay because of a lingering head cold.
Francona conducted his pregame press conference at Progressive Field before being sent home by the team's medical staff. Bench coach DeMarlo Hale managed the Indians in his absence.
The 62-year-old Francona is in his ninth season with Cleveland, where he has a 721-566 record and is tied with Mike Hargrove for the second-most managerial wins in franchise history.
Francona has spent 21 years managing in the big leagues, previously with Philadelphia and Boston, and has the third-most active victories with 1,749. He won World Series championships with the Red Sox in 2004 and 2007.