Colt McCoy signing 1-year deal with Arizona Cardinals, will back up Kyler Murray
TEMPE, Ariz. — The Red River Rivalry is coming to Arizona Cardinals' quarterbacks room.
Colt McCoy, the former Texas standout, is signing a one-year contract with Arizona, where he will back up former Oklahoma star Kyler Murray, a source told ESPN's Adam Schefter.
The Cardinals let quarterback Brett Hundley, who backed up Murray in 2019 and was the team's third-string quarterback in 2020, walk in free agency, leaving the team with former CFL quarterback Chris Streveler as Murray's back-up.
Coach Kliff Kingsbury, a former standout quarterback at Texas Tech before becoming the Red Raiders' head coach from 2013-18, had thrown his support behind Streveler as his choice to be Murray's back-up multiple times last season.
McCoy could fill Hundley's role as the veteran presence in the Cardinals' quarterbacks room while being inactive all season.
McCoy has played for four teams in his 11-year NFL career, most recently spending the 2020 season with the New York Giants. He played in four games with two starts last season, while throwing for 375 yards, one touchdown and one interception.
McCoy also played for the Washington Football Team from 2014-19, the San Francisco 49ers in 2013 and the Cleveland Browns from 2010-12.
A third-round pick of the Browns in 2010, McCoy has been a back-up for the majority of his career. He started 21 games in his first two seasons, including 13 in 2011, with the Browns but has started just nine games while playing in 23 in the last nine seasons.
NFL role worries lawyer for women suing Deshaun Watson
Tony Buzbee, the attorney for the 22 women suing Houston Texans quarterback Deshaun Watson, expressed concern to a Houston television station on Wednesday over how the National Football League is handling its investigation.
Buzbee, in speaking to FOX26 in Houston, said "some of the women did not feel like they were being respected" during their first three meetings with NFL investigators, which he told FOX led to him attending the four meeting between the league's investigative group and his clients.
Buzbee told the television station four of his clients met with the league's lead investigator, Lisa Friel, and he has "probably four more women who want to meet with the NFL," but he's not sure if he's going to let them speak with the league's investigators.
In his interview, Buzbee did not say what the league did to potentially make his clients feel that way. Watson is being sued by 22 women in civil court and being investigated by the Houston Police Department into claims ranging from inappropriate touching to sexual assault of massage therapists from March 2020 until March 2021.
"The allegations are very concerning and the league immediately began investigating the matter under the NFL's Personal Conduct Policy," NFL spokesman Brian McCarthy said in an email to ESPN on Thursday. "The investigation includes gathering information, monitoring law enforcement developments and conducting interviews with relevant people willing to participate with counsel present.
"Throughout her decades-long career as the chief of the sex crimes unit in the Manhattan District Attorney's Office and most recently as the NFL's special counsel for investigations for the last six years, Lisa has earned a stellar reputation as a consummate professional who conducts investigations and interviews with compassion and fairness in an effort to determine the truth."
Buzbee also told FOX26 that eight-to-10 of his clients have met with the Houston Police Department and he was pleased with how the Houston PD has worked with his clients. In March, Buzbee had publicly said he wasn't comfortable with his clients going to the Houston police. After a complainant went to the Houston Police Department, however, an investigation into Watson was opened.
On Thursday, a Houston Police Department spokesperson said "it remains an ongoing investigation" into allegations against Watson, but would not say how many women have spoken with police.
Buzbee also told FOX there are no plans to settle the case between Watson and the women suing him.
ESPN reporters John Barr and Sarah Barshop contributed to this report.
Tom Brady Sr. says he's 'salivating' over Tampa Bay Buccaneers-New England Patriots Week 4 matchup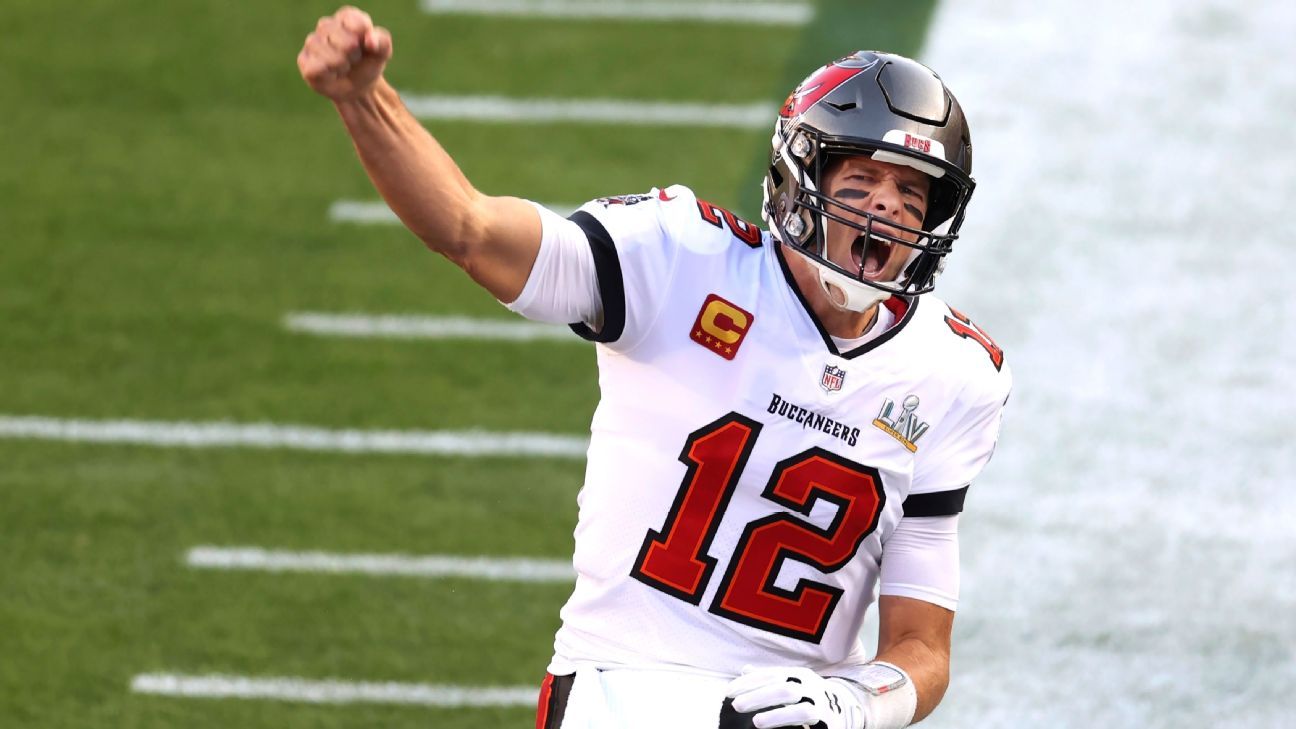 Tampa Bay Buccaneers quarterback Tom Brady couldn't contain his excitement with the NFL schedule release, posting on Instagram, "9/9 can't come soon enough" when it was announced the Bucs would play the Dallas Cowboys in the NFL Kickoff Game.
His father, Tom Brady Sr., is eyeing a different game though — Week 4 when the Bucs travel to play the New England Patriots, marking his son's return to Foxborough after leading the Bucs to a Super Bowl win in his first season after 20 seasons with the Patriots.
"I saw the schedule come out last night and I started salivating when I saw that we play the Patriots in the fourth game of the season, and that we're coming up here to make our record 4-0 after the fourth game," Brady Sr. said on the "Zolak and Bertrand" radio show on 98.5 The Sports Hub in Boston on Thursday morning.
Shortly after his father's surprise radio appearance, Brady tweeted about the game with a nervous grin, saying, "It's like when your high school friends meet your college friends."
It's like when your high school friends meet your college friends 😬 https://t.co/RF5zVB9rI1

— Tom Brady (@TomBrady) May 13, 2021
Brady Sr., who lives in California, called Boston their "second home" and called the Patriots their "second-favorite team," expressing love for the organization and its fanbase. But he didn't mince words, showing the apple doesn't fall far from the tree when it comes to being competitive.
"We expect to beat the Patriots rather handily, frankly," Brady Sr. said.
"It's not a matter of walking out of town and being unhappy. He had a happy 20 years there and most successful 20 years there. Now he's in another place with another opportunity to win. That's great. And the Patriots have reloaded and they're gonna be fit to bear as well," Brady Sr. said.
"From my take on it, I think it's gonna be great. I get to have a favorite team in the AFC and a favorite team in the NFC. And then they play on the fourth week of the year. It's been a really — I'm thrilled for this."
As far as the possibility of Brady breaking the single-season passing record at Gillette Stadium (Brady is currently 1,154 yards behind Drew Brees), Brady Sr. said, "I think that the fans at Gillette will embrace him until the opening kickoff, and then they're gonna boo the hell out of him, which is great.
"I think the fans appreciate everything he's done. I assume that the fans have appreciated everything he's done for them for 20 years, but at the same time they're Patriots' fans, they're not Buccaneers fans. So while you're rooting for Tommy, you're rooting against the Buccaneers."
Brady Sr. expressed great sentiment for his family's time in New England.
"How do you do anything but appreciate everything what the Krafts have done for him, and Belichick has done for him? The coaching staff — these guys have been in the trenches for 20 years together," Brady Sr. said.
But even dad isn't clear how long his son will continue playing. He signed a contract extension this offseason to free up cap space — which was largely responsible for the Bucs being able to return all 22 Super Bowl starters on offense and defense — and it will keep him in Tampa Bay for two more years. But father time waits for no one.
"While he's happy now, I think he's starting to realize that the end of the career is coming to an end and he's just savoring every moment as he walks down the final stretches — whether it's next one year, two years, or 12 years," Brady Sr. said.
According to Vivid Seats, the average ticket price for the game on Oct. 3 is $1,370 with prices as high as $12,000 on Ticketmaster.
Baltimore Ravens sign Donte Sylencieux, high school teammate of QB Lamar Jackson
OWINGS MILLS, Md. — It may be graduation season, but the Baltimore Ravens have a high school reunion planned for quarterback Lamar Jackson.
Wide receiver Donte Sylencieux, one of nine undrafted rookies signed by the Ravens on Thursday, was Jackson's favorite target when they played at Boynton Beach High School in Florida. Sylencieux caught 10 touchdown passes in two seasons with Jackson.
Sylencieux totaled 59 catches in three seasons at Graceland University — an NAIA school in Iowa – and is considered a long shot to make the Ravens. Baltimore selected two wide receivers in this year's draft, including first-rounder Rashod Bateman, and added Sammy Watkins in free agency.
The Ravens are doing and saying all the right things lately as they pursue a lucrative extension with Jackson. General manager Eric DeCosta said the team would work "tirelessly" after the draft to get a new deal done with Jackson, and he recently told the team's website that Jackson is "the kind of guy you'd be very proud of to have as a son."
This isn't the first time the Ravens have reunited Jackson with one of his former wide receivers. In 2019, the Ravens signed Jaylen Smith, Jackson's top target at Louisville, as an undrafted rookie. Smith was cut before the regular season that year.