Toronto Blue Jays to play 3rd homestand at Florida ballpark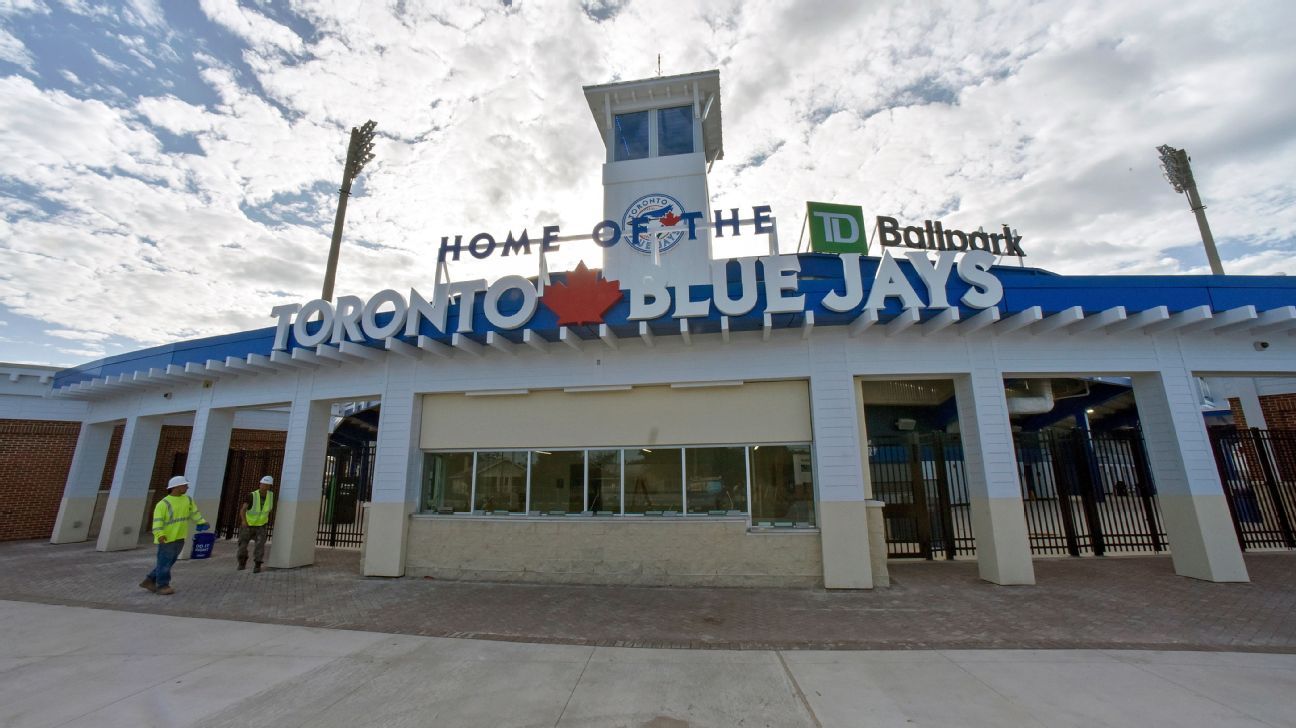 DUNEDIN, Fla. — The Toronto Blue Jays will play their third homestand of the season at their spring training ballpark in Dunedin, Florida, because of COVID-19 restrictions.
Toronto announced Feb. 18 that its first two homestands will be at TD Ballpark, and on Tuesday they added 10 games May 14-24 against Philadelphia, Boston and Tampa Bay.
Thus far, 22 of 81 home games have been switched to Florida from the Rogers Centre. Toronto hopes to return home at some point in 2021.
Another possible site for home games is Sahlen Field, home of the team's Buffalo Bisons Triple-A farm club. The Blue Jays played home games in Buffalo during the shortened 2020 season and were 17-9 there.
The TD Ballpark in Dunedin seats about 8,500 fans and had a major renovation in 2019-20. The Blue Jays intend to limit capacity to 15%.
Toronto last played at 49,000-person capacity Rogers Centre on Sept. 29, 2019, an 8-3 win over Tampa Bay.
Toronto said weeknight games in Dunedin will start at 7:07 p.m. instead of 6:37 p.m., Saturday games at 7:07 p.m. instead of 3:07 p.m., and getaway-day games at 1:07 p.m.
The Blue Jays open Thursday at the New York Yankees and host the Los Angeles Angels in their home opener on April 8.
Washington Nationals' game suspended as police say three injured in shooting outside stadium
WASHINGTON — The game between the San Diego Padres and the Washington Nationals was suspended in the sixth inning Saturday night after a shooting outside Nationals Park that caused echoes of gunfire inside the stadium and prompted fans to scramble for safety in the dugout.
The shooting, an exchange of gunfire between people in two cars, left three people injured, according to Ashan Benedict, the Metropolitan Police Department's executive assistant police chief. One of the people shot was a woman attending the game who was struck while she was outside the stadium, he said. Her injuries weren't considered life-threatening.
Two people who were in one of the cars later walked into a local hospital with gunshot wounds and were being questioned by investigators, Benedict said, and the extent of their injuries wasn't immediately clear. Investigators were still trying to locate the second vehicle involved in the shooting.
The gunshots caused panic among fans inside the stadium, some of whom ducked for cover, hiding underneath tables and behind seats as announcers warned people to stay inside the park.
"It was just a chaotic scene," umpire crew chief Mark Carlson told The Associated Press. "We heard what sounded like rapid gunfire. We didn't know where it was coming from."
The Padres had just taken the field for the bottom of the sixth when several loud pops were heard from the left field side of the ballpark. Players from both teams cleared the field.
Fans sitting in left field quickly began leaving through the center field gate. A short time later, fans along the first base side began briskly leaving their seats.
Some fans crowded into the Padres' dugout on the third base side for cover, while sirens could be heard from outside the park.
Ted Borenstein, 26, was at the game with his girlfriend and his best friend, celebrating her birthday and "having a great time" when he heard two pops. He said the group thought it was practice for a fireworks show.
Borenstein said he quickly realized it was far more serious when he saw people in the stands start filing out and watched Padres star shortstop Fernando Tatis Jr. "bolt from the field."
In the stadium's Diamond Club, where he and his friends were, people were hiding under tables and chairs, thinking there was a shooter inside the stadium.
"People were down on the ground, kind of petrified, trying to calm down the younger kids," he said.
"I was taken aback, I was scared," he said.
Tatis later took to Twitter to express his concern for fans and his gratitude to frontline workers.
Hope everyone is safe! Just keep the prayers up🙏🏾 thank you everyone that help in the front line ! God bless 🙏🏾

— Fernando Tatis Jr. (@tatis_jr) July 18, 2021
The Nationals initially announced there had been an incident outside the stadium and posted a message on the scoreboard telling fans to remain inside the stadium.
About 10 minutes later, the team tweeted: "A shooting has been reported outside of the Third Base Gate at Nationals Park. Fans are encouraged to exit the ballpark via the CF and RF gates at this time."
More than two dozen police cars, ambulances and fire engines were on the street outside the third-base side of the stadium and a police helicopter hovered overhead.
Arman Ramnath, 27, a recent law school graduate from nearby Arlington, Virginia, said he and a friend were sitting on the third-base side of Nationals Park when they heard what sounded like fireworks.
"We weren't sure what it was. Then everyone started ducking," Ramnath said.
Ramnath said he and his friend ended up hiding behind the seats for five or more minutes. After a while people started getting up and leaving, he said, but stadium announcements told fans to wait. Eventually they were allowed to leave.
"It felt very surreal. I wasn't really sure how to react," Ramnath said. "I mean, you hear about it … but you never expect it to be something that could affect you."
Police had initially said they believed one of the victims worked at the stadium, but that was not the case.
The Padres led 8-4 when the game was halted. It will be resumed Sunday afternoon, followed by the regularly scheduled game. Officials said fans should expect to see an increased police presence at Sunday's game.
The Associated Press contributed to this report.
Pittsburgh Pirates sign No. 1 overall draft pick Henry Davis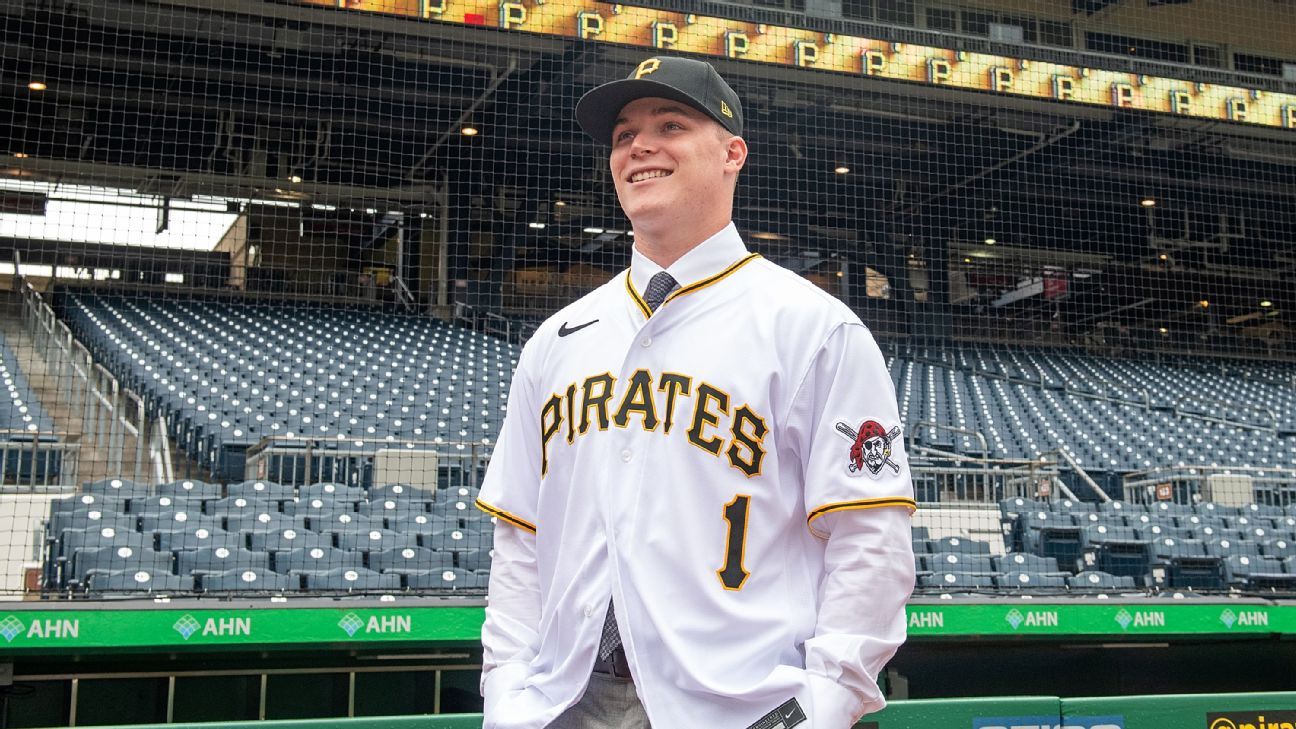 PITTSBURGH — Henry Davis loved his time at Louisville. It's what helped make the hard-hitting catcher the first overall pick in the amateur draft.
Still, he was eager to move on. So rather than mess around negotiating with the Pittsburgh Pirates, Davis practically sprinted to the bargaining table to get something done, signing with Pittsburgh on Sunday just a week after baseball commissioner Rob Manfred called his name.
"Getting signed right away, it's important to me," Davis said at PNC Park. "I want to get playing. There's no time to waste, really. Making the most of it, getting right to work, I'm pretty happy about how it went."
Davis agreed to a signing bonus of $6.5 million, nearly $2 million below the slot value of $8.4 million. The deal frees Pittsburgh up to spend money on some of its other 20 picks as the team stockpiles talent as part of a top-to-bottom reset under general manager Ben Cherington.
After meeting with Davis before the draft, Cherington felt optimistic the 21-year-old would do what he could to speed up negotiations.
"As Henry said, we're excited but probably not surprised that we could get in here and get it done this quickly," Cherington said. "We know Henry wants to get out and get after it."
Davis had a quick tour of Pittsburgh on Saturday, including a stop at the Roberto Clemente Museum a short distance from PNC Park. He stuck around for the team's comeback 9-7 win over the New York Mets, a victory capped off by catcher Jacob Stallings' walk-off grand slam.
Davis, who hit 15 home runs in 50 games for the Cardinals in 2021, is impressed with one of the most well-liked parks in the majors. Yet it's the consistent message he received from Cherington, manager Derek Shelton and other staff that sold him on the idea of landing in Pittsburgh.
"The ballpark was great but everybody here had the same attitude, working toward winning," Davis said. "Talking with them, that's what really made me want to be a Pirate."
It will take time, however, before Davis gets an opportunity to head to PNC Park for work on a regular basis. He will report to the franchise's training headquarters in Bradenton, Florida, where he will play in the Florida Complex League.
Cherington did not rule out the possibility of Davis getting promoted to a higher classification by the end of the summer.
"We're interested in challenging players and we want players that can be challenged," Cherington said. "If we feel like there's an opportunity to challenge a player, including Henry and anyone else, we'll look for that opportunity. We want guys to be not overwhelmed but challenged, and there's certainly playing time this summer and the rest of the season to see how it goes."
Davis wasn't bashful when asked if he set any specific goals to achieve over the next two months.
"One … is just to be the best leader I can be and help my teammates any way I can once I get down to Bradenton," Davis said. "Help guys get better. When we work together, it's best for everybody."
Davis met a few of the team's other college-age draft picks and had a brief exchange with All-Star second baseman Adam Frazier when the two were in Denver for the All-Star Game last week. Frazier is likely on his way out of town with the trade deadline looming at the end of the month.
Davis' journey is just beginning.
New York Mets put ace Jacob deGrom on injured list with forearm injury
The New York Mets have placed ace Jacob deGrom on the injured list retroactive to July 15 with tightness in his right forearm.
DeGrom felt discomfort Friday while throwing a bullpen session at Pittsburgh, manager Luis Rojas said Saturday. An MRI hours later showed there was forearm tightness but no structural damage.
Rojas said Sunday that deGrom will not throw again until the discomfort goes away.
"I'm frustrated," deGrom said Sunday. "I don't know what else to say."
DeGrom is 7-2 with a major-league-leading 1.08 ERA in 15 starts this season despite being hampered by multiple ailments. He last pitched July 7 against Milwaukee.
Rojas added that deGrom said Saturday that he felt similar forearm tightness during a bullpen session right before the All-Star break as well. DeGrom did not attend Tuesday night's All-Star Game at Coors Field in Denver, electing instead to spend time with his family and rest for the second half.
The two-time National League Cy Young Award winner skipped an outing between April 28 and May 9 because of discomfort in his right lat muscle, then did not pitch again until May 25 while spending time on the injured list with what the Mets said was tightness in his right side. DeGrom left his June 11 outing against San Diego after six innings because of flexor tendinitis in his right arm.
Rojas said Saturday that those ailments, including the right forearm tightness, are all unrelated. DeGrom on Sunday said all of his previous ailments this season were due to him swinging, while the new forearm tightness is not. DeGrom is batting .364 in 33 at-bats this season.