Tampa Bay Buccaneers coach Bruce Arians shows off new Super Bowl LV tattoo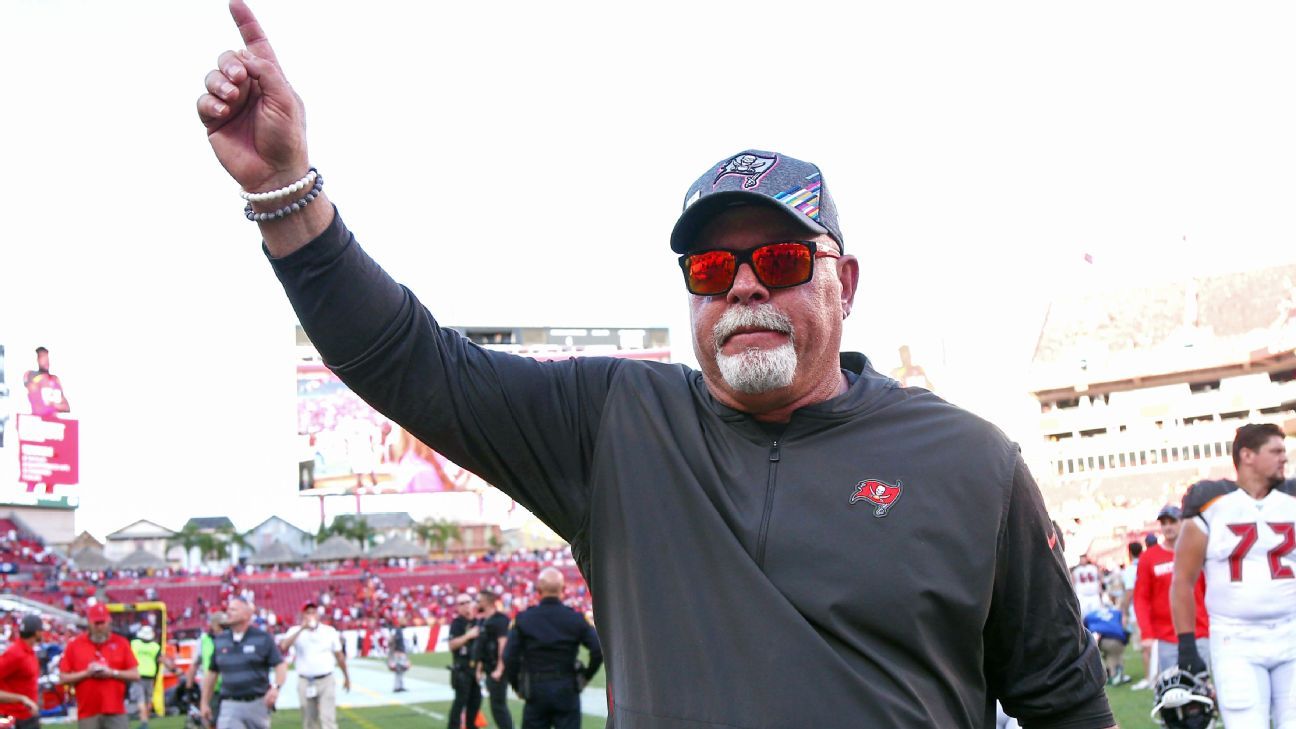 TAMPA, Fla. — Tampa Bay Buccaneers coach Bruce Arians made good on his word when he promised that when (not if) the Bucs won the Super Bowl, he would get a tattoo.
Arians, 68, tweeted out the photo Tuesday with, "I'm a man of my word — 'When we win the Super Bowl, I will get a tattoo.' Well I got mine and I love it!! #SBLV"
I'm a man of my word- "when we win the Super Bowl, I will get a tattoo" well I got mine and I love it!! #SBLV #superbowlLVchamps pic.twitter.com/SCmpFXEJ1T

— Bruce Arians (@BruceArians) March 30, 2021
The tattoo features the Super Bowl LV logo with the Lombardi trophy, the Tampa Bay Buccaneers logo and the final score, 31-9.
"I followed up on my bet, and I'm really, really happy with it too," Arians said of the new ink.
He made the bet with the strength staff and tight ends coach Rick Christophel back in August.
Multiple Bucs players have also gotten Super Bowl tattoos this offseason, including wide receiver Mike Evans and safety Antoine Winfield Jr.
Kansas City Chiefs prioritizing league-worst red zone defense – Kansas City Chiefs Blog
KANSAS CITY, Mo. — Defensive coordinator Steve Spagnuolo immediately laid out the priority for the Kansas City Chiefs in the first team meeting of the offseason. The players could have guessed it.
The Chiefs had the worst defense in the NFL last year when opponents moved inside the 20, allowing a touchdown 77% of the time. Their red zone defense was costly for the Chiefs in Super Bowl LV, when they allowed the Tampa Bay Buccaneers to score three TDs from inside the 20. And it was costly during their two regular-season losses, when the Chiefs gave up seven touchdowns in eight red zone tries.
"If we had just played 50% better in the red zone last year, it would have made a huge difference," Spagnuolo said last week. "Certainly, when people got in the red zone it was a challenge for us."
The Chiefs were tied for ninth in red zone defense in 2019 when they won the Super Bowl, allowing a touchdown 51% of the time.
That's why Spagnuolo in that meeting with defensive players laid out his three biggest reasons why the Chiefs were lousy inside the 20 in 2020. He felt they too often were beaten physically, that they made too many mental mistakes — such as blitzing from the wrong spot or not carrying out the pass coverages properly — and Spagnuolo said he frequently put the defense in a bad spot with his scheme calls.
The Chiefs spent portions of the first two practice sessions working on it.
"Did we have perfect red zone days these last two days?" linebacker Anthony Hitchens said. "No, not really but there are things we see from the offense that we see around this league. We're getting work at it in May and not waiting until Week 1 or Week 3 or 4.
"We've all got it in the forefront of our mind. We know in order to get better at it we have to work at it."
Spagnuolo said good red zone defense starts with stopping the run. The Chiefs did a decent job of this last season, allowing 2.94 yards per rush. That was slightly more than the league average of 2.90.
"We don't want to allow teams to run the ball," Spagnuolo said. "We really do want to force them to throw it and then have that tight coverage. Down there, the throwing lanes get tight [and] you try to force them into throwing into those tight windows."
This is where the Chiefs let down last season. Opposing quarterbacks had a QBR of 89.7 in the red zone, which was 29th. The league average was 70.3.
The Chiefs were also one of four teams without an interception from inside the 20.
In 2019, opposing quarterbacks had a QBR of 41.5 against the Chiefs in the red zone. The Chiefs also had a league-high four interceptions, including one in the end zone by safety Daniel Sorensen in the final seconds that helped the Chiefs preserve a seven-point win over the Chargers.
"Teams are going to be able to put drives together on us," defensive back Tyrann Mathieu said. "It's up to us, it's up to the players to really go out there and try our best to keep guys out of the end zone. That's going to give our team a greater chance to win, if we're able to make teams throw the ball in the end zone instead of running the football in.
"We've been harping on it. Coach Spags has really been harping on the details of it. That's something I would love to see us get better at."
Will Aaron Rodgers show up? Will Tom Brady practice?
Nine NFL teams open their mandatory three-day minicamps this week, with the rest of the teams to follow next week (except for the Philadelphia Eagles, who have elected not to have a minicamp this offseason). Most of the practices will be Tuesday through Thursday, though the Super Bowl champion Tampa Bay Buccaneers will begin theirs Monday.
Teams have already been going through organized team activities, but for some, this is the first time that veterans will take the field since the end of the 2020 season. Of course, the biggest stories in some places will be which veterans don't take the field, aka Aaron Rodgers watch in Green Bay, as the Packers are among the teams participating in mandatory camps this week. The Dallas Cowboys and Atlanta Falcons — who just traded away star receiver Julio Jones — also are having their camps.
We asked our NFL Nation reporters to preview this week's minicamps and tell us the biggest thing they are watching from all nine camps. Come back next week for a primer on the rest of the minicamps.
Jump to a team:
ATL | DAL | DET | GB
LAR | NO | NYG | TB | WSH


What will the Falcons' offense look like without Julio Jones?
Jones is off to Tennessee, and the first practice without him will be at minicamp, where theoretically all of Atlanta's offensive options — including Calvin Ridley, Russell Gage and Kyle Pitts — will be in attendance. Seeing how these players work together with Matt Ryan, along with who might be taking an early lead as a No. 3 receiver, is going to be the primary thing to pay attention to throughout the week. — Michael Rothstein
---

Can the revamped Dallas defense continue its positive momentum?
The obvious storyline is Dak Prescott and his return from a serious right ankle injury, but the quarterback has looked good in the two OTAs open to the media. There is more up in the air about the defense, although there have been encouraging signs this spring in the changes Dan Quinn is bringing. The biggest change is the level of communication that has gone on throughout the group.
After virtual meetings leading up to camp a year ago, players were unsure of the new scheme and it was noticeable by how quiet practices were on the defensive end. With on-field work this spring, plus virtual meetings, there is a lot more talking between groups and an understanding as to what is expected. The Cowboys' hope is that level of understanding leads to players going faster and making more plays when things get real. — Todd Archer
---
Who are the wide receivers?
Detroit's receiving corps doesn't look strong on paper, and it will be interesting to see who steps up as a primary target in Jared Goff's first season. Some guys to watch out for are Tyrell Williams, Breshad Perriman and Quintez Cephus. Fourth-round draft pick Amon-Ra St. Brown is also looking to take someone's spot. — Eric Woodyard
---
Will Aaron Rodgers show up?
There are 93,000 reasons to do so, but considering he's already forfeited his $500,000 workout bonus by skipping the offseason program (including OTAs), what's another $93K in fines? Then there are Rodgers' receivers; the top five have been no-shows for OTAs, leaving Jordan Love to work with a bunch of rookies and roster long shots. Love finally could get to work with Davante Adams, Marquez Valdes-Scantling, Allen Lazard, Equanimeous St. Brown and Devin Funchess. — Rob Demovsky
---
Quarterback Matthew Stafford's integration into the offense.
Stafford is entering his 13th NFL season, but his first in LA. His arrival from Detroit immediately put the Rams in the Super Bowl conversation, but there is plenty of work to be done as Stafford continues to learn the offense and the tendencies of his new playmakers. — Lindsey Thiry
---
Jameis Winston and Taysom Hill?
The Saints aren't having a traditional minicamp with full practice sessions. So we'll have to wait until late July to see how they divvy up first-string snaps between Winston and Hill at quarterback. But the competition is already well underway as the Saints install a playbook without Drew Brees as the conductor for the first time in 16 years. — Mike Triplett
---

Daniel Jones working with all of his new weapons.
There is Kenny Golladay, first-round pick Kadarius Toney, speedster John Ross, running back Devontae Booker. How will they all fit in this offense? And what is Saquon Barkley doing as he rehab's the torn ACL? — Jordan Raanan
---
How much will Tom Brady do on his surgically repaired knee?
He has been throwing for three weeks now in private workouts with teammates, but coach Bruce Arians said he may have Brady do more coaching on the sidelines and not take any chances. They'll have Blaine Gabbert, Ryan Griffin and Kyle Trask if Brady can't go. — Jenna Laine
---
Chase Young's return.
He was the only player not to attend at least some of the six voluntary workout sessions. Young is a workout maven and was doing his work elsewhere and was in communication with the coaches (who would always prefer everyone attends). But this will be the first time to see Young since the season ended and to see how he'll start building on a strong rookie season. There's been a good energy at WFT's practices; having Young back could lead to more. — John Keim
The biggest winner in Titans' trade for Julio Jones? It's A.J. Brown
NASHVILLE, Tenn. — The Tennessee Titans were tied last season for the second-most potent offense in the league, but Sunday's trade with the Atlanta Falcons for wide receiver Julio Jones has the potential to take them to a different plane. Jones, whom the Titans acquired for a 2022 second-round pick and 2023 fourth-round selection, brings career totals of 848 receptions for 12,896 yards and 60 touchdowns to the Titans after a decade in the league.
Tennessee achieved great balance on offense with A.J. Brown posting his second consecutive 1,000-yard season and Corey Davis coming within 16 yards of his first. It would have been the first time the Titans had two 1,000-yard receivers in the same year since Derrick Mason and Drew Bennett did so in 2004.
Davis has moved on to the New York Jets via free agency which left a void opposite Brown. Titans GM Jon Robinson signed former Los Angeles Rams wideout Josh Reynolds to help. However, Jones' presence gives the Titans a much more formidable option to keep opposing defenses from bracketing and double-covering Brown.
"It takes some of the tension off of me and with Derrick [Henry] and Ryan [Tannehill] with Anthony [Firkser]," Brown told ESPN Sunday. "Having another dominant guy on the other side, everybody has to be honest. Now, you don't know who's going to hold who. I may get CB1 or Julio may get CB1. But whoever gets CB2 is going to be in trouble. It's going to be fun."
First-year offensive coordinator Todd Downing spoke last week about finding ways to expand Brown's game in his third NFL season. At the time, Downing was speaking in terms of not having Jones on the roster.
"We'll look for ways to get him singled up, ways to help him with different coverage indicators and things like that," Downing said of Brown. "See where we can move him around, expand his route tree a little bit and watch him have success as we expand it."
It's not just Brown that will benefit from Jones coming to Nashville. The Titans faced eight defenders in the box on 23.1% of their snaps last season, more than any other team in the NFL. That's because defenses geared up to stop Derrick Henry who had 2,027 rushing yards.
"Derrick is going to do his thing. We all benefit off of Derrick. You have to play it honest," Brown said.
The Falcons faced eight in the box on 12.5% of their snaps last year. Jones will have an abundance of opportunities to face single coverage and to thrive off of deep play-action passes against single coverage from Tannehill.
Dating back to his collegiate days at Ole Miss, Brown has studied Jones' game intently. He even swapped jerseys with Jones after the Titans beat the Falcons 24-10 in Week 4 of Brown's rookie season. The third-year receiver is delighted to have Jones as a teammate.
"He's a big receiver just like me but the thing he does special is he runs routes just like a smaller guy," Brown said. "The physical part of his game is crazy. He plays with dominance. He can beat you over the top and beat you underneath. He doesn't have any flaws to his game. For me, in college, he was teaching me everything and didn't even know it. That's when I didn't know him and was just watching him."
The Titans' depth chart now has Brown, Jones and Reynolds — all at least 6-foot — as the top three receivers. All three are capable of playing in the slot or outside. That gives Downing an opportunity to move guys across the formation to generate matchups that favor the Titans. Downing liked the versatility the Titans' wide receiver room presented before adding Jones.
"The more you can do for our offense and the more jobs you can perform, the more opportunities you'll get to play," Downing said. "Our group really embodies and embraces the wear can you plug me and play me mentality. As you have more pieces that are versatile that you can use in different positions, it opens things up for everybody and we're excited about that."