Short-handed Cincinnati Reds head into opener missing key players, including SP Sonny Gray
Spring training took its toll on the Cincinnati Reds, and some key players who suffered injuries won't be back in time for Thursday's opener.
Outfielder Shogo Akiyama (hamstring), and pitchers Sonny Gray (back) and Michael Lorenzen (shoulder strain) will miss the opener but aren't expected to be sidelined too long after that.
The good news is first baseman Joey Votto, who missed 13 days of spring training with COVID-19, has eased his way back, hit the ball well and looked solid in the field during the final spring training games. He appears to be in position to start on opening day for the 13th consecutive season, but that decision has yet to be made.
Outfielder Nick Senzel also is expected to be on manager David Bell's lineup card Thursday after dealing with a groin strain this spring. Tejay Antone, who was a candidate for Cincinnati's starting rotation, was hampered by minor groin and hip issues. He didn't get enough innings to earn a starting role but is expected to be fine for bullpen work.
The Reds open the season Thursday afternoon, with right-hander Luis Castillo on the mound against St. Louis Cardinals right-hander Jack Flaherty.
When Votto got healthy again and returned from isolation on March 20, he saw the Reds infield had gotten a shuffle. Slugging third baseman Eugenio Suarez was moved to shortstop in the middle of spring camp, a situation that will stick for now.
"It is looking like he's going to end up being the everyday shortstop," Reds general manager Nick Krall said.
Mike Moustakas then made the shift from second base to third base, where he has played for most of his 11-year major league career. Thanks to a productive spring, Jonathan India will be the likely starter at second base. If that happens, he'll be the first Reds rookie to start at second since Pete Rose in 1963.
With Gray sidelined — and NL Cy Young Award winner Trevor Bauer gone via free agency — the rest of the Cincinnati starting rotation has to be ironed out but is likely to include Tyler Mahle, Wade Miley, Jeff Hoffman and Jose De Leon.
New faces in the Reds bullpen include left-hander Cionel Perez, acquired in a trade with Houston, and right-hander Cam Bedrosian, a veteran who came to camp on a minor league deal. Both earned spots on the roster with good springs.
Lucas Sims, Amir Garrett and Sean Doolittle will make up the committee of closers.
The Reds must find a way to boost last season's .212 team batting average, the worst in the major leagues. Krall has specific ideas about where he expects to see strides in the first month or two of the season.
"One, we want to have some of the injuries starting to die down, where we can get some of these guys back after the first few weeks," he said. "Two, it's guys from last year who will revert back to (the numbers on) their baseball cards, and three, it's the young guys who make the team taking a step forward."
Because of continuing COVID-19 restrictions in Ohio, the Reds will open with a capacity crowd of around 12,000 at Great American Ball Park _ the first game at the stadium with fans in more than 18 months.
Kyle Farmer, who auditioned at shortstop but made the roster again because of his versatility, said he's eager to play in front of people again in Cincinnati, where opening day has always been a holiday.
"I remember driving to the field (in 2019) and seeing like all the streets just packed," he said. "I've never seen that before for baseball, and it was pretty awesome. I'm excited to see them come back again. I know they're excited. I know people need something to watch, people need something to look forward to, and this is something people will be able to look forward to."
New York Yankees SS Gleyber Torres to miss second straight game, sources say
ST. PETERSBURG, Fla. — New York Yankees shortstop Gleyber Torres, who was held out of Wednesday night's game out of "an abundance of caution," will not play in Thursday's series finale against the Tampa Bay Rays at Tropicana Field, sources told ESPN.
The Yankees have confirmed seven cases of COVID-19 among their coaching and support staff, and manager Aaron Boone said the team was waiting for the MLB and MLB Players Association joint committee to review the results of Torres' testing.
"Essentially, the joint committee is waiting, because we've had so many tests done, waiting on some test results to still come back," Boone said before the Yankees' 1-0 victory over the Rays on Wednesday. "With all that's going on with our team, out of an abundance of caution, we're holding him out tonight."
Boone added: "I know everyone's going to read into that, but hopefully it's nothing. It's more just getting all the information."
The Yankees have said that pitching coach Matt Blake, third-base coach Phil Nevin and first-base coach Reggie Willits have tested positive for COVID-19.
Six of the seven people who have tested positive are asymptomatic, Boone said, adding that a number of test results were pending. All seven people who tested positive were vaccinated for COVID-19.
"I think one of the things we're seeing is that being vaccinated en masse like we are, we're seeing the vaccinations also kind of blunt the effects of the virus," Boone said. "I feel like in a lot of ways, because we're vaccinated, we're kind of good and able to deal with this. So there's a little bit of a frustrating part there, in all the testing that we're going to do."
All members of the Yankees' traveling party have been tested at least three times each since Tuesday.
Atlanta Braves star Ronald Acuna Jr. leaves game with ankle injury
Atlanta Braves star outfielder Ronald Acuna Jr. left Thursday's game against the Toronto Blue Jays because of an apparent injury to his left ankle.
Acuna, who leads the majors in home runs, suffered the injury in the seventh inning while running to first base on a grounder. He landed awkwardly on his left foot after passing the first-base bag and immediately fell to the ground in pain.
After being examined by the Braves' medical staff, Acuna eventually limped off the field under his own power. The Braves have not officially announced a diagnosis for Acuna's injury.
Acuna, 23, led off the bottom of the first inning with his major league-leading 12th homer of the season. The former All-Star and NL Rookie of the Year also leads the Braves in batting average (.302), RBIs (24) and stolen bases (6).
Philadelphia Phillies catcher J.T. Realmuto placed on COVID-related IL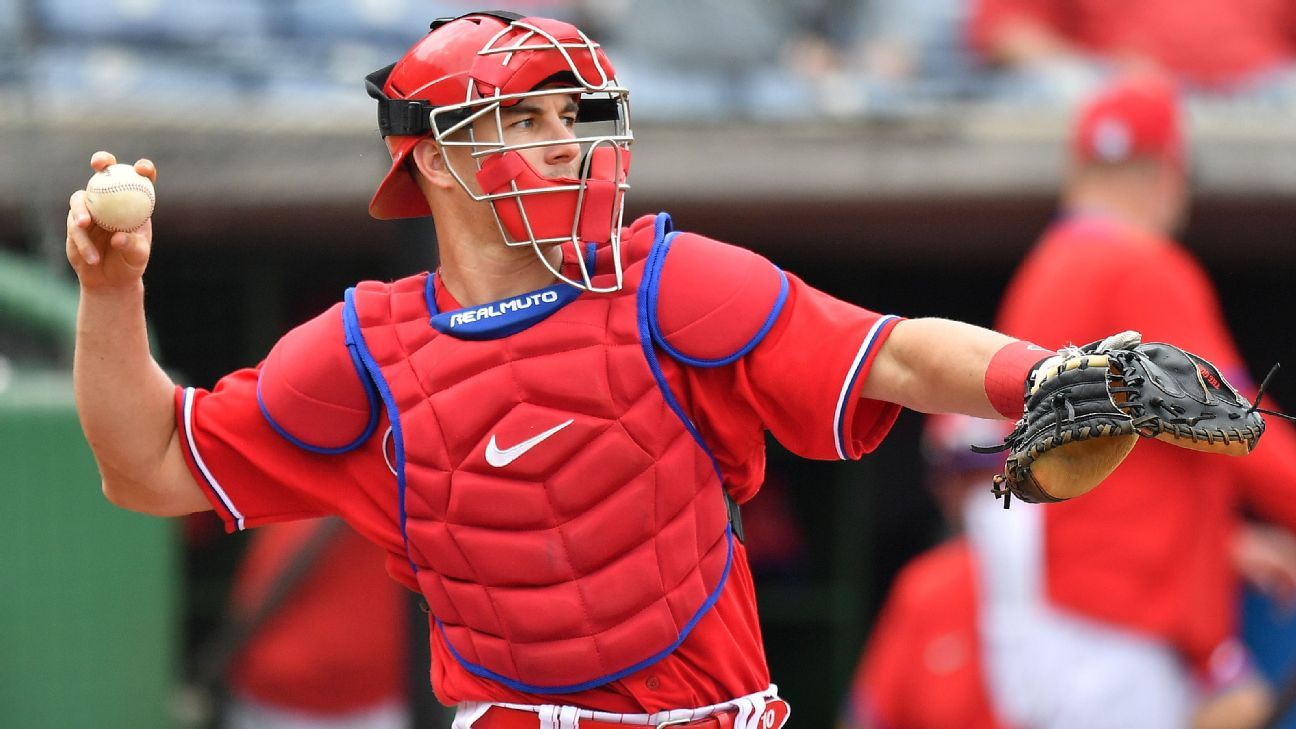 Philadelphia Phillies catcher J.T. Realmuto has been placed on the COVID-related injury list ahead of Thursday's game against Washington, the team announced.
The Phillies recalled catcher Rafael Marchan from Triple-A Lehigh Valley.
Realmuto, who signed a five-year deal with Philadelphia this offseason that has the highest average annual value ($23.1 million) for a catcher in MLB history, is hitting .314 with four home runs and 16 RBIs this season.