St. Louis Cardinals 3B Nolan Arenado says 'I've moved on' after being traded by Colorado Rockies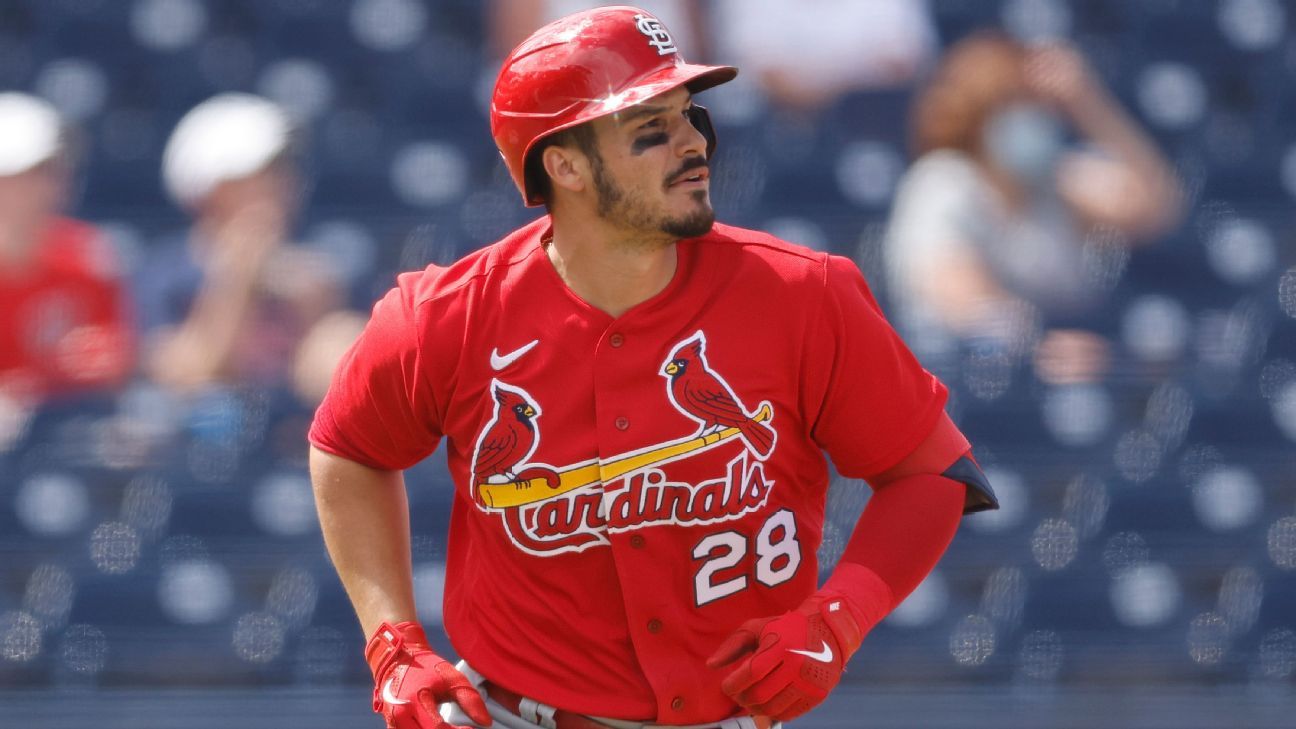 JUPITER, Fla. — Nolan Arenado has no regrets.
While the baseball world continues to analyze and dissect the Colorado Rockies' decision to trade away its $260 million franchise player, fueled by Arenado's long-drawn-out frustration by the team's failure to succeed in October, the eight-time Gold Glover and five-time All-Star is relishing life with the St. Louis Cardinals.
"I've moved on. That might hurt some people's feelings over there, but I have," Arenado told ESPN in an exclusive interview. "They'll always have a special place in my heart, the fans — the people. Regardless of the people that don't like me there, or I don't like them, I appreciate every single one of them. I appreciate the love. I appreciate the hate. I know that I can look back at my years in Colorado and know that I gave everything that I had. I have no regrets. Now I'm here in St. Louis and I'm going to give them everything I have too."
The addition of Arenado, a generational talent both defensively and offensively, instantly made St. Louis favorites in what was already a winnable National League Central. Over the past six seasons, Arenado's 33.0 WAR is first among third basemen and third most in the majors — behind only former American League MVPs Mike Trout and Mookie Betts.
But Arenado is careful to take pause ahead of insinuations of any guaranteed meeting with the defending champion Los Angeles Dodgers in October.
"[It] would be pretty cool to be in the NLCS championship in L.A. and playing against them and facing [Clayton] Kershaw and those guys," Arenado said. "But we have to focus on Opening Day, and winning one game at a time. I think there's a good chance that the Dodgers are going to be there. And they would probably say the same thing that I'm saying right now, that they have a lot of hard work to do and they have to focus on themselves and winning every game. We need to focus on that first, and then hopefully we can get to that point."
In the interim, Arenado is eager to head to Busch Stadium for his debut in a Redbirds uniform. The 29-year-old, who has finished in the top five of the National League MVP voting three times, has embraced what he calls the "Cardinal Way."
"I'm going to miss some of my boys in Colorado, the people that I care about over there. I've known them since I was a 17-year-old, or when I was called up at 22. But the sweet moment was coming here to a great organization with great history and with great players. Players that I've admired for a long time," he said. "It's a different vibe. The meetings. The attention to detail. They talk about things that I've never heard before as far as rules, plays, how we need to approach the plays. How we need to touch a base to go to the next base. If there's a first and third situation — how I need to go, where to be. We went over the stuff in Colorado. But the way they explain it or the way they want you to do it is different. I love it."
And Arenado gets to do it mentored by one of his favorite players in veteran catcher Yadier Molina.
"Yadier was one of the first guys I ever asked for a bat to sign for me. I don't ask too many people for bats, and he was one of them," he said. "The way he explains things, the way he cares. The attention to detail in the way he is about explaining the way he catches. What he wants me to do or how I need to approach the game. He's locked in to every meeting, every little thing. It's impressive to watch. I've never been around a veteran player who's done what he's done, obviously headed to the Hall of Fame, and he's still locked in like the rookie that just got first year big league camp. It's amazing to watch and it's made me a better player. It's made me a better person."
Arenado grew up in Orange County rooting for the Dodgers, particularly for Eric Karros and Shawn Green, and his favorite player of all time, Adrian Beltré. Once L.A. passed him over in the 2009 draft, Arenado was hurt by the fact that the Dodgers never saw him as a top-rounder. That made it even harder for him to lose to them every year as a member of the Rockies in the National League West.
"I remember in '17, we lost to the Diamondbacks [in the National League wild-card game.] I was so devastated because I wanted to go to L.A. just to face them in the division series," Arenado said. "I wanted all my family to be there."
The Dodgers ended their World Series drought during the coronavirus-shortened 2020 season, winning their first championship since 1988.
How did Arenado truly feel watching the Dodgers win their first title in his lifetime?
"I grew up a Dodgers fan and my family was pretty excited about the Dodgers winning," he admitted. "Was I mad about it? Not really. They were the better team. The Dodgers deserved to win and that's what they got.
"I didn't feel any animosity. Being in the division against them, I was like, 'I don't know how this team hasn't won it yet! Every time we play them, they kick our butt, and they still haven't won a World Series yet.' They finally got it done. I'm tired of hearing about them — it's like the Cowboys. You hear about them winning the Super Bowl and they don't do it. The Dodgers won and they deserved it."
Max Scherzer tosses complete game for Washington Nationals, then hurries to join wife for birth of third child
WASHINGTON — Max Scherzer delivered in a hurry, tossing a five-hitter to lead the Washington Nationals over the Miami Marlins 3-1.
Then it was on to more important matters.
Scherzer hustled out of Nationals Park after a game that took only 2 hours, 37 minutes, hurrying to be with wife Erica for the birth of their third child on Sunday night.
"We knew going into it. That's why we tried to make it a quick game," catcher Yan Gomes kidded.
Scherzer (2-2) carried a shutout into the ninth inning before Isan Diaz led off with a home run.
The right-hander, who bounced back from a subpar outing against the Blue Jays, struck out nine without a walk and hit a batter while throwing 106 pitches.
"He had 23 of 31 first-pitch strikes," said manager Dave Martinez before announcing Scherzer's other news. "As a starting pitcher, that's what you've got to do."
It was the 12th career complete game for Scherzer, who got loud applause from the approximately 8,500 fans at Nationals Park when he came out to start the ninth, unaware how special a day it was for Scherzer.
Ryan Zimmerman backed Scherzer with a three-run homer.
"Typical of him to do something cool on obviously on an interesting day for him," Zimmerman said. "For him to go complete game and pitch the way he did today and then go over and have a baby with his wife. Pretty cool day for him. We're happy for him. He never ceases to amaze I guess is the best way to put it."
The Associated Press contributed to this report.
A.J. Pollock, Matt Beaty combine for 15 RBIs as slumping Los Angeles Dodgers break out
MILWAUKEE — A.J. Pollock drove in eight runs and Matt Beaty drove in seven, with both players hitting early grand slams in a startling power show that sent the Los Angeles Dodgers over the Milwaukee Brewers 16-4 on Sunday.
Pollock homered twice and doubled while Beaty went 4 of 6 and scored three times. Their slams came against Alec Bettinger, who gave up 11 runs in his big league debut after never pitching above Double-A.
"I think it was just a good day for the offense," Pollock said on the postgame telecast. "I was at seven (in the order), so that means for me to get up in that first inning, we had a lot of good at-bats. There was a couple of walks, a couple of hits, and then we had a couple of big ones.
"So, it was really good to have a team win and have the offense explode like that."
This was the first time in franchise history that the Dodgers had two players with at least seven RBIs in the same game. The last time it happened for any MLB team was on Aug. 22, 2007, when Jarrod Saltalamacchia and Ramon Vazquez each had seven RBIs for the Texas Rangers in a 30-3 blowout of the Baltimore Orioles.
"It's a weird game," Pollock said. "We've had a few days where maybe one or two balls drop in, instead of lining out, and maybe things start rolling. But we know we have a really, really good offense. We just have to stick with it, and keep showing up at the ballpark."
The last time two Dodgers hit grand slams in the same game came when Adrian Beltre and Shawn Green did it in a 12-3 victory over the Florida Marlins on May 21, 2000.
"It's just confidence. As at-bats start to build up, you start to have more success and you get more confident," Beaty said. "You feel good in the box, you feel comfortable."
They certainly felt that on Sunday, as they salvaged the series finale after dropping the first three games.
"That was a lot of fun," Beaty said. "We started pretty early today. Really good at-bats, getting people on base, and getting them over. It was a lot of fun."
Pollock's eight RBIs matched the highest single-game total by any player in the history of American Family Field, which opened in April 2001 as Miller Park. He shares the record with Josh Willingham (2009) and Yasmani Grandal (2015). All three did it as visiting players.
"It's been a process. Every day, showing up I feel like I have a good plan, and I'm in a good spot, good positions to hit," Pollock said. "Sometimes, it works, and other times, you're feeling good but it's just not there. You have to trust it, and keep putting yourself in positions to do some damage at the plate."
Chris Taylor scored five runs, going 3 for 3 for the Dodgers.
"A day like this is always welcome," Dodgers manager Dave Roberts said. "Even starting before the game, the mojo, the energy, guys were having a good time, and it certainly carried over."
Jacob Nottingham hit two homers for the Brewers, who reacquired him from Seattle earlier in the day. The Mariners had claimed Nottingham off waivers from the Brewers last week.
Julio Urias (4-0), who allowed one run and four hits in seven innings. He struck out 10 and walked none.
The Brewers were seeking to sweep a four-game series from the Dodgers for only the second time. Milwaukee recorded a four-game sweep at Dodger Stadium in May 2012.
But in a matchup featuring two decimated rosters — these two teams have a combined 27 players on the injured list — the Brewers ran out of healthy proven pitchers.
"Things snowballed," Milwaukee manager Craig Counsell said. "It didn't go well, but we move on to the next day."
Pollock hit a slam in the first inning, a three-run homer off Jordan Zimmermann in the sixth and an RBI double in the eighth. Beaty had an RBI infield hit in the first, a slam in the second and a two-run single in the fourth.
Bettinger (0-1) allowed 11 runs on 11 hits and two walks in four innings. He hit a batter and struck out none _ he did, however, retire Dodgers star Mookie Betts in all three at-bats.
The 25-year-old righty nearly escaped with a scoreless first. But with two on and two outs, he hit Taylor with a pitch to load the bases and Beatty followed with an infield hit that scored a run and Pollock's grand slam over the center-field wall put the Dodgers ahead 5-0.
Bettinger again and two on and two outs in the second when Taylor reached on an infield hit and Beaty produced the Dodgers' second grand slam by sending a drive over the outstretched arm of a leaping Avisail Garcia in right field.
"We played a good series here," Counsell said. "You take three out of four from the Dodgers, that's a good series."
One bit of positive news for the Brewers on a bad day at the ballpark was on the injury front. Outfielders Christian Yelich and Lorenzo Cain are expected to return to action during the upcoming series in Philadelphia. President of baseball operations David Stearns said it's possible they could be ready Monday. Yelich hasn't played since April 11 due to a lower back strain. Cain is recovering from a left quad strain and last played on April 13.
The Associated Press contributed to this report.
Oakland Athletics' Jesus Luzardo suffers broken pinkie while playing video game
Oakland Athletics left-hander Jesus Luzardo will be off the mound for a while — and maybe off video games too.
Luzardo is out indefinitely after breaking the pinkie on his pitching hand when he thumped a table while playing a video game before his start Saturday.
An X-ray after an 8-4 loss to the Baltimore Orioles showed a hairline fracture, and Luzardo was put on the 10-day injured list Sunday.
Oakland manager Bob Melvin said he didn't know how much time Luzardo would miss or whether he would require a cast or splint on the finger. Melvin was hopeful the pitcher could still keep his arm in shape given the location of the break.
"Before the game he was playing a video game and accidentally bumped his hand on the desk as he was playing the game," Melvin said. "He came in, was a little bit sore, training staff checked him out. We threw him in the cage before he went out there, watched him warm up. He was comfortable pitching, the training staff was comfortable with him pitching. After the game, we got an X-ray and there was a hairline in the pinkie finger."
Oakland is getting first baseman Matt Olson back in the lineup Sunday. Olson had missed three straight games after being hit in the left eye by a ball that ricocheted off the L-screen during batting practice Thursday.
Luzardo pitched three innings and took the loss against the Orioles, allowing six runs — three earned — on five hits.
He is 1-3 with a 5.79 ERA over six starts this season.
"It just depends on how it heals and how it responds," Melvin said. "As you would expect, it was a little bit worse today, a little bit puffier today, but really have no idea on a timetable yet."
The A's also placed right-hander J.B. Wendelken on the injured list with a strained left oblique, recalling right-hander Jordan Weems from their alternate training site to take his roster spot.
Left-hander Adam Kolarek was called up from the alternate site to take Luzardo's place.
The Associated Press contributed to this report.