St. Louis Cardinals 3B Nolan Arenado says 'I've moved on' after being traded by Colorado Rockies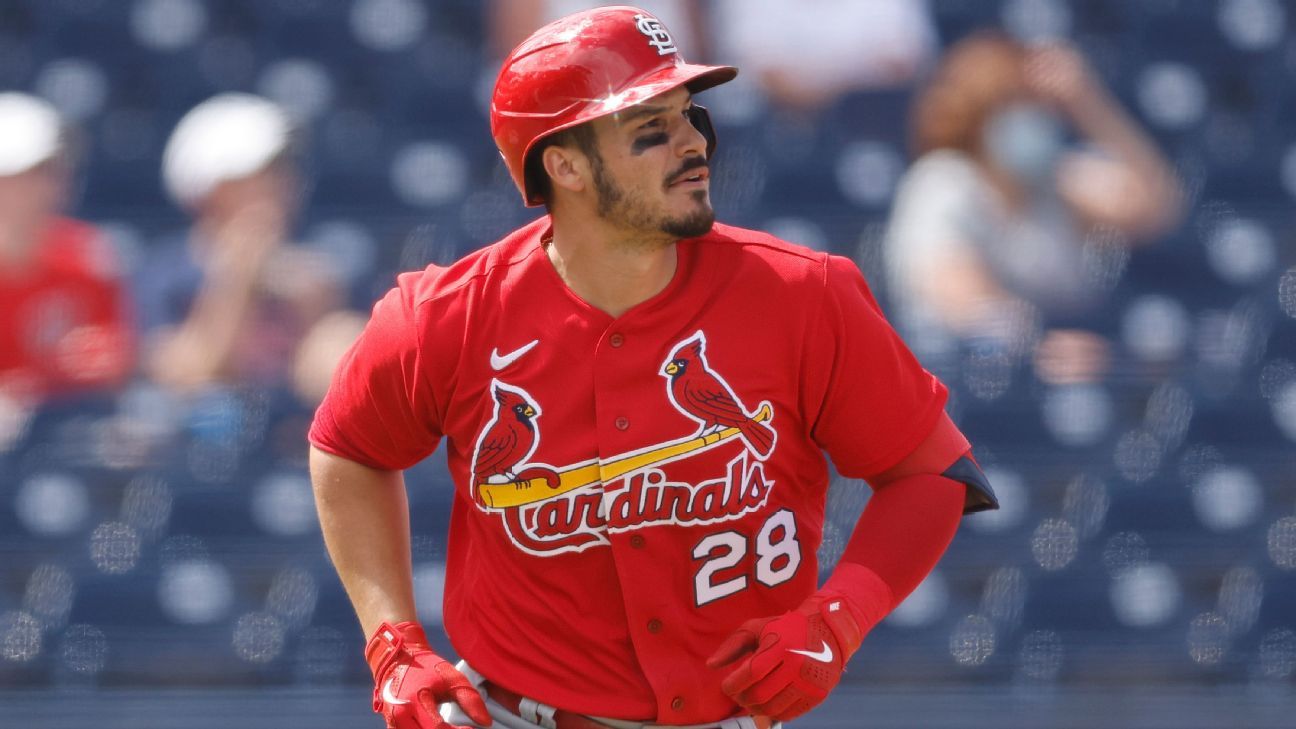 JUPITER, Fla. — Nolan Arenado has no regrets.
While the baseball world continues to analyze and dissect the Colorado Rockies' decision to trade away its $260 million franchise player, fueled by Arenado's long-drawn-out frustration by the team's failure to succeed in October, the eight-time Gold Glover and five-time All-Star is relishing life with the St. Louis Cardinals.
"I've moved on. That might hurt some people's feelings over there, but I have," Arenado told ESPN in an exclusive interview. "They'll always have a special place in my heart, the fans — the people. Regardless of the people that don't like me there, or I don't like them, I appreciate every single one of them. I appreciate the love. I appreciate the hate. I know that I can look back at my years in Colorado and know that I gave everything that I had. I have no regrets. Now I'm here in St. Louis and I'm going to give them everything I have too."
The addition of Arenado, a generational talent both defensively and offensively, instantly made St. Louis favorites in what was already a winnable National League Central. Over the past six seasons, Arenado's 33.0 WAR is first among third basemen and third most in the majors — behind only former American League MVPs Mike Trout and Mookie Betts.
But Arenado is careful to take pause ahead of insinuations of any guaranteed meeting with the defending champion Los Angeles Dodgers in October.
"[It] would be pretty cool to be in the NLCS championship in L.A. and playing against them and facing [Clayton] Kershaw and those guys," Arenado said. "But we have to focus on Opening Day, and winning one game at a time. I think there's a good chance that the Dodgers are going to be there. And they would probably say the same thing that I'm saying right now, that they have a lot of hard work to do and they have to focus on themselves and winning every game. We need to focus on that first, and then hopefully we can get to that point."
In the interim, Arenado is eager to head to Busch Stadium for his debut in a Redbirds uniform. The 29-year-old, who has finished in the top five of the National League MVP voting three times, has embraced what he calls the "Cardinal Way."
"I'm going to miss some of my boys in Colorado, the people that I care about over there. I've known them since I was a 17-year-old, or when I was called up at 22. But the sweet moment was coming here to a great organization with great history and with great players. Players that I've admired for a long time," he said. "It's a different vibe. The meetings. The attention to detail. They talk about things that I've never heard before as far as rules, plays, how we need to approach the plays. How we need to touch a base to go to the next base. If there's a first and third situation — how I need to go, where to be. We went over the stuff in Colorado. But the way they explain it or the way they want you to do it is different. I love it."
And Arenado gets to do it mentored by one of his favorite players in veteran catcher Yadier Molina.
"Yadier was one of the first guys I ever asked for a bat to sign for me. I don't ask too many people for bats, and he was one of them," he said. "The way he explains things, the way he cares. The attention to detail in the way he is about explaining the way he catches. What he wants me to do or how I need to approach the game. He's locked in to every meeting, every little thing. It's impressive to watch. I've never been around a veteran player who's done what he's done, obviously headed to the Hall of Fame, and he's still locked in like the rookie that just got first year big league camp. It's amazing to watch and it's made me a better player. It's made me a better person."
Arenado grew up in Orange County rooting for the Dodgers, particularly for Eric Karros and Shawn Green, and his favorite player of all time, Adrian Beltré. Once L.A. passed him over in the 2009 draft, Arenado was hurt by the fact that the Dodgers never saw him as a top-rounder. That made it even harder for him to lose to them every year as a member of the Rockies in the National League West.
"I remember in '17, we lost to the Diamondbacks [in the National League wild-card game.] I was so devastated because I wanted to go to L.A. just to face them in the division series," Arenado said. "I wanted all my family to be there."
The Dodgers ended their World Series drought during the coronavirus-shortened 2020 season, winning their first championship since 1988.
How did Arenado truly feel watching the Dodgers win their first title in his lifetime?
"I grew up a Dodgers fan and my family was pretty excited about the Dodgers winning," he admitted. "Was I mad about it? Not really. They were the better team. The Dodgers deserved to win and that's what they got.
"I didn't feel any animosity. Being in the division against them, I was like, 'I don't know how this team hasn't won it yet! Every time we play them, they kick our butt, and they still haven't won a World Series yet.' They finally got it done. I'm tired of hearing about them — it's like the Cowboys. You hear about them winning the Super Bowl and they don't do it. The Dodgers won and they deserved it."
San Francisco Giants All-Star shortstop Brandon Crawford heads to injured list with oblique strain
LOS ANGELES — San Francisco's injury woes have now hit arguably its best player during the first half of the season.
The Giants placed All-Star shortstop Brandon Crawford on the 10-day injured list Monday due to an oblique strain. The move came as they opened a pivotal four-game series against the rival Los Angeles Dodgers.
Manager Gabe Kapler said Crawford's MRI revealed a mild strain, and he was hopeful it would be a short stint on the IL.
"We understand we have a big challenge ahead of us. Just knowing he is not going to be available is tough for him," Kapler said. "If there is a silver lining, it does give him a break and allows us to build him up to full strength."
Crawford is ninth in the NL in batting average (.286) and RBIs (58). He was also on a tear with five games of three hits or more in his last 10, along with going 20 for 39 over the last 11 games.
Crawford — who had started 73 of the Giants' first 91 games at shortstop — said he noticed something wrong after his final swing during Sunday's game at St. Louis. It is only the second time in 11 seasons he has gone on the IL, with the previous time coming in 2017 due to a groin strain.
"It's frustrating from a lot of perspectives," Crawford said before Monday's game. "I felt so good, especially recently. There are also so many games against the Dodgers the next couple weeks that I won't be a part of. The amount of guys on the IL right now also makes all of those things pretty frustrating."
With Crawford's injury, second baseman Donovan Solano is the only Giants regular infielder who is not on the IL. First baseman Brandon Belt has been out since June 24 due to right knee inflammation, and is likely to be sidelined for the next two weeks. Third baseman Evan Longoria is on the 60-day injured list and isn't eligible to come off until Aug. 5.
The Giants went into Monday's game with the best record in the majors at 58-34 but have a precarious one-game lead over the defending World Series champion Dodgers in the NL West. Seven of the Giants' next 10 games are against Los Angeles.
Thairo Estrada is expected to get most of the playing time at shortstop in Crawford's place. The Giants also called up infielder Jason Vosler from Triple-A Sacramento to take Crawford's roster spot.
"It's important to acknowledge it is a blow when you are going to miss our best bat all year long, but also focus on the opportunity Estrada gets so that we can evaluate him," Kapler said.
San Francisco did get some good news on the injury front, though. Star catcher Buster Posey was activated after missing nine games due to a bruised left thumb, and pitcher Kevin Gausman was reinstated from the Family Medical Emergency List in time to start Monday.
Ahead of city council vote on stadium proposal, A's president says 'Our future in Oakland is hanging in the balance'
Eight Oakland City Council members will cast non-binding votes for a proposed $12 billion development and ballpark plan on Tuesday morning. An affirmative vote will simply keep the ambitious project alive, but a dissenting vote, the Oakland Athletics say, will kick-start the team's relocation efforts.
Speaking roughly 22 hours before that crucial vote, A's president Dave Kaval still didn't know what to expect.
"Our future in Oakland is hanging in the balance," Kaval said in an interview with ESPN on Monday afternoon, "and we are doing everything we can to get a 'yes' vote tomorrow on our plan and keep the A's rooted in Oakland. But we don't know if we're gonna get a positive vote. There's still a lot of areas we're apart significantly with the city, and we go into the vote not knowing how it's gonna play out."
A two-decade-long process to secure a new stadium in the Bay Area has reached what Major League Baseball commissioner Rob Manfred referred to as "the end" prior to last week's All-Star Game. There have been unsuccessful proposals in San Jose, Fremont and multiple sites in Oakland, most notably around Laney College. Renovations of the current Coliseum site, where the A's have played since 1968, have been deemed nonviable largely because of the team's stated desire for a downtown location.
All that is seemingly left to prevent the A's from leaving Oakland — and following the recent paths of the NBA's Golden State Warriors and the NFL's Las Vegas Raiders — is a 35,000-seat waterfront ballpark proposal within the Howard Terminal site in the Port of Oakland.
The A's made public proposals in April stating that they would privately finance the ballpark, which will cost an estimated $1 billion, while also providing $450 million in community benefits and arranging for an additional $11 billion in private investment to eventually build up the surrounding neighborhood. But the City of Oakland made a counter-proposal on Friday that Kaval said "lacks details and specifics and really doesn't answer any of the questions that we have that need to be addressed to continue to move forward."
The biggest issue stems from the $855 million the A's have asked the city to pay in infrastructure improvements using taxes generated by the project. The A's proposed two infrastructure financing districts to cover that cost, but the city rejected the proposal to create an additional district at nearby Jack London Square, leaving what Kaval estimated as a $352 million shortage that the A's would have to cover.
"That's an extraordinary sum of money," said Kaval, who has been leading the A's stadium efforts since joining the team in November of 2016. "And not having specificity is a key concern. There's also concern about additional taxes that they're putting on the project — condo transfer tax, a transportation tax that obviously push up the cost as well. Those are all items that are problematic. And we've been clear that the project can only do so much. We can't solve all of Oakland's problems, but we can do a lot to make this a better community and keep the A's here for many generations to come. And that's why we're looking for an affirmative vote on our plan."
The A's need at least five council members to approve their plan, or four council members plus Oakland Mayor Libby Schaaf. Kaval said there has been "continuing negotiations" over the weekend and into Monday but that the two sides "remain significantly apart."
The Mayor's Office declined to comment when reached by ESPN on Monday. Justin Berton, a spokesperson for Mayor Schaaf, released a statement saying: "The City and the A's are continuing their dialogue today with the shared goal to make a world-class ballpark a reality. The City will continue to advocate for a proposal that supports and serves Oakland and our entire region, provides affordable housing, public parks, great jobs and other direct benefits for the community — all without risk to our Port, our taxpayers, or the City or County's general funds."
The A's lease at what is now called RingCentral Coliseum expires after the 2024 season. If ultimately approved, the Howard Terminal ballpark wouldn't be ready until 2027, leaving the A's with a two-year gap to cover in Oakland.
In the meantime, team officials have continue exploring Las Vegas and its surrounding areas as an alternative. Kaval and A's owner John Fisher have made three trips to South Nevada this year and plan to return there on Wednesday. Manfred said last week that it would be "a mistake" to refer to the Vegas option as a bluff, calling it "a viable alternative for a major league club." A "no" vote on Tuesday — City Council members will meet at 9 a.m. PT — could trigger conversations with other potential relocation sites such as Portland, Nashville, Vancouver and Montreal, among others.
Kaval isn't clear on whether the city would ultimately vote on the A's plan, which was presented to Oakland officials at the start of 2021, or the city's counter offer from Friday, adding that a "yes" vote on the latter would be "akin to a 'no' vote" because the team does not approve.
"In many ways we're down to our last at-bat in Oakland," Kaval said. "But if we get a win tomorrow, and an agreement we agree with, we can send it into extra innings and hopefully get the final victory in the fall."
Baltimore Orioles ace John Means 'ready to go,' will return from shoulder injury to start Tuesday
ST. PETERSBURG, Fla. — Baltimore Orioles ace John Means will return from a left shoulder strain to start Tuesday night against the Tampa Bay Rays.
The left-hander, 4-2 with a 2.28 ERA in 12 starts this season, last pitched on June 5 against Cleveland. He made three minor league rehab outings, including a three-inning stint with Triple-A Norfolk last Thursday.
"It felt great," Means said on Monday. "Yeah, I'm ready to go."
Means threw a no-hitter, falling short of a perfect game because of a wild pitch on a third strike, against Seattle on May 5.
"We're going to closely monitor him. I'm not going to push him in any sort of way his first couple starts," Orioles manager Brandon Hyde said. "Once he gets settled back in after these first couple starts I hope he does finish like he did last year, that he was one of better starting pitchers in the American League. How he started the year this year, the same way."
Baltimore entered Monday with an AL-worst record of 30-62.
Means missed an Opening Day assignment in 2020 due to a shoulder injury. The problem is an area of muscles in the back of the shoulder.
"Since I throw so many change-ups, it gets a little tighter than most people but it's something that I need to take care of," Means said. "It's something that I didn't and I was just cruising there for so long, and didn't really want to change anything, wanted to stay out of the training room as much as possible. But that was stupid on my part. Now I know that I've got to keep that up and keep that spot as loose as possible so the rest of my muscles aren't doing too much."
Baltimore All-Star center fielder Cedric Mullins was rested in Monday night's series opener against the Rays.
"Not much of an All-Star break," Hyde said. "I want to keep him fresh in the last 70-plus games."