New York Mets' Pete Alonso to issue NFT to aid minor leaguers
New York Mets first baseman Pete Alonso is joining in on the sports NFT trend, but with a minor league twist.
Alonso, who is launching his own NFT on Tuesday on Blockparty, is auctioning off the one-of-one digital collectible and donating the proceeds to charity, teaming up with More Than Baseball, a nonprofit dedicated to supporting minor leaguers who need financial support with housing, equipment and nutrition, and his own charity, Homers for Heroes.
"I was a minor leaguer. I know how hard it is on 12-hour bus trips," Alonso told ESPN. "If you're not on the 40-man roster or you're just a regular minor leaguer without any big league team, you're making around $2.85 an hour when it comes down to brass tacks. To be able to raise funds and help out guys that need it, that are extremely talented because there's big league talent all throughout the minor leagues, I'm very thankful."
The art for the NFT was designed by Mets minor leaguer Tommy Wilson, who has established himself as a crypto artist. Wilson played for Double-A Binghamton in 2019 before the COVID-19 pandemic shut down the minor leagues in 2020. Wilson connected with Alonso in order to collaborate on the NFT artwork meant to support minor leaguers like himself.
An NFT, also known as a nonfungible token, is a unique proof of ownership over a digital product — such as a piece of digital art, a digital coupon, a video clip — and comes in the form of a one-of-a-kind code that's stored and protected through a digital wallet. The NBA found success with NBA Top Shot, an online forum for trading virtual basketball cards where fans can buy and sell videos of their favorite players and moments in recent seasons, with the trend beginning to spread to other sports.
"It's incredible because I know Pete did it himself. He went through the minor leagues," Wilson told ESPN. "I'm doing it myself at the moment. We both kind of know the struggle and the grind that it is to get through the minor leagues and to stay focused. There's a lot of different things you have to deal with. I'm super stoked to be able to give to More Than Baseball and hopefully help out some minor leaguers that need it."
In recent years, More Than Baseball has collaborated with major leaguers to auction off game-used cleats in order to support the charity, but director of operations Slade Heathcott, a former first-round pick of the New York Yankees, said the organization started experimenting with NFTs before teaming up with Alonso.
"I'm like, this is too good to be true. This is what we've been working on in the last three weeks," Heathcott told ESPN. "It means a lot to players, like having some feedback from players last year, seeing big leaguers, finally doing something to help them, that's kind of the scene and the sense, and having guys wear [cleats] and being on national television and be able to talk about minor leaguers and the battle that they're going through."
The 26-year-old slugger first started thinking about creating his own NFT when he noticed Tampa Bay Buccaneers tight end Rob Gronkowski finding success with his own digital collectibles. More recently, teammate Taijuan Walker became the first baseball player to create and auction off his own NFT, with proceeds going to the Amazin' Mets Foundation.
Alonso decided to partner up with More Than Baseball knowing that minor leaguers have struggled through the COVID-19 pandemic because their seasons have been canceled.
"There's guys on my team were like, they're going on eBay to buy their cleats," Alonso said. "They're grinding, trying to figure out how they're going to get their next shipment of bats. Because if you're not a prospect or drafted very high, it takes like six to eight weeks to get your wood in. And then you could be, you can either not have bags, not have proper equipment."
With the recent explosion of the sports NFT market, Alonso is undecided on whether this NFT project is a one-off or the beginning of something more.
"I don't know if it's going to be the future, but that's why I want to kind of, I guess, test the waters so to speak," Alonso said. "I mean, for me … this is just something that I want to do for fun and also help others out, which I'm really excited about. It's going to be interesting. … It's kind of like a little test run."
White Sox rookie Seby Zavala first in MLB history to hit his first three career home runs in same game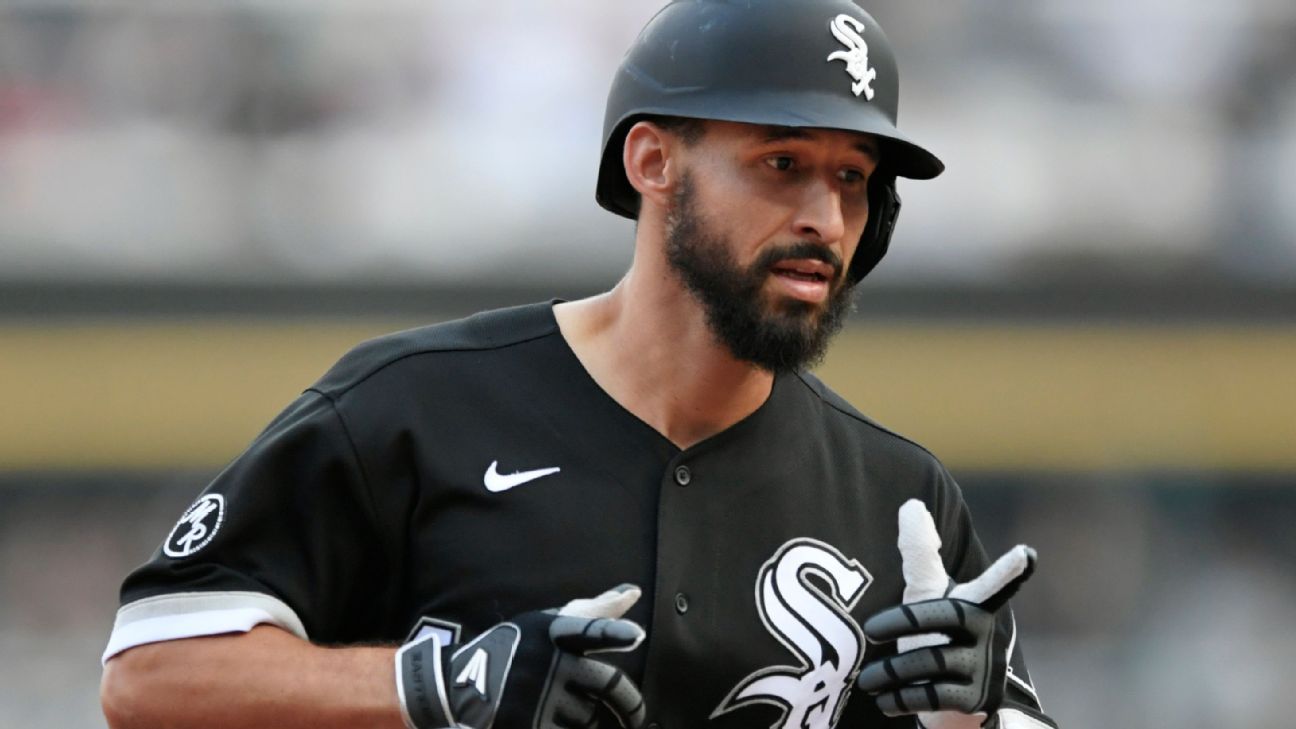 CHICAGO — White Sox rookie Seby Zavala hit the first three home runs of his career, including a grand slam, but the Cleveland Indians rallied to beat Chicago 12-11 on Saturday night.
Zavala became the first player in big league history to hit his first three career home runs in the same game, according to Elias Sports Bureau. The 27-year-old catcher played his 18th game in the majors — he was recalled from Triple-A Charlotte on July 6 to replace the injured Yasmani Grandal.
Batting ninth, Zavala hit a solo homer in the third off Triston McKenzie. Zavala connected for a grand slam off McKenize in the fourth for a 6-1 lead and a solo drive against Bryan Shaw in the seventh.
Seby Zavala is the 1st player in MLB history to hit his first 3 career home runs in the same game (pending inclusion of Negro League stats). pic.twitter.com/o4WxLM4MtQ

— ESPN Stats & Info (@ESPNStatsInfo) August 1, 2021
With a chance to become the 19th player to hit a record-tying four homers in a game, Zavala singled in the eighth and finished with six RBIs.
Zavala — who will turn 28 on Aug. 28 — played at San Diego State, finishing up with the Aztecs in 2015. Later that year, he was a 12th-round selection by Chicago in the June entry draft. He hit 20 home runs at Triple A Charlotte in 2019.
His magic wasn't enough to outpace the Indians on this night, however, as Austin Hedges, Owen Miller and Amed Rosario homered to help Cleveland overcome a five-run deficit.
The Indians totaled nine runs in three straight innings to take the lead. Justin Garza (1-0) threw two scoreless innings. Emmanuel Clase got five outs for his 13th save.
Brian Goodwin and Adam Engel homered for the White Sox, who lead the second-place Indians by eight games in the AL Central despite winning just three times in their last 10 games.
Michael Kopech (3-1) took the loss for the White Sox, allowing five earned runs in just one inning of work.
Perhaps more important to the long-term outlook of the White Sox staff, newly acquired Craig Kimbrel pitched a perfect ninth in his first appearance after they acquired him from the Cubs at the trade deadline Friday.
The Associated Press contributed to this report.
San Diego Padres star Fernando Tatis Jr. on 10-day injured list with shoulder trouble
SAN DIEGO — Star shortstop Fernando Tatis Jr. of the San Diego Padres was placed on the 10-day injured list Saturday, a day after partially dislocating his left shoulder for the third time this season.
The Padres announced the move prior to their game against the Colorado Rockies. They also placed right-hander Chris Paddack on the IL with an oblique injury.
Tatis, the National League's starting shortstop in the All-Star Game, was injured Friday night while sliding awkwardly into third base in the first inning against the Rockies. He was in pain as he was led off the field by manager Jayce Tingler and a trainer.
Tingler said Tatis was "a little bit more sore than maybe some of them we've had in the past."
The Padres, who are in third place in the NL West and in control of the second wild-card spot, are keeping their fingers crossed that the electrifying 22-year-old Tatis will be back in 10 days.
Tatis leads the NL with 31 home runs. He's hitting .292 with 70 RBIs.
Philadelphia Phillies minor leaguer Daniel Brito suffers medical emergency, postponing Triple-A game
Philadelphia Phillies minor leaguer Daniel Brito suffered a medical emergency during Saturday's game between the Rochester Red Wings and Lehigh Valley IronPigs, forcing the Triple-A doubleheader in Rochester, New York, to be postponed.
The IronPigs third baseman began to wobble in the bottom of the first inning of the second game and had to be helped by the Red Wings manager — who was coaching in the third-base box. Brito then lay on the field for approximately 20 minutes and was administered oxygen by a paramedic, according to the Democrat and Chronicle. An ambulance eventually arrived and Brito was taken to a local hospital.
"In the best interest of the players and coaches for both teams, today's Red Wings doubleheader has been suspended due to a medical emergency on the field in the bottom of the 1st inning," the Red Wings said in a statement posted to Twitter.
Brito, a 23-year-old from Venezuela whom the Phillies signed in 2015, had recently made his debut in Triple-A.
Rochester won the opening game 3-0.