NFC East QB breakdown – New deals, new faces, higher expectations
A year ago, the NFC East looked like a division full of quarterbacks who could grow old together, with Carson Wentz, Dak Prescott, Daniel Jones and Dwayne Haskins Jr. in starting roles.
Things have changed in various ways.
Haskins, a first-round pick in 2019, has since been cut by the Washington Football Team, and Wentz has been traded by the Philadelphia Eagles to the Indianapolis Colts. The Dallas Cowboys signed Prescott to a four-year, $160 million contract that included an NFL-record $66 million signing bonus. And Jones enters a critical season in his development to determine if he is the New York Giants' quarterback for the long term.
Philadelphia appears ready to go with second-year quarterback Jalen Hurts, while Washington picked up veteran Ryan Fitzpatrick.
Following a 2020 NFL season in which Washington won the NFC East with seven wins, it's a good time to check in on where each team stands at the game's most important position.
NFL Nation reporters Jordan Raanan (Giants), Tim McManus (Eagles), John Keim (WFT) and Todd Archer (Cowboys) detail the state of the division's quarterback spot looking ahead to the 2021 season and beyond.
---
Dan Orlovsky explains how the expectations have ramped up for Dak Prescott with his new contract.

Signings for 2021: Signed Prescott to a four-year, $160 million deal
Subtractions from 2020: Andy Dalton
Projected 2021 Week 1 starter and his 2020 stats: Prescott (5 starts, 151-for-222, 1,856 yards, 9 TDs, 4 INTs, 78.7 QBR)
What's left to do? Dalton left Dallas for a starting opportunity — and $10 million guaranteed — with the Chicago Bears. He came to the Cowboys in 2020 hoping to reset his career after a nine-year run as the Cincinnati Bengals' starter. He got his wish after some positive moments in replacing the injured Prescott. The Cowboys have Garrett Gilbert, Cooper Rush and Ben DiNucci on the roster as Prescott's backups. Could one of them serve as the No. 2 in 2021? Potentially. The Cowboys could look to the veteran market in free agency to find a more experienced backup.
Are the Cowboys better or worse at QB than last season? Based on what we know right now, they're worse because they don't have the security Dalton provided. Gilbert fared well in his one start last season, but that was the only real playing time he has had in his pro career. Is that enough to make the Cowboys feel comfortable? Maybe it is and maybe Prescott will return to full health without any issues. He started the first 69 games of his Cowboys career without any problem. Prescott's rehab from the compound fracture and dislocation of his right ankle is going well, and there is anticipation he will be on the field during the offseason program and ready for training camp.
Three years from now, what will we be saying about the 2021 decisions at QB? The Cowboys made the right move in signing Prescott, but they still didn't get to a Super Bowl. While the $40 million annual average salary might be too high for some, it's the price the Cowboys had to pay after Prescott showed uncommon patience in resisting megadeals in 2019 and 2020. After the 2023 season, there will be a whole new round of Prescott contract talks because the Cowboys will not be able to use the franchise tag on him in 2025. Imagine what the price could be by then.
---
Stephen A. Smith bursts into laughter after Max Kellerman picks the Giants to take home the NFC East crown.

Signings for 2021: Signed Mike Glennon to a one-year, $1.35 million deal
Subtractions from 2020: Colt McCoy
Projected 2021 Week 1 starter and his 2020 stats: Jones (14 starts, 280-for-448, 2,943 yards, 11 TDs, 10 INTs, 61.5 QBR)
What's left to do? Nothing. Sit back and cross your fingers. This is Jones' show. The Giants showed no interest in upgrading at quarterback this offseason. They are sold on Jones after watching for two years how he works and what he brings to the table. Now it's time to produce. But as Giants general manager Dave Gettleman explained, how many people are great at their job right away, in the first two years? That's what the Giants are hanging their hat on with Jones, and they're doing everything they can to give him a fair chance to succeed. All you have to do is look at the amount they paid to wide receiver Kenny Golladay — and even tight end Kyle Rudolph — as evidence.
Are the Giants better or worse at QB than last season? They sure hope they are better, and it all comes down to Jones playing better. He wasn't great in 2020, throwing 11 touchdown passes and 10 interceptions in a season when he didn't make the progress most expected. Jones should be better in Year 3 with an improved supporting cast, having the addition of Golladay and the return of running back Saquon Barkley. That should make a difference. As for Jones' insurance at No. 2, one NFL assistant said he thought McCoy was the better player when compared to Glennon. So that's a downgrade.
Three years from now, what will we be saying about the 2021 decisions at QB? The Giants' patience paid off. Jones at that point will have developed into a pretty good quarterback. He can run, throw and cut down on the turnovers that plagued him early in his career. The Giants also (law of averages) have won more games the past few years than the first two seasons of his pro career. Not too hard considering the Giants struggled while winning 10 games combined in 2019 and 2020.
---
Mel Kiper Jr. encourages the Eagles to draft wide receiver Ja'marr Chase after signing Joe Flacco.

Signings for 2021: Signed Joe Flacco to a one-year deal with $3.5 million guaranteed
Subtractions from 2020: Wentz, Nate Sudfeld
Projected 2021 Week 1 starter and his 2020 stats: Hurts (4 starts, 77-for-148, 1,061 yards, 6 TDs, 4 INTs, 41.0 QBR)
What's left to do? Draft a quarterback. The Eagles added a solid No. 2 option by signing Flacco on Tuesday. He has accomplished enough in this league to push Hurts, the Eagles' projected starter. And with 175 career starts and a Super Bowl MVP under his belt, Flacco has plenty of knowledge for Hurts to draw from. There is one open spot in the QB room, and it's a good bet it will be filled through the draft. If the Eagles don't use the No. 12 overall pick on a signal-caller — a decent bet at this point — Kyle Trask makes sense in Round 3 or 4. Eagles quarterbacks coach Brian Johnson was his offensive coordinator at Florida, helping him ascend from a backup in high school to a Heisman finalist this past season.
Are the Eagles better or worse at QB than last season? They are worse from a talent standpoint. Wentz nearly won the MVP in 2017 and was considered a top-15 quarterback overall before a disastrous 2020 campaign. But the whole vibe was off among the QBs last season. Wentz did not appear to respond well to the drafting of Hurts, and split allegiances began to form in the locker room as Wentz struggled and was later benched in favor of Hurts over the final quarter of the season. The Eagles should have a more harmonious QB room this year, so long as the roles are concretely defined. Not to mention, Hurts is likely to have a better season than Wentz had in '20.
Three years from now, what will we be saying about the 2021 decisions at QB? That they serve as a cautionary tale when it comes to the handling of a franchise quarterback. Hurts could end up being a very good starter in the league. Maybe Wentz tears it up in Indy. Maybe he falls flat. It's less about the results here and more about the process. The Eagles intended to ride with Wentz for the foreseeable future and thought he would lead their next Super Bowl charge. They never properly accounted for how the drafting of Hurts could negatively impact their relationship with Wentz if or when things got bumpy and the season didn't go according to script. However it plays out on the field, lessons about properly supporting QB1 need to be applied moving forward.
---
John Keim breaks down Washington's decision to sign quarterback Ryan Fitzpatrick.
Signings for 2021: Signed Fitzpatrick to a one-year deal worth up to $12 million; re-signed Taylor Heinicke to a two-year, $4.75 million deal; re-signed Kyle Allen to a one-year, $850,000 deal
Subtractions from 2020: Alex Smith, Haskins
Projected 2021 Week 1 starter and his 2020 stats: Fitzpatrick (7 starts, 183-for-267, 2,091 yards, 13 TDs, 8 INTs, 76.9 QBR)
What's left to do? Find a quarterback of the future. Washington will look hard at drafting a signal-caller, and it's possible the team waits until the second or third round for a player such as Trask or someone else of that ability. When the team signed Fitzpatrick, it did so knowing he would be a good mentor to young quarterbacks. Allen, recovering from an ankle injury, and Heinicke are not viewed as long-term solutions at this point. If Washington doesn't draft a quarterback, it will see whether either one of those two develops, and if not, try again next offseason.
Is Washington better or worse at QB than last season? Better. Allen entered last season as the No. 2 passer behind Haskins, but it was Smith who finished as the starter. Smith was a great story — a comeback for the ages — and he was an excellent leader. But Fitzpatrick is a good leader and a better passer. He still makes costly mistakes, notably in the red zone, but if Washington surrounds him with another pass-catching threat or two, then he will capitalize and play fearlessly. Allen is a capable backup and Heinicke, a late-season addition, is the wild card. He played well in his one start, a playoff loss to the Tampa Bay Buccaneers. Durability is a concern, and Heinicke was out of the league for two years previously, but he provided a spark and earned a two-year contract.
Three years from now, what will we be saying about the 2021 decisions at QB? Even if Fitzpatrick is only here one year, he injected fun back into the offense. It has been a while since Washington had a fun offense. In the past three years, it ranked 29th, 32nd and 25th in points per game and 28th, 31st and 30th in yards. Zzzzzz. It should be much better this season. But obviously the key will be whether they draft a QB and how he develops. Regardless, the right move is to keep searching, and while Fitzpatrick has never been much more than a stopgap, he's a good mentor. By signing him, Washington knows that its QB-of-the-future quest is not over — and that's a good thing.
New England Patriots owner Robert Kraft gifted new Bentley from celebrity friends for 80th birthday
FOXBOROUGH, Mass. — New England Patriots owner Robert Kraft celebrated his 80th birthday on Sunday, with some of his celebrity friends surprising him with an unexpected gift — a sparkling new Bentley.
Rapper Meek Mill posted a video on his Instagram account of a stunned Kraft receiving the car. Philadelphia 76ers co-owner Michael Rubin, the chairman of Fanatics, contributed to the gift, as did Jay-Z, among others.
All have worked together in creating the Reform Alliance, which since its inception in 2019 aims to transform probation and parole in the United States.
In the video posted on Instagram, Kraft put both hands on his head after first seeing the car, and said "Oh my God!" He had apparently been hoping to buy a Bentley, but seemingly wasn't able to find the car he was looking for, which led to his surprise.
"How did you get it?" Kraft asked Rubin.
Kraft was then told the car had been delivered on a flatbed from Florida.
Kraft's connection to Meek Mill is well documented. He met him through Rubin, and visited the rapper in prison in 2018, then spoke publicly on Mill's behalf that his sentence was unfair and reflective of a broken criminal justice system.
"It makes it clear to me that we have to do something with criminal justice reform," Kraft said at the time. "His kind of case, in a situation like this, it's really bad. I know some of our players in the NFL have talked about this and I see it firsthand; it's just wrong. We have to find a way to correct it."
After the Patriots won Super Bowl LIII over the Los Angeles Rams, Kraft wore a thick gold chain at the victory parade that was gifted to him by Meek Mill.
Cameron Kinley is not the only player to have his debut delayed by military service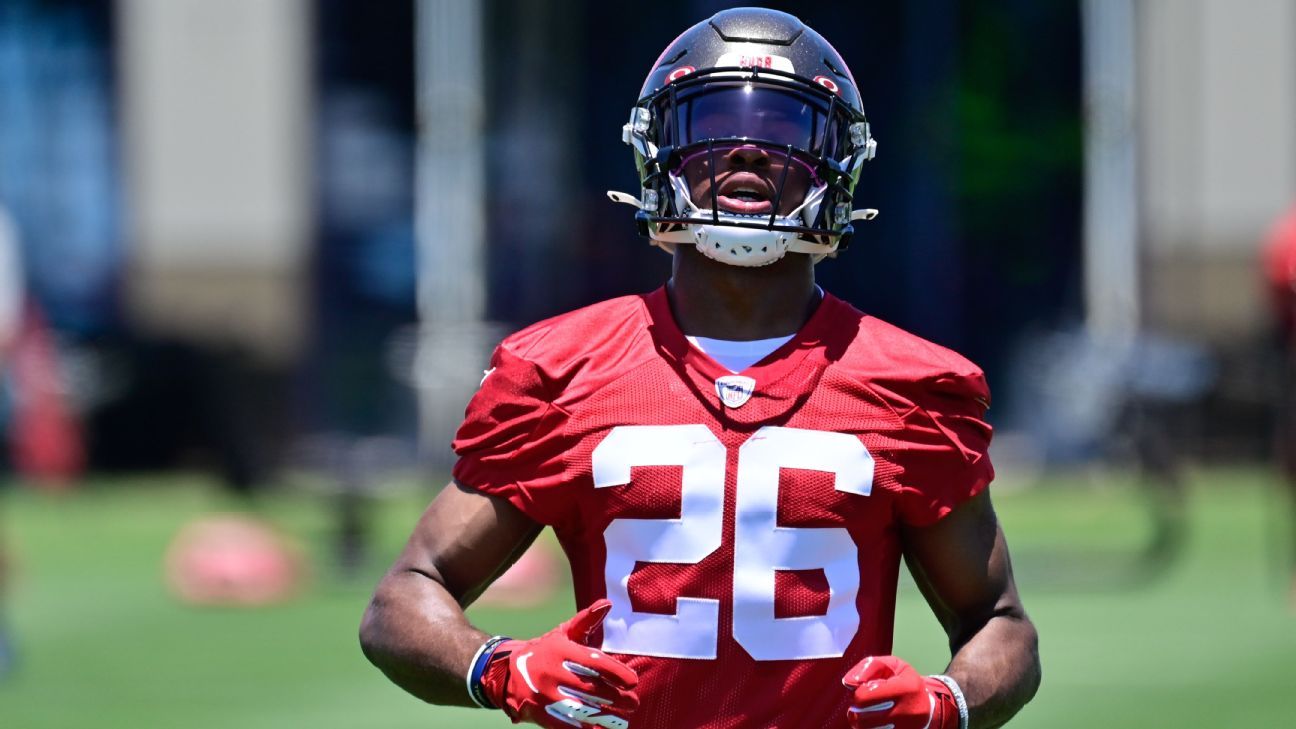 Cameron Kinley will have to wait a little while longer to make his NFL debut.
The rookie cornerback, who signed with the Tampa Bay Buccaneers as an undrafted free agent this year, was a team captain and class president at Navy. He requested to delay his commission in order to begin his NFL career, but that request has been denied, and he's being required to commission as an ensign, with no chance to appeal.
Kinley can take some solace in knowing he's not the only player who's had to complete his military service before beginning his pro sports dream. ESPN Stats and Information Group came up with a list of some notable others.
Roger Staubach
The future Hall of Famer and 1963 Heisman Trophy winner was a 10th-round future selection by the Dallas Cowboys in 1964, but due to his Naval commission did not join the Cowboys until 1969. Staubach spent a year in South Vietnam during his service. He won two Super Bowls with the Cowboys and made the Hall of Fame in 1985.
Phil McConkey
The wide receiver started his NFL career at 27 after spending five years in the Navy as an officer. McConkey signed with the New York Giants and had a 25-yard punt return, a 44-yard reception on a flea flicker, and a touchdown catch in Super Bowl XXI. He'd play in the league from 1984-1989.
Napoleon McCallum
McCallum actually was able to play his rookie season for the Los Angeles Raiders due to being stationed in Southern California in 1986. He was then assigned to the USS California in 1987, which was sailing the Indian Ocean at the time, temporarily halting his career. McCallum returned to the Raiders after his service was done in 1990 and played until 1994.
Nicknamed "The Admiral," Lieutenant David Robinson was drafted by the San Antonio Spurs No. 1 overall in 1987. He served two years with the Navy before returning to the Spurs in 1989, due to working out a deal with Secretary of Navy John Lehman to only serve two years instead of the required four. Robinson joined the Spurs in 1989, won two titles and an MVP award, was a member of the "Dream Team" and made the Hall of Fame after he retired.
Villanueva went undrafted in 2010 and went into service in the U.S. Army. After completing his service, he attempted to make the NFL again and signed with the Eagles after an open tryout in 2014. Though he was cut before playing with Philadelphia, he ended up signing with the Pittsburgh Steelers, playing with them until 2020. He signed with the Baltimore Ravens for the 2021 season.
Aaron Rodgers not expected to join Green Bay Packers as mandatory minicamp begins Tuesday
GREEN BAY, Wis. — Aaron Rodgers is not expected on the practice field when the Green Bay Packers open their minicamp Tuesday, sources told ESPN's Adam Schefter, making it the first mandatory offseason event that the discontented quarterback will have skipped.
He is subject to $93,085 in fines if he does not show for the entire three-day camp.
Schefter reported Monday that the Packers have discussed giving Rodgers an excused absence, which would then waive the fines. If they don't, then Rodgers would be fined $15,515 for missing Tuesday, $31,030 for Wednesday and $46,540 for Thursday.
Fines during training camp, meanwhile, run $50,000 per day missed, are mandatory and can't be rescinded.
Rodgers already has missed enough of the offseason program to forfeit his $500,000 workout bonus.
The Packers have been working throughout the offseason to mend the relationship with Rodgers but to no avail. He skipped the phase one virtual offseason workouts and has not attended any of the first two weeks of OTA practices.
Packers president Mark Murphy reiterated over the weekend that he, general manager Brian Gutekunst and coach Matt LaFleur continue to work toward a solution to bring Rodgers back into the fold.
"As I wrote here last month, we remain committed to resolving things with Aaron and want him to be our quarterback in 2021 and beyond," Murphy wrote Saturday on the team's website. "We are working to resolve the situation and realize that the less both sides say publicly, the better."
News of Rodgers' unhappiness with the Packers became public April 29, when Schefter reported that he has told some members of the organization that he did not want to return to the team. In his only extended comments about the situation, Rodgers suggested that his beef is with how he has been treated by the front office.
"It's just kind of about a philosophy and maybe forgetting that it is about the people that make the thing go," Rodgers said last month in an interview with Kenny Mayne on SportsCenter. "It's about character, it's about culture, it's about doing things the right way."
This is the first time in Rodgers' career that he will have skipped the team's mandatory minicamp. In fact, until this year, he had been a regular participant in most — if not all — of the offseason program.
Rodgers was in Hawaii with his fiancée, actress Shailene Woodley, and other friends during the first week of OTA practices last month. LaFleur is expected to address reporters after practice Tuesday, which begins at 11 a.m. local time.