Washington Nationals send projected starting 3B Carter Kieboom to minors
Carter Kieboom, a first-round draft pick and the expected starting third baseman for the Washington Nationals, was sent to the minor leagues on Saturday.
Drafted in 2016, Kieboom has struggled at the plate in limited opportunities in the majors, batting .181 in 44 games over two seasons with Washington. Kieboom and Starlin Castro had been getting time at third in preseason camp.
Also optioned to Triple-A Rochester were infielder Luis Garcia, left-handed pitcher Sam Clay, right-handed pitcher Kyle McGowin and outfielder Yadiel Hernandez.
Surprising additions to the team's major league roster were INF Jordy Mercer and INF/OF Hernan Perez. Mercer has a split contract: $1,000,000 while he's in the majors and $150,000 in the minors, plus $50,000 each for 100, 150, 200 and 250 plate appearances, and $100,000 each for 300 and 400 plate appearances.
Re-assigned to minor league camp were RHP Aaron Barrett, RHP Paolo Espino, RHP Javy Guerra, RHP Todd Peterson, catcher Welington Castillo, C Brandon Snyder, C Blake Swihart, INF Adrían Sanchez, OF Gerardo Parra and OF Carlos Tocci.
The Nationals also released Yasmany Tomas and T.J. McFarland from their minor league contracts, and first baseman Jake Noll was designated for assignment to clear space on the 40-man roster.
New York Yankees SS Gleyber Torres to miss second straight game, sources say
ST. PETERSBURG, Fla. — New York Yankees shortstop Gleyber Torres, who was held out of Wednesday night's game out of "an abundance of caution," will not play in Thursday's series finale against the Tampa Bay Rays at Tropicana Field, sources told ESPN.
The Yankees have confirmed seven cases of COVID-19 among their coaching and support staff, and manager Aaron Boone said the team was waiting for the MLB and MLB Players Association joint committee to review the results of Torres' testing.
"Essentially, the joint committee is waiting, because we've had so many tests done, waiting on some test results to still come back," Boone said before the Yankees' 1-0 victory over the Rays on Wednesday. "With all that's going on with our team, out of an abundance of caution, we're holding him out tonight."
Boone added: "I know everyone's going to read into that, but hopefully it's nothing. It's more just getting all the information."
The Yankees have said that pitching coach Matt Blake, third-base coach Phil Nevin and first-base coach Reggie Willits have tested positive for COVID-19.
Six of the seven people who have tested positive are asymptomatic, Boone said, adding that a number of test results were pending. All seven people who tested positive were vaccinated for COVID-19.
"I think one of the things we're seeing is that being vaccinated en masse like we are, we're seeing the vaccinations also kind of blunt the effects of the virus," Boone said. "I feel like in a lot of ways, because we're vaccinated, we're kind of good and able to deal with this. So there's a little bit of a frustrating part there, in all the testing that we're going to do."
All members of the Yankees' traveling party have been tested at least three times each since Tuesday.
Atlanta Braves star Ronald Acuna Jr. leaves game with ankle injury
Atlanta Braves star outfielder Ronald Acuna Jr. left Thursday's game against the Toronto Blue Jays because of an apparent injury to his left ankle.
Acuna, who leads the majors in home runs, suffered the injury in the seventh inning while running to first base on a grounder. He landed awkwardly on his left foot after passing the first-base bag and immediately fell to the ground in pain.
After being examined by the Braves' medical staff, Acuna eventually limped off the field under his own power. The Braves have not officially announced a diagnosis for Acuna's injury.
Acuna, 23, led off the bottom of the first inning with his major league-leading 12th homer of the season. The former All-Star and NL Rookie of the Year also leads the Braves in batting average (.302), RBIs (24) and stolen bases (6).
Philadelphia Phillies catcher J.T. Realmuto placed on COVID-related IL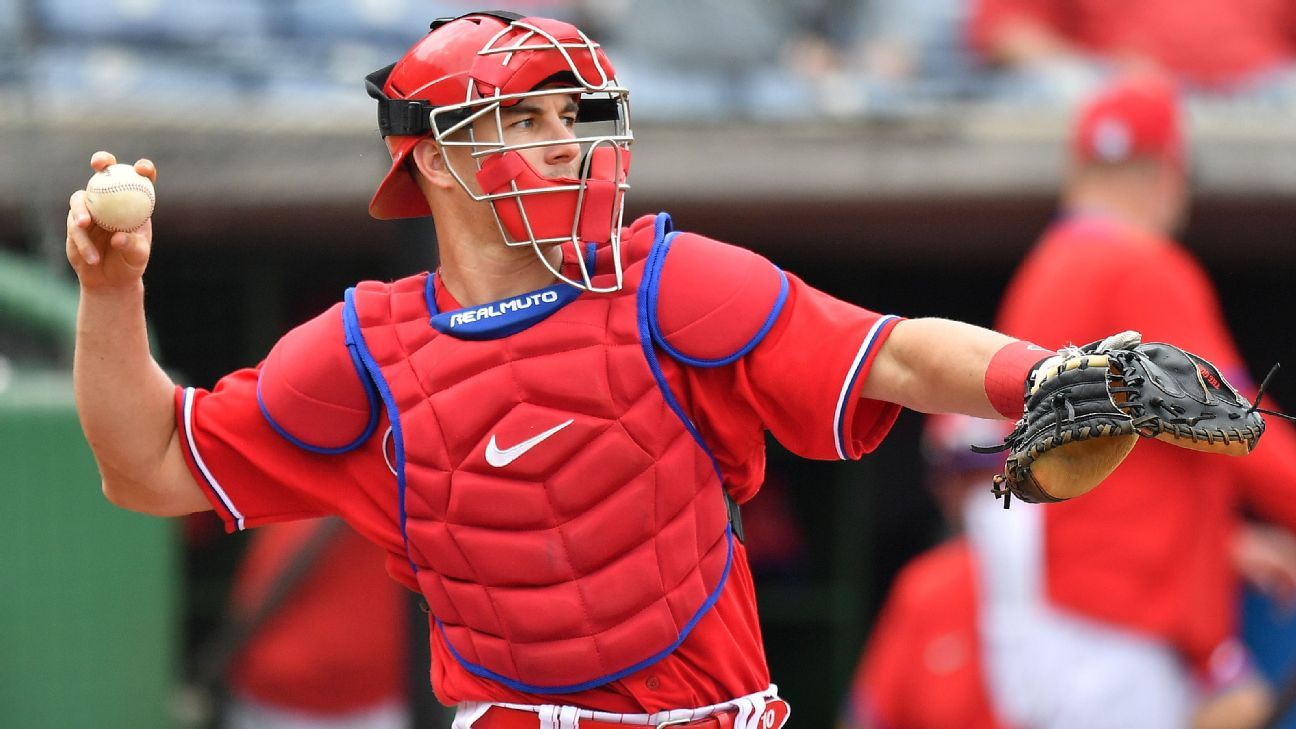 Philadelphia Phillies catcher J.T. Realmuto has been placed on the COVID-related injury list ahead of Thursday's game against Washington, the team announced.
The Phillies recalled catcher Rafael Marchan from Triple-A Lehigh Valley.
Realmuto, who signed a five-year deal with Philadelphia this offseason that has the highest average annual value ($23.1 million) for a catcher in MLB history, is hitting .314 with four home runs and 16 RBIs this season.