Sammy Watkins agrees to one-year contract with Baltimore Ravens
Sammy Watkins agreed to a one-year, $6 million deal with the Baltimore Ravens on Friday, sources told ESPN's Adam Schefter.
The deal includes $5 million guaranteed, the sources said.
The addition of Watkins ended the Ravens' difficult pursuit of an experienced wide receiver for quarterback Lamar Jackson and helps boost the NFL's 32nd-ranked passing attack. Watkins' 4,665 career receiving yards are more than double the combined career total of the Ravens' current wide receivers (2,032).
If he can stay healthy, Watkins can team with Marquise "Hollywood" Brown as Baltimore's starting wide receivers and complement him as a valuable underneath target for Jackson.
It has been a trying offseason for the Ravens to land a veteran wide receiver for Jackson, which further raises questions of whether wide receivers want to play in Baltimore's run-first offense. Desperately needing a wide receiver in a dwindling free-agent pool, the Ravens watched JuJu Smith-Schuster turn down a better offer to return to Pittsburgh last week and then lost out on T.Y. Hilton, who chose to go back to Indianapolis on Wednesday.
Baltimore eventually went with Watkins, who had met with Ravens officials on Tuesday before leaving for a visit with the Colts. When Indianapolis retained Hilton, the Ravens struck a deal with Watkins.
By joining Baltimore, Watkins reunites with Ravens offensive coordinator Greg Roman and passing-game specialist Keith Williams. In Roman's only full season as the Buffalo Bills' offensive coordinator, Watkins produced career highs with 1,047 yards receiving and nine touchdowns in 2015. Before being hired by the Ravens this year, Williams recently served as Watkins' personal receivers coach in the offseason.
This marks the first time Baltimore has signed a wide receiver this early in free agency since the Ravens added Michael Crabtree in 2018. The most significant free-agent wide receiver signings by the Ravens in the past two years were Seth Roberts and Dez Bryant.
One of the bigger surprises of the Ravens' offseason was Baltimore not signing a wide receiver immediately when it was among the team's top needs. The Ravens' wide receivers have ranked last in each of the past two seasons in catches and receiving yards, and this group ranked among the youngest in the league because their two most experienced targets (Bryant and Willie Snead IV) are free agents. Before bringing in Watkins, the Ravens' top four wide receivers on their roster — Brown, Miles Boykin, Devin Duvernay and James Proche II — were all drafted in the past two years, and none are over the age of 24.
The signing of Watkins won't preclude the Ravens from drafting a wide receiver, but it should decrease the necessity to select one in the first round.
Watkins is only the Ravens' second free agent signed from another team this offseason. Earlier this month, Baltimore signed guard Kevin Zeitler to a three-year, $22.5 million contract.
Washington Football Team monitoring Cleveland Guardians' process on name change
RICHMOND, Va. — If the Cleveland Indians endure any issues with their name change, there's one team that could benefit: the Washington Football Team.
Washington's president, Jason Wright, said he will monitor any roadblocks Cleveland encounters with its new name, the Guardians, in the hopes of learning lessons and what to avoid in the future.
Wright said once again that Washington will unveil a new name "in early '22." But even though the team announced its intention to adopt another name before Cleveland did, Washington could benefit by the fact the baseball franchise announced its new name first. Cleveland unveiled the Guardians on Friday.
"One of the things I'm continuing to watch is … what happens from here on out? What are the legal and trademark things that pop up?" Wright told ESPN. "How do they navigate those going forward? Just the little boogeymen of implementation that might pop up is interesting to me."
Indeed, Cleveland also has a roller derby team called the Guardians, which could present legal challenges. The roller derby team has played in Cleveland since 2016 and owns the domain clevelandguardians.com. It's likely the sides would come to a financial agreement in order for the baseball franchise to buy that domain, as well as other social media handles. Regardless, it provides a blueprint for Washington.
"It will never be perfect," Wright said. "But I do want it to be as seamless as possible and of the quality it deserves so these little things, these gremlins that can pop up in the implementation process, is of great importance to me. Once we roll this out it needs to be something, irrespective of the initial reaction of the fans, that we don't do anything to self-inflict making that process more challenging."
Wright said he has long been in contact with Cleveland officials as they travel a similar path.
"I know they feel good about being on the other side of it," Wright said. "They are confident, much like I'm confident, that the ties of the fan base are deeply loyal, that people want to believe the best about the franchise and the real work tends to happen on the back end of the announcement. How does the new name get integrated into the experience? How do you win consistently under that new moniker for it to take root? I paid attention."
That's why Wright wasn't bothered by the fact that Cleveland settled on a new name before Washington. Wright was hired by the franchise 11 months ago and needed to not only help find a new name, but also put together a new business structure, which meant hiring new people with no ties to the organization. Cleveland's situation was more stable.
"In an ideal world you do a lot of work before you announce the name change," Wright said. "You do a lot of the important legwork and research well in advance of an announcement. That's the ideal way to do it. We picked up something different and that's fine. We believe really strongly that the process laid out is the right one."
Like Cleveland, Washington must deal with an emotional fan base tied to a previous name that had been around for generations.
"Stewarding that is a heavy weight and a heavy weight takes some lifting to be carried properly," Wright said. "To be able to be buttoned up in early 2022 and release a name fully fleshed out with new merchandise and swag and logos and mantras and aspects of the new fan experience and rituals ready to go, that's the right time for us to do it."
Buffalo Bills WR Cole Beasley says NFL vaccine gripe is over differing standards, wants players to have 'proper information'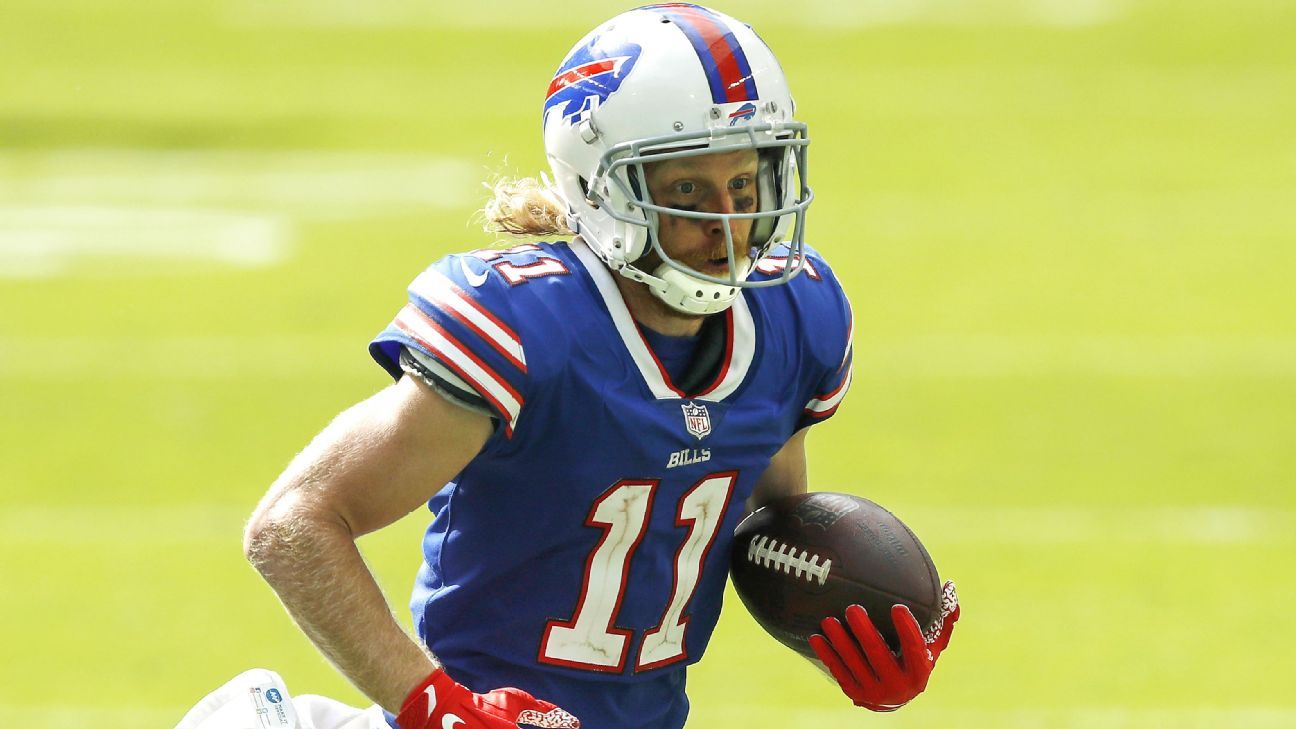 BUFFALO, N.Y. — Buffalo Bills wide receiver Cole Beasley, who has openly opposed the NFL's policy on COVID-19 vaccinations, attempted to clarify his stance Wednesday, saying his gripe with the league is over the differing standards for vaccinated and unvaccinated players.
"I'm not anti- or pro-vax — I'm pro-choice," Beasley said, reading from a prepared statement after the Bills' first practice of training camp. "With that being said, the issue at hand is information being withheld from players in order for a player to be swayed in a direction he may not be comfortable with.
"When dealing with a player's health and safety, there should be complete transparency regarding information that is vital in the decision-making process. Without having all the proper information, a player can feel misguided and unsure about a very personal choice. It makes a player feel unprotected and gives concerns about future topics regarding health and our ability to make educated decisions."
The NFL's policy, which heavily restricts unvaccinated players while allowing a return to near normalcy for vaccinated players, sparked criticism from Beasley last month, when he tweeted that he was not vaccinated and would continue to "live my one life like I want."
The NFL policies include more frequent testing, masks and social distancing in the team facility and during team travel for unvaccinated players.
It was the frequency of testing, however, that Beasley was most critical of: Unvaccinated players will have to be tested daily under the policy governing preseason and training camp, while vaccinated players will only be required to test every two weeks.
"It's common sense that if a vaxxed or unvaxxed player is tested less frequently, the likelihood of a player being pulled for COVID drops dramatically," he said. "In regard to player safety, I'll conclude by saying we all want to be safe.
"For so many players around the NFL, safety does not solely mean avoiding the COVID virus. Our health is the now and years beyond, which we are trying to protect with our personal choice while doing all the things we did in our protocol during a very successful 2020 NFL season."
Bills general manager Brandon Beane briefly discussed the team's vaccination rate Wednesday, saying it is just over 80%. Beane also said he does not believe Beasley's or any other player's comments about the vaccine on social media will detract from the team's overall focus now that training camp has begun.
"Sometimes stuff gets out in social media — you don't know how to interpret it," Beane said. "You know, I've had a lot of conversations with some of the guys. … It's tough. Guys are trying to educate themselves, they're trying to look at all sides. But we've got professionals, and we allow them to express their views.
"As long as it's not going to be a distraction, and that's the point that Sean [McDermott] and I have both made. We don't believe anything is. I think when we get out here, back on the grass playing football, you'll see where our guys are focused. They're focused on winning."
Beasley had a career-high 967 receiving yards on 82 catches last season, his second with the Bills.
Dak Prescott leaves Dallas Cowboys' practice early with arm soreness, 'did not want to push it'
OXNARD, Calif. — Dallas Cowboys quarterback Dak Prescott left Wednesday's practice early with soreness in his right throwing arm and is getting it examined.
A team spokesperson said Prescott felt the soreness early in practice and "did not want to push it," but he was not concerned about it. The further examination is "purely precautionary."
Later Wednesday, a source told ESPN that the injury is a strain to Prescott's lat muscle.
Prescott went through his normal work in the early portion of practice and did not appear to have any issues. When the Cowboys moved to one-on-one work, he spoke with head athletic trainer Jim Maurer, who tested the quarterback's strength.
In the first four practices of training camp, Prescott unofficially completed 50 of 78 passes in team drills. He was intercepted three times on Tuesday.
He has had no issues with his surgically repaired right ankle. He said he did not think once about the ankle following the first practice and he has not shown any problems running and moving in any direction.
With Prescott out, Garrett Gilbert took over the first-team snaps. He started one game last season after Prescott was lost for the season. The Cowboys also have Cooper Rush and Ben DiNucci at quarterback in camp.