Fantasy baseball rankings, projections, strategy and cheat sheets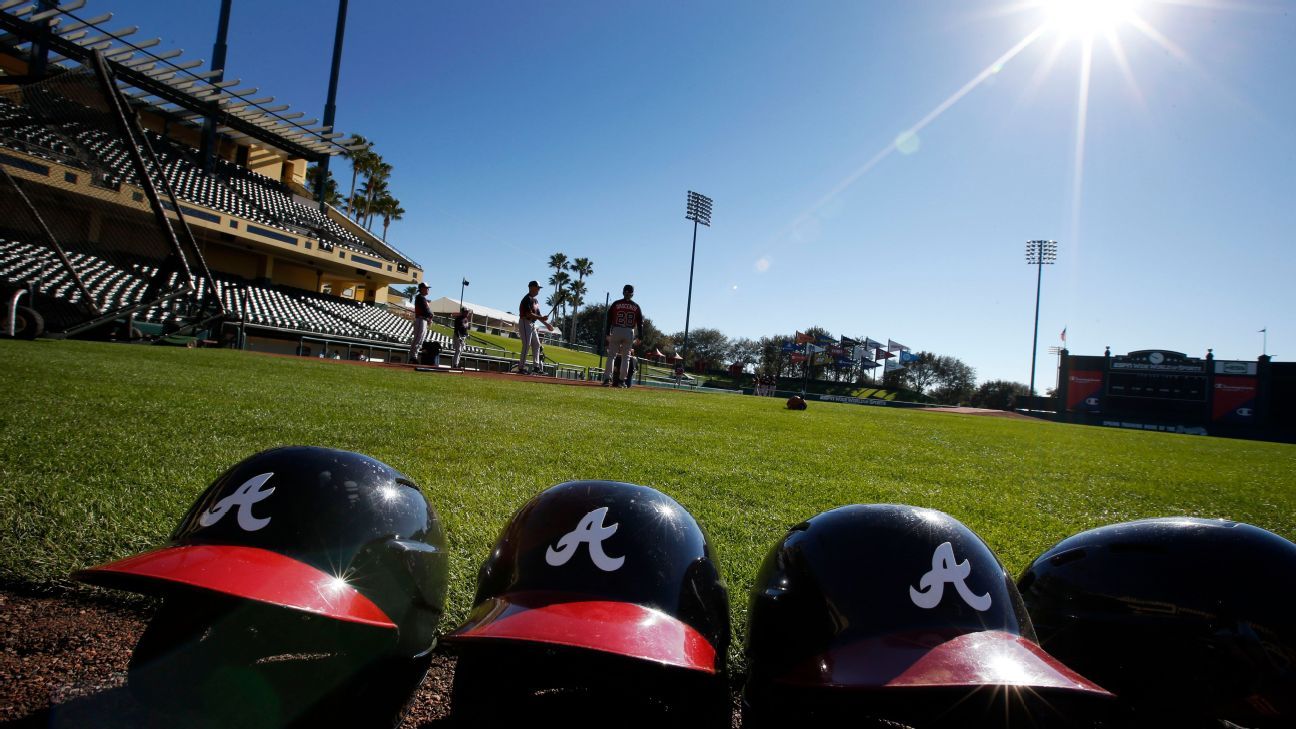 All of your fantasy baseball draft preparation needs collected in one place! Here you'll find rankings, projections, cheat sheets, analysis and strategy; Check back every day for new content through Opening Day of the 2021 season. If this is your first time playing fantasy baseball, might we recommend starting with the basics: The Playbook: How to play fantasy baseball.
Don't have a team yet? Create or join a league and then dive into the latest draft-prep material tailored for whatever format you prefer.
---
Rankings, projections, depth charts and cheat sheets
• Cockcroft: Head-to-head categories rankings
• Karabell: Roto leagues rankings
•

McDaniel: Top 50 fantasy rookies for 2021
• 2021 Player Projections and Outlooks
•

Cheat Sheet: sleepers, busts, rookies, closers
•

Custom Dollar Value Generator
---
From our award-winning fantasy baseball analysts:
Mock Drafts
Roundtables
• What spring training buzz should you be buying?
• What's the best approach to drafting closers in 2021?
• Best current draft-day values by ADP (March 9)
• Which rookie will make the biggest impact?
• Who should go No. 6 if Betts, Acuna, Trout, Soto, Tatis are gone?
• Prominent players to avoid drafting
• Most debatable draft rankings
• What to take away from the shortened 2020 season
• Tout Wars takeaways from our four participants
From Eric Karabell
•

Bold predictions for each AL team
•

Bold predictions for each NL team
•

The Do Not Draft list
•

The Do Draft list
•

Mid-spring closer competition update
•

Sneaky Keepers: looking beyond prospects for long-term keeper league value
•

Favorite, least favorite rookies for 2021
•

10 things to watch for in 2021
•

Bullpen battles to watch
•

Spring Training watch: Don't overlook the Orioles
•

Pitchers, hitters and Ohtanis to watch in spring training
From Tristan H. Cockcroft
•

Tristan's Twenty players to target in drafts …
•

… and 10 to pass on at their current ADP
•

Stock Watch: Reacting to the week's injuries, news (March 26)
•

Stock Watch: Mid-spring rankings updates
•

Kings of Command: Breakout pitchers to draft this season
•

Statscast spring training stats that matter
•

Statscast speed metrics impact on SB and BABIP.
•

How to use the Custom Dollar Value Generator
From Todd Zola
•

How to use ADP to know when to draft high-variance players
• How much weight should you give humidors and ballpark dimensions?
•

How the projections sausage gets made
Others
•

Passan's 2021 predictions unearth 10 draft-day gems
•

McDaniel: Every team's next MLB Rank player
•Starting pitcher "Work" Index: assessing pitcher workload risk factors
Spring Training Watch
•

March 22: Value of catchers
•

Spring Training watch: Houston has some problems (March 8)
•

Spring Training watch: Don't overlook the Orioles (March 1)
•

Bullpen battles to watch
•

Pitchers, hitters and Ohtanis to watch in spring training
•

Bell on spring injury watch: who is ready to contribute?
Expert Leagues
•

Cockcroft: AL LABR draft
•

Karabell: NL LABR draft
Points League Corner
• H2H Points league draft strategy
• Pitchers to value more in points leagues
• Hitters to avoid in points leagues
---
The Playbook: Become an expert in 9 innings
•Inning 1: How to play fantasy baseball
•Inning 2: League Formats: Which is right for you?
•Inning 3: Everything you need to know about auction drafts
•Inning 4: How to create the ultimate cheat sheet
•Inning 5: Optimizing your roster
•Inning 6: Nine must-follow tips
•Inning 7: Staying ahead of league trends
•Inning 8: Using advanced stats to get ahead
•Inning 9: Master the 2021 player pool
---
For Dynasty Leaguers
•

Dynasty Top 300
•

Cockcroft: Dynasty stock watch
•

Karabell: winning right now in fantasy baseball dynasty league
•

McDaniel: Top 50 fantasy rookies for 2021
•

Karabell's Sneaky Keepers: looking beyond prospects for long-term keeper league value
---
Fantasy Focus Baseball recent podcasts
LISTEN:: Late spring rankings adjustments
Eric Karabell and Tristan Cockcroft breakdown the rash of recent injuries: does Fernando Tatis Jr (0:45) fall and is Zac Gallen (5:50) now a player you need to fade? They discuss the breakout potential of the now well compensated Lance McCullers (16:10) and a "Statcast darling" (18:55) to consider before diving into the Blue Jays compromised bullpen (21:55) and your best hashbrowns!
LISTEN:: March 12: The Process Behind ESPN Projections
Todd Zola joins the show to discuss his projection process (1:42) before detailing the difference between rankings and projections (8:42). He also speaks to the impact of spring training on his final outlook on the season (13:12) and his top three takeaways from his process (15:12). Eric and Tristan address recent pitcher injuries (28:20) and answering your preseason questions (29:55)!
LISTEN:: March 1: Which Rookies Are Ready To Produce?
Eric interviews MLB Insider Kiley McDaniel to get a feel for when we see Wander Franco this season (1:00), if Randy Arozarena is a star in the making (2:10) and which other prospects are worth a look in 2021 redraft leagues. AJ Mass then joins Eric to talk about if Spring Training matters (16:30), what makes points league rankings their own entity (19:00), if the catch position is worth addressing early (27:21) and if now is the time to move on from Jacob deGrom in dynasty leagues (35:25)
In Case You Missed It: Fantasy Focus Baseball Archived Podcasts
---
From The Archives:
From 2020 :Dynasty league strategy: How to build a perennial contender
•

From 2020 Karabell's Dos and Don'ts of drafting
•

From 2020 How to mock draft like a pro
•

From 2020 The lost art of shadow-mocking
•

From 2020 How to optimize your roster for stolen bases
•From 2020 Fantasy baseball's lasting legacy
•From 2020 Matthew Berry's untold stories of 40 years of fantasy baseball
•From 2020 Project "GOAT" celebrates 40 years of fantasy baseball
San Diego Padres acquire All-Star second baseman Adam Frazier from Pittsburgh Pirates, sources say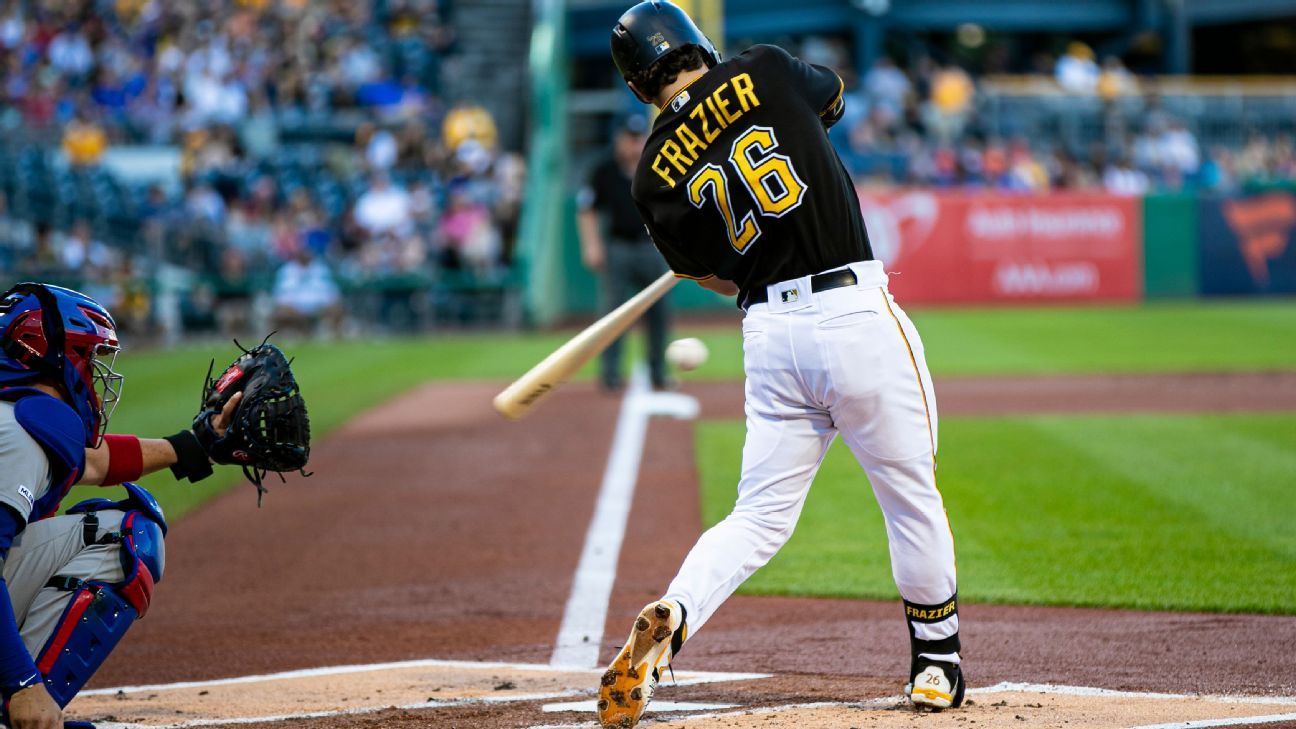 The San Diego Padres are acquiring second baseman Adam Frazier from the Pittsburgh Pirates, sources told ESPN's Jeff Passan.
Frazier, 29, who leads baseball in hits this year, is not a free agent until after the 2022 season.
In exchange, the Pirates are acquiring right-hander Michell Miliano, shortstop Tucupita Marcano and outfielder Jack Suwinski, a source told ESPN's Kiley McDaniel.
Pittsburgh is also sending approximately $1.4 million to the Padres in the deal, according to The Associated Press.
Frazier entered Sunday hitting .327 — the second-best average in Major League Baseball — with four home runs and 32 RBIs.
A 2020 Gold Glove finalist and an All-Star this season, Frazier was the Pirates' second-longest tenured player, behind right fielder Gregory Polanco.
When asked about possibly being traded a week ago, Frazier said he wasn't letting it distract him.
"It's pretty cool to be recognized like that and have teams want you," Frazier said. "It means a lot. It tells you you're playing well, but I still have to worry about playing baseball."
With his wife preparing to play for Olympic gold, Jake Reed claimed off waivers by Tampa Bay Rays
ST. PETERSBURG, Fla. — Jake Reed switched teams while his wife was with the U.S. softball team at the Tokyo Olympics.
The 28-year-old reliever was claimed off waivers by the Tampa Bay Rays from the Los Angeles Dodgers on Sunday and optioned to Triple-A Durham.
Reed, a right-hander with a submarine delivery, made his major league debut on July 6 and had a 3.38 ERA in five relief appearances and one start. He was designated for assignment on Wednesday by the Dodgers.
Janie Reed is the starting left fielder and No. 2 hitter on the U.S. team, which plays Japan for the softball gold medal.
Boston Red Sox end Domingo German's no-hit bid in 8th inning, storm back to beat New York Yankees
BOSTON — Domingo German was simply dominating the Boston Red Sox. Never more so than in the seventh inning, when the New York Yankees right-hander struck out stars J.D. Martinez, Rafael Devers, Xander Bogaerts and rookie Jarren Duran.
As German walked off the mound then with a no-hitter intact and a solid lead, there was no way to envision what was on deck.
Held hitless into the eighth by German and looking feeble, Alex Verdugo and the Red Sox suddenly erupted for five runs to shake Fenway Park and storm past New York 5-4 on Sunday.
The old ballpark was almost silent all afternoon, until Verdugo opened the eighth with a long double for Boston's first hit, and he raised his arms in celebration at second base.
By the time Kike Hernandez slid home headfirst on Xander Bogaerts' sacrifice fly with the go-ahead run to cap the rally, fans were fired up.
"I felt like just getting that hit out of the way had everybody just take that big deep breath, didn't have to worry about getting no-hit anymore," Verdugo said. "That inning was crazy. From going no-hit to seven innings to putting five up in the eighth, that's one of the craziest comebacks I've ever been a part of."
With their major league-leading 32nd come-from-behind victory, the Red Sox reclaimed first place in the American League East, a game ahead of the Tampa Bay Rays. It was the Red Sox's 10th win in 13 games this year against their rivals, and it erased a tough 4-3 loss on Saturday, when New York scored four times in the eighth.
What a difference a few hits made. Before those, it was pretty glum in the Boston dugout, according to Red Sox manager Alex Cora.
"Not great, to be honest with you," Cora said. "Whoever says, 'We're a hit away or a baserunner away from getting this going' … I didn't sense that. I sensed a lot of frustrated people. [German] was amazing."
The Yankees, meanwhile, absorbed another brutal loss in a season full of them. They dropped three of four in the series and fell nine games behind Boston. The Yankees now have three losses this season when they've led by four or more runs in the eighth inning or later. That ties the most such defeats in a single season in franchise history, and it's the first time they've had three such losses since 1993, according to ESPN Stats & Information research.
"Really tough one, obviously. Domingo was terrific," Yankees manager Aaron Boone said. "It's a tough one we've got to get past. Another extremely tough one."
Boston trailed 4-0 when Verdugo doubled to deep right, and German was lifted after the hit by Boone.
"You know to pitch a no-hitter is one of the hardest things to do in baseball," German said through an interpreter. "I knew I had a no-hitter going. I was executing pitches to try and be as careful as possible. Verdugo was able to connect there. I thought it was a good pitch."
Jonathan Loaisiga (7-4) relieved, and Boston broke loose with four straight hits. Hunter Renfroe had an RBI double, Christian Vazquez singled home a run and Hernandez followed with an RBI double, cutting it to 4-3.
Zack Britton relieved, and pinch hitter Kevin Plawecki's groundout plated the tying run. Hernandez hustled hard and beat right fielder Greg Allen's throw home on Bogaerts' sacrifice fly.
"It's a bad day for me. It's tough," Loaisiga said through an interpreter. "It hurts because you had the starter pitching strong. You come into the game hoping to do your job and it doesn't work out."
German was trying for the first no-hitter by an opponent at Fenway since the Detroit Tigers' Jim Bunning in 1958, when he retired fellow future Hall of Famer Ted Williams on a fly for the final out.
Mixing his well-spotted fastball in the mid-90 mph range with a changeup and curveball, the 28-year-old German struck out 10 and walked just one.
With a 3-0 lead, he began the seventh by fanning Duran. Bogaerts also struck out, swinging at a passed ball that prolonged the inning. German struck out Devers and Martinez, with all four strikeouts coming on third-strike swings.
There have been seven no-hitters in the majors this year, one short of the big league record set in 1884, the first season that overhand pitching was allowed.
There were two near misses on Saturday night: Patrick Sandoval of the Los Angeles Angels got his bid broken up with one out in the ninth at the Minnesota Twins; and Framber Valdez and the Houston Astros' bullpen took a try into the eighth.
Brandon Workman (1-2) earned the win for Boston on Sunday, and Matt Barnes got the final three outs for his 21st save.
"It was a pretty special comeback," Hernandez said.
Rougned Odor had a solo homer and an RBI single for New York. He popped up with a runner on second to end it.
Yankees infielder Gio Urshela, activated from the COVID-19 injured list before the game, had an RBI single to make it 2-0 in the fourth after Gleyber Torres doubled and advanced on a sacrifice.
Odor's bloop, run-scoring single had made it 1-0 in the third.
Boston starter Martin Perez gave up three runs over six innings, striking out six and walking two.
The Associated Press contributed to this report.