Chicago Cubs option infielder Nico Hoerner to Triple-A Iowa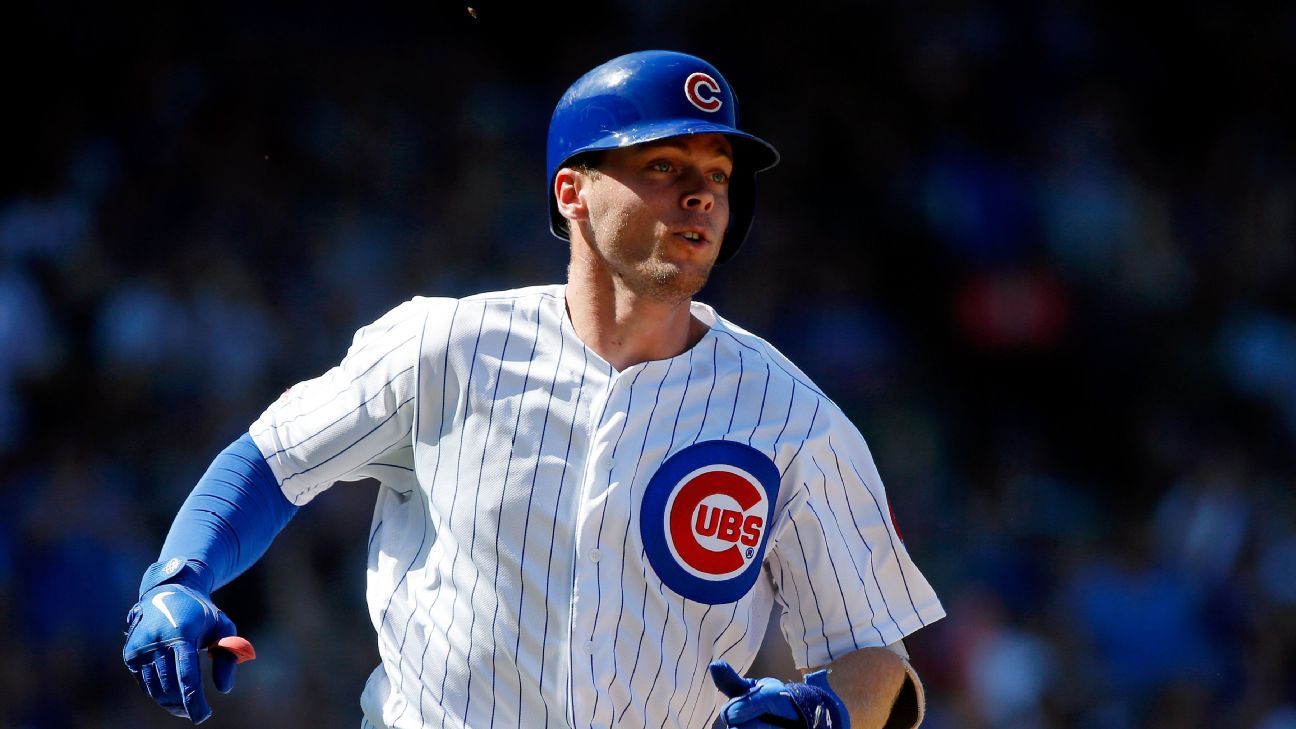 MESA, Ariz. — The Chicago Cubs optioned infielder Nico Hoerner and reliever Brad Wieck to Triple-A Iowa on Saturday.
The move means David Bote will be the opening-day second baseman Thursday against Pittsburgh.
"This is less about Nico and more about David Bote," Cubs manager David Ross said. "Bote had a great spring. It's an opportunity for David that he's earned and deserves. It's a chance to play every day at second base.
"I dont think it's fair for Nico to come off the bench and have sporadic at-bats. That's not setting him up for success. And I think David Bote earned the job."
Hoerner, a first-round pick in the 2018 amateur draft out of Stanford, also had a strong spring, batting .361 with a homer and six RBI.
The Cubs could delay Hoerner's eligibility for salary arbitration until after the 2023 season if they keep him in the minors for 30 to 50 days, unless there are changes in the next collective bargaining agreement. He batted .222 with no homers and 13 RBI last year during the pandemic-shortened season.
In other moves, Adbert Alzolay will break camp as the No. 5 starter in the rotation, and Alec Mills will be in the bullpen. Infielder Eric Sogard, 34, will also be added to the big league roster after entering camp on a minor league deal.
Veteran outfielder Cameron Maybin was released. Right-handers Shelby Miller, Pedro Strop and Trevor Megill and outfielder Rafael Ortega — all non-roster invitees — were assigned to minor league camp.
The 30-year-old Miller had pushed for a spot on Chicago's staff, either as a starter or a swingman out of the bullpen. He allowed one earned run in nine innings this spring, striking out 12.
The moves reduced the Cubs' spring roster to 31 players.
ESPN's Jesse Rogers and The Associated Press contributed to this report.
'It's all up in the air': How MLB All-Stars are dealing with trade deadline uncertainty

For stars on struggling teams, July is a pivotal month when they find out whether or not they're staying put. Here's how they deal with being in the dark.

Source link
Fan who hit Alex Verdugo with baseball at Yankee Stadium banned from all MLB parks
NEW YORK — The fan who hit Boston Red Sox left fielder Alex Verdugo with a baseball thrown from the Yankee Stadium stands has been banned for life from attending major league games.
The decision was confirmed Sunday by spokesmen for both the New York Yankees and Major League Baseball.
Red Sox manager Alex Cora briefly pulled his team off the field in the sixth inning Saturday night after Verdugo was struck in the back by a ball thrown from the left-field seats. He did not appear to be hurt.
An angry Verdugo shouted at fans and was restrained by first-base coach Tom Goodwin as the game was held up in a driving rain. The fan was ejected from the ballpark.
"While the Yankees appreciate the spirit and passion of our fans in our various rivalries — especially with the Red Sox — reckless, disorderly and dangerous behavior that puts the safety of players, field staff or fellow fans in jeopardy will not be tolerated," the Yankees said in a statement Sunday.
"There is absolutely no place for it at Yankee Stadium. The safety of everyone at Yankee Stadium, including guests in the stands and players on the field, will always be the top priority for the Yankees organization every time we open our doors."
Verdugo said he tossed the ball into the stands to a young Red Sox fan, but a Yankees fan intercepted it and threw it back onto the field, hitting the outfielder.
"It's awful, embarrassing, unacceptable," New York manager Aaron Boone said afterward.
Verdugo returned to left field when play resumed following a discussion with umpires near Boston's dugout.
"It felt like it was targeted towards me and it don't sit well with me," he said.
New York won 3-1 in a game called after six innings due to heavy rain.
NJ.com reported Sunday the fan was not arrested.
Pittsburgh Pirates swipe 3 runs off bizarre mistake by New York Mets pitcher Taijuan Walker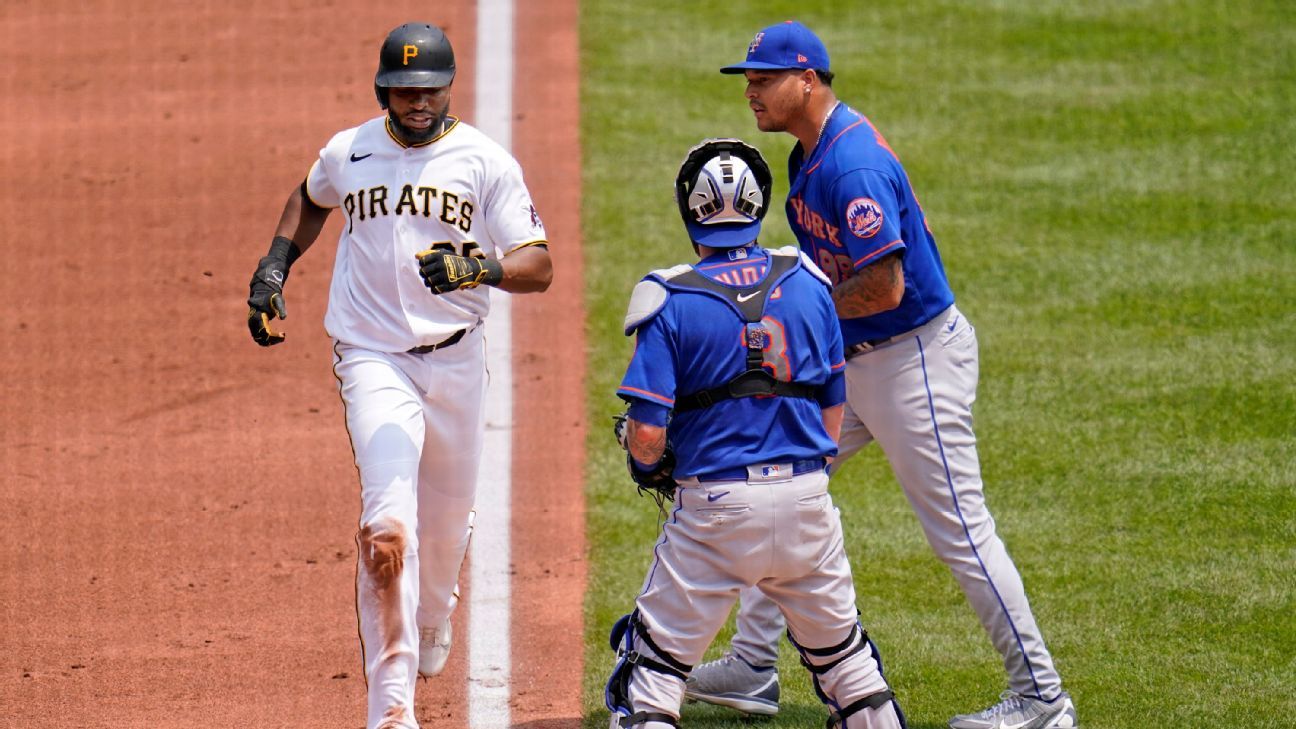 PITTSBURGH — Now this was Bucco Bizarro at its best.
The Pittsburgh Pirates swiped three runs Sunday when New York Mets pitcher Taijuan Walker mistakenly batted a fair ball into foul territory, prompting a wild argument in which Mets manager Luis Rojas was ejected.
With the bases loaded and one out in the first inning, Kevin Newman hit a dribbler down the third-base line. The ball started out in foul territory but then began spinning back toward the line.
Walker swooped in and swatted at the ball, trying to make contact while it was still in foul ground. But TV replays showed the ball was touching the chalk when Walker hit it, and plate umpire Jeremy Riggs correctly called it a fair ball.
In play, run(s) pic.twitter.com/bdTzc0SU9r

— Pittsburgh Pirates (@Pirates) July 18, 2021
The ball rolled toward the Pirates' dugout and the Mets did not react to retrieve it, and all three Pittsburgh runners took off and came around to score.
Rojas immediately ran out to argue the call and was quickly ejected. Walker was charged with an error on the play, while Newman was credited with a single and one RBI.
Walker, in his first outing since pitching in the All-Star Game on Tuesday night, then walked pitcher JT Brubaker and was pulled from the game. He allowed six runs on four hits and four walks while recording just one out.