K.J. Wright opposes taking hometown discount to stay with Seattle Seahawks
SEATTLE — As much as linebacker K.J. Wright wants to return for an 11th season with the Seattle Seahawks and finish his career with the team that drafted him, he doesn't want to do so on anything other than a market-value contract.
Wright made that latter point known in an interview with Jim Rome that aired Monday on CBS Sports Radio.
"I do way too much on the football field to take a discount," said Wright, who is scheduled to become an unrestricted free agent next month. "It makes absolutely no sense. If you want to win all these championships and look good on Sundays, you've got to compensate your guys that are making plays. … I have a family and I'm trying to set up long, long-term success for my family."
Wright noted that he was the only player in the NFL last season to hit double digits in both tackles for loss (11) and passes defensed (10). He also had a pair of sacks and an interception as he continued to play some of his best football at age 31. Wright set several career highs in 2019 after an injury-shortened 2018 season.
NFL reporter Josina Anderson reported last month that Wright was seeking a deal commensurate with his recent production. He made $6.75 million per season on his 2014 extension and $7.75 million APY on the two-year deal he signed after hitting free agency in 2019. Wright maxed out that deal by hitting a playing-time escalator and playing in every game over those two seasons.
Giving Wright a substantial raise won't be easy for the Seahawks. Over The Cap and Roster Management System have them at around $4.4 million to $7.8 million below the salary cap (based on an estimated cap of $180.5 million) before cuts and any restructures or trades.
The Seahawks drafted Wright's eventual successor last April when they took linebacker Jordyn Brooks 27th overall. Wright was coming off offseason shoulder surgery, but he recovered in time to begin the season at his usual starting spot at weakside linebacker. He moved to the strong side and thrived there after Bruce Irvin suffered a season-ending knee injury in Week 2.
The Seahawks will likely want to see more of Brooks in 2021 after using him in a part-time role during his strong rookie season. Brooks took over on the weak side when Wright moved over.
Wright, the Seahawks' longest-tenured player as a fourth-round pick in 2011, is third on the franchise's all-time tackles list. Teammate Bobby Wagner is first.
"That would just be a beautiful story, if I could just ride it all out with the Seahawks," Wright said. "That's some legendary-type stuff. And like I said before I left, I believe it would be a great investment for Seattle to keep me because as you've seen, since I've been here, we've been nothing but awesome — always making it to the playoffs, winning our division, so they know how much I want to be here. But at the end of the day, I get it. They might be looking at the salary cap, they've got to clear some space to make things happen, so they've got to get busy."
Las Vegas Raiders CB Kemah Siverand arrested after street racing incident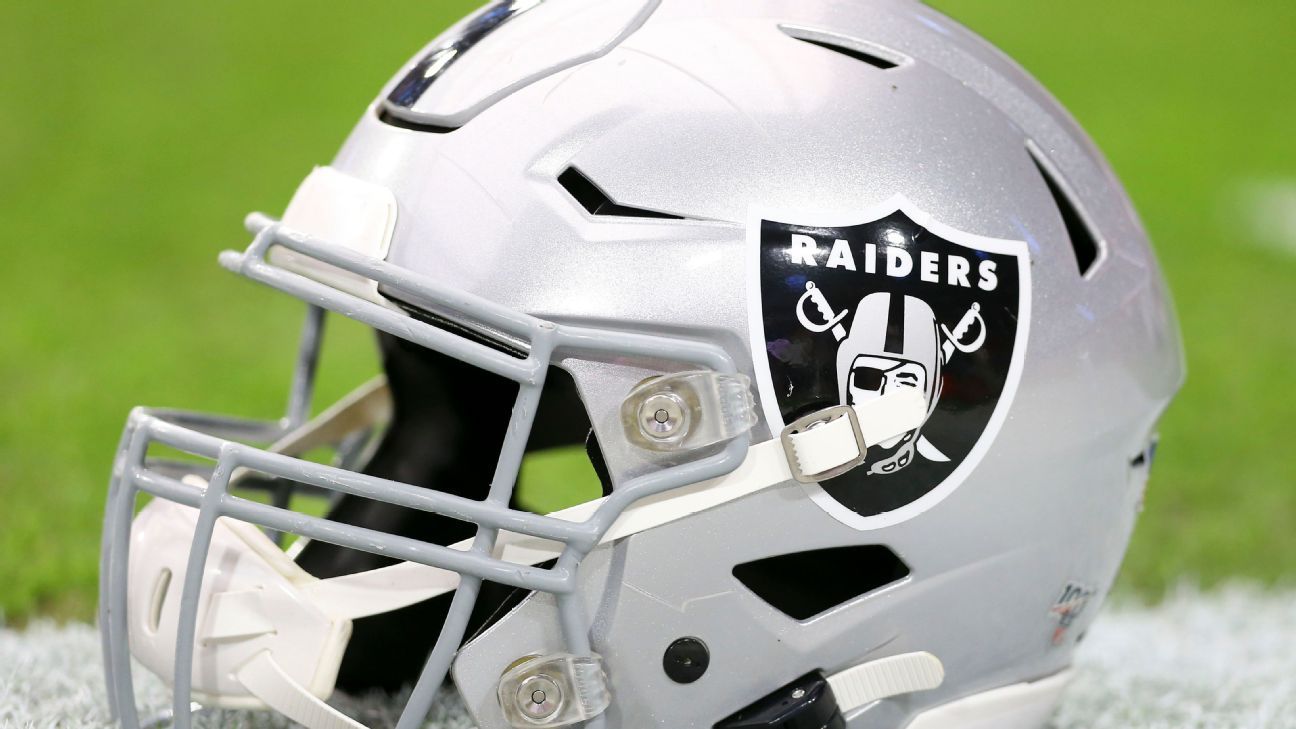 HENDERSON, Nev. — Las Vegas Raiders cornerback Kemah Siverand, who was signed by the team to a futures contract last month after spending the second half of the 2020 season on the practice squad, was arrested early Saturday after a street racing incident in Houston, police announced Monday.
Officers stopped three of the five drivers, and Siverand, 24, was one of three drivers arrested. According to the Houston Police Department, Siverand was charged with felony evading arrest after he "initially stopped for officers, then continued to drive another mile before stopping."
The Raiders did not immediately reply to a request for comment.
Siverand, who was an undrafted rookie from Oklahoma State, was waived by the Seattle Seahawks in August after he was caught trying to sneak a woman into the team's training camp hotel. She was wearing Seahawks gear in an effort to disguise herself as a player.
The Raiders signed Siverand to their practice squad on October 27 and to a futures contract on Jan. 5.
Sources — Pittsburgh Steelers coach Mike Tomlin tests positive for COVID-19
PITTSBURGH — Steelers coach Mike Tomlin was recently diagnosed with COVID-19, sources told ESPN.
Tomlin, 48, was diagnosed last week. The Steelers could not confirm the head coach's diagnosis but said members of the coaching staff and personnel were sent home from the facility last week after a couple of positives came up in routine testing.
Tomlin, who is set to enter his 15th season at the helm of the organization, is in good health, a source said.
The virus also affected the Steelers' coaching staff during the season with then-quarterbacks coach Matt Canada and special-teams coordinator Danny Smith missing time due to COVID-19 protocols.
NFL Network first reported news of Tomlin's diagnosis.
Indianapolis Colts WR Michael Pittman Jr. says he won't give up No. 11 to Carson Wentz
INDIANAPOLIS — Evidently no amount of money will get quarterback Carson Wentz his No. 11 jersey with his new team, the Indianapolis Colts.
Colts second-year receiver Michael Pittman Jr., who currently wears No. 11, says he has talked to Wentz about the number, and the answer is no on a possible switch.
"I am number 11," Pittman Jr. told TMZ Sports. "… I don't think there's any deal that is gonna be done."
It's not uncommon for players on new teams to try and buy their preferred jersey number for a large amount of money from one of their teammates.
The Colts agreed to acquire Wentz to be their new starting quarterback from the Philadelphia Eagles for a 2021 third-round pick and 2022 second-round pick that could turn into a first-round pick on Feb. 18.
Wentz wore No. 11 while at North Dakota State University and during his first five years with the Eagles.
"Yeah, so I spoke to [Carson] and he was just seeing how locked in I was to No. 11, and I told him I was locked in — and he was like, 'That's cool, bro, because I'm probably gonna switch anyway,'" Pittman Jr. told TMZ Sports. "… He asked me very respectfully, and I just appreciated him for that. I think he's a great dude, because lots of guys with his status, they would come in and demand and stuff like that."
Pittman Jr. wore No. 86 in college at USC, but switched to No. 11 after being drafted by the Colts.