Frank Reich has his QB in Carson Wentz, now he has to make him an MVP candidate again
INDIANAPOLIS — Frank Reich does it again.
It started with Philip Rivers last year, and now the Colts' coach is getting the quarterback that he wants with the trade of Carson Wentz from Philadelphia on Thursday.
But the addition of Wentz is a little different than that of Rivers a year ago. The Colts knew the aging Rivers was basically a one- or two-year rental until they hopefully found their next franchise quarterback.
Now they're banking on their present — and future — with Wentz to solve what has unfortunately been a revolving door at quarterback in Indianapolis over the past few years. Wentz, barring an injury, will be the Colts' fifth different Week 1 starter in as many seasons.
The person responsible for ensuring Wentz is the answer for the Colts?
Reich.
The coach is putting his reputation on the line by believing he can get Wentz, his former quarterback when he was the offensive coordinator in Philadelphia, back to the level when he was considered an MVP candidate prior to a season-ending knee injury in 2017.
The Colts' coach was Wentz's coordinator in 2017 when the quarterback threw for an Eagles franchise-record 33 touchdowns and his 78.5 total QBR was 18.7 points higher than the rest of his career. Colts' receivers coach Mike Groh was Wentz's offensive coordinator in 2018 and '19, after Reich left the Eagles to coach the Colts.
A failure by Wentz will continue to set back a Colts franchise that has been to the playoffs only twice since 2014 and waste away the years of talented All-Pros Darius Leonard and Quenton Nelson.
But knowing Reich, he isn't flinching about it, just like he didn't those times he came in as a backup and starred during his playing days at the University of Maryland and with the Buffalo Bills. Reich didn't ask questions about Andrew Luck's injured right shoulder when he interviewed for the head-coaching job in the winter of 2018. He didn't hesitate in wanting to bring Rivers to Indianapolis, despite the quarterback committing 23 turnovers in 2019.
All Luck and Rivers did was have bounce-back seasons under Reich, and more importantly, play a vital part in leading the Colts to the playoffs. Reich couldn't get the best out of Jacoby Brissett in 2019, which is why the Colts are in their current predicament. But that happens at times.
It may not be that easy with Wentz.
It's uncertain where the quarterback is physically and mentally. Wentz was supposed to be the Eagles' franchise quarterback after being selected No. 2 in the 2016 draft and landing a mammoth four-year, $128 million contract extension in 2019.
But he threw 15 interceptions and was sacked 50 times in just 12 games last season, while also being benched in favor of rookie Jalen Hurts. The last time a player reached those thresholds in interceptions and sacks in a season was Blake Bortles with the Jacksonville Jaguars in 2015, according to ESPN Stats & Information.
That's just the start of things for the worst season of Wentz's five-year career. No quarterback with at least 100 pass attempts in the 2019 and 2020 seasons saw a bigger QBR drop-off than Wentz, who went from a 62.8 QBR in 2019 to just 49.6 in 2020, according to ESPN Stats & Information. In addition, he's played all 16 games in the regular season only twice in his career.
The foundation is there with the Colts to help get him back on track and possibly make the franchise a Super Bowl contender in the AFC, where the road could be going through Kansas City or Buffalo for the foreseeable future.
The Colts have a talented defense led by Leonard and defensive lineman DeForest Buckner. Left tackle Anthony Castonzo retired last month, but four of the five offensive linemen from one of the NFL's top units return. The Colts gave up just 21 sacks last season, tied for second fewest in the NFL, while the Eagles allowed an NFL-worst 65 (no other team allowed more than 50). The Colts also have a 1,000-yard rusher in second-year running back Jonathan Taylor and a talented (and likely No. 1) receiver in Michael Pittman Jr.
The rest will be up to Reich and Wentz.
This move has to work for the Colts, because if not, the quest to win "multiple Lombardi" trophies that owner Jim Irsay often talks about will continue to be put on hold and Reich's reputation to get the best out of quarterbacks will take a hit.
And it's not just physically that Reich has to get Wentz back, he has the mental obstacle to fix, too.
Houston Texans release running back Duke Johnson, source says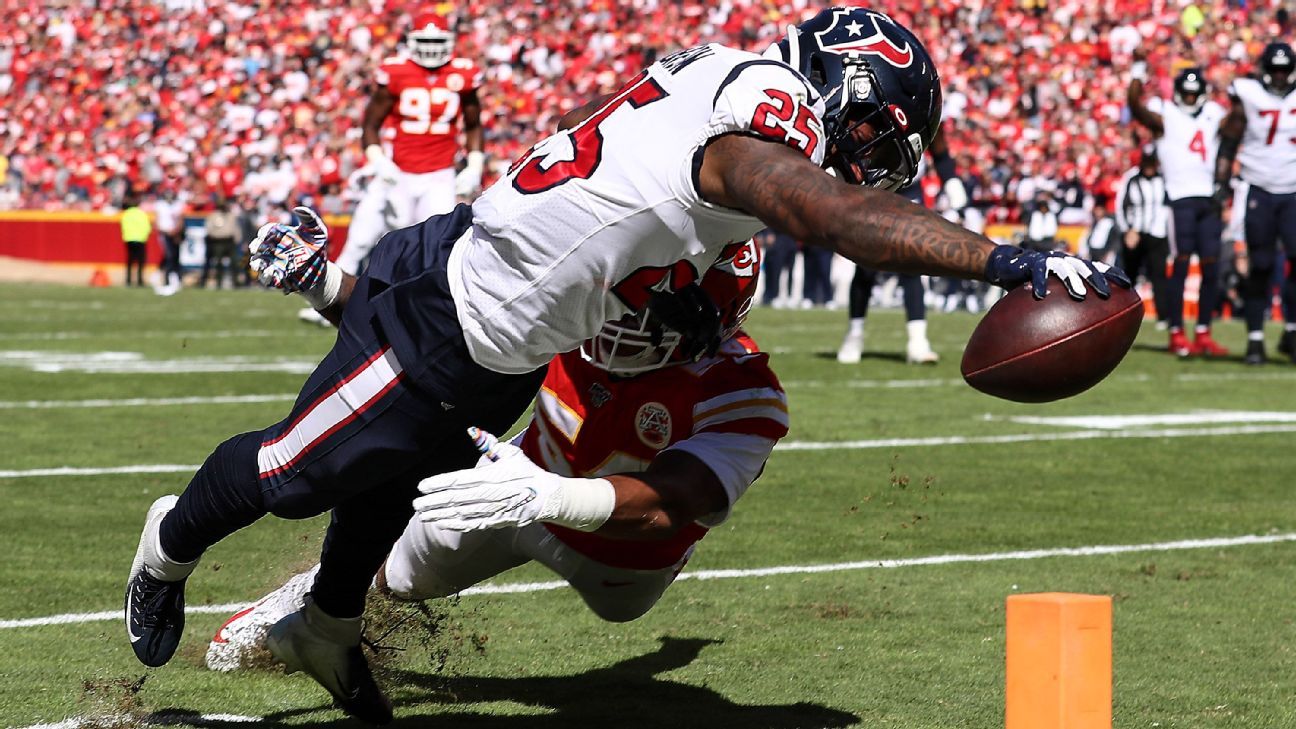 The Houston Texans have released running back Duke Johnson, a source told ESPN's Adam Schefter on Friday.
The Texans acquired Johnson from the Cleveland Browns during training camp in 2019 for a third-round pick.
In 11 games for the Texans last season, Johnson rushed for 235 yards and a touchdown on 77 carries. The pass-catching running back had a career-low 28 receptions for 249 yards and a touchdown.
Johnson backed up Carlos Hyde in 2019 and David Johnson in 2020. During the 2020 season, he started in place of David Johnson when the starter missed time due to a concussion and spending a week on the COVID-19 list.
NFL's minority hiring rate for open jobs nearly doubled
The number of minority hires for open positions in the NFL nearly doubled to 34.6% in 2021.
According to the league's demographics study obtained Friday by The Associated Press, the minority hirings included: three general managers, two head coaches, three offensive coordinators, six defensive coordinators, four special teams coordinators, three quarterbacks coaches.
The minority hiring rate was 18.8% in 2020. Interview requests for minority candidates increased to 47% from 22% in 2020.
Twelve of the 28 candidates interviewed for head coaching positions were minorities. David Culley (Texans) and Robert Saleh (Jets) were hired. Kansas City Chiefs offensive coordinator Eric Bieniemy was passed over despite receiving an interview request from each of the seven teams looking for a new head coach.
The data shows minority head coaches have been given second opportunities at a higher rate than white coaches. From 2000 to present, eight of 21 fired minority coaches (38.1%) got another head coaching job. Of the 115 fired white coaches, 22 (19.1%) got a second chance.
New York Giants' Nate Solder intends to play in 2021 after opting out last season
EAST RUTHERFORD, N.J. — New York Giants offensive tackle Nate Solder intends to play in 2021 as long as the situation is right, he told ESPN in a phone conversation this week.
Solder, who opted out this past season because of concerns for his family with COVID-19, has yet to have that conversation with the team about his future. He was considered a high-risk opt-out and his contract tolled.
He is scheduled to make $10 million in 2021 while costing $16.5 million against the salary cap this upcoming season.
The Giants haven't been in a rush to make any moves with the new league year still almost three weeks away. Like everybody else, they're waiting to see the official salary cap number for the 2021 season. Then they're expected to meet with the veteran tackle.
Solder, 32, was the Giants' starting left tackle in 2018 and '19 after signing a lucrative free-agent contract. He had spent the previous seven years of his career with the New England Patriots, where he won a pair of Super Bowls.
The decision to opt out last season centered around Solder's family. His oldest son Hudson has battled cancer. So has Nate. Solder and his wife Lexi also had a newborn.
Solder had said late last year on the Sports Spectrum podcast with former NFL quarterback Brock Huard that if he had another opportunity to play, he would probably take it. He also noted that he was still working out, but hadn't prioritized his conditioning and weight lifting like he would during a normal football season.
The Giants now have a decision to make if they are going to move forward with Solder. They would save $6 million this season against the salary cap if he's released, and $10 million if they made it a post-June 1 cut.
New York drafted a pair of tackles in last year's draft, including Andrew Thomas with the No. 4 overall pick out of Georgia. Thomas started at left tackle and, despite early struggles, got better as the season progressed.
Third-round pick Matt Peart is expected to compete for the starting right tackle spot this year. Cameron Fleming, who started last season, is a free agent.