Jason Castro, Houston Astros reach agreement on one-year contract, source says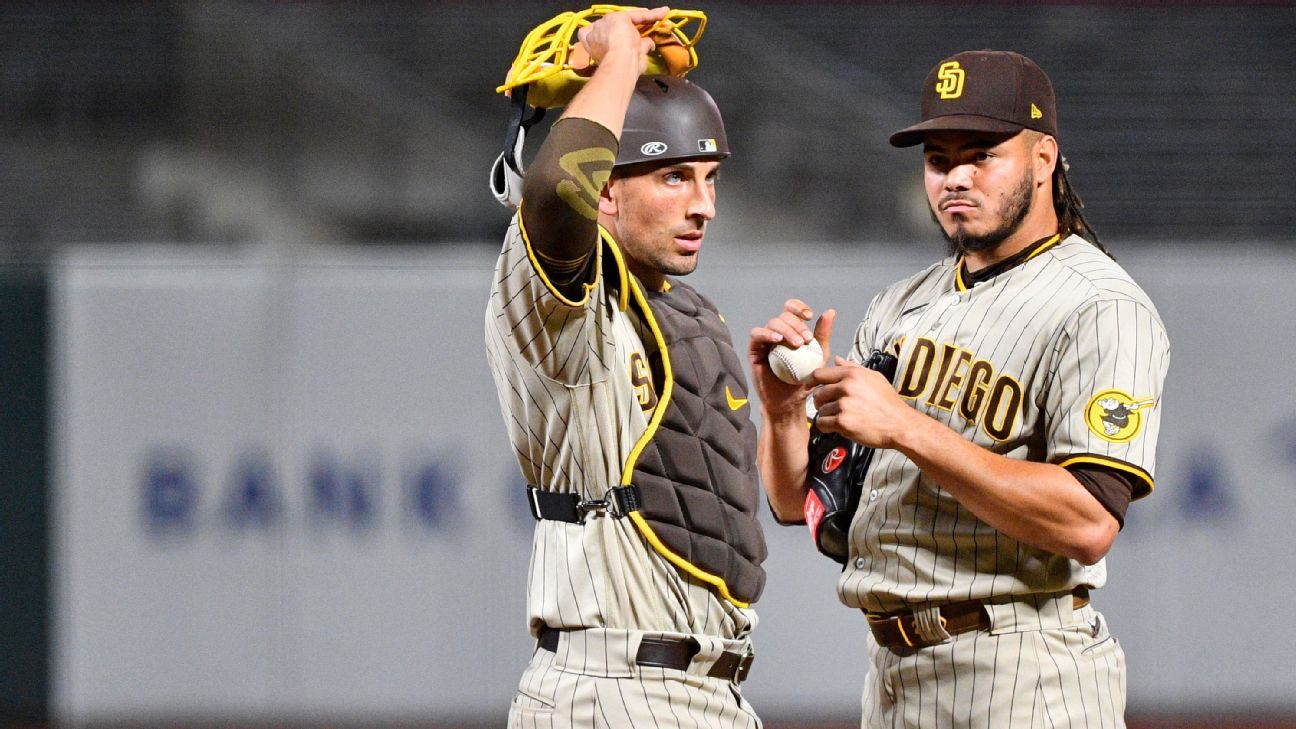 The Houston Astros have agreed to a one-year contract with catcher Jason Castro, a source confirmed to ESPN.
The deal brings Castro back to Houston, where he spent his first six major league seasons and was an All-Star in 2013.
Castro finished the 2020 season with the San Diego Padres following a trade by the Los Angeles Angels in August. The 33-year-old appeared in 27 games between the two teams during the shortened season, hitting .188 with two home runs and nine RBIs.
He has been a below-average hitter throughout his career, with a .230 batting average, but has been lauded for his pitch-framing and blocking skills.
The Athletic first reported on the agreement.
Information from The Associated Press was used in this report.
Colorado Rockies OF Ian Desmond opts out of second straight baseball season
Colorado Rockies outfielder Ian Desmond has announced he is opting out of a second consecutive baseball season.
"For now, I've decided to opt out of the 2021 season," Desmond wrote in an Instagram story. "My desire to be with my family is greater than my desire to go back and play baseball under these circumstances. I'm going to continue to train and watch how things unfold."
He has now walked away from a combined $13.56 million over the past two seasons; he was owed $8 million this year and was set to make $5.56 million of his prorated $15 million salary last season. The Rockies have a $15 million option on Desmond for next season with a $2 million buyout.
Desmond, 35, hit .255 with 20 homers in 140 games in 2019.
"I've let my teammates know, as well as the coaching staff and the front office, and they have all been extremely understanding and supportive," Desmond's post read. "I wish nothing but the best for the entire Rockies organization and have let them know I am willing to do whatever I can to help them from afar."
Desmond said over the last few months he has "had tough conversations. I've asked a lot of questions and done a lot of thinking." That helped him reach his decision to opt out.
He was far more expansive last year when explaining his decision to opt out of the 2020 season. In addition to the ongoing COVID-19 pandemic, Desmond, who is biracial, mentioned myriad issues within baseball, including sexism, homophobia and socioeconomic concerns, as well as the racial reckoning that emerged after George Floyd's death while in police custody in Minneapolis sparked protests around the world.
Will MLB's trade market heat up during the season? If so, here's who could be on the move
In the days leading up to Friday's podcast interview of Dr. Anthony Fauci, I canvassed team officials about what questions they might ask the infectious disease expert, and one staffer seemed to be looking for some help with the context leading up to the July 31 trade deadline.
When does Dr. Fauci foresee a time, the staffer asked, when fans are again packed into ballparks in crowds of 30,000 or 40,000 squeezing past one another shoulder to shoulder on their way to concession stands on the concourses?
The answer to that question, the team employee added as an aside, might go a long way to determining how aggressive contenders are in adding payroll this summer. If there are more fans in the stands, there will be more income, and perhaps for some front offices, the financial restraints placed by owners will be loosened or removed after a winter in which so many teams have slashed payrolls.
Dr. Fauci was cautious in his response to that question. Similarly, there will be some owners who are just as careful about committing big dollars to midseason additions after more than a year of diminished revenues. Some owners might be more aggressive, knowing that one way or another, there will be a new collective bargaining agreement after the current CBA expires in December. Historically, revenues and spending climb after a deal between the owners and players is signed.
For those teams that look to augment their rosters before July 31, here is a list of players who may well be available:
1. Kevin Gausman, San Francisco Giants
San Francisco extended a one-year, $18.9 million qualifying offer to the right-hander over the winter, a deal that makes sense for both sides. Gausman will be well-paid in 2021, and the Giants — not expected to contend with the Dodgers and the Padres for the NL West title — have a valued starting pitcher who could be flipped for assets in the trade market. San Francisco, in fact, could be heavy in trade targets this summer.
2. (and 3). Brandon Crawford and Brandon Belt, San Francisco Giants
The two veteran infielders, heavily adorned in championship rings, are entering the final season of their multiyear contracts. If they perform effectively, the Giants could either dump the last dollars in their deals, or, more likely, San Francisco could pick up some salary and get prospects in return. For any contender looking for shortstop help, the left-handed-hitting Crawford could be attractive (hello, Yankees). If Belt continues to more effectively handle fastballs the way that he did last year, there will be suitors for a hitter with a long history of patience and power; his slash line in 2020 was .309/.425/.591, with that slugging percentage the best of his career, by far.
(By the way: I asked around about the possibility of catcher Buster Posey accepting a trade to a contender in the midst of what might be his final season, in an effort to win one more championship, and the early perception of Posey is that he might prefer to reach the finish line with the Giants. The fact that he cited family considerations in opting out of last season might have been an indication about how he might feel about waiving his no-trade clause).

4. Trevor Story, Colorado Rockies
Colorado's handling of the All-Star shortstop continues to be perplexing to other teams, who have assumed that the Rockies' ownership would eventually give the OK to market Story for prospects before he walks away as a free agent. When Colorado executed its widely panned trade of third baseman Nolan Arenado, the explanation of owner Dick Monfort — for the frantic inclusion of $50 million in return for a package of prospects from the Cardinals — was that the team didn't want to see Arenado walk away as a free agent in the fall of 2021 and get only a draft pick in return.
So why would Story be handled any differently? (To date, there is no indication Story and the Rockies will forge a long-term agreement).
Chicago White Sox's Michael Kopech motivated after 2 years off
Chicago White Sox right-hander Michael Kopech, who opted out of the pandemic-shortened 2020 season after missing all of 2019 due to Tommy John surgery, said he's regained his motivation after two years away from baseball.
Kopech cited multiple reasons for opting out when speaking to reporters on Saturday, including concerns about his mental health.
The promising 24-year-old disclosed previously that he suffers from anxiety and depression, and he alluded Saturday to changes in his perspective brought on not just by the time away from the ballpark, but also the birth in January of his first child, a son named River.
"I think I learned that I need this game a lot more than I realized," Kopech said. "It's a lot easier said than done to take a step away from something you've done your entire life.
"It's made me regain the motivation to get back out there," he added, "along with some other things that have happened in my life."
Kopech was one of nearly 20 players to opt out of last season — a list that includes All-Stars like the Los Angeles Dodgers's David Price, San Francisco's Buster Posey, Milwaukee's Lorenzo Cain, the New York Mets' Marcus Stroman and Washington's Ryan Zimmerman.
Price, who was traded to the Dodgers last February and watched his team win the World Series from home, said he feels comfortable returning for 2021.
"I feel like our team and MLB handled it extremely well," Price said. "I know they had a lot of protocols they had to go through. The training staff were bending over backwards to keep guys COVID free.
"We have a lot more information on it now," he added. "All of that played into the decision to play this year. I knew I wanted to play this year."
Nationals right-hander Joe Ross echoed that sentiment. He hasn't pitched since starting Game 5 of the 2019 World Series, passing on a chance to defend the title because of all the uncertainties at the time about the effectiveness of MLB's protocols.
After early season outbreaks on the Cardinals and Marlins, MLB adjusted its safety guidelines and successfully played through the end of the season. The league has enhanced its protocols this spring, including the introduction of electronic contact tracing wristbands for players to wear around team facilities.
"Everything so far has been going great," Ross said. "It's kind of a normal, quote-unquote, spring training as far as being back on the field and stuff like that."
Teams have concerns about overtaxing pitchers after last year's abbreviated workloads, and those apprehensions are even stronger for pitchers like Ross who didn't pitch at all.
The Mets have similar concerns for Stroman, a 5-foot-7 right-hander who tore a muscle in his left calf last July and opted out a few weeks later. Fiery and confident as always, Stroman thinks he's put in the work necessary to enter the season full bore.
"I never have to get ready because I stay ready," he said. "I'm ready to rock. I'm ready to go out there and throw 200-plus innings like I do every year. My preparations are elite."
The Associated Press contributed to this report.