New Falcons coach Arthur Smith, GM Terry Fontenot vow collaborative effort in building roster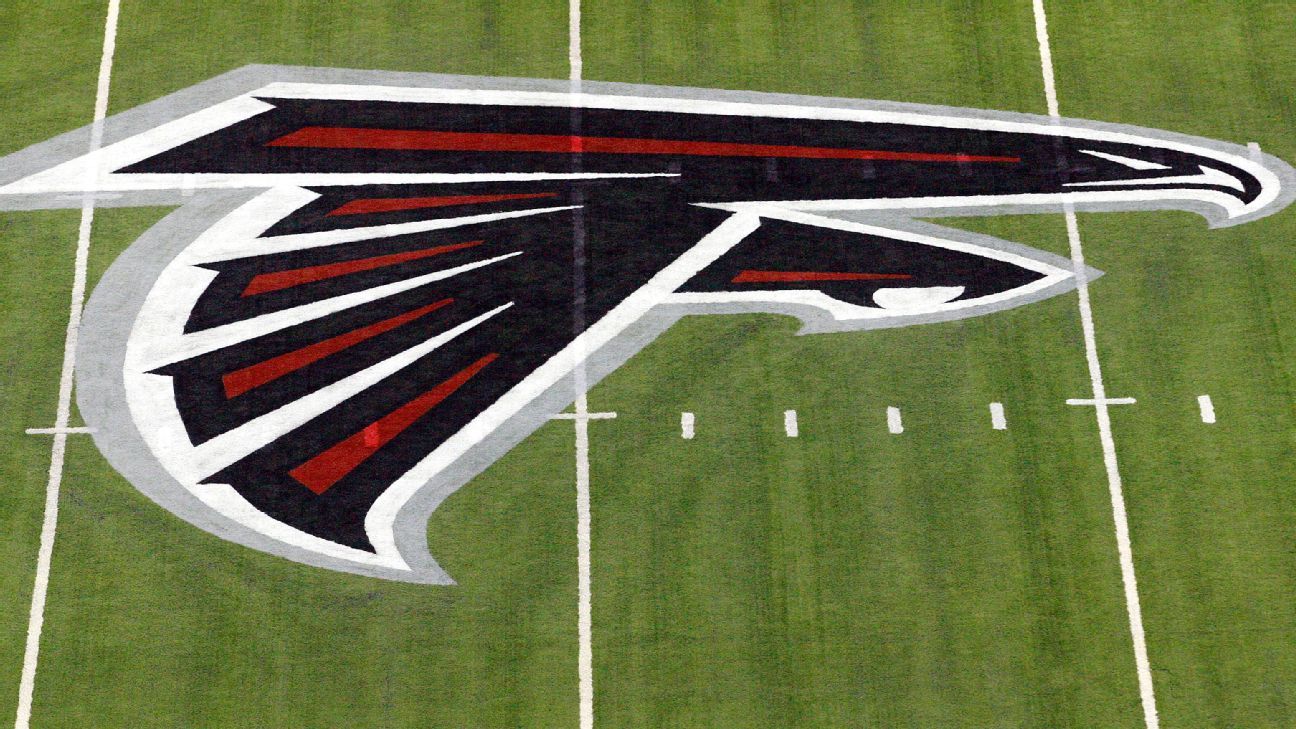 Arthur Smith said he will call his own plays as new coach of the Atlanta Falcons. But Smith and new general manager Terry Fontenot both insisted that they will collaborate on deciding the makeup of the Falcons' roster while both reporting to team president Rich McKay.
Both Smith and Fontenot also insisted that it's far too soon to make any definitive statements on the future of players like Matt Ryan and Julio Jones while they were formally introduced to the media Tuesday by Falcons owner Arthur Blank.
The Falcons also have not yet announced any assistant coach hires.
"I can't give you any snap judgments today because we're still early in this process," said the 38-year-old Smith, who spent the past 10 seasons working under four different head coaches with the Tennessee Titans — including the final two as offensive coordinator.
Smith did stress that Ryan "has been a terrific quarterback, and I've got all the respect in the world for Matt Ryan, and I look forward to working with him."
However, Smith added, "It's more than Matt and Julio. There's a lot of talented players on this roster, whether you're talking about Chris Lindstrom, Grady Jarrett … I mean, there's so many players."
Smith also made it clear that he will build around the strengths of the players on Atlanta's roster, rather than trying to replicate the 2,000-yard rushing season that Derrick Henry just produced under his watch in Tennessee. He pointed to the Cleveland Browns having a great two-man tandem at running back, for example.
"We adapted to Derrick, but there's only one Derrick Henry," Smith said. "He's like having Shaquille O'Neal in his prime. You have to feed the big fella. And certainly we did that in Tennessee. But you adapt to the strengths you have. There are multiple ways to do it."
Blank and McKay stressed throughout the hiring process that they won't dictate any roster decisions to the new GM and coach. Blank said he believes the Falcons could realistically vault from worst to first in the NFC South after the team was more competitive than its 4-12 record suggested in 2020. But at the same time, he said they couldn't "fool ourselves" into thinking they were better than the team that went 7-9 in both 2018 and 2019.
They said the goal in Atlanta is having "sustained success" after they fired coach Dan Quinn and GM Thomas Dimitroff — who had led the Falcons to the Super Bowl in 2016.
Fontenot and Blank also talked "sustained success" being the primary focus.
"We're not gonna make decisions that are gonna help us in 2021 but are gonna hurt us in '22 and '23," said Fontenot, who spent the past 18 years climbing the ranks in the pro personnel department for the rival New Orleans Saints. "I know there's a lot of good players on this roster and I know there's some areas we need to address."
The Falcons are projected to be more than $30 million over the NFL's reduced salary cap in 2021 with just 31 contracts on the roster, according to ESPN's Roster Management System — though the league has not yet announced an official salary cap number.
They also have the No. 4 pick in the draft.
Fontenot and Smith did not know each other previously — but both spoke highly of the impressions they gained during the hiring process. And Blank said each recommended the other for their respective jobs.
Blank said he was impressed by the success Smith had in Tennessee; by the fact that three new coaches all chose to keep Smith on staff and to actually promote him along the way; and by the recommendations he got from people including Joe Gibbs. Smith was on Gibbs' staff in Washington early in his career.
"I couldn't be more excited about Arthur Smith. He's special," Fontenot added. "I think the most important thing, the most critical factor with the right head coach is to have the right leader of men. He's a good man, he can connect to players, he can connect with everyone in the building, he's gonna be a good communicator. He's highly intelligent and he's adaptive."
Fontenot interviewed with four different teams for their GM jobs this cycle but said he knew the Falcons even better than most because he had been studying them so closely for so long as a division rival. Blank spoke highly of the perspective that Fontenot brought, as well as his winning background while working with demanding people like coach Sean Payton and general manager Mickey Loomis. Fontenot got choked up during his introductory videoconference when he talked about the opportunity that Loomis gave him to join the Saints' scouting department when he was a 22-year-old marketing intern fresh from his days as a safety at Tulane University in New Orleans.
And the Louisiana native said his family already "bleeds black and red" now, showing off his kids in their Falcons gear.
Fontenot, 40, is now the fourth Black general manager in the NFL and the second one hired in this cycle, along with the Detroit Lions' Brad Holmes.
"It's really a blessing. But I don't look at it like an accomplishment, I look at it as an opportunity," Fontenot said. "And I take it as a challenge, because I need to be successful. I need to do things the right way and operate and be successful — or that's not fair to the people that are gonna come after me. You know, my son's 9 years old and he's gonna be a GM. That's what he told me already. So I need to make sure I operate a certain way and I do things the right way so he's gonna have a great opportunity when it's his time."
With Carson Wentz gone, will Eagles hand the keys to Jalen Hurts? – Philadelphia Eagles Blog
PHILADELPHIA — OK, Carson Wentz has been traded. What's the plan at quarterback for the Philadelphia Eagles and how does it include Jalen Hurts?
The questions become the central focus of the offseason now that Wentz Watch wrapped with a deal to the Indianapolis Colts for a third-round draft pick in 2021 and a conditional second-round pick in '22.
The Eagles have several options, including:
Hand the keys to Hurts, their second-round pick from a year ago, and add a supportive veteran to back him up.

Sign or trade for a quarterback to compete for the Eagles' starting role.

Use the No. 6 overall pick, or even trade up, to select a quarterback in April's draft, whether it be Zach Wilson (BYU), Trey Lance (North Dakota State), Justin Fields (Ohio State) or Mac Jones (Alabama).
• What went wrong for Carson Wentz in Philly
• NFL experts: Which team won Wentz trade?
• Social media: 'Carson is going to ball' in Indy
• Fantasy: What is Jalen Hurts' ceiling?
We know, for starters, that the Eagles' decision-makers like Hurts. There were mixed opinions of him inside the building leading up to last year's draft, but he had some strong advocates, including Eagles owner Jeffrey Lurie, sources said. Hurts breathed life into the offense when he took over for Wentz over the final quarter of the season and led Philadelphia to an upset Week 14 win against the New Orleans Saints in his first career start. But Hurts cooled some down the stretch and finished with a 52% completion rate and six touchdowns to four interceptions while rushing for 354 yards and three scores.
Last season confirmed to management Hurts has a chance to succeed in the NFL, but given the small sample size and mixed results on the field, it would be impossible to know for sure whether he is the guy.
We know investing heavily in the quarterback position is a principal organizational philosophy. It has worked out spectacularly at times, as the statue of former Philly QB Nick Foles outside Lincoln Financial Field reminds us, and it backfired on them in a huge way this past year, with Wentz recoiling from the organization following the drafting of Hurts. Through the good and bad, the Eagles remain hyper-aware of the importance of getting that position right, and will continue to be aggressive toward that end.
Finally, we know the Eagles are salary-cap strapped. They absorbed a dead-cap hit of more than $33 million by trading Wentz and are currently projected to be about $50 million over the 2021 cap. They are not in great position to add a QB with a significant salary in free agency, and given that they're in the midst of a rebuild, will be more reticent than normal to part with draft picks.
Given all those factors, expect the Eagles to look very closely at the top quarterbacks in this draft. They don't intend on drafting this high up very often, and are feeling the weight of making the right decision with that No. 6 pick. If the best player is a non-QB, so be it. But if the Eagles identify what they believe to be a long-term solution at the most important position in football, and can have that player locked into a rookie contract for the next several seasons, then don't be surprised if they pounce, even if it means another quarterback controversy in Philadelphia.
Expect Buffalo Bills' tight end room to feature new faces in 2021 – Buffalo Bills Blog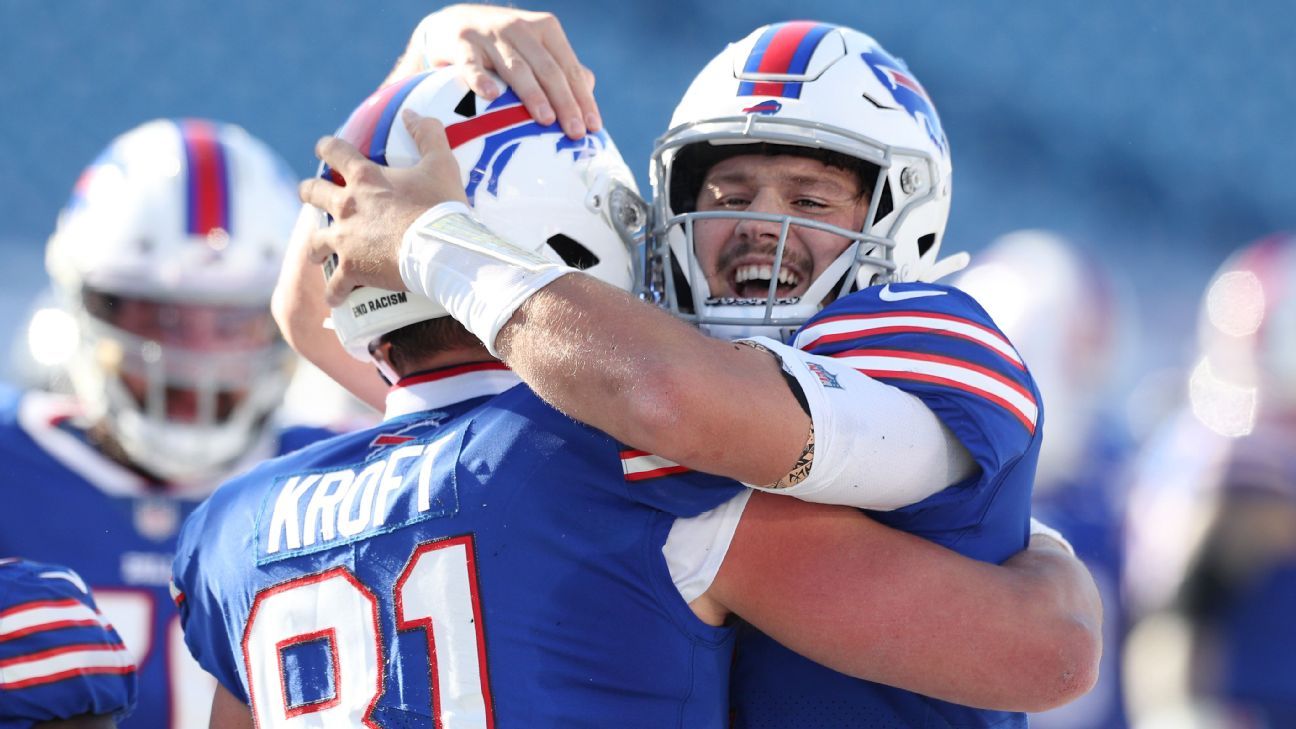 BUFFALO, N.Y. — Brandon Beane didn't mince words during his end-of-season news conference in January, particularly when it came to the Buffalo Bills' tight ends.
The general manager had just seen his Bills' defense get torched by the best tight end in the NFL for the second time during the 2020 season and admitted that his roster didn't have a player comparable to Kansas City's Travis Kelce. The combination of Tyler Kroft, Lee Smith and 2019 third-round pick Dawson Knox combined for 442 yards and eight touchdowns during the 2020 season, which will likely convince Beane to upgrade the position this offseason.
• Ranking top 50 free agents »
• Biggest looming free-agent decisions »
• Top offseason needs for all 32 teams »
• See more on free agency »
"We just never really got that position," Beane said. "At the end of the year, I thought we did a little bit, Dawson started to get his groove. But it was never where the opposing defense was like, 'man, we've got to stop their tight ends from going off.' So we'll into look to that group.
"At the end of the day, we'd love to have a guy like what we just faced in Kansas City — they don't come very often. But that's what we want. We've got some guys here we want to continue to develop and see what happens. Obviously, if there's ways to add competition, whether that's in free agency or the draft, we would do that, as well."
Buffalo's tight ends, to be fair, dealt with adversity this past season.
Knox, 24, entered the season on the heels of a promising rookie campaign, in which he dropped a league-high 20% of his passes but flashed some playmaking ability that enticed Beane to trade up for him in 2019. Although his drop percentage declined significantly, Knox missed four games in 2020 as he battled a calf injury and COVID-19, and thus struggled to find his rhythm.
Kroft, on the other hand, was twice placed on the reserve/COVID-19 list — once as a close-contact and again after registering a positive test. He played 10 games but was a healthy scratch when all the Bills' tight ends were healthy.
Beane mentioned adding competition this offseason and there are several options.
Buffalo should keep tabs on a couple of big-name veterans this offseason, starting with Tennessee Titans tight end Jonnu Smith, who essentially matched the Bills tight ends' production by himself this past season (he had 41 catches, 448 yards and eight touchdowns). Spotrac lists Smith's market value at $8 million per year, which is on the higher end of affordability for Buffalo this offseason. With the NFL salary cap set to be no lower than $180 million, the Bills could be anywhere between $1 million over the cap and roughly $4 million under it, factoring in some of the Bills' decisions on their own free agents. Buffalo's in Smith could depend on how badly it wants to upgrade the position.
Philadelphia's Zach Ertz is believed to be available via trade, ESPN's Jeremy Fowler reported. It might be worth the Bills exploring a trade for a player who put together six consecutive seasons of 700 or more receiving yards entering the 2020 season.
The Bills can also look to the draft to improve their tight end room. The clear-cut gem of the 2021 draft class is Florida's Kyle Pitts — but with the No. 30 pick, it's highly unlikely the Bills trade up for the tight end who is expected to be a top-10 pick.
ESPN draft analyst Mel Kiper Jr. offered a few options for Buffalo later in the draft, suggesting Pat Freiermuth from Penn State as a possible second-round option. The 6-foot-5, 250-pouind tight end could instantly impact the Bills' passing offense if they decide to spend the No. 61 pick on him. Kiper also listed Boston College's Hunter Long as a third-round option, and Georgia's Tre' McKitty or Mississippi's Kenny Yeboah as options in the fifth round.
Regardless of which route Beane decides on, expect the Bills' tight end room to look a bit different by the time training camp comes around.
Even with additional cap room, Dallas Cowboys face a space crunch – Dallas Cowboys Blog
FRISCO, Texas — When it comes to the 2021 NFL salary cap, every little bit helps the Dallas Cowboys.
With the NFL moving the salary cap floor from $175 million to $180 million, that extra space would help the Cowboys whether they use the franchise tag on quarterback Dak Prescott for a second straight year or sign the quarterback to a multiyear deal.
Even with the $5 million increase, the Cowboys would not have the room to fit the $37.7 million franchise tag figure, nor the likely first-year cap number on a new contract for Prescott. According to ESPN Stats & Information, the Cowboys are projected to have $14.5 million in room, which includes the unused space the team carried over from the 2020 cap.
In order to create the room necessary to keep Prescott, add free agents and sign draft picks, the Cowboys will have to restructure contracts or cut players.
A look at the salary cap carryover for 2021: pic.twitter.com/Q5JELBem2u

— NFLPA (@NFLPA) February 19, 2021
The issue with restructuring is it takes away future salary-cap space and can make it more difficult to release players in the years to come because the dead money hit is so great.
Last year, the Cowboys restructured the deals for offensive tackle Tyron Smith, guard Zack Martin and defensive end DeMarcus Lawrence to create $27 million in salary-cap space that was always intended to carry over to 2021. In a perfect world, the Cowboys would not touch those contracts now, but it's not a perfect world.
Smith's contract is the one to avoid. He has not played a full season since 2015, and he played in two games last season before undergoing neck surgery. While Smith, 30, remains one of the best left tackles in the NFL when healthy, the "when healthy," part is a major issue.
There is guesswork involved with Martin and Lawrence because of their health, too. Martin, 30, missed six games last season because of a concussion and a calf strain. Lawrence, 28, has dealt with knee issues recently. Do the Cowboys take a risk and rework their deals, which could create about $17 million in space?
The most obvious candidate for a contract restructure is wide receiver Amari Cooper. The Cowboys can turn about $19 million of his $20 million base salary into a signing bonus and create $14 million (or so) in room. But what's the downside? The plus of the Cooper deal at the time of signing was the Cowboys could get out of it after the second year with a $6 million cap hit in 2022. If they restructure Cooper in 2021, they could chew up almost all of the savings they would have gained should they walk away.
Again, not a perfect world.
Offensive tackle La'el Collins is another candidate. The Cowboys could gain a little more than $6 million in room by reworking his contract. Even though Collins did not play last season because of hip surgery, he turns 28 in July, so he should be entering the prime of his career. Last week his agent, Deryk Gilmore, tweeted that his client is not retiring, cutting down a rumor Collins might have been considering walking away.
To address the rumors – no, my client La'el Collins is not retiring. He loves football and the @dallascowboys and is working for a Super Bowl ring.
Have a blessed weekend everyone!

— Deryk Gilmore (@DerykGilmore) February 13, 2021
Again, not a perfect world.
What about running back Ezekiel Elliott? His $9.6 million 2021 base salary is already fully guaranteed. His $12 million base salary in 2022 becomes fully guaranteed in March. In all likelihood, he is tied to the Cowboys the next two seasons. By restructuring Elliott's contract, the Cowboys could gain about $6 million in space but would add signing bonus proration to future years that could make it harder to cut.
There are some other options, such as releasing linebacker Jaylon Smith, but only as a post-June 1 designee, which would open up $7.2 million in space this year and cost Dallas $6.8 million in 2022. Releasing punter Chris Jones would net them $2 million, and it's important to note that Hunter Niswander, who took over after Jones had core muscle surgery last season, performed well. Most of the remaining moves would be like finding coins under a couch cushion.
None of the options are perfect decisions for the Cowboys, but the extra $5 million for the cap helps at least a little. (Of course, another $5 million-$10 million toward the cap floor wouldn't hurt Dallas, either.)