Cardinals, ace Jack Flaherty still without deal, swap arbitration figures
ST. LOUIS — – The St. Louis Cardinals and ace Jack Flaherty have not agreed to terms on a 2021 contract and they swapped figures for salary arbitration Friday.
The 25-year-old Flaherty asked for $3.9 million and the team offered $3 million. The sides can come to an agreement until an arbitrator hears their case and makes a decision next month. If left to the arbitrator, the ruling will go entirely to one side or the other — no settling in the middle.
After finishing fourth in NL Cy Young Award voting in 2019, Flaherty went 4-3 with a 4.91 ERA over nine starts during the pandemic-shortened 2020 season. He made one postseason start, pitching one-run ball over six innings in a 4-0 loss to San Diego in the deciding Game 3 of their first-round series.
Flaherty was set to make $604,000 last year and ended up with $223,889 in prorated pay.
This is Flaherty's first season eligible for arbitration, and he's not eligible for free agency until after the 2023 season.
Toronto Blue Jays to begin season in Florida due to COVID-19 restrictions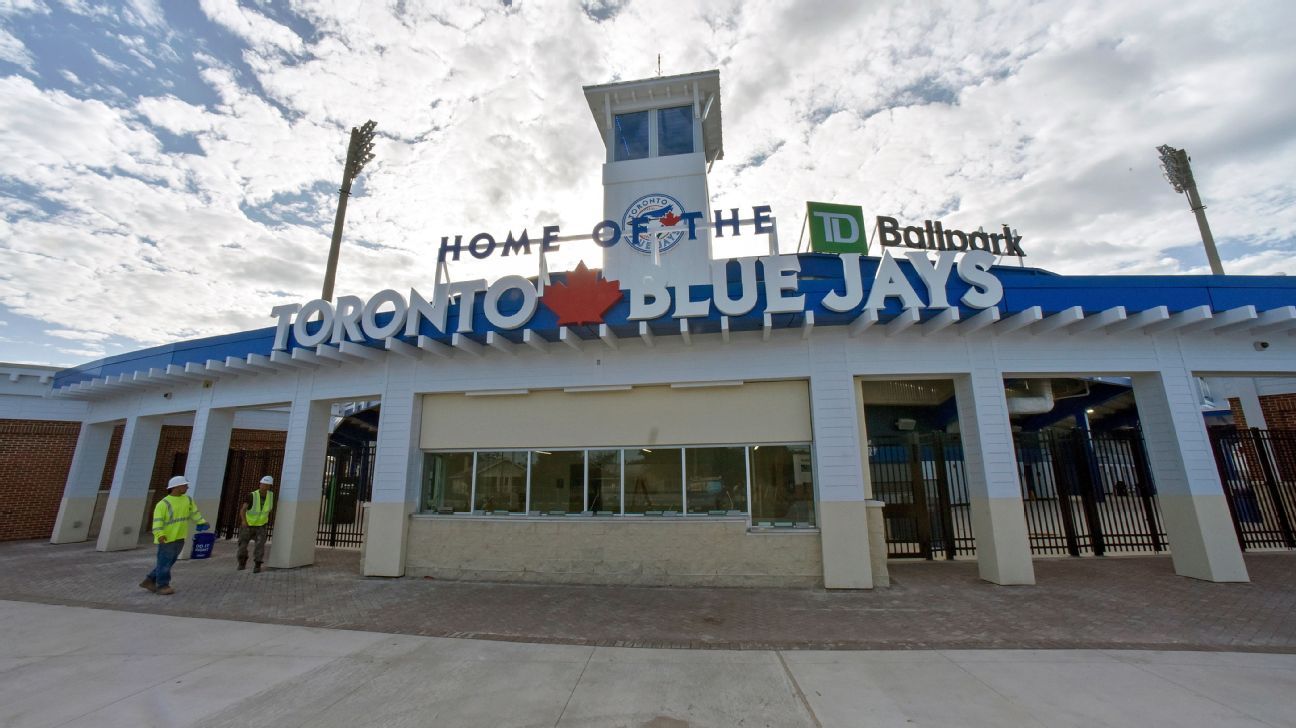 TORONTO — – The Toronto Blue Jays will play their first two homestands of the season at their spring training facility in Dunedin, Florida, because of Canadian government restrictions during the pandemic.
The team said Thursday it has been planning different scenarios for home games and had hoped to see improvements in public health.
The Blue Jays cited the "ongoing Canada-U.S. border closure" in making the "difficult decision." The team added in its statment that it "hopes of a return to play at Rogers Centre as soon as possible."
After starting the season with three-game series at the New York Yankees and Texas Rangers, Toronto's schedule has a homestand with four games against the Los Angeles Angels from April 8-11 and the Yankees from April 12-14.
The Blue Jays follow with a trip to Kansas City, Boston and Tampa Bay, then have home games against Washington on April 27-28 and Atlanta from April 30 to May 2. That is followed by a 10-game trip to Oakland, Houston and Atlanta.
It remains unlikely they would gain approval to play May games in Toronto. A return home in the second half may be more realistic, after players and large segments of the population in the U.S. and Canada are vaccinated.
The TD Ballpark in Dunedin has a capacity of about 8,500 and had a major renovation in 2019-20. The Blue Jays will limit capacity to 15%.
Toronto last played at 49,000-capacity Rogers Centre on Sept. 29, 2019, an 8-3 win over Tampa Bay.
"We hope for warm summer nights under the open Rogers Centre roof," the team said.
The Blue Jays played home games during the shortened 2020 season in Buffalo, New York, and were 17-9 at Sahlen Field, home of their Buffalo Bisons Triple-A farm team. The Canadian government didn't allow the team to play at home because of the risk of spreading COVID-19, citing frequent travel required during a baseball season.
Last year's Major League Baseball regular season was played without fans.
The border remains closed to nonessential travelers who are not Canadian citizens. Canada requires those entering the country to isolate for 14 days. And starting Monday, air travelers who arrive in Canada will be forced to quarantine in a hotel for up to three nights as they await the result of a coronavirus test.
Ongoing challenges with the pandemic and how that affects the process of crossing the border between the U.S. and Canada will also keep the Toronto Raptors in their adopted Tampa, Florida, home for the remainder of the regular season, the NBA team said last week.
The Blue Jays went went 32-28 last season, finishing third in the AL East behind Tampa Bay and the Yankees and qualifying for the expanded 16-team postseason. The Blue Jays were swept in two games by the AL champion Rays in a first-round series.
Toronto has been among the busiest teams on the free-agent market, agreeing to a $150 million, six-year contract with outfielder George Springer; an $18 million, one-year contract with shortstop Marcus Semien; a $5.5 million, one-year deal with right-hander Kirby Yates; a $3 million, one-year contract with right-hander Tyler Chatwood and a $1.75 million, one-year contract with right-hander David Phelps.
The Blue Jays also re-signed left-hander Robbie Ray to an $8 million, one-year contract.
How MLB Minis became a big hit with players
"Me next! Me next!"
Hayden Parker could hardly believe it. On his screen was an Instagram direct message from one of his favorite Major League Baseball players, Chicago White Sox ace Lucas Giolito.
Giolito had seen Parker's work — a series of hilarious, creatively Photoshopped images posted on Instagram called MLB Minis, which in just a little over a month has generated nearly 2.5 million impressions, gained more than 15,000 followers and even led to a freelancing gig for the Major League Baseball Players Association. And Giolito was asking to be a part of it.
"I was like a kid in a candy store, [Giolito] messaging me, some 21-year-old nobody, basically," said Parker, a Division III pitcher for Nebraska Wesleyan University. "I'm just so excited that something I offered was super cool. My teammates have been super supportive and always asking about who's messaging me like, 'Oh my God, that's so crazy. Tell him I say hi.'"
Baseball fans and big leaguers have been drawn to Parker's Instagram account, which takes action scenes from MLB games and hits the key players with a shrink ray, resulting in surreal and eye-catching results.
"I just saw them all around Instagram, like other players posting them," Giolito said. "I just think it's cool Photoshop work and wanted to have one of my own."
Parker first started working on graphic design while in college, but threw himself headfirst into the hobby while recovering from open-heart surgery heading into his junior year. Unable to leave his bed or throw a baseball, he spent day after day working in Photoshop on his MacBook, honing his skills. He started by making designs for his school, including game-day graphics for the athletic departments.
"It helped me get through the hard time, just putting my mind on something and not really having to think about it all," Parker said. "I couldn't get out of bed without my parents' help. Just putting my mind to that really helped me get through."
After noticing a few Photoshops of miniaturized athletes on Instagram, Parker decided last month to start his own dedicated account, combining his passion for baseball and graphic design by shrinking some of his favorite baseball players, a process that takes about 20-30 minutes per image.
"I started out doing a lot of just high school or college dudes, just making minis for them to get my name out there," Parker said. "I was like, 'I'll make you one if you just repost it to your story so people can see my work.' It just grew from there."
Parker is originally from Arizona, and his first Photoshop featured Ketel Marte, one of his favorite players on the Diamondbacks. The second featured Hunter Pence, one of the most active MLB stars on social media, someone Parker figured might stumble upon his work. But his first big break came via a repost by Cleveland Indians pitcher Triston McKenzie. Soon, the DMs began pouring in.
Former New York Yankees lefty CC Sabathia slid into Parker's DMs asking for a picture of him pointing and yelling at a dugout to get the MLB Minis treatment.
Among Parker's more memorable interactions was with retired outfielder Carlos Gomez, who asked Parker to "find whatever you want." Parker selected a photo of Gomez arriving at home plate to yelling catcher Brian McCann. Initially, Gomez felt hesitant to post the photo because he didn't want to be misinterpreted as starting online beef, but after seeing the popularity of the image on the MLB Minis account, Gomez re-posted it on his personal page.
"I think it's dope man. When I saw myself like that, I cracked up," Gomez said. "Every time I see the picture, I'm laughing."
The interaction between designers like Parker, athletes like Sabathia and Giolito and baseball fans on social media could help generate more interest in the sport and its players, so it's no surprise the MLBPA's social media team reached out to Parker to showcase his skills on its Instagram feed.
"I think it can impact the game in a positive way for MLB because that creativity motivates the new generations and kids, 12, 13, 10 years old, to watch us," Gomez said. "It's a great idea. It's going to impact the future of all of this."
With a semester left of college, Parker isn't sure if graphic design is what he wants to pursue after he graduates. For now, he's taking things one Photoshop at a time.
"That's just kind of how the world is now," Parker said. "Things just pop up so quickly. I would obviously like to do it in the future if there is an opportunity for that, but I'm not limiting my options."
Kiley McDaniel's 2021 American League team-by-team prospect rankings
Last week, I ranked the top 100 prospects and all 30 farm systems heading into the 2021 season. Now it's time to go deeper with my team-by-team rankings, starting with the American League.
A quick refresher on a key term you'll see throughout the team lists: Future Value, shortened to FV hereafter, as a term that sums up the value of a player into one number. It's graded on the 20-80 scouting scale. A low-end everyday player is a 50, which correlates to 2.0 WAR; a well above average position player, No. 3 starter or high-end closer is a 60, or somewhere around 3.0 WAR. I refrain from tossing out an 80 on minor leaguers because that would imply one is expected to be one of the top players in baseball.
While the top 100 is exactly that long, I rank every prospect who gets a 45+ or better FV grade that is 167 in total, so that rank is included here in the team lists. For every team, there are reports on the top 10 prospects and then varying numbers of others depending on the strength of the system. Broadly, it'll be everyone better than a 40 FV, then hand-picked interesting prospects who are 40 FVs.
And now on to my rankings.
Jump to a team:
BAL | BOS | CHW | CLE | DET
HOU | KC | LAA | MIN | NYY
OAK | SEA | TB | TEX | TOR