Seattle Seahawks' Russell Wilson wants to give input on offensive coordinator search
SEATTLE — Russell Wilson didn't want the Seattle Seahawks to move on from Brian Schottenheimer as their offensive coordinator.
He does want some say in their next one.
Wilson made the latter point known to coach Pete Carroll and to reporters during a videoconference Thursday.
"I think it's vital, it's critical, super significant, obviously, that I'm a part of that process," Wilson said. "Coach and I have definitely been talking about that, [general manager John Schneider] too as well. We've had some … great dialogue about the thought process of who we want, the leader … the innovator, all that kind of different stuff that you want. I think that's the super critical thing, obviously at this point in my career because you spend every day with that person … As many hours as me and Schotty spent together, I'm going to miss the guy because we spent so much time together and worked so hard.
"The next person, whoever that is, it's really critical that we're on the same page at all times and always talking and vibing and really, really on the same page."
The Seahawks announced Tuesday that Schottenheimer was out after three seasons, citing philosophical differences. ESPN's Adam Schefter reported that Carroll and Schottenheimer met Monday evening and mutually decided separating was in the best interest of both parties.
"If you're asking me if I was in favor of it, no," Wilson said, choosing his words carefully. "It wasn't my decision to change [from] Schotty. But I think that Coach Carroll made that decision. I trust his decision."
Schottenheimer's departure came after the end of an odd season in which the Seahawks scored the most points in franchise history but regressed heavily over the second half of the season. Their struggles continued last weekend in their wild-card loss to the Los Angeles Rams.
Wilson led the NFL in touchdown passes with 28 over the first nine weeks of the season while Seattle led the league in scoring at 34 points per game over that stretch. But Wilson threw just 12 touchdown passes over the final eight weeks of the regular season while Seattle's scoring dropped to 22.6 points per game.
Wilson lauded Schottenheimer as a coach, leader and friend, saying he became close with Schottenheimer's family.
"I think that he's going to be an amazing coach for somebody else, for some other team here so hopefully," Wilson said. "I think he's going to be a head coach. I think he has that type of leadership ability. Unfortunately for us, I think that in Coach's eyes, it was kind of time to see if we could make a change. We were the best offense in football for the first middle part of the season. He was a major part of that."
If Wilson has a specific name in mind that he's hoping the Seahawks hire, he didn't offer many clues. When asked what he's looking for in his next OC, Wilson mentioned leadership, passion for football, teaching skills and an ability to find the strengths of all 11 players.
Actress Shailene Woodley confirms engagement to Green Bay Packers' Aaron Rodgers
Actress Shailene Woodley confirmed her engagement to Green Bay Packers quarterback Aaron Rodgers during an appearance on "The Tonight Show Starring Jimmy Fallon" that aired Monday night.
Woodley, who was nominated for an Emmy Award for her role in the HBO drama series "Big Little Lies," said she and Rodgers got engaged "a while ago."
Rodgers, 37, had mentioned his engagement and thanked his fiancée while accepting his third career MVP award on Feb. 6 but didn't say her name.
Woodley, 29, told Fallon she has yet to attend one of Rodgers' games because of the pandemic, and acknowledged that while growing up, sports were never really on her "radar."
"When we met, also, I knew he was a football guy, but I didn't know like what kind of a football guy he was," Woodley explained. "And I'm still constantly learning."
Remarking on Rodgers' football talent, she continued, "I don't get it. He's good. He's great. But, like, I don't understand. Because I don't know him as a football guy. I know him as the nerd who wants to host Jeopardy!. That's the dude I know."
Rodgers had revealed last month that he has been asked to be a guest host for an episode of his favorite game show — one he appeared on in a celebrity edition of the show in 2015.
The Associated Press contributed to this report.
Tennessee Titans' 2020 first-round pick Isaiah Wilson says he's 'done with football as a Titan' in since-deleted tweet
NASHVILLE, Tenn. — Nearly a week after being put on notice by the team's general manager, Tennessee Titans 2020 first-round NFL draft pick Isaiah Wilson wrote on Twitter on Monday night that he is "done with football as a Titan" before deleting the tweet soon after.
Wilson was the 29th overall selection in April's draft but played only four snaps in his rookie season, which culminated in him being placed on the non-football injury list in December. Before that, Wilson found himself on the reserve/COVID-19 list twice last year, during training camp and in October.
The rookie right tackle also had a couple of run-ins with the law. The first incident came when Tennessee State University police broke up an off-campus party that Wilson had attended during training camp. In their report, the police documented that Wilson went to the second-floor balcony, where he appeared to briefly consider jumping. He received a trespass warning.
The second incident occurred when Wilson was arrested and charged with a DUI in September when he lost control of his vehicle and struck a concrete wall.
Titans GM Jon Robinson addressed Wilson's status during a virtual news conference on Tuesday, telling reporters he had not spoken to Wilson since putting him on the NFI list and suggesting that Wilson "makes a determination on whether he wants to do what it takes to play pro football."
The Titans signed Wilson to a four-year, $11.6 million contract in August. Tennessee would have a $5.4 million salary-cap charge if it releases him.
Wilson's agency did not respond to a request for comment when contacted by ESPN on Monday night.
Houston Texans donate $500,000 to help Winter Storm Uri recovery efforts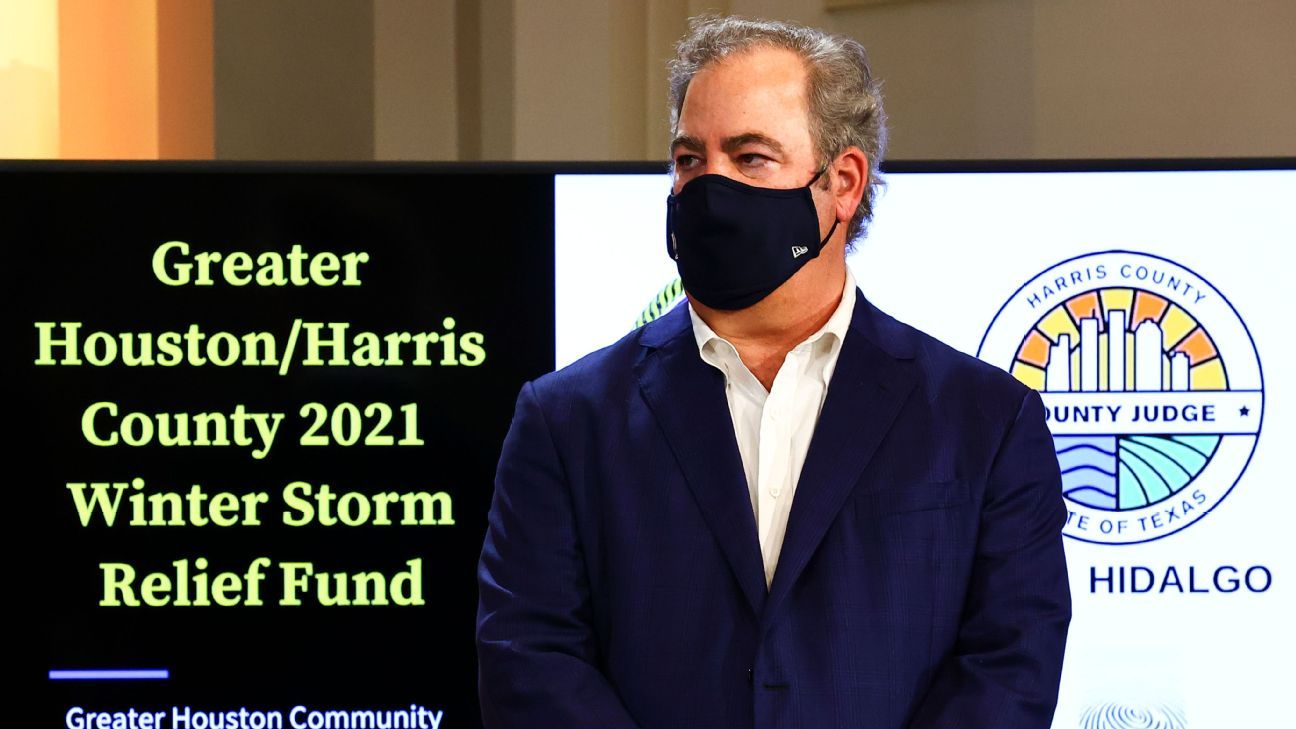 HOUSTON — Owner Janice McNair and the Houston Texans have donated $500,000 to help with the recovery from the winter storm that hit Houston last week.
The donation, made to the Greater Houston/Harris County 2021 Winter Storm Relief Fund, will aid local nonprofits to "target the unmet needs of families who need additional help to recover, including assistance with plumbing and home repairs, temporary housing and other basic issues."
Winter Storm Uri left a significant number of people in Houston and other areas of Texas without power and water. Some are still without power, and many had pipes burst because of the freezing temperatures.
"We are happy to lend a helping hand to our fellow neighbors during challenging times like these," McNair said in a statement. "I'd like to express my sincere gratitude to Mayor Turner and Judge Hidalgo for their leadership of the relief fund and including us in the recovery efforts. This city is full of strong and resilient people who will benefit greatly from these funds."
Texans chairman and CEO Cal McNair was also named to the Greater Houston/Harris County 2021 Winter Storm Relief Fund Advisory Board, which will oversee and administer the grant distribution process.