Detroit Tigers, Michael Fulmer avoid arbitration 1-year deal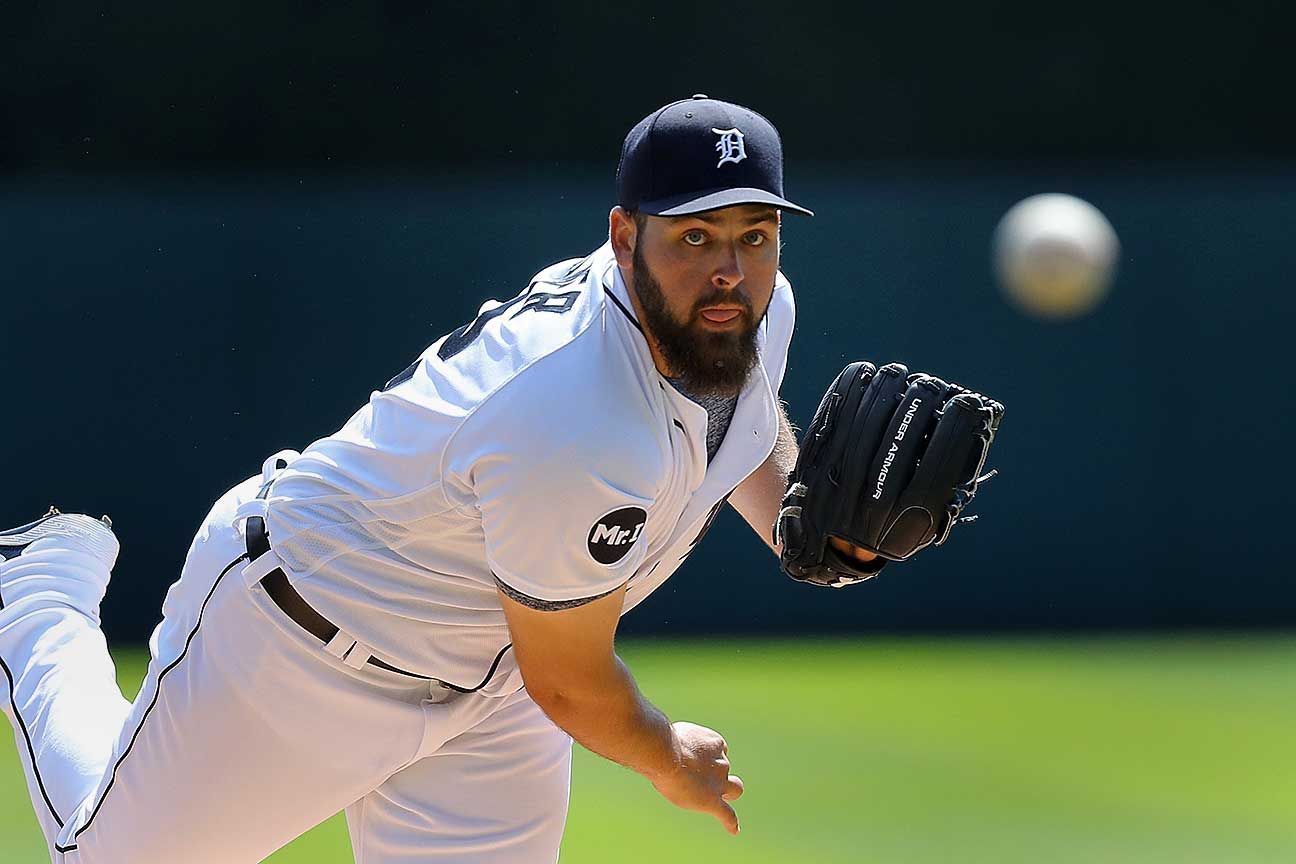 DETROIT — Right-hander Michael Fulmer and the Detroit Tigers agreed Tuesday to a $3.1 million, one-year contract that avoided arbitration.
The 2016 AL Rookie of the Year went 0-2 with an 8.78 ERA in 10 starts last season after missing all of 2019 because of Tommy John surgery. He earned $1,037,037 in prorated pay from a $2.8 million salary.
Eight Tigers remain eligible to swap proposed salaries Friday: right-handers Jose Cisnero, Buck Farmer and Joe Jimenez, left-handers Matt Boyd and Daniel Norris, shortstop Niko Goodrum, third baseman Jeimer Candelario and outfielder JaCoby Jones.
Detroit also announced that Steve Chase has been promoted to major league strength and conditioning coach after 16 seasons working in the organization's player development system. He spent the last six seasons as minor league strength and conditioning coordinator.
Jose Quintana, Los Angeles Angels agree to 1-year deal, source says
The Los Angeles Angels, desperate to add starting pitching, agreed to a one-year, $8 million contract with veteran left-hander Jose Quintana on Tuesday, a source confirmed to ESPN.
Quintana, who previously pitched under current Angels manager Joe Maddon while with the Chicago Cubs, was limited to only 10 innings in 2020 largely because of thumb surgery. Prior to that, the 31-year-old averaged 32 starts from 2013 to 2019, putting together a 3.72 ERA with a 3.23 strikeout-to-walk ratio.
Quintana joins a rotation that includes Andrew Heaney, Dylan Bundy, Griffin Canning and potentially Shohei Ohtani, slotting in somewhere near the top.
Quintana stands as the fifth one-year addition made by first-year general manager Perry Minasian, following shortstop Jose Iglesias, closer Raisel Iglesias, catcher Kurt Suzuki and lefty reliever Alex Claudio. They'll combine to make $23.25 million in 2021.
The Athletic first reported the agreement.
George Springer, Toronto Blue Jays agree to 6-year, $150M deal, sources say
Outfielder George Springer and the Toronto Blue Jays have agreed to a six-year, $150 million contract, sources confirmed to ESPN's Jeff Passan.
The contract would be the largest given out by the Blue Jays in franchise history. Their only other contract that topped $100 million was a $126 million extension to Vernon Wells.
Springer is headed to the Blue Jays' spring training facility in Dunedin, Florida, for a physical. If all goes according to plan, Toronto will get the star it has been looking for all winter.
Springer, the sparkplug for the Houston Astros' offense in the leadoff spot for the past four seasons, was one of the most coveted free agents on the market this offseason. He hit a team-high 14 home runs this season and added another four in the postseason, as the Astros lost to the Tampa Bay Rays in the American League Championship Series.
While several of his teammates struggled offensively this past season amid fallout from the 2017 sign-stealing scandal, Springer, who earned $21 million on a one-year deal after avoiding arbitration, has continued to put up better numbers since then — hitting .265 with 32 RBIs in 51 games in 2020 while lowering his strikeout rate to 17.1%, a career best.
He passed on a one-year, $18.9 million qualifying offer by the Astros, who will get a compensation draft pick with him signing with a new team.
Prior to the pandemic-shortened 2020 season, Springer hit 20 home runs in five of the previous six seasons. He earned three straight All-Star nods from 2017-19, and he was named 2017 World Series MVP in 2017, when the Astros beat the Los Angeles Dodgers in seven games.
Springer has been at his best during big moments, hitting 19 postseason home runs, which is tied for fourth all-time. He also ranks sixth in slugging percentage (.546), seventh in extra-base hits (34) and is tied for 14th in runs scored (43).
Since making his debut in 2014, Springer has been one of the best hitters out of the leadoff spot in all of baseball, ranking second in home runs (136), third in RBIs (352) and fourth in hits (665) and extra-base hits (254), according to ESPN Stats & Information. He also has hit a first-inning leadoff home run 39 times during his career, which ranks fourth in American League history.
In 2019, Springer set career highs with a .292 batting average, a .591 slugging percentage, .383 on-base percentage and 6.2 WAR (wins above replacement).
Defensively, Springer continues to be very solid as the everyday center fielder at age 31 and could easily slide over to either of the corner outfield spots, if needed. Blue Jays center fielders accounted for -7 Defensive Runs Saved in 2020, tied with the New York Yankees for 26th in MLB. Springer accounted for 6 DRS as a center fielder in 2020, tied for fifth best at the position.
Overall, in seven seasons with the Astros, Springer has a .270 career average with 174 home runs and 458 home runs.
Blue Jays Nation first reported the agreement Tuesday night, while MLB Network first had the terms.
ESPN Stats & Information contributed to this report.
Tommy Lasorda memorialized in private service at Dodger Stadium
LOS ANGELES — Hall of Fame manager Tommy Lasorda was memorialized during a private service at Dodger Stadium before his burial on Tuesday.
Lasorda died Jan. 7 after a heart attack at age 93.
His casket, covered with a huge assortment of blue and white flowers, was placed on the pitcher's mound with a blue 2, signifying Lasorda's jersey number, on the back of the mound.
Lasorda's wife of 70 years, Jo, attended in a wheelchair, along with their daughter, Laura. The mourners stood socially distanced around the mound.
Former Dodgers catcher and Los Angeles Angels manager Mike Scioscia, retired player and major league manager Bobby Valentine, retired Dodgers first baseman Eric Karros, retired player and coach Mickey Hatcher, former Dodgers pitcher Charlie Hough, and former NBA coach Mike Fratello were among the 10 pallbearers. Each wore a jersey with Lasorda's No. 2 on the back.
Karros and Hatcher, along with Sketchers president and co-founder Michael Greenberg, and personal friends Steve Brener and Chris Leggio spoke at the stadium and served as pallbearers, along with businessman Warren Lichtenstein. Wearing masks because of the COVID-19 pandemic, they carried Lasorda's casket to a white hearse parked in front of the dugout.
The national anthem was sung and Lasorda's image was projected on the stadium's video boards.
A motorcade traveled from the stadium to Rose Hills Memorial Park in nearby Whittier, where Lasorda was buried. The group had just arrived at the cemetery when they received word that Dodgers Hall of Fame pitcher Don Sutton had died at age 75.
Lasorda spent 71 years in the Dodgers organization, starting as a player when the team was still based in Brooklyn. He later coached and then became its best-known manager for 21 years in Los Angeles, leading the franchise to two World Series championships. After stepping down in 1996, he became an ambassador for the sport he loved.