Fans attending Buffalo Bills' playoff game taking COVID-19 tests
The Buffalo Bills administered more than 5,000 COVID-19 tests in their stadium parking lot on Wednesday as they prepare to host about 6,700 fans for Saturday's playoff game against the Indianapolis Colts.
Bills owner and team president Kim Pegula told ESPN in a phone interview Wednesday that the New York State government insisted all fans and gameday staff be tested if it was to approve the plan to allow fans into Bills Stadium for the first time this season.
The team added a $63 surcharge to the game's ticket price to cover the cost of testing, then sent appointment times to everyone who got tickets so they could be tested on the stadium site in the days leading up to the game.
"It's such a great sports town, and this being our third year (of the last four) in the playoffs but not having a home (playoff) game in 26 years, it's really special for the community," Pegula said. "I'm amazed. Today we tested over 5,000 people and it went really smoothly and we got it done."
Pegula said conversations with New York Governor Andrew Cuomo's office have been going on all year, but that the video images of Bills fans at the airport to greet the team a few weeks ago when it returned from Denver after clinching the AFC East title helped drive the decision.
"Seeing those fans at the airport, part of the thought process was, 'If we don't allow fans in, where are they going to go, and will that be safe for our community?'" Pegula said.
The Bills studied other teams that have allowed fans at games this year during the pandemic to try to figure out the best way to handle it. New York state officials attended a game in Pittsburgh earlier this year when the Steelers allowed about 7,000 fans in, and state officials will be on hand Saturday to observe the procedures and how they're working. Whether the Bills can have fans at their divisional-round game should they beat the Colts and advance depends in part on how Saturday goes.
"The state has said, 'You can plan (for fans at a second playoff game), but there's no guarantee, '" Pegula said. "They want to see how this process goes, in terms of mask wearing, ingress, egress, all of that. So a lot of our messaging to our fans is to just really follow the protocols that are in place."
"Who would have imagined you'd be excited to have 6,700 people at a playoff game?" Bills GM Brandon Beane said in a phone interview Thursday morning. "But we couldn't be more excited right now."
New York Jets hiring Robert Saleh as coach
FLORHAM PARK, N.J. — The New York Jets, coming off one of the worst seasons in franchise history, have reached an agreement in principle with San Francisco 49ers defensive coordinator Robert Saleh to be their next head coach, the team announced Thursday night.
The agreement is for five years, leagues sources told ESPN's Adam Schefter.
Saleh, 41, who interviewed virtually last Friday, quickly established himself as the Jets' front-runner. On Tuesday, he flew to New Jersey for a second interview. On Thursday, the Jets concluded a second interview with Tennessee Titans offensive coordinator Arthur Smith. At that point, the Jets held internal discussions and decided to make an offer to Saleh, a source said.
There was plenty of competition for Saleh, who received interview requests from six of the seven teams in the NFL head-coaching market.
Saleh is expected to take 49ers passing game coordinator Mike LaFleur with him as his offensive coordinator, sources told Schefter.
Saleh replaces Adam Gase, who went 9-23 and was fired immediately after the 2020 season.
Whether Washington Football Team keeps momentum depends on its QB – Washington Blog
ASHBURN, Va. — The Washington Football Team has reached this point in the past. It enters an offseason full of hope after finishing strong and reaching the postseason. What it hasn't done in the past: build on that success.
In order to finally do so, Washington must answer several questions — none bigger than who will play quarterback in 2021 and, perhaps, beyond.
"We can get crazy better," Washington rookie defensive end Chase Young said.
• Divisional round: Matchups, X factors »
• Keys to victory for all eight teams »
• Experts predict upsets, more »
• Schedule, brackets, TV times »
To keep climbing, though, multiple NFC scouts and talent evaluators point to quarterback as the obvious stumbling block.
Washington has not made the postseason in consecutive years since 1990-92. The franchise has made the playoffs five times since, and in three of those years it missed a repeat appearance in the postseason by one game. In the other two, it went a combined 8-24.
Washington, which finished 7-9, remains in a rebuilding process. While it won five of its last seven games to earn the NFC East title, it also benefited from playing in a weak division. The franchise had won nine or 10 games in each of its previous five playoff seasons.
"We got to the playoffs, and everybody's excited about that," Washington coach Ron Rivera said. "That's great. But that's not the goal. The goal is to win the Super Bowl. It's like that old saying that the team that ends up on top just doesn't land there. They had to work their way up. So, we're on our way up."
Washington won because it has a young, and excellent, defensive front — one NFC scout called it "great." It has standout ends in Young and Montez Sweat. It needs to add to the back seven, but the foundation is set to build a championship-caliber defense.
But it might not matter if the team is unable to settle on a quarterback.
Rivera said they would be meeting on that topic this week, but it's hard to come up with any other conclusion than Washington must find one.
Alex Smith, 36, is mulling his future — if he does return, will he last a full season? Kyle Allen was viewed as a backup/fringe starter and now is coming off a broken ankle; Taylor Heinicke is acknowledged as a terrific story in the organization, but that guarantees nothing other than fighting for a roster spot. They also have Steven Montez, an undrafted free-agent rookie. They have parts; they need The Guy.
Check out the quarterbacks left in the playoffs (Kansas City's Patrick Mahomes, Cleveland's Baker Mayfield, Buffalo's Josh Allen, Baltimore's Lamar Jackson, Green Bay's Aaron Rodgers, Tampa Bay's Tom Brady, New Orleans' Drew Brees and L.A. Rams' Jared Goff). Five have been to the Super Bowl and four have won it. That's the kind of guy you need to advance — especially if other holes exist on the roster.
One NFC scout said Washington had to scheme its way to points, a hard way to live. What the team needs, he said, is a stronger front that can help develop an identity and lead to more bread-and-butter plays that don't need to fool the defense to succeed.
The hard part will be acquiring that quarterback, and it's uncertain what veterans might be available and at what cost.
Washington, which picks at No. 19 in the 2021 NFL draft, could select a QB. However, there also is a belief, by bolstering the lineup elsewhere on offense, it could win nine or 10 games with average to solid quarterback play. In 2018, before Smith was hurt, the team played turnover-free ball and was 6-3, but not viewed as a legitimate threat for the postseason.
A higher level of play is needed for the Super Bowl.
That's one reason Washington has failed to repeat playoff seasons. It appeared to have quarterback issues resolved in some of those years. In reaching the playoffs in 1999, Brad Johnson threw for 4,005 yards and 24 touchdowns, but owner Dan Snyder brought in Jeff George in the offseason, which angered Johnson. They then went 8-8 and fired coach Norv Turner late in the 2000 season.
When Snyder has inserted himself into other quarterback acquisitions — Donovan McNabb, Robert Griffin III, Dwayne Haskins Jr. — it has not ended well.
Griffin was the NFL's Rookie of the Year in 2012 and was named to the Pro Bowl. But he tore his ACL in a playoff loss to Seattle. Also, a massive fissure developed between he and the coaching staff. Before training camp that summer, one assistant coach said he told his wife they were going to be horrible, in part because of those issues. They went 3-13.
And in 2015, Kirk Cousins threw for 4,166 yards and 29 touchdowns. He followed that with 4,917 yards and 25 touchdowns, but struggled down the stretch and, with a playoff berth at stake in the season finale, threw two interceptions. Washington lost four of its last six — two coming against teams that finished with losing records. The storyline in those offseasons was Cousins being placed on the franchise tag and whether they could keep him around. They eventually traded for Smith and let Cousins walk after the 2017 season.
Rivera's Carolina Panthers teams did not post consecutive winning seasons during his eight full seasons, but they did make the postseason three years in a row and four out of five. In that stretch, the Panthers went a combined 34-13-1 and reached one Super Bowl, thanks to a top defense and an elite quarterback in Cam Newton.
In Washington, Rivera has the makings of a defense that could be good for several years. Players exited the season praising the culture created by Rivera. The team persevered through the coronavirus pandemic and Rivera's cancer battle while starting four quarterbacks.
"Nobody gave us a shot in probably 90% of our games," said guard Brandon Scherff, a pending free agent who wants to return. "But we came out on top. That shows the character and resiliency that we have as a team."
But, as the franchise has seen, keeping the momentum has been the hardest part.
"The key to it really will be the way we come back, and how we approach the upcoming season," Rivera said. "If we come back and we're fat and lazy, we're going to get the crap kicked out of us. It's that simple."
Players heeded his season-ending message.
"Everybody on this team knows we have something to build on and what we can do," Young said. "Next year is our chance to prove that."
Jacksonville Jaguars hire Urban Meyer as coach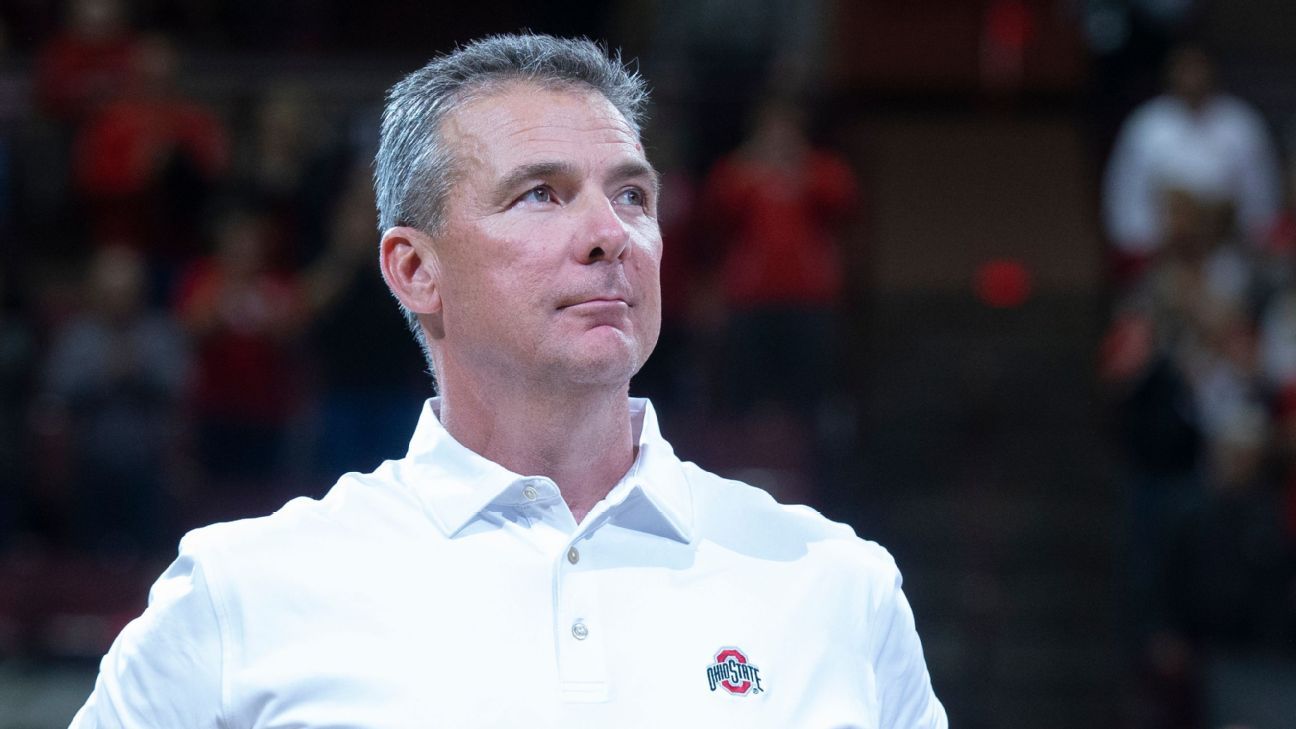 JACKSONVILLE, Fla. — The Jaguars have hired Urban Meyer as their new head coach, turning to one of the most successful college coaches in NCAA history to help spur a turnaround of one of the NFL's worst franchises.
"This is a great day for Jacksonville and Jaguars fans everywhere," team owner Shad Khan said in a statement. "Urban Meyer is who we want and need, a leader, winner and champion who demands excellence and produces results. While Urban already enjoys a legacy in the game of football that few will ever match, his passion for the opportunity in front of him here in Jacksonville is powerful and unmistakable."
Meyer's hiring comes after regular communication between him and the Jaguars. Sources previously told ESPN's Adam Schefter that Meyer had been assembling a coaching staff, including some assistants from the college ranks, ahead of taking the Jaguars job.
"I'm ready to coach the Jacksonville Jaguars," Meyer said in a statment. "Jacksonville has an enthusiastic fan base, and the fans deserve a winning team. With upcoming opportunities in the NFL Draft, and strong support from ownership, the Jaguars are well-positioned to become competitive. I've analyzed this decision from every angle — the time is right in Jacksonville, and the time is right for me to return to coaching. I'm excited about the future of this organization and our long term prospect for success."
Meyer won three national championships and compiled a 187-32 college coaching record during stints at Bowling Green, Utah, Florida and Ohio State. He won two of those titles (2006, 2008) with the Gators, whom he led to a 65-15 record in six seasons. He also led the Buckeyes to the 2014 national title and compiled an 83-9 record in seven seasons in Columbus.
He will be the sixth head coach in Jaguars history, replacing Doug Marrone, whom owner Shad Khan fired Jan. 4 after the Jaguars finished their worst season in franchise history (1-15). Marrone had a 25-44 record (including playoffs) in four seasons with the Jaguars.
The Jaguars gave up a franchise-record 492 points last season, becoming the fifth team since the NFL expanded to a 16-game schedule in 1978 to allow at least 20 points in every game, according to ESPN Stats & Information. Offensively, the Jaguars ranked 28th or worse in yards per game, rushing and scoring. They ranked 21st in passing, which is largely a product of falling behind big in games and having to abandon the run.
But Jacksonville has assets to launch a rebuild. The Jaguars own the No. 1 overall pick, the team's first ever, for the 2021 NFL draft, which they are expected to use on Clemson quarterback Trevor Lawrence. They are also projected to have $76.2 million in salary-cap space this offseason, the most in the NFL.
Meyer began his head-coaching career in 2001 at Bowling Green, where he led the Falcons to a 17-6 record in two seasons before moving on to Utah, where he went 22-2 in two seasons. Led by quarterback Alex Smith, who was the No. 1 overall pick in the 2005 NFL draft, the Utes went 12-0 in 2004 and played in the Fiesta Bowl.
He was then hired by Florida to replace Ron Zook in December 2004. The Gators went 8-5 in their first season under Meyer as they struggled with the transition to his spread offense. But his biggest win came off the field, when he secured a commitment from quarterback Tim Tebow, who was also considering Alabama.
The Gators took off in 2006, with Meyer using Tebow as a change-of-pace quarterback to Chris Leak. The Gators beat Arkansas in the SEC title game and routed Ohio State to win the program's second national title. Two years later, the Gators won their third national title with a rout of Oklahoma.
A loss to Alabama in the 2009 SEC Championship Game derailed the Gators' hopes for a first perfect season and signaled the beginning of the end of Meyer's tenure at Florida.
The night after that loss, Meyer was rushed to a Gainesville hospital after his wife was unable to wake him up. Meyer had been experiencing chest pains and suffered from dehydration, and the incident scared him. Meyer later announced that he was resigning after Florida's bowl game for health reasons but changed his mind the following day and instead said he would take a leave of absence.
Meyer was diagnosed in January 2010 with esophageal spasms, which caused the severe chest pains he had been experiencing. He began taking medication, made significant lifestyle changes and eventually resumed coaching at the start of spring practice in March 2010.
One day after the Gators' final regular-season game in 2010 — a 31-7 loss at Florida State — Meyer announced he was resigning for good and that his final game would be the Outback Bowl.
Meyer worked as a college football analyst for ESPN into November 2011 before accepted the head-coaching job at Ohio State. He led the Buckeyes to a 12-0 record in 2012, but the school was ineligible for postseason play because of NCAA sanctions relating to former players receiving impressible benefits from a booster during former coach Jim Tressel's tenure.
Two years later, Meyer led Ohio State to the national title, upsetting No. 1 Alabama 42-35 in a College Football Playoff semifinal and routing Oregon 42-20 in the championship game.
However, Meyer had another health scare in 2018 when he dropped to his knees on the sideline during a game against Indiana with severe pain in his head. Meyer later revealed that he was dealing with an ongoing issue related to a congenital arachnoid cyst in his brain, which included severe headaches that had gotten worse over two years.
Meyer also was embroiled in a controversy during his final season in Columbus after he was placed on paid administrative leave Aug. 1, 2018, after reports surfaced that Meyer knew about spousal abuse allegations against assistant coach Zach Smith. Ohio State had fired Smith the previous week.
After an investigation, Meyer was suspended for the opening three games of the 2018 season. The Buckeyes went 12-1 but missed out on the College Football Playoff, and Meyer announced that he was retiring from coaching after the Rose Bowl for health reasons.
Meyer has spent the past two college football seasons as an analyst for Fox Sports.
The Jaguars are hoping his success will translate to the pro game. Jacksonville has had just one winning season since 2007 and has lost 10 or more games in nine of the past 10 seasons. The outlier was 2017, when the Jaguars went 10-6, won the AFC South, hosted their first playoff game since the 1999 season and made a surprising run to the AFC Championship Game. The Jaguars won 12 games that season but have won just 12 since.
Meyer will be the fourth coach in Khan's nine seasons as owner, during which the team is 41-106, including playoffs. In addition to Marrone, Khan has also fired Mike Mularkey (2012) and Gus Bradley (2016).