Cleveland Browns' facility still closed, lack of practice 'won't have impact'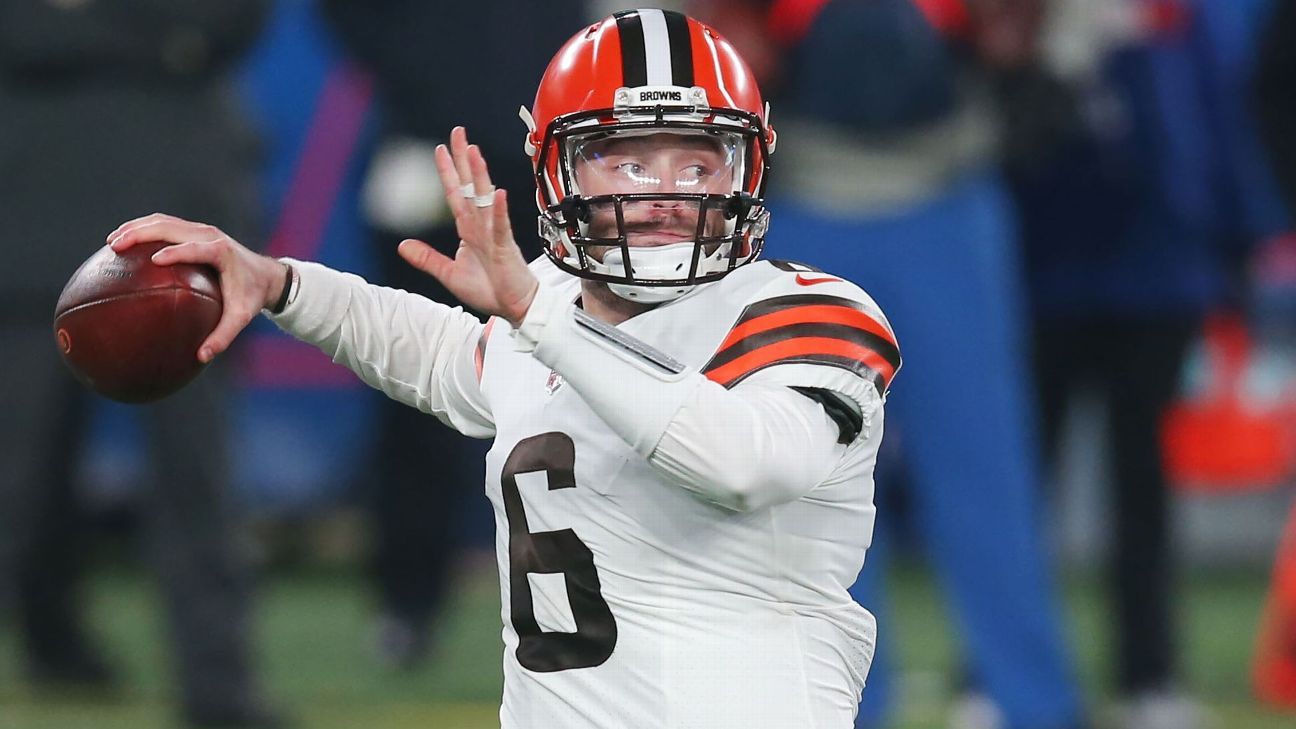 BEREA, Ohio — While the Cleveland Browns' training facility remained closed Thursday afternoon, quarterback Baker Mayfield claimed that even if the Browns aren't able to practice at all before Sunday night's playoff game at Pittsburgh, "it won't have an impact."
"Just adapt and play," Mayfield said. "It's win or go home. So whoever we have out there, we're counting on them. And we believe in those people. … it's hitting the curveball and adjusting each day."
The Browns already will be without head coach Kevin Stefanski and Pro Bowl guard Joel Bitonio, who both have tested positive for COVID-19. As a result of five positive tests earlier this week, Cleveland's facility has been closed since Tuesday morning and the Browns have been unable to practice.
Mayfield even admitted that he hasn't thrown a pass since this past Sunday's 24-22 victory over the Steelers, which clinched Cleveland's first playoff berth in 17 seasons.
The Browns added safety Ronnie Harrison to Cleveland's reserve/COVID-19 list on Thursday, which comprises six other starters, including star cornerback Denzel Ward. Safety Andrew Sendejo was activated off the list Thursday, but Harrison now will be out vs. Pittsburgh after he tested positive for COVID-19, a source confirmed to ESPN.
The Browns have been preparing for the Steelers remotely all week, even holding a virtual walk-through on Wednesday in lieu of practicing.
"All we wanted was a chance and we got it," Mayfield said. "We're in, and once you're in the dance anything can happen. However or whatever it takes to get a W on Sunday night, that's what our team's going to be ready to do."
Special-teams coordinator Mike Priefer will serve as acting head coach Sunday and noted he will "try to be an extension" of Stefanski when it comes to decision-making.
"He's done a great job with situational football," Priefer said Thursday. "I'm gonna try to do exactly what Kevin would want, in those situations."
Offensive coordinator Alex Van Pelt, who will be calling plays for Stefanski in Pittsburgh, said he too would try to channel the head coach.
"I want to stay true to his beliefs," Van Pelt said. "Obviously it will be a little bit different. Nobody calls it the same. … My hope is, there's not too many times he's yelling at his TV, going, 'What the heck are you doing?'"
Even though Stefanski will be able to communicate with the team by phone or video chat up until kickoff, according to NFL rules, Priefer said he would be giving the pregame speech Sunday but would keep it "short and sweet."
"I'm both honored and humbled to have this opportunity, but make no mistake, this is Kevin's team," Priefer said. "He has laid the foundation of a smart, tough, accountable, resilient team, and I will do whatever is asked of me to help the Cleveland Browns get a win on Sunday night.
"Our fans deserve our best effort. That is what we plan on giving them on Sunday."
Houston Texans CEO Cal McNair wants Deshaun Watson part of hiring process for coach
HOUSTON — A week after Houston Texans chairman and CEO Cal McNair said he hadn't heard back from quarterback Deshaun Watson since hiring general manager Nick Caserio, McNair said he has now "connected over texts" with Watson.
"It's no secret he's disappointed in the communication during the hiring process," McNair said, according to an interview with the Houston Chronicle and Fox 26 Houston.
On the day the Texans announced the hiring of Caserio, ESPN's Adam Schefter reported Watson was not happy with the process because, according to league sources, "Watson offered input on potential general manager candidates, but the Texans neither considered nor consulted with those endorsed by their franchise quarterback."
Now, McNair says the Texans "want [Watson] in the loop and part of the process" as Houston searches for its next head coach. Watson found out on social media, not from the team, that the Texans had hired Caserio, multiple sources told Schefter.
In the interview, McNair also said he will not fire Jack Easterby, the Texans' executive vice president of football operations. Earlier in the week, former Texans wide receiver Andre Johnson tweeted that he stood by Watson and criticized Easterby.
"The Texans organization is known for wasting players careers," Johnson tweeted. "Since Jack Easterby has walk into the building nothing good has happened in/for the organization and for some reason someone can't seem to see what's going on. Pathetic!!!"
McNair initially said Easterby would not be involved in the process of hiring the Texans' next general manager, but he said in Caserio's introductory news conference that he did ask for Easterby's feedback "on Nick as a leader" during the decision process.
"Jack and I have had a really special relationship," Caserio said. "It goes back a number of years. … I have a tremendous amount of respect and admiration for him. Any personnel decisions that will be made we'll make as a group, but ultimately that's a responsibility that Cal has instilled in me, is to handle the personnel side of the football operations. So that's the expectation moving forward."
Schefter also reported that after the Texans traded wide receiver DeAndre Hopkins, Watson's anger level was "a 2. … This time, it's a 10."
On Friday, Watson tweeted, "I was on 2 then I took it to 10." Less than 30 minutes later, Watson tweeted, "Future – Mo Reala vibes!" That song contains the lyrics, "I was on 2 then I took it to 10."
"Change is hard and we're going through change and I accept everything hasn't gone perfectly," McNair said in the interview. "It's just hard and we're working through it. If players, media and fans are upset, that's on me and I'll apologize for my actions or communications that have created mistrust and I accept those team's and fan's frustrations."
Urban Meyer to keep health in mind as new Jacksonville Jaguars coach
JACKSONVILLE, Fla. — Urban Meyer is older and wiser, which he says should help keep him healthier as he tries to turn around one of the NFL's worst franchises.
Meyer's health scares while he was the head coach at Florida and Ohio State — which were exacerbated by the stresses of running major programs and the immense pressure he put on himself to win — forced him to step away from the game. But the Jacksonville Jaguars' new head coach says he has learned from those experiences and a new approach will help him avoid further problems.
Not that losing still won't bother immensely, though.
"If you're asking me if I'm going to enjoy losing, I think we all know the answer to that," Meyer said Friday. "I'm older. It's something I'm going to be very conscientious of. It's something I'm going to watch very closely. I will be the head coach, but I'm going to hire great coaches that are going to be expected to do their job. I'm not going to be running around like a nut on the practice field. Those days are gone.
"I know what it's supposed to look like, and I want to be very demanding of everyone. It's something I'm going to watch very closely."
Meyer, 56, was diagnosed in January 2010 with esophageal spasms, which caused the severe chest pains he had been experiencing and sent him to the hospital the night after the 2009 SEC championship game. He began taking medication, made significant lifestyle changes, took a short leave of absence and eventually resumed coaching at Florida at the start of spring practice in March 2010. However, one day after the Gators' final regular-season game in 2010 — a 31-7 loss at Florida State — Meyer announced he was resigning for good and that his final game would be the Outback Bowl.
Meyer took the Ohio State job in November 2011 and over the next several years began experiencing severe headaches, which were related to an ongoing issue with a congenital arachnoid cyst in his brain that was first discovered when he was an assistant at Notre Dame in 1998. He had surgery in 2014 to drain some fluid tied to the cyst, and that helped for a while.
However, the severe headaches returned, and one forced him to his knees on the sideline during a game against Indiana in 2018. Meyer eventually announced on Dec. 4, 2018, that he was retiring from coaching after that season's Rose Bowl for health reasons.
Now he's back in the game, this time at the highest level and tasked with fixing a franchise that has lost 10 or more games nine times in the past 10 years. Owner Shad Khan is going with a coach-centric model, which means Meyer will have input on the hiring of the general manager, and Khan is having Meyer do a complete reevaluation of the organization.
First up is assembling a staff — Meyer called the next week a "critical time for the Jacksonville Jaguars organization" — and then evaluating the current roster and prepping for free agency and the draft.
Ryan Stamper, an Ohio State assistant athletic director who was a two-time captain for Urban Meyer as a player at the University of Florida, is joining Meyer's staff as a director of player assessment, a source told ESPN's Jeremy Fowler. Stamper spent nine years at Ohio State, and Jacksonville is his hometown.
Coaching in the NFL is a grind even in the offseason, especially if you're making significant changes and trying to learn how things operate at the same time. That's why questions about Meyer's health and whether his body can handle the stress better than it did at Florida and Ohio State will persist for as long as he's coaching. But he said he has consulted with his family, physicians, colleagues and friends and believes he's come up with an approach that will allow him to stay healthy.
"I'm very curious about the preventative [approach he can take], and that's what I've looked into in great detail," Meyer said. "I'm talking about the headache issues that I've dealt with. That's something that I'm going to watch closely. I've had long, detailed conversations with people that have helped me through that [as well as] physicians that are very close to me."
As for his family, which had not been shy about sharing concerns about his health at his other coaching stops, Meyer said they're on board with his decision to get back into coaching.
"We've had deep conversation, and they're all-in," Meyer said of wife Shelley, daughters Gigi and Nicki, and son Nate. "They've all got their Jaguars T-shirts. They're all grown now. That's the biggest difference. To me, that's a huge difference. You're not missing as much. The difference is I got two grandkids that I plan to shuttle back and forth as much as I can. That's very important to me. But the better part of my marriage is that's essential.
"So they're all-in and they're all Duval now."
Meyer's hiring has already had an impact on the Jaguars' season-ticket sales. Chad Johnson, the team's senior VP of sales and service and chief content officer, said that half of its total season-ticket deposits came in on Thursday after Meyer was hired (it was announced at 6:42 p.m. ET), and the team is eight times ahead of last year's pace at this point in the year.
Kansas City Chiefs WR Sammy Watkins out, RB Clyde Edwards-Helaire questionable vs. Cleveland Browns
KANSAS CITY, Mo. — The Chiefs will play without wide receiver Sammy Watkins in Sunday's divisional round playoff game against the Cleveland Browns at Arrowhead Stadium.
Watkins has a calf injury that prevented him from practicing all week.
The Chiefs also listed their leading rusher, Clyde Edwards-Helaire, as questionable for Sunday's game because of hip and ankle injuries. Edwards-Helaire practiced Wednesday on a limited basis but did no team work Thursday or Friday.
"A couple of days ago he moved around real well, and then we just kind of backed off of him," coach Andy Reid said. "He's still doing stuff, just not with the group. We'll just see how he does."
Watkins has missed six games this season and was fifth on the Chiefs with 37 catches, 421 yards and two touchdowns. The Chiefs will most likely replace him with Demarcus Robinson, who was third on the team with 45 receptions. Mecole Hardman (41 catches) and Byron Pringle (13) also could play.
"I don't think anyone blinks on that," Reid said of playing without Watkins. "You just giddyup and go. That's not because Sammy is not a great player. That's not it. That's just one of those things, how this team is wired."
If Edwards-Helaire doesn't play, the Chiefs would replace him with Le'Veon Bell and Darrel Williams. They combined to rush for 423 yards and three touchdowns this season for the Chiefs.