Despite struggles, benching Jared Goff 'was never part of the consideration,' Sean McVay says
Los Angeles Rams coach Sean McVay acknowledged Monday that his willingness to call out Jared Goff after a 23-20 loss to the San Francisco 49ers was a departure from his routine postgame comments, but McVay expressed confidence that his fifth-year quarterback can take it.
"I wouldn't say things if I didn't know there was broad shoulders to be able to handle it," McVay said, adding, "maybe while it was a little bit different approach, I think it was something that was honest that I know he's capable of correcting.
"If anything, I think it's a reflection of the confidence I have because I can be demanding of him in some of those settings whether it be publicly or privately with our team."
After Sunday's loss to the injury-plagued Niners, McVay did not shoulder the blame — a typical move for the fourth-year coach — but instead said bluntly, "Our quarterback has got to take better care of the football."
Goff had two passes intercepted and lost a fumble against the Niners, who have defeated the Rams in four straight games and also handed them their first loss at SoFi Stadium.
It was also the second time in the last four games that Goff has produced multiple turnovers in a loss. In Week 8, Goff had four turnovers – two interceptions and two fumbles – in a 28-17 loss to the Dolphins.
McVay says he did not consider benching Goff, who has four seasons remaining on an extension that guarantees $110 million, in either turnover-riddled loss.
"If I thought it was going to be the best thing to just take a deep breath and step away, then I'd say maybe, but not in either of those situations because both of those reflected kind of having an opportunity where there was enough plays made to get back in it," McVay said. "So yesterday that was never part of the consideration, nor was it really for Miami."
The Rams are 7-4 and remain in the hunt to win the NFC West as they prepare to play the 6-5 Arizona Cardinals on Sunday at State Farm Stadium.
This season, Goff has completed 67.2 percent of his passes (Ranks 15th) and has passed for 16 touchdowns (17th). Goff also has lost 14 turnovers — 10 interceptions and four fumbles — which ties him with Minnesota Vikings quarterback Kirk Cousins for the second-most turnovers in the NFL. Philadelphia Eagles quarterback Carson Wentz has lost 18 turnovers, the most in the league.
Minnesota Vikings offensive coordinator Gary Kubiak, 59, retires from NFL again
MINNEAPOLIS — The Minnesota Vikings will soon begin searching for their sixth offensive coordinator since 2014.
Gary Kubiak, who has been with the franchise since 2019 and spent last season as the Vikings' offensive coordinator, announced his retirement from the NFL on Thursday after 36 seasons as a coach and player.
"I've been on a football field for most of my life, and now I look forward to stepping away from the game and enjoying more time with my family and friends," Kubiak said in a statement. "I offer my sincere thanks to the owners and fans of the Minnesota Vikings, Denver Broncos, Baltimore Ravens, Houston Texans and San Francisco 49ers for giving me opportunities to be a part of this great game and for treating me and my family so well over the years.
"I'll miss the competition, the planning, game days and being part of a team. But, more than anything, I'll cherish the friendships I've made along the way with players, coaches and staff. I love the game of football and will forever be its biggest fan."
This is the second time Kubiak has announced his retirement from football in the last four years. Citing health concerns following the 2016 season, Kubiak retired as the head coach of the Broncos one year after leading Denver to a championship in Super Bowl 50. He is the only person in NFL history to have played in the Super Bowl and later won it as a head coach with the same team.
Kubiak returned to the Broncos six months after retiring in 2017 and worked with the scouting staff as a senior personnel adviser for two seasons. He was hired by Vikings coach Mike Zimmer in 2019 to preside over the offense as an adviser and assistant head coach while Kevin Stefanski called plays as the offensive coordinator. Once Stefanski was hired as the head coach of the Cleveland Browns, Kubiak took over coordinator duties.
"Gary did a tremendous job with us at the Vikings over the past two seasons," Zimmer said. "I have a great deal of respect for him as a coach and as a person, and I'm glad I was able to coach with him. He has had one heck of an NFL career as a player, assistant coach and head coach, and I am really happy for Gary and his wife Rhonda as they head off to their ranch. We will all miss Gary at the Vikings organization and wish him the very best."
In one season as Minnesota's offensive coordinator, the Vikings finished fourth in total offense and 11th in scoring under Kubiak with quarterback Kirk Cousins rebounding from throwing 10 interceptions in his first six games to finishing a 7-9 campaign with a career-high 35 touchdowns.
Running back Dalvin Cook earned MVP consideration while rushing for a career-high 1,557 yards and 17 total touchdowns while Justin Jefferson broke the franchise's record for catches and receiving yards as a rookie and is second all-time with 1,400 receiving yards in his first NFL season.
According to several league sources, the Vikings are considering promoting from within to fill the offensive coordinator opening. Kubiak's son, Klint, arrived with his father in 2019 as the Vikings' quarterbacks coach and could be in line to take over his father's post. Klint Kubiak, 33, has never called plays in the NFL.
Offensive line coach/run game coordinator Rick Dennison and tight ends coach Brian Pariani were also brought in with Gary Kubiak in 2019.
Atlanta Falcons lure Dean Pees out of retirement to be defensive coordinator, source says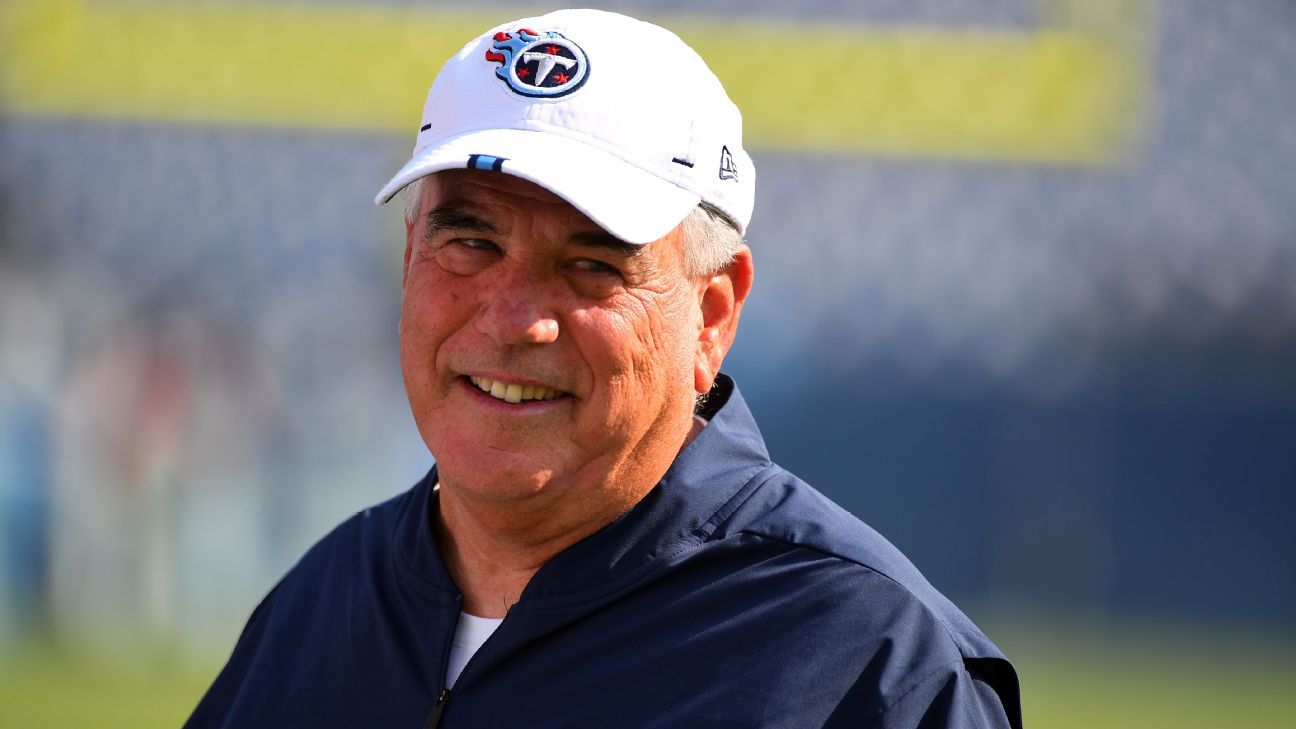 Dean Pees is coming out of retirement to join Arthur Smith's coaching staff with the Atlanta Falcons as the team's new defensive coordinator, a source confirmed to ESPN on Friday.
NFL Network was the first to report the move.
Pees' second retirement last just more than a year after he walked away from the Tennessee Titans following the 2020 season.
He has 47 years of coaching experience, including 16 NFL seasons.
Pees, 71, retired for the first time after the 2018 season when he left after six seasons with the Baltimore Ravens. Six weeks later, he was hired by Mike Vrabel as the Titans' defensive coordinator.
The veteran coach is one of eight defensive coordinators in NFL history to coach in a Super Bowl with two different teams. He was part of a Super Bowl-winning staff for both the Ravens and New England Patriots.
Pees, known for elaborate schemes and his ability to confuse quarterbacks, broke into the NFL as a linebackers coach with the Patriots in 2004.
The Falcons on Thursday also hired Marquice Williams as special teams coordinator, a source confirmed to ESPN.
ESPN's Turron Davenport contributed to this report.
What the addition of Dwayne Haskins means for Ben Roethlisberger, Steelers – Pittsburgh Steelers Blog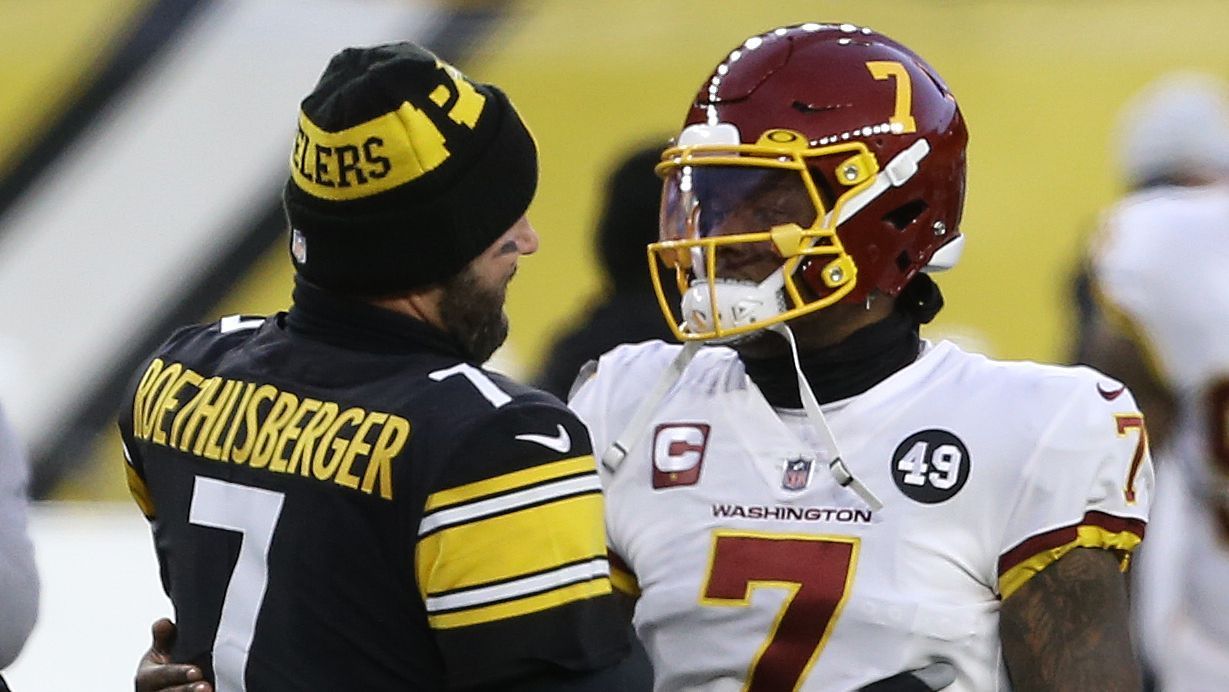 There's a new quarterback in Pittsburgh, but he's not the quarterback — at least not right now.
The Steelers announced the signing of former first-round pick Dwayne Haskins to a reserve/future contract Thursday after the quarterback met with a group of Steelers coaches on a visit.
What does Haskins' signing mean for his future and the Steelers?
The Steelers have Ben Roethlisberger and Mason Rudolph under contract for another season so why sign Haskins?
Adding Haskins is a low-risk move for the Steelers. Whether it's this year or next, the Steelers will need a new starting quarterback with Roethlisberger, who will be 39 in March. They don't have the cap space or trade capital to bring in a high-priced quarterback, either off the open market or in a trade, and with the No. 24 pick in the draft, they're well out of the Trevor Lawrence/Justin Fields sweepstakes.
The Steelers could still opt to take a quarterback like Alabama's Mac Jones or Florida's Kyle Trask with their first-round pick, but they have other pressing needs, like offensive tackle. The Steelers should do their homework on any available, low-cost quarterbacks between now and Week 1, and Haskins is a great starting point. However, evaluating potential fits in team culture and offensive scheme becomes more difficult if the 2021 offseason mirrors the virtual nature of the 2020 schedule.
Why a reserve/futures contract?
These contracts are given to players, like Haskins, who didn't finish the season on a roster. The new league year doesn't start until March, which is why it's called a "futures" deal. The financials of Haskins' one-year deal weren't disclosed, but it's safe to say he was inexpensive. The Steelers don't have much wiggle room with their 2021 cap and can't afford to spend money for what is essentially an extended tryout.
Does this mean Roethlisberger is retiring?
Not necessarily. After the wild-card loss to the Cleveland Browns, Roethlisberger said he would pray and consult his family on the next step. He has a cap hit of $41.2 million in 2021, the final year of his contract, and he said he hopes the Steelers want him back if he chooses to go that route.
The Haskins signing doesn't signal that Roethlisberger has made up his mind to end his career. He was a first-round pick, but Haskins is still a developmental project and showed he isn't ready for a starting job in either of his two seasons with Washington.
If anything, Haskins' addition puts the future of third-string QB Josh Dobbs in question. Dobbs is a free agent in March, and the Steelers won't need to bring him back with Haskins on the roster. Haskins could even push Rudolph for the No. 2 spot behind Roethlisberger, but he's not the heir apparent to the starting job.
Why Pittsburgh?
It's clear Haskins needs a fresh start after being released by Washington on Dec. 28. Mike Tomlin's school of tough love could be a good place for Haskins to rehabilitate his on- and off-field image. It's also worth noting that Haskins hired agent Brian Levy on Jan. 1 to represent him. Levy, whose agency, Goal Line Football, touts "Faith, Family and Football" on its home page, also represents Tomlin. You can connect the dots.
Is Haskins any good?
Haskins hasn't come close to fulfilling his potential. Rivera said he has franchise-quarterback talent, but Haskins' numbers don't reflect that. In 16 games, Haskins has thrown 12 touchdowns to 14 interceptions with a completion percentage of just 60.1%. By comparison, Roethlisberger's completion percentage this season was 65.6%.
Louis Riddick analyzes the impact Ben Roethlisberger has on the Steelers.
Haskins passed for 4,831 yards with 50 touchdowns and eight interceptions in his sophomore season at Ohio State, but he was still regarded as a raw talent. Wowed by those numbers, Washington Football Team owner Dan Snyder urged his team to select Haskins in the first round with the No. 15 overall pick against the wishes of the organization's football side.
Washington's plan when drafting Haskins was to sit him for a season to allow him time to develop and mature, as urged by Ohio State's coaches. Instead, quarterback injuries combined with a dismal record led the staff to play Haskins. Though he struggled early, his final two games of the 2019 season showed signs of improvement with four total touchdowns and no interceptions. His total QBR for that season was 28, but in the last two games, it was 74.8. This season, though, more closely mimicked his first seven starts. He posted a total QBR of 31 and threw five touchdowns to seven interceptions.
Could this actually work?
It's tough to say at this point. A primary knock of Haskins in Washington was his lack of preparation and immaturity. Haskins was fined twice during the season, including a $40,000 penalty when he attended a girlfriend's birthday party with strippers while maskless following the Dec. 20 loss to Seattle.
Haskins improved enough from his rookie season to earn all first-team reps in training camp and be named the starter and a team captain for the 2020 season. That ended, though, when he was benched after four games, throwing four touchdown passes against three interceptions.
When Haskins returned to game action thanks to injuries to Kyle Allen and Alex Smith, he didn't show any signs of improvement. In his final start, a 20-13 loss to the Carolina Panthers, Haskins posted a total QBR of 4.1. He was stripped of his captainship following the birthday party incident and cut after the Panthers loss.
Given a chance to learn from Smith, one of the NFL's all-around good guys who also mentored wunderkind Patrick Mahomes, Haskins regressed. In Pittsburgh, Haskins will have the opportunity to be shepherded by Tomlin, but he'll also be watching Roethlisberger, who isn't attacking practice the same way he did in his earlier years.
Though he grew to work with and help the development of his young wide receivers this season, Roethlisberger isn't known for his positional mentorship, putting the onus on the coaching staff to guide Haskins. Perhaps that's what it will take to maximize Haskins' potential. Washington's attempts to help Haskins didn't work, but maybe Tomlin and his no-nonsense approach will have more success.
ESPN's John Keim contributed to this story.