Atlanta Braves' Charlie Morton has faint memories of previous stint with team
ATLANTA — Charlie Morton is back with the team where his big league career started.
Not that he has a lot of memories from that rookie season with the Atlanta Braves.
"That was 11 years ago," Morton said Wednesday.
Actually, it was 12.
"I don't remember a whole lot about it," he continued. "I was only with the Braves in the big leagues for about four months."
Morton returned to the Braves after agreeing to a $15 million, one-year contract, further bolstering the rotation of a team that came within one victory of reaching the World Series.
While only a handful of people Morton knows are still in the organization, he said he was impressed by what he saw from afar.
"This is as talented a group as you're going to find," he said. "I'm excited to get in that clubhouse, be around them and get to know them."
Morton, 37, lives in Bradenton, Florida, and had hoped to return to the Tampa Bay Rays for a third season. But the team declined his $15 million option, so he settled for the next best choice.
Returning to the Braves.
General manager Alex Anthopoulos made it clear right away that he was interested in Morton, especially after the Braves struggled throughout the shortened 2020 season to put together an effective rotation.
"They were aggressive early," Morton said. "They were one of the first teams to call. Alex was checking in frequently."
With four young children, Morton said proximity to home was the most important factor in his decision. Atlanta is a short flight from the Tampa Bay area. The Braves' spring training complex in North Port is less than an hour's drive away.
"My hope was that we could stay close to home," Morton said. "The situation in Tampa was awesome."
Morton was called up by the Braves in 2008. He made 15 starts on a team that lost 90 games, going 4-8 with a 6.15 ERA.
He was back in Triple-A the following year when the Braves dealt him to the Pittsburgh Pirates in a package of prospects for Nate McLouth.
Morton turned out to be quite the late bloomer, breaking through with the best years of his career well into his 30s. He went 29-10 over two seasons with the Houston Astros, making the All-Star Game for the first time at age 34. He moved on to the Rays in 2019, going 16-6 with a 3.05 ERA and making the Midsummer Classic for the second time.
Along the way, Morton has become one of baseball's greatest postseason pitchers. The right-hander is the first hurler in big league history to earn four victories in winner-take-all playoff games.
After going 2-2 with a 4.74 ERA in nine starts this past season, he burnished his clutch credentials by winning three more games in the playoffs. His streak of seven straight postseason wins finally ended with a Game 3 loss to the Dodgers in the World Series.
Morton certainly has a chance to get back to the playoffs with the Braves, who have captured three straight NL East titles. He joins another free-agent acquisition, Drew Smyly, in a rotation led by Cy Young contender Max Fried and rookie sensation Ian Anderson, who is only 22.
Atlanta is also counting on the recovery of another budding star, 23-year-old Mike Soroka, who went down this past season with a torn Achilles. When the rotation is at full strength, it should be one of the best groups in all of baseball.
"They've got some really good pitchers," Morton said. "I didn't realize how young they were were. I looked them up and I was like, 'Dang.'"
You'll have to excuse his lack of knowledge about the Braves.
It's been a while.
Brad Hand, Washington Nationals agree to 1-year, $10.5M deal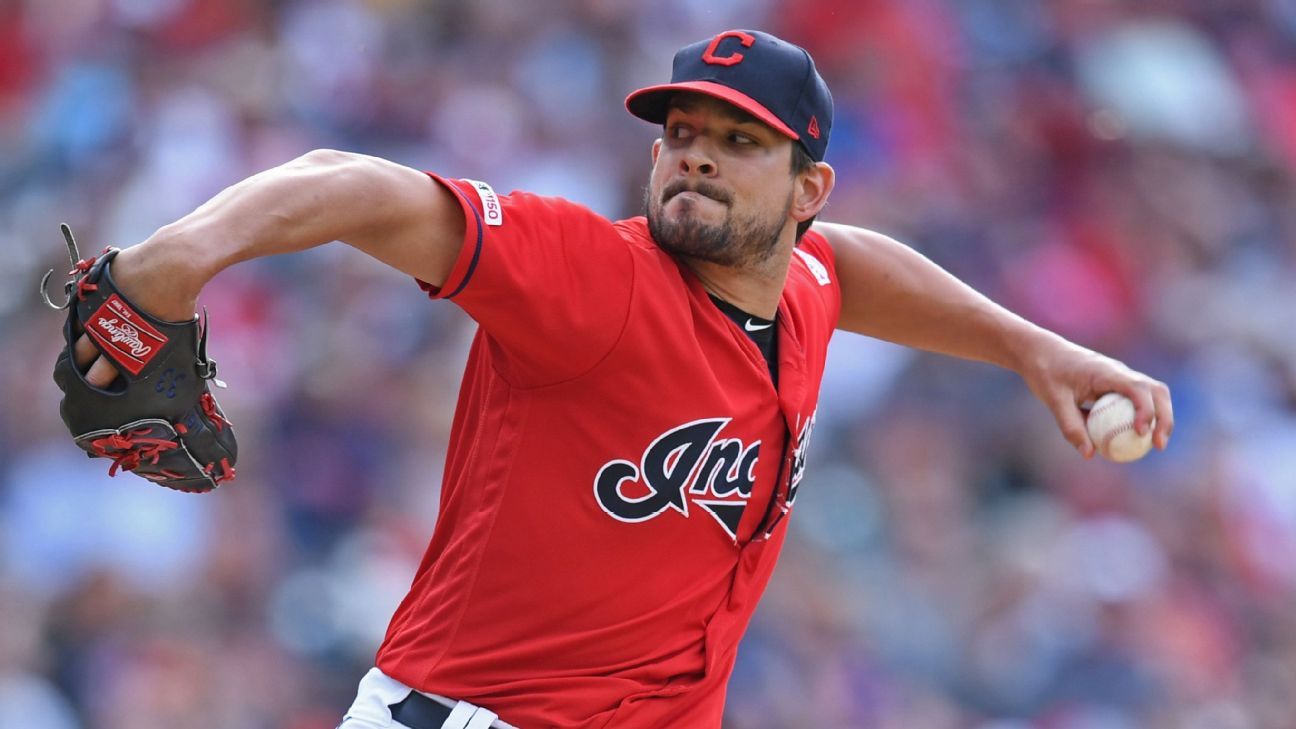 Closer Brad Hand and the Washington Nationals are in agreement on a one-year, $10.5 million contract, sources familiar with the deal told ESPN's Jeff Passan on Sunday.
Hand had another solid season as the closer for the Cleveland Indians, leading the major leagues with 16 saves, but he was a victim of the team's salary purge heading into 2021. Cleveland declined his $10 million option in exchange for a $1 million buyout.
Cleveland tried to deal the 30-year-old left-hander after the season but was unable to find a trade partner.
Hand was acquired from the San Diego Padres at the trade deadline in 2018. In two-plus seasons with Cleveland, he had 58 saves in 65 chances and a 2.78 ERA and 154 strikeouts in 107 innings over 111 games.
Hand went 2-1 with a 2.06 ERA and was 16-for-16 in save chances during the pandemic-shortened 2020 60-game season. However, his blown save against the New York Yankees led to the Indians' elimination in the American League Wild Card Series.
The Padres claimed Hand off waivers from Miami early in the 2016 season and he developed into a two-time All-Star. Known for his slider, he has 105 saves in 128 chances, with a 3.65 ERA and 624 strikeouts in 608 2/3 innings pitched.
The Associated Press contributed to this report.
In Jameson Taillon, did New York Yankees trade for latest starter who will dominate after leaving Pittsburgh Pirates?
The year 2018 wasn't that long ago. It really wasn't, despite how it seems. The Red Sox beat the Dodgers in the World Series that year and while it feels like an epoch has passed since that happened, the highlight reels of that matchup are in full color, not black and white.
I fixate on 2018 because after the New York Yankees agreed to acquire right-hander Jameson Taillon from the Pittsburgh Pirates in exchange for a middling package of four prospects on Sunday, that year has a special relevance for Bronx denizens sketching out their team's new-look rotation.
Let's say Luis Severino returns from his Tommy John surgery rehabilitation sometime in June, Corey Kluber's shoulder holds up enough that he holds down a rotation spot, Gerrit Cole keeps being Gerrit Cole, Taillon is a full go and, just for the fun of it, that New York's low-key minor league invite, righty Jhoulys Chacin, bounces back enough to win the No. 5 slot. The quintet would probably slot like this: Cole, Taillon, Kluber, Severino and Chacin.
In 2018, those five starters combined to go 83-38 (a .686 winning percentage) over 164 starts with a 3.16 ERA and 9.6 strikeouts per nine innings. They put up 94 quality starts. Together, they compiled 22.3 WAR, per baseball-reference.com. The MLB-leading WAR total for any rotation in 2018 was 22.4, by the Astros, but of course that total was bolstered by the presence of Cole.
New York Yankees acquire pitcher Jameson Taillon from Pittsburgh Pirates for four prospects
The New York Yankees have added another bounce-back candidate to their starting rotation, acquiring Jameson Taillon from the Pittsburgh Pirates for four minor league prospects, according to ESPN's Jeff Passan and multiple reports.
Pittsburgh will receive pitchers Miguel Yajure and Roansy Contreras, infielder Maikol Escotto and outfielder Canaan Smith in the trade, sources told Passan.
Taillon, 29, was the No. 2 overall draft pick in 2010 and was a 14-game winner for the Pirates in 2018. But the hard-throwing right-hander appeared in just seven games in 2019 and missed all of last season while recovering from Tommy John surgery on his pitching elbow.
The Yankees agreed to the trade less than two weeks after signing two-time Cy Young award winner Corey Kluber, who also is looking to rebound from back-to-back injury-marred seasons.
Taillon and Kluber, if healthy, could provide the Yankees with much-needed experience and depth in their rotation behind ace Gerrit Cole.
With free agent Masahiro Tanaka's future uncertain and fellow veteran J.A. Happ having joined the Minnesota Twins, New York could face a shortage of proven starting pitching options after Cole.
Besides Taillon and Kluber, the other candidates for the Yankees' rotation include left-hander Jordan Montgomery, who has appeared in just 12 games since his 2018 Tommy John surgery, youngsters Deivi Garcia and Clarke Schmidt, former All-Star Luis Severino, who missed all of last season because of Tommy John surgery, and Domingo German, who also missed the entire 2020 season while serving a suspension under Major League Baseball's domestic violence policy.
Taillon is on schedule to return in 2021 after recovering from the August 2019 operation, which was the second Tommy John surgery on his right elbow.
The trade marks the latest step in a rebuild for the Pirates, who also acquired multiple prospects in earlier offseason trades that sent All-Star first baseman Josh Bell to the Washington Nationals and starting pitcher Joe Musgrove to the San Diego Padres.
Pirates manager Derek Shelton told reporters last month that any trades would be made "for the betterment of the Pirates moving forward."
As for the Yankees, the trade also reunites a pair of former teammates in Taillon and Cole, who were both highly touted prospects in Pittsburgh's organization and played together with the Pirates in 2016 and 2017.
Taillon most recently pitched in the majors in 2019, when he went 2-3 with a 4.10 ERA in seven starts. He went 14-10 with a 3.20 ERA the previous season.
Taillon, who is under contract for $2.25 million in 2021, also missed time during the 2017 season while battling testicular cancer. His first Tommy John surgery was performed in 2014, when he was pitching in the Pirates' minor league system.
The Associated Press contributed to this report.