Jim Hanifan, St. Louis coaching great, dies at age 87
ST. LOUIS — Jim Hanifan, the former St. Louis Cardinals football coach who returned to the city as offensive line coach to help the Rams win the Super Bowl, has died. He was 87.
Hanifan's daughter, Kathy Hinder, told the St. Louis Post-Dispatch that he died Tuesday at Missouri Baptist Hospital. She said the cause of death hasn't been determined, but said it wasn't related to COVID-19.
The Cardinals' head coach from 1980 through 1985, Hanifan is best known for his offensive lines as an assistant with St. Louis and Washington. He coached star tackle Dan Dierdorf and notorious guard Conrad Dobler with St. Louis, then directed the "Hogs" in Washington.
Hanifan went 39-49-1 with the Cardinals, reaching the playoffs in 1982. He won Super Bowls as an assistant with Washington after the 1991 season and the Rams after the 1999 season.
Hanifan came to St. Louis in 1973 along with head coach Don Coryell from San Diego State. He also coached in the college ranks at Utah and California, and was an NFL assistant in San Diego, too, and interim head coach of the Falcons.
A star receiver at Cal, Hanifan played a season for Toronto in the Canadian Football League. After his coaching career, he was a color analyst on Rams broadcasts.
Los Angeles Chargers coach Brandon Staley makes sure to connect with QB Justin Herbert
New Los Angeles Chargers coach Brandon Staley made sure he didn't take too long to introduce himself to quarterback Justin Herbert, but priorities are priorities.
"I called him on my way back home," Staley said about who he contacted first when he learned Sunday that he would be the Chargers' head coach. "I promise I called [wife] Amy first, but then I called Justin because I wanted him to hear my voice. And I wanted him to know about my family … and then I just wanted to listen for a little bit. Wanted him to hear my energy, maybe see a little bit of vision of what I have for what we want to get accomplished together."
The 38-year-old Staley said he FaceTimed with Herbert on the way to the Costa Mesa facility Thursday for the introductory news conference "because I wanted him to see us before our big day."
Staley was the coordinator for the Los Angeles Rams' top-ranked defense. And while he wouldn't go into specifics as to what he's looking for in an offensive coordinator or offensive scheme, the former college quarterback has an understanding of what it takes on both sides of the ball.
"I'm looking for somebody with character and capacity and that can lead our staff and be part of our vision for how to get the best out of our players."
Staley did say he would be making the defensive calls and hopes to have a staff in place "in a few weeks."
Chargers general manager Tom Telesco was asked why he hired a guy with so little NFL coaching experience, including zero on the offensive side.
"Having his background, coming up in high school and college on offense. I think that helps," Telesco said. "I'm watching the Baltimore and Buffalo playoff game and one coach [Sean McDermott] had a defensive background and the other [John Harbaugh] had a special-teams background. And they both have young quarterbacks and they're both doing very well.
"There are different ways to do this," said Telesco, adding that Staley's brain is "very sharp."
Woody Johnson to resume principal owner duties with New York Jets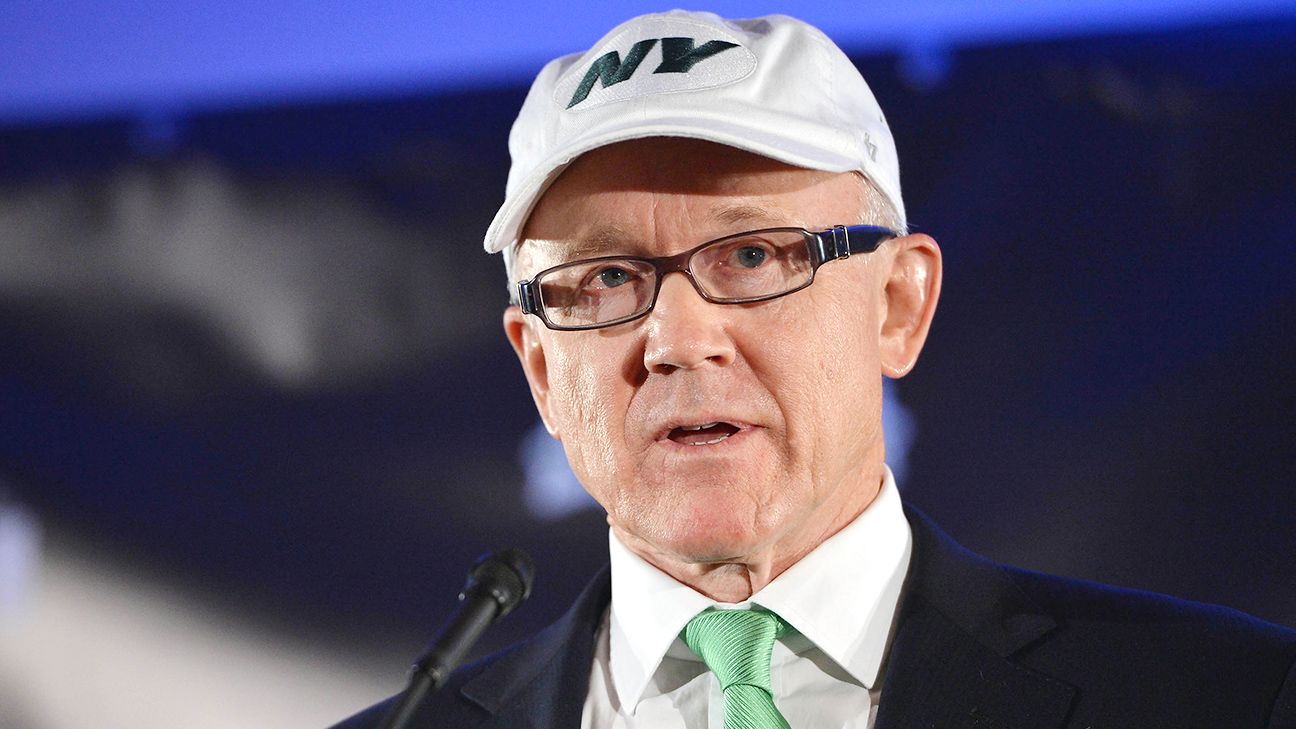 FLORHAM PARK, N.J. — The New York Jets have a new coach and a new way of doing business.
On the day they introduced Robert Saleh as head coach, the Jets announced a reorganization of their power structure. It will be headed by chairman Woody Johnson, who flew back to the United States on Thursday after a completing a three-year term as U.S. ambassador to the United Kingdom.
Johnson will resume his duties as the principal owner "quite soon," according Christopher Johnson, who ran the franchise during his older brother's absence. Christopher will become the vice chairman and will maintain a prominent role in the day-to-day operations.
Instead of reporting directly to ownership, as the two previous coaches did, Saleh will work directly with general manager Joe Douglas. This means greater power for Douglas, who spearheaded the coaching search and still will report to ownership.
Christopher Johnson said the new setup is "a clean and simple way to do things." One aspect of the dynamic is unusual in that Saleh hasn't met Woody Johnson, who has owned the team since 2000. Woody Johnson, who lived in London, wasn't directly involved in the coaching search.
"I haven't had a conversation with Woody yet," Saleh said during a virtual news conference. "[I'm] really excited to get the opportunity in the near future."
Saleh said he's "not concerned at all" about his lack of familiarity with his boss, adding that he expects it to be "a collaborative effort."
Woody Johnson will have the final say on all decisions, according to Christopher Johnson, who expects "a fair amount of continuity" because of a strong working relationship with his brother.
While serving overseas, Woody Johnson was the subject of U.S. government investigation that concluded he made racist and sexist remarks. Johnson issued a denial.
In four seasons with Christopher Johnson as the acting owner, the Jets went 18-46, finishing in last place in the division three times.
Clearly, Saleh is walking into a massive challenge, but he was upbeat and confident during his introduction to the media.
"Get used to the mantra: All gas, no brake," said Saleh, who signed a five-year contract.
Saleh, who spent the past four seasons as the San Francisco 49ers' defensive coordinator, said he won't call the defensive plays. That will allow him to be a CEO-type coach, a departure from the previous staff — a welcome change from the organization's point of view. Former coach Adam Gase called the offensive plays and focused mainly on that side of the ball.
Saleh will entrust the defensive playcalling to newly hired coordinator Jeff Ulbrich, mostly recently the Atlanta Falcons' interim defensive coordinator.
Former 49ers passing-game coach Mike LaFleur will be the offensive coordinator, Saleh confirmed.
The biggest question facing Saleh is the future of quarterback Sam Darnold. Repeating Douglas' public stance on Darnold, Saleh praised the former first-round draft pick, but he stopped short of committing to him as the starter.
Saleh said he's still evaluating the roster. With the second pick in this April's draft, the Jets could opt for a quarterback. He wasn't about to tip their hand.
"He's got unbelievable arm talent," Saleh said of Darnold, the NFL's lowest-rated passer in 2020. "There's a reason why he was the No. 3 pick in the [2018] draft. He's fearless in the pocket. He's got a natural throwing motion. He's mobile. He's extremely intelligent. He's tough as nails. His reputation in the locker room is unquestioned.
"You can see all those qualities on tape and around the building by the way people speak about him."
Ultimately, the decision belongs to Douglas, who has the final say on the roster.
The prevailing theme in the news conference was Saleh's leadership and ability to connect with players, something the Jets felt was lacking under Gase.
"When we met him," Christopher Johnson said of Saleh, "we knew we had our coach."
Saleh, trying to rebuild the culture, already has reached out to every player via text. He said there's "a lot of talent on this roster" — he gushed about defensive tackle Quinnen Williams — yet he acknowledged there's a lot of work to be done.
"It will take time," he said, "but everything we do will be designed to win championships in the future."
Minnesota Vikings offensive coordinator Gary Kubiak, 59, retires from NFL again
MINNEAPOLIS — The Minnesota Vikings will soon begin searching for their sixth offensive coordinator since 2014.
Gary Kubiak, who has been with the franchise since 2019 and spent last season as the Vikings' offensive coordinator, announced his retirement from the NFL on Thursday after 36 seasons as a coach and player.
"I've been on a football field for most of my life, and now I look forward to stepping away from the game and enjoying more time with my family and friends," Kubiak said in a statement. "I offer my sincere thanks to the owners and fans of the Minnesota Vikings, Denver Broncos, Baltimore Ravens, Houston Texans and San Francisco 49ers for giving me opportunities to be a part of this great game and for treating me and my family so well over the years.
"I'll miss the competition, the planning, game days and being part of a team. But, more than anything, I'll cherish the friendships I've made along the way with players, coaches and staff. I love the game of football and will forever be its biggest fan."
This is the second time Kubiak has announced his retirement from football in the last four years. Citing health concerns following the 2016 season, Kubiak retired as the head coach of the Broncos one year after leading Denver to a championship in Super Bowl 50. He is the only person in NFL history to have played in the Super Bowl and later won it as a head coach with the same team.
Kubiak returned to the Broncos six months after retiring in 2017 and worked with the scouting staff as a senior personnel adviser for two seasons. He was hired by Vikings coach Mike Zimmer in 2019 to preside over the offense as an adviser and assistant head coach while Kevin Stefanski called plays as the offensive coordinator. Once Stefanski was hired as the head coach of the Cleveland Browns, Kubiak took over coordinator duties.
"Gary did a tremendous job with us at the Vikings over the past two seasons," Zimmer said. "I have a great deal of respect for him as a coach and as a person, and I'm glad I was able to coach with him. He has had one heck of an NFL career as a player, assistant coach and head coach, and I am really happy for Gary and his wife Rhonda as they head off to their ranch. We will all miss Gary at the Vikings organization and wish him the very best."
In one season as Minnesota's offensive coordinator, the Vikings finished fourth in total offense and 11th in scoring under Kubiak with quarterback Kirk Cousins rebounding from throwing 10 interceptions in his first six games to finishing a 7-9 campaign with a career-high 35 touchdowns.
Running back Dalvin Cook earned MVP consideration while rushing for a career-high 1,557 yards and 17 total touchdowns while Justin Jefferson broke the franchise's record for catches and receiving yards as a rookie and is second all-time with 1,400 receiving yards in his first NFL season.
According to several league sources, the Vikings are considering promoting from within to fill the offensive coordinator opening. Kubiak's son, Klint, arrived with his father in 2019 as the Vikings' quarterbacks coach and could be in line to take over his father's post. Klint Kubiak, 33, has never called plays in the NFL.
Offensive line coach/run game coordinator Rick Dennison and tight ends coach Brian Pariani were also brought in with Gary Kubiak in 2019.