Hall of Fame manager Tommy Lasorda's condition improves
FULLERTON, Calif. — Hall of Fame manager Tommy Lasorda's condition has improved while he remains hospitalized in Southern California.
Los Angeles Dodgers spokesman Steve Brener said Tuesday that the team's 93-year-old former manager has been taking online calls from former players and coaches at a hospital in Orange County. Lasorda lives in Fullerton. The team first announced he was hospitalized on Nov. 15.
Lasorda attended the team's Game 6 victory over the Tampa Bay Rays on Oct. 27 in Texas that clinched the Dodgers' first World Series title since 1988.
Lasorda had a record of 1,599-1,439 while managing the Dodgers from 1976 to 1996, guiding them to World Series championships in 1981 and '88. The franchise won four National League pennants and eight division titles under Lasorda. He had a heart attack in June 1996 and retired from managing the Dodgers the following month.
In 2000, Lasorda managed the U.S. Olympic baseball team to a gold medal at the Sydney Games.
In 2012, Lasorda was hospitalized in New York after having a heart attack.
Ranking every MLB free agent for the 2020 offseason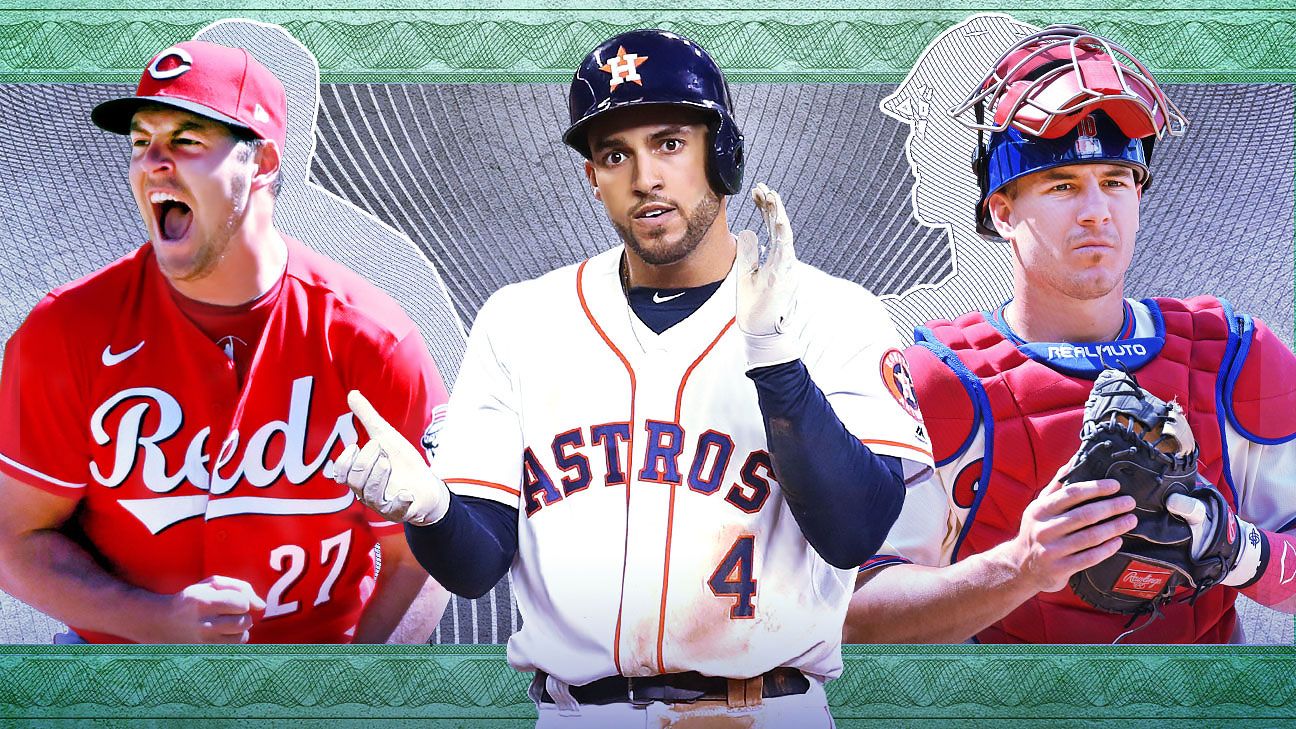 With MLB free agency open for business, we're ranking all the players on the open market. These free agents are ranked based on the guaranteed money I expect each player will be offered. I say offered rather than each player's projected contract only because of Trevor Bauer, who I'm betting will get offered more than $50 million, perhaps well more than $50 million guaranteed, but I'm thinking he will opt for a one-year deal. I'm sure some other players will make decisions of this sort, but those will be more random and market-driven (hence harder to project now) and much lower-stakes decisions, such as choosing a one-year, $8 million offer instead of two years, $13 million.
As you'll notice in reading the comments on each player, this market is almost impossible to predict, even more so than most years, and the recent contract options declined by clubs have served to set the market in a way, though I expect it to improve after the holidays. The top of the market (i.e., unique players without substitutions of comparable quality) should be something like what we've come to expect. The bigger-money deals should all happen later in the offseason, so it might be months before we see anything constituting market-setting deals rather than settling primarily for cheap one-year deals. There are also some new additions from the non-tenders in early December, adding to the free-agent pool and bringing our list past 100 players.
Teen Cuban infielder Yiddi Cappe among Miami Marlins' international signings
MIAMI — An 18-year-old infielder from Cuba is among 11 players from four countries to sign with the Miami Marlins during Major League Baseball's international signing period.
Yiddi Cappe is widely regarded as one of baseball's top 10 international prospects. He's 6-foot-3 and 175 pounds and has played shortstop in national competition in Cuba since he was 16.
The Marlins also signed players from the Dominican Republic, Venezuela and Mexico.
New York Yankees, DJ LeMahieu finalizing six-year, $90M contract, sources say
Second baseman DJ LeMahieu and the New York Yankees are finalizing a six-year, $90 million contract, sources familiar with the agreement told ESPN's Jeff Passan.
LeMahieu finished third in the American League MVP voting after winning the AL batting title with an MLB-leading .364 average during the pandemic-shortened 2020 season, becoming just the fourth player in Yankees history to lead the majors in that category, along with Mickey Mantle (.353 in 1956), Joe DiMaggio (.381 in 1939) and Lou Gehrig (.363 in 1934).
It was the second career batting title for the 32-year-old LeMahieu, who won the National League crown with a .348 batting average for the Colorado Rockies in 2016. He joined Hall of Famer Ed Delahanty (1899, 1902) as the only players to win batting titles in both leagues.
LeMahieu had rejected a one-year, $18.9 million qualifying offer by the Yankees.
While seeing most of his playing time at second base, LeMahieu, who made $12 million in 2020, also saw action at first and third base. He has elite contact skills and plate discipline, finishing the season with 10 home runs, including an MLB-best seven to the opposite field, 41 runs scored and 27 RBIs, and he led the AL in on-base percentage (.421), OPS (1.011) and OPS+ (177).
"If you add up the last two years in Major League Baseball, he's on the short list of short lists for being the best player in the sport," Yankees manager Aaron Boone said after the regular season. "He's been that impactful. In the biggest moments, he always seems to deliver."
In two seasons with the Yankees, LeMahieu has a .336 batting average over 195 games, with 36 home runs, 129 RBIs, 150 runs scored and a .922 OPS. During that span, he led the majors with 80 multihit games and was second with 268 hits while posting a .384 batting average with runners in scoring position.
He also defied the perceived norm by hitting home runs with more frequency while playing for the Yankees (every 24 plate appearances) than he did with the Rockies (76).
The only hiccup in his 2020 season came when he landed on the 10-day injured list in August after he sprained his thumb on an awkward swing. It was the second time he had injured that thumb; he also broke a small bone in it while with the Rockies in 2018.
The three-time All-Star selection has a Silver Slugger Award (2019) and three Gold Glove Awards (2014, 2017, 2018) to his name, showing his value at the plate and in the field. In 2018, while with the Rockies, he led all major leaguers in defensive regression analysis.
In 10 major league seasons, LeMahieu, a second-round pick by the Chicago Cubs in the 2009 draft, has a .305 career batting average with 85 home runs, 478 RBIs, 651 runs scored and a .787 OPS.
ESPN's Marly Rivera contributed to this report.