Comeback player of year? Steelers' Ben Roethlisberger also making push for first MVP – Pittsburgh Steelers Blog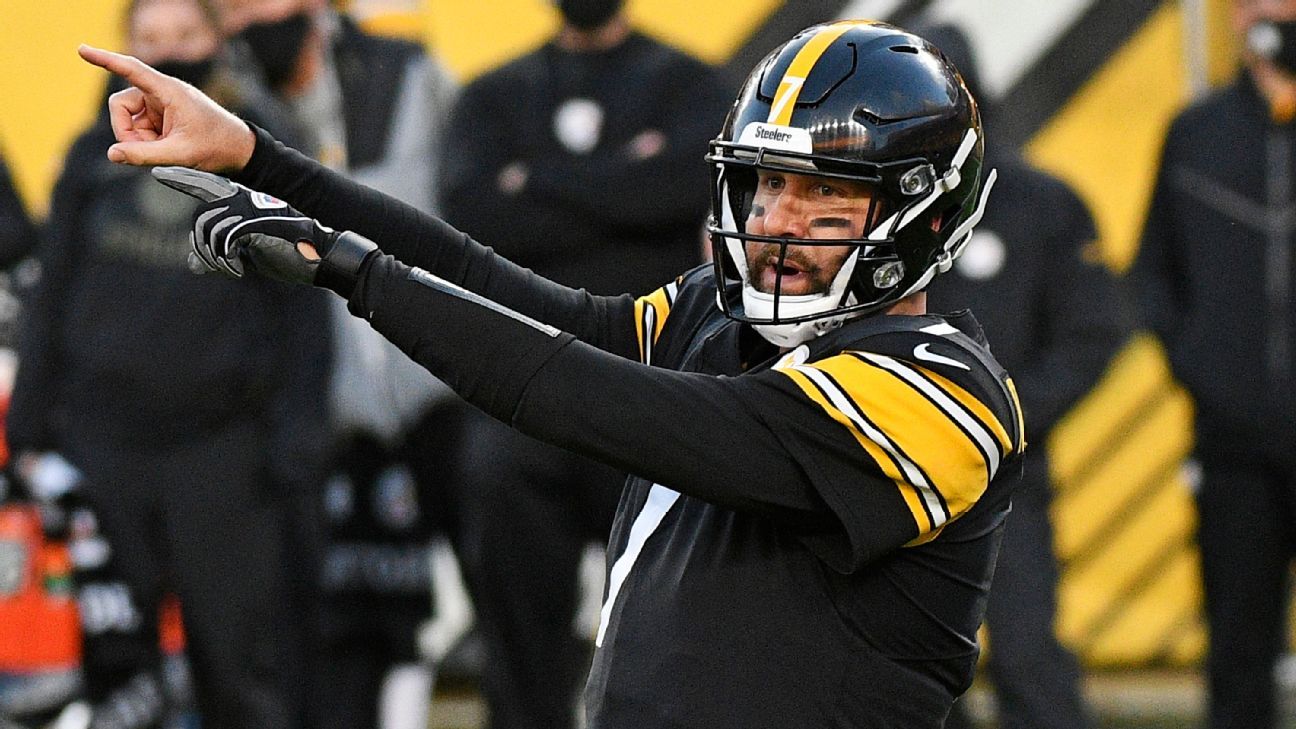 PITTSBURGH — Even before Ben Roethlisberger took his first snap of the 2020 NFL season, the Pittsburgh Steelers quarterback was a favorite for one of the most prestigious leaguewide individual awards.
In winning it, he could join the ranks of Peyton Manning, Tom Brady and Drew Brees.
That award, of course, is the NFL Comeback Player of the Year.
Here's how the postseason bracket looks at the moment and what scenarios lie ahead.
• Playoff picture (ESPN+) »
• Playoff Machine: See scenarios »
• Standings » | Football Power Index »
But more than halfway through the season, as the quarterback of the lone undefeated team, Roethlisberger is also a contender for another award that would put him in an elite club with those same quarterbacks: Most Valuable Player.
"Most awards usually somewhat get attached to the stars that are winning," Steelers offensive coordinator Randy Fichtner said. "For that alone, [Roethlisberger]'s got the one undefeated team in the National Football League. He's playing really solid, good football. I don't know. I think in the end people will probably have to keep looking back and say, 'Wow,' how he played and what he did. …
"I would think Comeback Player of the Year. I would think MVP. I would think AFC Players of the Week, months maybe. We just have to keep stacking them. He just has to keep working them the way he is. I just see an excitement out of him that is really refreshing."
Entering Thursday's game against the Baltimore Ravens (8:20 p.m. ET, NBC) and reigning MVP Lamar Jackson, Roethlisberger has the fifth-best odds at +1800 for this year's MVP award, according to Caesars Sportsbook by William Hill. He trails favorite Patrick Mahomes, Russell Wilson (+300), Aaron Rodgers (+450) and Kyler Murray (+1500).
But even being in the top five is a significant gain for the 38-year-old quarterback who started out the season with the 19th-best odds (+5000) to win the award.
Through 10 games, Roethlisberger has 2,534 yards, 24 touchdowns and five interceptions. His passing numbers are outside the top 10, but 24 touchdowns is fourth-best in the league. And, he has fewer interceptions than 22 starting quarterbacks this season.
Roethlisberger doesn't have the same stat lines as guys like Mahomes and Wilson and isn't making the same kind of flashy plays as Mahomes and Murray. But his intangibles make the case that he should be considered for the award.
"Situationally, he's been phenomenal in the red, a lot of great communication on and off the field with his guys that are out there," Fichtner said. "We talk on the sidelines. He's been really awesome. I could say this would be his best collection of a bunch of games, but he's had a lot of great games.
"We've seen those over the past. I think he's really zeroed in on the things that are going to help this football team have a chance to win every game or at least give us the chance in the fourth quarter to win the game."
Coming back from a year on the sideline, Roethlisberger returned to a young group of receivers, most of whom lacked a rapport with him. He quickly built a connection and figured out their strengths. In wins against the Ravens and the Dallas Cowboys, Roethlisberger used that knowledge to change plays at the line, instructing his receivers where to go just before the snap. That ability to put them in a position to be successful makes him an incredibly valuable asset — and it's a big reason they're 10-0.
"His ability to make things up as he goes, on the fly and adjust on the fly, he's kind of creating his own plays based off of what he sees from the defense," rookie receiver Chase Claypool said. "I think that's very unique. He might be the only one who's been able to do it this year successfully because more than half our points come from when he's calling the shots."
Through 16 seasons and two Super Bowl wins, including in his second season, Roethlisberger has never won the regular-season MVP award. Not only that, he's never even received a vote. Quarterbacks like Derek Carr, Chad Pennington and Philip Rivers have received at least one vote since 2004, but not Roethlisberger.
"Ben came on to the scene and had immediate success," ESPN NFL analyst and former NFL quarterback Dan Orlovsky said. "The bar and the standard was set immediately for Big Ben, and what those guys didn't have was immediate success. They kind of built towards it, so when they finally got it in their third or fourth year, it was, 'Oh great!' Where Ben was kind of thrust in right away and had immediate success.
"So that was just always the expectation. So if he just had a really good season, it probably was never good enough in people's eyes because the standard was so high initially."
It's one of the only things missing from a résumé that also includes a passing title, franchise records, six Pro Bowls, Offensive Rookie of the Year and two Super Bowl titles.
The reason for the lack of MVP attention, tight end Eric Ebron speculated Monday, might be because the NFL takes a similar approach to the NBA. The award often goes to players with the best statistics, not necessarily the player most instrumental to a championship-level team's success.
"It doesn't always go to the person with the better record," Ebron said of the MVP award. "It usually goes to the person that has the most astronomical stats, but it doesn't make sense because that's not the most valuable player. The most valuable player is the person that is technically winning. I'm not surprised. I feel like, in general, we're just taking the NBA route."
With such a strong field, this may not be the year Roethlisberger wins it all, but his statistics and intangibles make him at least deserving of consideration — and maybe even a vote or two, even if his teammates know he doesn't need them to solidify one of the best seasons of a likely Hall of Fame career.
"He doesn't need any votes or anybody else to validate his résumé or what he brings to this game, what type of player he is," running back James Conner said. "Votes, they're whatever. We're just trying to win."
Washington QB Taylor Heinicke makes case to 'be in this league a little longer' with effort vs. Tampa Bay Buccaneers
LANDOVER, Md. — Washington Football Team quarterback Taylor Heinicke didn't win the game; he did, however, win over a team — and maybe more.
Heinicke, starting for the injured Alex Smith, made plays with his arm and legs — just not enough of them — in Washington's 31-23 loss to the Tampa Bay Buccaneers in the wild-card round of the playoffs on Saturday. Heinicke didn't get the win, but he did complete 26 of 44 passes for 306 yards, one touchdown and one interception. He ran for a score as well.
And a player who was out of the league for nearly two years did prove a point.
"I deserve to be in this league a little longer," said Heinicke, a pending free agent. "I've been on the other side not playing and it's not fun, not as fun as this."
In the process, Heinicke also picked up support from his teammates — and even a star player on another team. Kansas City Chiefs quarterback Patrick Mahomes, who is represented by the same agency as Heinicke, tweeted his approval of his performance.
After the game, Washington receiver Terry McLaurin talked to Heinicke as they exited the field. McLaurin just wanted to let him know how much he appreciated him.
"I'll take No. 4 on my team any day of the week, twice on Sunday," McLaurin said. "I hope we're teammates in the future.
"That dude plays with no fear. He's going to give his players a chance to make plays. He extends plays, he runs, he takes hits. He does everything you ask a quarterback to do in this league. … He gave us a chance."
Heinicke did not know he was going to start until coach Ron Rivera told him Friday afternoon. However, Washington kept its decision quiet until several hours before the game. Smith has been bothered by a strained right calf and; with Tampa Bay known for its defensive pressure, his inability to escape would be too costly.
"We didn't want to put him in a bad situation," Rivera said.
He later said, "We were really fired up about giving (Heinicke) that opportunity."
Heinicke ran six times for 46 yards and scored on an 8-yard run late in the third quarter. On that play, his first three options were covered and the pocket was being pinched. He somehow ducked under pressure and slipped through an opening in the pocket. He took off for the left sideline and dove into the end zone, the ball hitting the pylon. In the process, he suffered an AC joint separation in his left shoulder.
"I wanted to get that touchdown," he said.
On the ensuing series he was hit hard twice and headed to the sideline in obvious pain. He then jogged to the locker room, but returned without missing a series.
"His grit, his willingness to fight, willingness to compete," Washington corner Kendall Fuller said when asked what he saw in Heinicke. "It definitely motivated the whole team."
When Washington called in December, Heinicke was taking four math courses at Old Dominion University. It was finals week; he received permission to take two of the finals after the season.
Washington liked that Heinicke knew offensive coordinator Scott Turner's system, having played in the same one for two years with Minnesota and for one in Carolina. That's when he got his only start prior to Saturday. He exited that game with an elbow injury that later required surgery. Durability has been a question for the 6-foot-1, 210-pound Heinicke.
He was released by Carolina in the final cuts in August of 2019 and spent the year out of football. He eventually signed with the St. Louis BattleHawks of the XFL, but did not play in any of their five games. The end appeared near for the 2015 undrafted free agent.
He impressed his Washington teammates.
"The way he carries himself, he's a true pro," Washington tackle Morgan Moses said. "I can't tell you why he was on the street before we picked him up. He has every quality of a player you want. I'm just glad we got him. No words to explain the performance that he had today. He stepped up on a big-time stage and I commend him for that."
Moses had watched Heinicke play some in college.
"The guy's an awesome player," Moses said. "He has that 'It' factor and you can't teach that."
That 'It' factor paid off on the series after Heinicke returned from his injury. He led a 75-yard touchdown drive capped by a pretty 11-yard pass to Steven Sims, leading him to the corner of the end zone.
"It was gutsy," Rivera said. "The young man earned an opportunity."
He'll now have to wait a while to see if, or when, the next one arises.
"Everything that happened in the past month and a half, to go out there and do that I'm proud of myself, happy the coaches believed in me and gave me the opportunity," Heinicke said. "I hope I can do it next year."
With home playoff loss, Russell Wilson, Seattle Seahawks finish flat after stellar start to season
SEATTLE — Russell Wilson's 2020 season began with a record touchdown pace and talk of his first career MVP award. It ended abruptly with a thud and a question: What happened to the quarterback and the high-scoring Seattle Seahawks offense that couldn't be stopped over the first two months?
The struggles for Wilson and Co. culminated Saturday as the Seahawks lost 30-20 in the wild-card round to the Los Angeles Rams at an empty Lumen Field, snapping what had been the third-longest home winning streak in NFL postseason history. The Seahawks hadn't lost a home playoff game since the 2004 season and had won in all six tries under Pete Carroll before Saturday.
"I hate this feeling," Wilson said postgame, still unshowered two hours after the final whistle.
Wilson threw for 174 yards, two touchdowns and an interception that was returned for a Rams score. His 40.7% completion rate on 11-of-27 passing was tied for the second lowest of his career while his 17.6 Total QBR was his worst in 16 career playoff games, according to ESPN Stats & Information research.
It didn't help that he was sacked or put under duress on half of his dropbacks, even with All-Pro defensive tackle Aaron Donald on the sideline for much of the second half. The Rams' 50% pressure rate was the highest Wilson has faced this season and the second-highest he has faced in the playoffs. He was sacked five times.
"They did a pretty good job up front obviously. They got me a few times," Wilson said. "I think that for us, we just didn't play our best game. We weren't on our stuff as much as we needed to be."
Carroll didn't fault Wilson for his pick-six in the second quarter, which came on an attempted screen pass to DK Metcalf that cornerback Darious Williams read perfectly.
"I thought it was really hard," Carroll said of Wilson's afternoon. "They make the fantastic interception for a touchdown, which is a great play by the kid. He took a shot and got it, and that was a big play in this game as it kind of loomed the whole time, that seven points. That's no mistake on Russ's part at all. That's just a great play by them. But it was hard. When you get rushed like that, get sacked five times, against that group, it's just tough."
Wilson was also sacked five times when the Seahawks beat the Rams 20-9 in Week 16 to win the NFC West.
"This is no surprise," Carroll said. "This is how they've played against other people. We needed to keep this game like we played them last time, where we kept it down, where they scored nine points and we found a way to score 20."
Wilson threw an NFL-record-tying 16 touchdown passes through the first four games while establishing himself as the early-season frontrunner for MVP. Over the first nine weeks, the Seahawks' offense led the league in scoring with 34 points per game while Wilson led the league with 28 touchdown passes. But over the final eight weeks of the regular season, Seattle's points-per-game average dropped to 22.6 (which was 16th) while Wilson threw 12 TD passes (tied for 13th).
His yards-per-attempt average went from 8.56 yards (fourth) to 6.4 (28th). He also averaged 6.4 yards per attempt Saturday.
Carroll regretted that the Seahawks didn't adjust better to the way opponents were defending their deep passing in the play-action game, traditionally a big part of Seattle's offensive success.
"That doesn't mean we throw the ball over their head all of the time and going for just bombs," Carroll said. "But there's a lot of space we create in the play-passing game, and it seemed like during the course of the season, after the half-way point, we had hit so much early, we had been so effective that people found a way to stay back and just try to bleed us and make us have to throw the ball underneath, and we were maybe really going for it more than we needed to and didn't take advantage of switching gears a bit there as effectively as we would like."
Wilson's 40 touchdown passes and 13 interceptions in the regular season were both career highs.
The veteran pointed to injuries along the offensive line as one reason for the Seahawks' struggles following their hot start. They had their preferred starting five of Duane Brown, Mike Iupati, Ethan Pocic, Damien Lewis and Brandon Shell for their first four games but only one other time over the second half.
However, that starting five was together again Saturday and it was no match for the Rams' defensive front … with or without Donald. They generated six pressures and two sacks after Donald left with just over 10 minutes left in the third quarter.
Seven of the Seahawks' nine accepted penalties were against the offense, with five on their offensive line. One came on a false start in the fourth quarter when Seattle broke the huddle late — despite having extra time as Lewis was getting examined for an injury on the field — and was rushing to get a fourth-and-1 play off in time. The Seahawks then punted.
Carroll said they were discussing plays and that he got in the middle of it, contributing to the delay. He said he didn't mind punting after the penalty because that was initially a consideration.
Wilson threw both of his touchdown passes to Metcalf against a standard four-man pass-rush but was only 8 of 18 for 130 yards on those plays. His 44.4% completion rate against standard pressure was his lowest in a game since Week 15 of the 2017 season against the Rams (44.0%), as per ESPN Stats & Information research.
The Seahawks finished only 2 of 14 on third down, starting 0 for 8 before their first conversion with less than four minutes left in the third quarter. They ran for 136 yards on 25 attempts.
"I wish we would have found the way to run the ball more, to slow them down, and keep them from rushing us," Carroll said. "… When Donald went out we wanted to try to throw the ball, without him in the pass rush and we weren't able to get enough out of it."
The Seahawks won 12 regular-season games for the first time since 2014 and won the NFC West for the first time since 2016.
"We have a great football team. Don't get me wrong," Wilson said. "You guys can write whatever you want, but the reality is we have a great football team and I think we have guys, but we didn't play great today. That's what matters most."
This marked the second time in three seasons they were bounced in the wild-card round and the fifth time in their last five trips to the playoffs that they came up short of the NFC title game.
"We'll heal, but it's unfortunate because these years are hard to come by," Carroll said. "It's hard to get to 12 wins. It's hard to get yourself situated with a playoff game at home. We've won a lot of playoff games at home, and it is tough to give one away. We have won every one of those playoff games with a raucous, wild, crazy fan base, and not today, we needed you. I wish we could have had you. That's not an excuse, that's just unfortunate."
Taylor Heinicke's playoff performance earns respect from NFL peers, sports world
When the 7-9 Washington Football Team had to take on Tom Brady and the Tampa Bay Buccaneers in the first round of the National Football League playoffs, little did they know that their best shot at pulling off an upset would rely upon journeyman quarterback Taylor Heinicke, making just his second career start in the NFL — and his first in the postseason.
And while Washington came up short, losing 31-23, Heinicke's performance turned heads. He threw for 306 yards and a touchdown — while also rushing for another score — on 26-for-44 passing. Heinicke garnered high praise for his gutty attempt to outduel Brady as the Bucs' QB won his NFL-record 31st playoff game, with a lot of observers convinced this game gives the well-traveled Heinicke some staying power.
You can start with the game's reigning best quarterback, Patrick Mahomes:
Regardless of the outcome what a great game by Heinicke!

— Patrick Mahomes II (@PatrickMahomes) January 10, 2021
Veteran defensive tackle Gerald McCoy also celebrated what Heinicke had achieved in making things close:
Taylor Heinicke needs to walk out of the stadium with his head held high!! He played extremely well!!

— Gerald McCoy (@Geraldini93) January 10, 2021
Retired wideout Torrey Smith, a two-time Super Bowl champ, was also impressed:
The Washington Football Team was fun to watch this year. Coach Rivera has them going in the right direction. Shoutout to Taylor Heinicke for one hell of a performance, I've been telling y'all he belongs in this league! Until next time @NBCSWashington pic.twitter.com/zK9qYogF9Z

— Torrey Smith (@TorreySmithWR) January 10, 2021
Smith was joined by retired vets like place-kicker Lawrence Tynes and QB Charlie Whitehurst:
WFT regardless of the outcome here has to give this man Heinicke a little cheese and security. He belongs in the #NFL

— 𝗟𝗮𝘄𝗿𝗲𝗻𝗰𝗲 𝗧𝘆𝗻𝗲𝘀 (@lt4kicks) January 10, 2021
Heinicke gets to play football next year after that performance. Hell, he'll get a signing bonus. #heinicke

— Charlie Whitehurst (@cwhitey6) January 10, 2021
But the ultimate in cool veteran kudos? All-time Washington great Joe Theismann, the quarterback of the Super Bowl XVII champs, chimed in:
My hats off to Taylor. You made us proud.

— Joe Theismann (@Theismann7) January 10, 2021
The Old Dominion product even got some love across sports from his old stomping grounds, as the Baltimore Orioles' Triple-A affiliate in Norfolk celebrated his performance:
Take a bow, Taylor Heinicke. That was a blast to watch. Making all of us in the 757 proud 👏👏👏

— Norfolk Tides (@NorfolkTides) January 10, 2021
Not too shabby for an undrafted free agent who had to drift from the Vikings to the Patriots, Texans and Panthers — not to mention the XFL's St. Louis Battlehawks — since first entering the NFL in 2015 before landing with Washington.