Doug Mathis, Brendan Sagara to share pitching coaching duties for Rangers
ARLINGTON, Texas — The Texas Rangers plan to utilize Doug Mathis and Brendan Sagara as co-pitching coaches in 2021, with Mathis directing from the dugout and Sagara working out of the bullpen.
The pair replaces Julio Rangel, whose contract wasn't renewed after two seasons on the job. Rangers pitchers combined for a 5.07 ERA over the past two years, ranking 26th in the majors despite the success of veterans Lance Lynn and Mike Minor.
The Rangers announced the change Monday, saying Mathis and Sagara will split duties and responsibilities while trying to mold a young pitching staff.
Mathis, 37, was Texas' bullpen coach last season, his first on the staff of third-year manager Chris Woodward.
The 47-year-old Sagara was set to be the pitching coach with Texas' Triple-A team in Nashville but instead coached at the club's alternate training site after the minor league season was canceled. This will be Sagara's first major league coaching role after also working in player development with the Chicago Cubs and Miami Marlins.
Texas also announced that Bobby Wilson was named catching coordinator and will work with catchers at the major and minor league levels. The 37-year-old Wilson ended a 17-year playing career in 2019 and had planned to manage the Rangers' Double-A affiliate in Frisco this season. He also worked at the alternate site before joining the major league staff near the end of the regular season.
Chicago White Sox manager Tony La Russa scheduled to change plea in drunken driving case
PHOENIX — Chicago White Sox manager Tony La Russa is scheduled to change his plea to misdemeanor charges stemming from his drunken driving arrest nine months ago on a freeway in Phoenix. The Hall of Fame manager, who had previously pleaded not guilty to the two drunken driving charges, is scheduled to change his plea on Dec. 21 in Maricopa County Justice Court.
Authorities say La Russa, who won a World Series with Oakland and two more with St. Louis, blew out a tire on the grey Lexus he was driving when he hit a curb. Tests taken the night of his arrest showed his blood alcohol concentration was .095 — above the legal limit of .08.
The arrest occurred on Feb. 24, but the charges were filed on Oct. 28 — one day before his hiring by Chicago.
La Russa pleaded guilty to driving under the influence in Florida in 2007 after police found him asleep inside his running sport utility vehicle at a stop light and smelling of alcohol.
La Russa was hired by Chicago in a surprise move after Rick Renteria was let go in what the team said was a mutual decision.
Texas Rangers plan for Isiah Kiner-Falefa to be starting shortstop over Elvis Andrus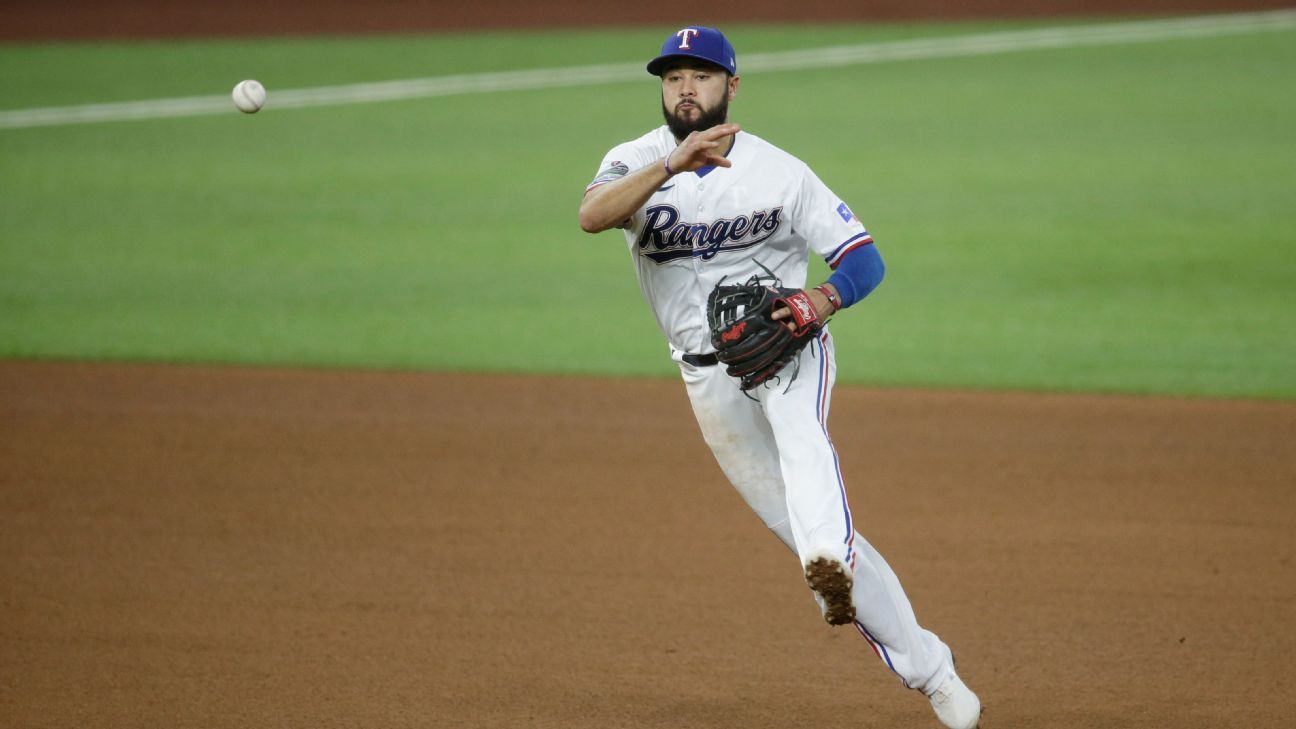 The Texas Rangers will give Gold Glove-winning third baseman Isiah Kiner-Falefa the opportunity to be their starting shortstop next season and have told Elvis Andrus to prepare to play all infield positions.
Andrus, at 32 the longest-tenured Ranger after 12 seasons, is the only player remaining from their back-to-back World Series appearances in 2010 and 2011.
Manager Chris Woodward said Tuesday that the Rangers wanted to give both Kiner-Falefa and Andrus clarity on the plans so they would know how to approach their offseason workouts.
"This wasn't an easy decision based on what Elvis has done for the organization. We've had many discussions about this. But I think it comes down to, do we believe in Kiner as a shortstop? I want to see it. I want to answer that question," Woodward said. "Can he handle the position? I believe he can."
Woodward said Kiner-Falefa still had to earn the starting spot at shortstop, and has told Andrus he would have the opportunity to "prove us wrong."
Andrus played only 29 games last season because of lingering back issues and hit only .194 with three homers and seven RBI. He is owed $28.5 million over the next two seasons.
The 25-year-old Kiner-Falefa started 15 games at short, and made 42 starts at third base after earning that spot with his performance in camp before the pandemic-delayed and reduced schedule. The Rangers had signed veteran third baseman Todd Frazier last offseason, but he ended up splitting time between third and first base before getting traded at the deadline.
Kiner-Falefa hit .280 in his third big league season. The Rangers had even used him as a catcher his first two seasons as a way to get him in the lineup.
"He's a natural shortstop. He's always been a plus defender," general manager Jon Daniels said. "He's taken a step forward with the bat, and I think as we look at not just this year but the next few years, you've obviously got a pretty unique free agent class a year from now, and I think as we look forward we want to make sure we've answered some of the big questions we might have not just now but in future offseasons and future times of potential acquisitions."
Second baseman Rougned Odor, at 26 and also signed for two more seasons, will also have to compete to keep his starting job. He led Texas with 30 RBI in 38 games and matched Joey Gallo with a team-best 10 homers, but hit only .167. Seven of his 11 hits in September were homers, and he struck out 47 times in 138 at-bats.
Nick Solak led all MLB rookies with 56 hits while primarily playing in the outfield. But his best position is second base, where he had 16 starts.
"He has to prove that he can handle the second base position defensively. That is probably the most important piece of this," Woodward said. "Let's focus on second base to see how good of a second baseman he can possibly be. I think we'll see a better version of him."
New York Mets, reliever Trevor May reach 2-year deal, sources say
The New York Mets have reached agreement on a two-year contract with right-handed reliever Trevor May, sources confirmed to ESPN.
The deal is pending a physical and could be official as soon as Wednesday, the sources said.
May, 31, was 1-0 with a 3.86 ERA and two saves in 24 appearances for the Minnesota Twins last season.
His velocity has consistently risen, from 91.9 mph in 2014 to 96.4 mph in 2020, with a full-time switch to the bullpen in 2016 and Tommy John surgery in 2017.
May has spent all six seasons in the majors with the Twins and is 23-21 with a 4.44 ERA and seven saves in 215 appearances, including 26 starts.
May figures to join a Mets bullpen that includes Edwin Diaz, Dellin Betances, Jeurys Familia, Brad Brach and Jacob Barnes.
New York's front office is being run by Sandy Alderson, who returned to the Mets as team president on the day that Steven Cohen completed his $2.42 billion purchase from the Wilpon and Katz families.
The news of May's agreement was first reported by SNY.
ESPN's Jeff Passan, Kiley McDaniel and The Associated Press contributed to this report.