Cowboys DC Mike Nolan feels heat after hot sauce mishap during conference call
FRISCO, Texas — When the Dallas Cowboys practice Wednesday, defensive coordinator Mike Nolan might be on the injury report. The reason? Tabasco.
Nolan had to step away from his weekly conference call with reporters on Monday because he got some hot sauce in his eye in the middle of answering a question about the effectiveness of pass-rusher DeMarcus Lawrence.
"He's been active every week as far as, I think, disrupting the quarterback. He's escaped several times to do that," Nolan said. "Obviously, the frustration for him as well is — look, it's when he misses them. Whoop, excuse me. I've got something in my eye. Just had some Tabasco on my finger, and it went in my eye. That wasn't good. Ugh. Terrible, geez. I'm sorry."
It has been that kind of season for Nolan.
The Cowboys are on pace to allow 555 points this season. They have given up 243 points, which is more than they have given up in 11 seasons in franchise history, not counting the strike season in 1982, and equal to what they allowed in 1992.
Nolan was able to clean out his eye and return to the news conference.
"My eye feels a lot better," he said, "but it was burning."
Pittsburgh Steelers' Maurkice Pouncey placed on COVID list
PITTSBURGH – After three postponements, Wednesday's game between the Pittsburgh Steelers and Baltimore Ravens is officially on, but the Steelers won't have a key member of their offensive line. Veteran center Maurkice Pouncey was placed on the reserve/COVID-19 list just hours before the game, a source told Adam Schefter.
Without Pouncey, the team will turn to center JC Hassenauer to start in his place. The Alabama product has played center primarily in clean up minutes this season, and he's also taken special teams reps in every game.
Pouncey is the fourth Steeler on the current list, including James Conner, Stephon Tuitt and Jerald Hawkins.
Though the Steelers lost Pouncey, they did get back special teams coordinator Danny Smith, who was out with an illness designation on Saturday, and he was cleared to return to coach against the Ravens. Quarterbacks coach Matt Canada, who was out with the same designation, has also been cleared to return.
Lions put starters Desmond Trufant, Danny Shelton on IR as interim coach makes debut
The Detroit Lions placed starting cornerback Desmond Trufant and defensive tackle Danny Shelton on injured reserve Wednesday, taking two starters away from interim head coach Darrell Bevell as he prepares for his first game as a head coach.
Trufant injured his hamstring on Thanksgiving against Houston — the third time he's hurt a hamstring this season and the second time he has landed on injured reserve. Shelton suffered a knee injury in the loss to the Texans as well.
Both signed with Detroit this offseason, and considering the potential for a complete regime change after the firings of general manager Bob Quinn and head coach Matt Patricia on Saturday, it's possible they have played their final games in Detroit.
Bevell also said receiver Kenny Golladay (hip) and cornerback Jeff Okudah (shoulder) would miss Wednesday's practice, something to watch leading into Sunday. Golladay had practiced Wednesday the past two weeks before not practicing the rest of the week and eventually missing the game.
"It's a day-in, day-out thing where we monitor it and we push him to a certain level," Bevell said. "And the next day see how that level, the body reacts to it, and then we come back the next day and go from that plan that day forward."
Bevell also said running back D'Andre Swift (concussion) is closer to returning.
With Trufant out and Okudah, who was injured against Carolina on Nov. 22, missing practice, the Lions could be short-handed at corner with just Justin Coleman, Amani Oruwariye and Mike Ford available, although Darryl Roberts will begin practicing Wednesday as he works to come back from injured reserve.
Bevell said he's been in touch with the quartet of people replacing Quinn as general manager to work through what they need to do.
"We do have other guys that we'll continue to work with the roster," Bevell said. "And by the end of the week we'll feel comfortable with who we'll have out there."
The Lions also announced that third-round pick Julian Okwara would return to practice as he continues to recover from injured reserve.
Minnesota Vikings activate WR Adam Thielen from COVID list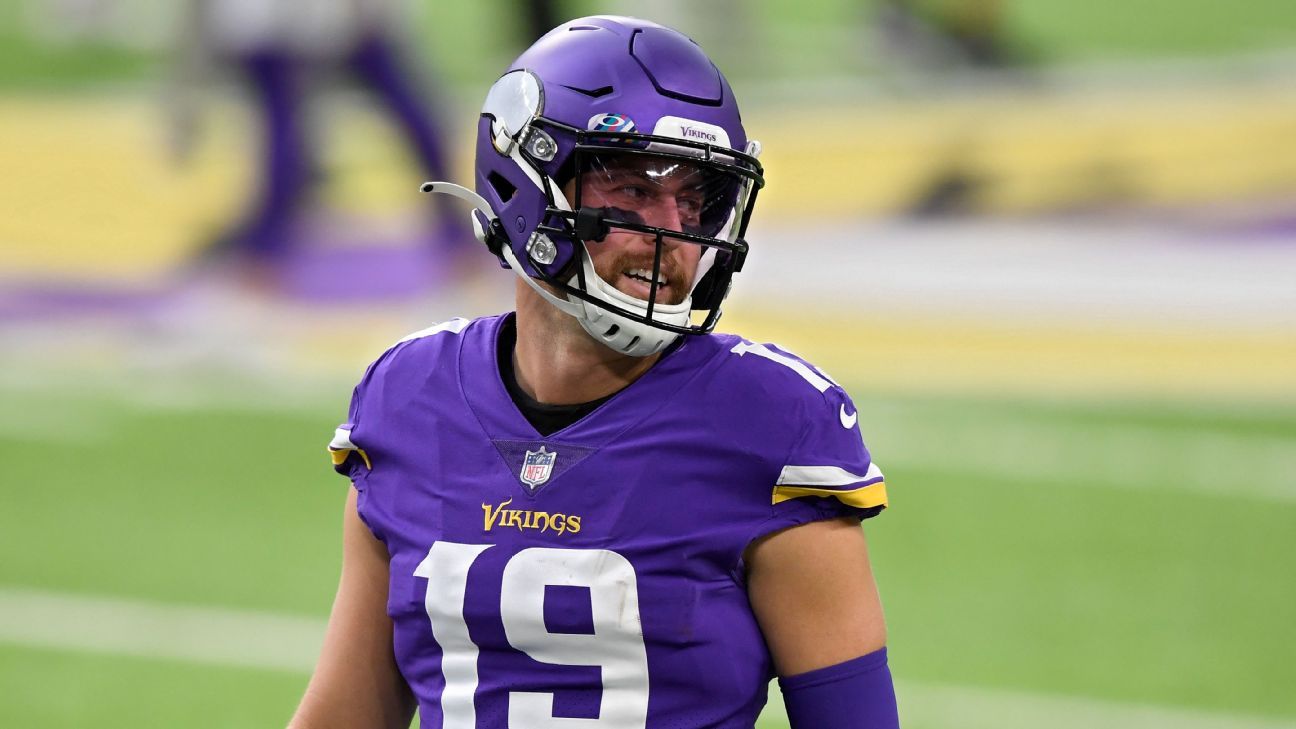 The Minnesota Vikings have activated star wide receiver Adam Thielen from the reserve/COVID-19 list.
Thielen, who was placed on the list on Nov. 23, sat out the Vikings' victory over the Panthers on Sunday.
He has 49 receptions for 646 yards and 11 touchdowns this season.