Panthers RB Christian McCaffrey back at practice field, but status for Thursday's game vs. Falcons uncertain
CHARLOTTE, N.C. — Carolina Panthers running back Christian McCaffrey returned to the practice field Monday for the first time in five weeks, but his status for Thursday night's game against the Atlanta Falcons remains in doubt.
"It's a possibility," coach Matt Rhule said, when asked if McCaffrey could be ready for the Falcons. "That's sort of out of my hands. I'm hopeful that will happen."
Rhule said McCaffrey, who did not participate in Monday's light workout, would have to go through a full practice on Tuesday or Wednesday for the team to consider taking him off injured reserve.
He said that would be left up to team doctors.
"If you know Christian, he wants to play," Rhule said.
McCaffrey suffered a high ankle sprain during a Week 2 loss at Tampa Bay and was placed on injured reserve a few days later with a prognosis of four-to-six weeks to recover.
He was eligible to come off injured reserve after missing three games, but now has missed five. The Panthers won three straight after losing the NFL's highest-paid back at $16 million a year, but have dropped the past two to fall to 3-4.
Rhule consistently has said he wouldn't rush back McCaffrey and has been cautionary about the eighth pick of the 2017 draft returning on a short week.
He remained cautionary Monday.
McCaffrey wore a red jersey and did not participate in drills. He spent much of the media portion greeting teammates he hadn't been on the field with since the injury.
"It would be exciting to see Christian out there if he's ready to go," quarterback Teddy Bridgewater said. "He's been working extremely hard."
McCaffrey last season became the third player in NFL history to have 1,000 yards rushing and receiving in the same season. He had 156 yards rushing and four touchdowns to go with seven catches for 57 yards this season before being sidelined in the fourth quarter against the Bucs.
Mike Davis averaged 101.5 yards from scrimmage in the first four games without McCaffrey. He was limited to 12 yards rushing on seven carries and five catches for 24 yards in Sunday's 27-24 loss at New Orleans.
The Panthers were held to a season-low 37 yards rushing by the Saints.
Frustrated Mike Tomlin calls Pittsburgh Steelers' effort in matinee win 'really junior varsity'
PITTSBURGH — Mike Tomlin's assessment of the Pittsburgh Steelers' performance in the Wednesday matinee win against the Baltimore Ravens was blunt.
"It was really junior varsity, to be quite honest with you," Tomlin said after the Steelers' 19-14 victory. "It was in all three phases. We couldn't run the ball effectively when we needed to. We dropped too many significant passes, very catchable, makeable passes. We didn't make significant plays in the special teams game. Our kickoff coverage unit wasn't good enough. We turned the ball over. We gave up big plays in critical moments on defense. Can't have it."
Tomlin continued, excoriating his undefeated team.
"[The Ravens] converted a long run on a possession down before the half," he said. "Unacceptable. They had a 70-yard touchdown late in the game. Unacceptable. We're fortunate tonight. It's good to proceed with the victory. I acknowledge that. But not a lot happened tonight to be proud of or to be excited about other than that."
The Steelers (11-0) put together a sloppy and error-riddled performance in the close win against their short-handed AFC North rival. The offense had five dropped passes, matching the most in the past 15 seasons — in 2019 versus the Rams and 2007 versus the Browns.
Quarterback Ben Roethlisberger, who had an interception in the end zone along with a touchdown, took the blame for the drops.
"I need to be more accurate with my passes," Roethlisberger said. "I need to give them better chances to make the plays. There weren't some plays made today when they needed to be."
The Steelers were also ineffective in the red zone, especially in the first half. Three of their drops came in the red zone in the first half — the most of any team in an NFL game over the past three seasons.
They also failed to score a touchdown on their first three trips to the red zone, matching their most in a game this season. On the season, the Steelers entered the game scoring a touchdown on 69% of red zone drives, good for seventh in the NFL.
To explain his team's failures in the red zone and the receiver drops, Tomlin offered a clipped explanation: "Us sucking."
Tomlin refused to blame the poor performance on the roller-coaster week leading up to the game that saw three postponements and an unconventional 3:40 ET kickoff on a Wednesday afternoon.
"We make no excuses," he said. "We seek no comfort. We didn't play well, coach well tonight."
Like his coach, wide receiver JuJu Smith-Schuster said his team played down to the Ravens (6-5), at a level the Steelers should've been above.
"We played like the JV," Smith-Schuster said. "You know, we played down to their level. They came out with a JV squad and we were playing JV and we didn't come out and execute and play the way we wanted to play. And as you could see, it was a close game, which shouldn't have happened."
The Steelers play again in just five days, taking on the Washington Football Team on Monday evening in a game rescheduled to accommodate Wednesday's delayed contest. It's a short week, but Tomlin said he believes that despite his frustrations, his team can turn it around.
"We don't have to reinvent the wheel," he said. "It's not some transformational thing that needs to transpire. We got to coach better and play better when we get inside the bowl. I expect our group to do that Monday night, Monday evening, whenever it is that we play."
At the end of his raw news conference, Tomlin was asked if he's ever been more frustrated after a win. He stopped for a beat and pondered the question.
"I don't know," he said. "I know this one's pretty frustrating."
Los Angeles Rams' Jared Goff vows to do better after loss, criticism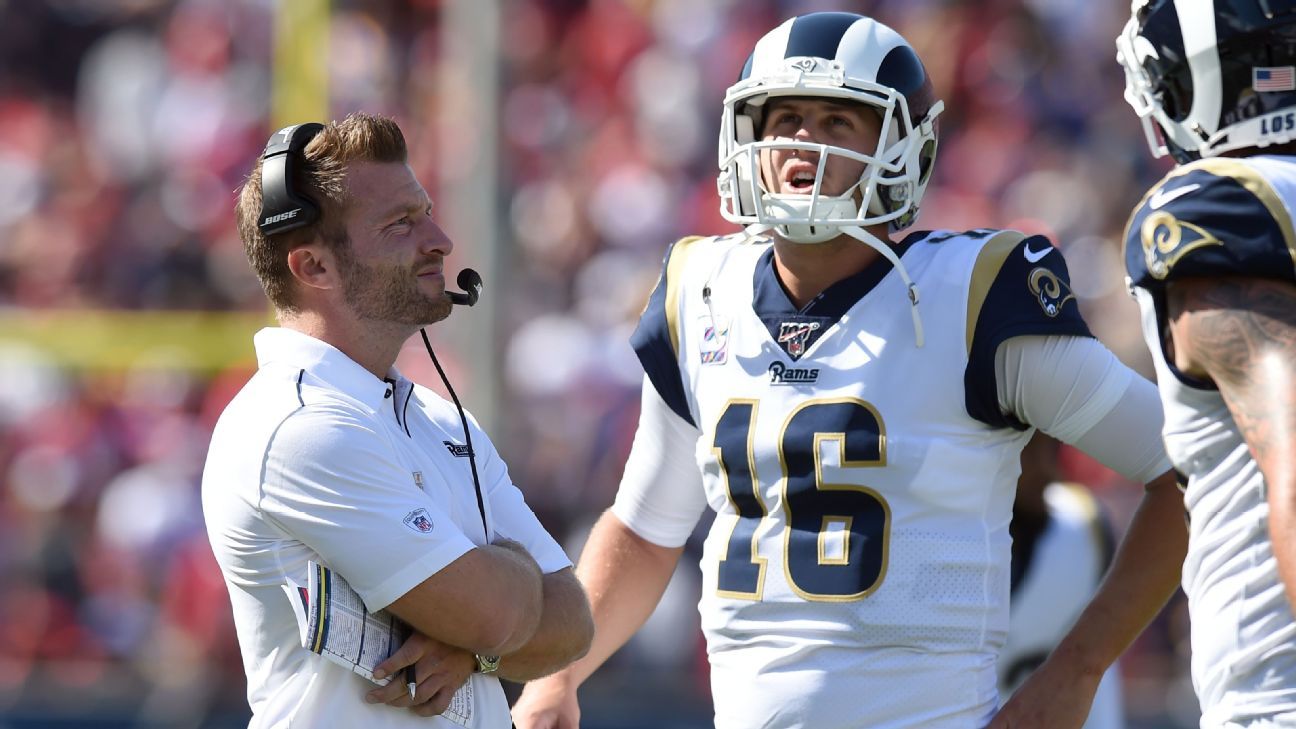 Los Angeles Rams quarterback Jared Goff appears to be taking in stride the rare public criticism coach Sean McVay delivered following a Week 12 loss to the San Francisco 49ers.
"If he was lying I'd feel differently about it, he's absolutely right," Goff said Wednesday after practice. "I'm a big boy, I can handle it."
In the immediate aftermath of a disappointing 23-20 loss to Rams' division rival, McVay bluntly stated, "Our quarterback has got to take better care of the football."
A day later, McVay acknowledged that his decision to call out Goff publicly — a departure from his typical move of assuming any blame — "was a little bit different," but the coach added that his QB had "broad shoulders to be able to handle it."
"We have a great relationship and I'm accountable for myself," said Goff, who is in his fourth season with McVay.
Goff was 19 of 31 for 198 yards against the 49ers, who beat the Rams for a fourth straight time. He also had three turnovers, including two interceptions — one of which was returned 27 yards for a touchdown, and a lost fumble.
"I need to be better than that, I need to take care of the football and he's absolutely right, and I will," said Goff, who has four seasons remaining on a contract extension that guarantees $110 million. "I have done that for the majority of my football career and will continue to take care of the football better."
Goff added that disappointment from the loss, the Rams' first at SoFi Stadium, lingered long after the game.
"For the 24 hours after it, I was not in a happy place, for sure, really was disappointed in myself," Goff said. "But you move on."
The Rams are 7-4 and remain in the hunt to win the NFC West as they prepare to play the 6-5 Arizona Cardinals on Sunday at State Farm Stadium. The Rams are 6-0 against the Cardinals since McVay took over as coach in 2017.
This season, Goff has completed 67.2% of his passes (15th in the NFL) and has passed for 16 touchdowns (17th). Goff also has lost 14 turnovers (10 interceptions, four fumbles), which ties him with Minnesota Vikings quarterback Kirk Cousins for the second-most in the NFL. Philadelphia Eagles quarterback Carson Wentz has lost 18 turnovers, the most in the league.
Goff vowed Wednesday to eliminate his turnovers moving forward.
"I've always been confident, been able to overcome mistakes, but at the same time, I don't want to keep sitting here and saying that I need to take care of the ball better," Goff said. "I'll just be smarter with it, make better decisions."
Pittsburgh Steelers linebacker Bud Dupree believed to have torn left ACL, source says
PITTSBURGH — The Pittsburgh Steelers are feared to have lost another key piece of their vaunted defense.
Outside linebacker Bud Dupree, who appeared to injure his left knee on a non-contact play in the second half of Wednesday's 19-14 win over the Baltimore Ravens, is believed to have sustained a torn ACL, a source told ESPN's Jeremy Fowler, confirming an NFL Network report. The severity of the injury is expected to be confirmed with further testing Thursday.
Dupree limped off the field following the injury and did not return to the game.
"I think it was very quiet, very sad, very low, just because having our fellow teammate going down, Bud, and not knowing what's going on over there," wide receiver JuJu Smith-Schuster said, describing the Steelers locker room after the game. "But that's something that, you always pray for everybody to be safe and have a healthy game."
Playing on the one-year franchise tag, Dupree will be a free agent after this season. He followed up his breakout 2019 campaign with another strong effort this season, recording eight sacks and two forced fumbles along with 26 tackles. Along with TJ Watt, Dupree was a foundational piece of the Steelers' pass rush.
Replacing Dupree won't be easy. Rookie Alex Highsmith, the Steelers' third-round draft pick, is the top candidate to fill his role.
If the injury to his ACL is confirmed, Dupree would be the second Steelers defensive starter to go down with such an injury, after middle linebacker Devin Bush tore his against the Cleveland Browns.