Clayton Kershaw beats Tampa Bay Rays again as Los Angeles Dodgers move one win away from Series title
ARLINGTON, Texas — As Los Angeles Dodgers manager Dave Roberts strolled to the mound with two outs in the top of the sixth inning, a chorus of boos rained down from the crowd at Globe Life Field. Even though this was Game 5 of Major League Baseball's first neutral-site World Series, Dodgers fans have overrun the stadium, and they let their feelings be known: They did not want Roberts to remove Clayton Kershaw from the game.
Roberts did not abide, and as Kershaw strode off the mound, it was to a sound too often unfamiliar to him in October: cheers. If ever there was a postseason to huzzah the Dodgers' left-hander, of course, this is it, and his plenty-solid performance in Game 5 laid the foundation for the Dodgers' 4-2 victory over the Tampa Bay Rays on Sunday.
The win, on the heels of the Dodgers' brutal Game 4 loss a day earlier, gave L.A. a 3-2 advantage in the series and put them one victory shy of their first championship since 1988. They can lock up a title in Game 6 on Tuesday night.
"It feels pretty good," Kershaw said of walking off the mound to a standing ovation. "Anytime you can have success in the postseason, it just means so much — that is what you work for, that is what you play for this month. I know what the other end of that feels like too. I will definitely take it when I can get it."
If this was Kershaw's last appearance in the 2020 postseason — there's always a potential Game 7 relief appearance looming — there's a good argument that it's his finest playoffs yet. His shakiness in Game 5 evened out in the middle innings — he even foiled the first attempted straight steal of home in a World Series game since 1982 — and by the time Roberts yanked him, Kershaw had retired eight batters in a row to gussy up a final line of 5⅔ innings, 5 hits, 2 runs, 2 walks and 6 strikeouts. In total, he has thrown 30⅔ innings in these playoffs, allowed 23 hits, walked 5 and struck out 37 with a 2.93 ERA and four wins.
"I thought he pitched a heck of a game," Roberts said. "And to go out there and get two more hitters (in the sixth), we felt that that would be good enough. And at that point in time, once he did that, I thought it was time to take the baseball. And I think he felt good."
Though the jeers that greeted Roberts on his way to the mound were even worse as he returned to the dugout, his maneuvering in Game 5 worked far better than his bungling the day prior — even if it placed the Dodgers in one particularly hairy situation. Dustin May, the fireballer who replaced Kershaw, struck out Rays cleanup hitter Manuel Margot on a 101.5 mph fastball to end the sixth and threw another scoreless 1⅓ innings afterward.
He exited with a runner on first when Rays manager Kevin Cash pinch hit left-handed hitter Ji-Man Choi, which prompted Roberts to go to lefty Victor Gonzalez. Cash immediately pinch hit right-hander Mike Brosseau, who mashes lefties, and he walked. Up stepped Randy Arozarena, the Rays' best hitter and a right-hander as well.
On the first pitch, Gonzalez induced a fly out. Brandon Lowe floated a ball to center field for the third out. The Dodgers had escaped, and Blake Treinen — not Kenley Jansen, who blew Game 4 — came on in the ninth and recorded the save.
"We stuck with the plan so credit to Doc for that one," Kershaw said of Roberts. "D-May came in and threw the ball awesome, Victor same way and Blake, too. Unbelievable job by those guys tonight, which was huge."
The Dodgers had played nine innings of clean baseball less than 20 hours after their two-error debacle with two outs and two strikes in the ninth inning allowed Arozarena to pound home plate for the winning run and Brett Phillips to airplane into the outfield after dropping the single that led to the chaotic series of events evening the series.
Mookie Betts ripped a leadoff double off Rays starter Tyler Glasnow, Corey Seager plated him with a single and Cody Bellinger's two-out infield single scored him, giving the Dodgers a 2-0 advantage. Joc Pederson's home run in the second extended it to 3-0 — the same lead he had and frittered away in Game 5 of the 2017 World Series.
World Series Game 5s, in fact, had been a bugaboo for Kershaw. The Boston Red Sox tarred him with four runs in four innings of the 2018 World Series, and he was beginning to bend in the third inning Sunday. Kevin Kiermaier singled, Yandy Diaz tripled him in and Arozarena drove him in to cut the lead to 3-2.
"I didn't have my stuff like I did in Game 1," Kershaw said. "My slider wasn't there as good as it was, so fortunate to get through there."
The key moment came an inning later. Margot drew a leadoff walk, stole second and advanced to third on a bad throw. Hunter Renfroe walked. With runners on the corners, Joey Wendle popped out and Willy Adames struck out. With Kiermaier at the plate and down 0-1, Margot dashed for home. Kershaw recognized it in time and threw to catcher Austin Barnes, who slapped a tag with Margot's fingertips inches from home plate.
From there, Kershaw cruised, passing Justin Verlander for the most strikeouts all time in the postseason with 206. Kershaw, circa 2020, is more craftsman than conqueror, and though this wasn't the coronation he wanted nor the dominant start he desired, it was plenty good — something well worth cheering.
"Kersh, a lot of credit goes to him for what we've been able to do in this World Series," Treinen said. "There's a tough narrative on him. He's a phenomenal pitcher on the biggest stage."
Miami Marlins acquire Adam Cimber from Cleveland Indians, designate Jose Urena for assignment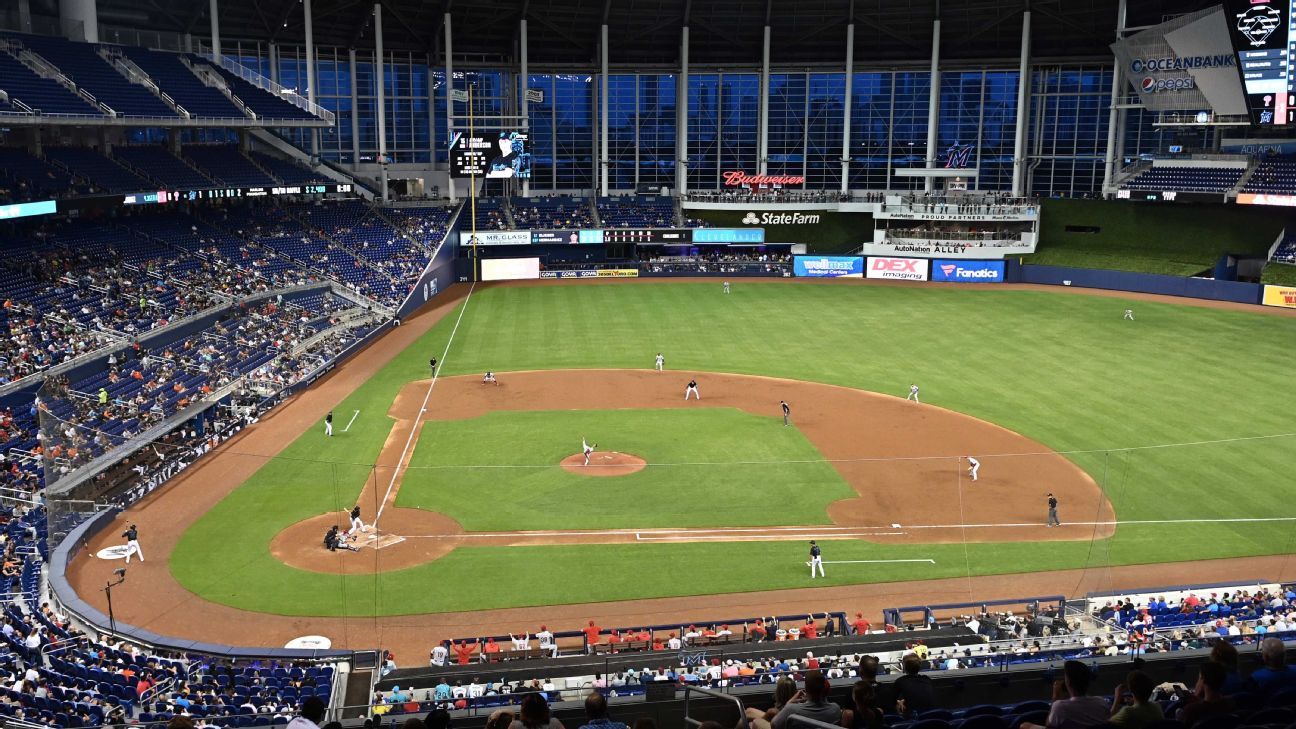 CLEVELAND — The Indians sold side-arm reliever Adam Cimber to the Marlins on Monday for $100,000, and Miami designated right-hander José Ureña for assignment.
Ureña, the Marlins' Opening Day starter in 2018 and 2019, spent six seasons with the Marlins and had been with them longer than any other active player. He went 0-3 with a 5.40 ERA in five starts last season, when he had a $3.75 million salary and earned $1,388,889 in prorated pay. He had been projected for a salary of about $4 million for 2021.
Cimber went 0-1 with a 3.97 ERA in 14 games this past season for Cleveland, which acquired the right-hander in 2018 from the San Diego Padres in the deal that brought All-Star closer Brad Hand to the Indians.
Cimber, 30, went 6-7 with a 4.30 ERA in 110 appearances with the Indians over 2½ seasons. He was 6-3 in 2019, when he pitched in 68 games.
San Diego selected him in the ninth round of 2013 amateur draft. He pitched in 42 games for the Padres in 2018 before he was traded to Cleveland.
MLB launches wood-bat league for draft-eligible prospects
NEW YORK — Major League Baseball is creating a minor league for top eligible prospects leading to the summer draft.
The wood-bat MLB Draft League is launching with five teams and could add a sixth, MLB said Monday. Teams will play a 68-game regular season that includes an All-Star break that would coincide with the draft in early July.
Teams are being awarded to communities that lost franchises as MLB moved to shrink the affiliated minor leagues from 160 to 120 teams this offseason following the expiration of the Professional Baseball Agreement, which governed the relationship between the majors and minors. MLB has planned to eliminate the separate governing body of minor league baseball.
The founding members of the MLB Draft League are located in Ohio, Pennsylvania, West Virginia and New Jersey: the Mahoning Valley Scrappers, the State College Spikes, the Trenton Thunder, the West Virginia Black Bears and the Williamsport Crosscutters. MLB said it is in discussions with a sixth team that it hopes to announce soon.
The league will be operated by Prep Baseball Report — a scouting, events and media organization focused on youth ball — and former Cape Cod League coach Kerrick Jackson has been appointed president.
MLB said in a statement that players will "receive unprecedented visibility to MLB club scouts through both in-person observation and state-of-the-art scouting technology, and educational programming designed to prepare them for careers as professional athletes."
"We are thrilled to partner with Prep Baseball Report and the founding members of the MLB Draft League to create a one-of-a-kind league that will attract the nation's top players who are eligible for each year's MLB draft and allow local fans to see top prospects and future big-league stars in their hometowns," said Morgan Sword, MLB's executive vice president of baseball economics and operations. "This announcement continues MLB's commitment to preserving and growing baseball in communities around the United States."
MLB announced in September that the Appalachian League, formerly a Rookie-level affiliated league, would be transformed into a wood-bat college summer league.
How Adam Wainwright's love for fantasy football has benefited more than 30 charities
It's that time of year, when executives are checking the waiver wires and looking to make moves to improve their teams. But in this case, the front office gurus in question are baseball players themselves and their teams consist of football players.
For many baseball players, fantasy football is their offseason vice — that and a round of golf. In both cases, the players come for the trash talk and stay for the competition.
"We're so competitive, by nature," free agent pitcher Adam Wainwright said. "We'll compete on who can eat their cereal the fastest. Fantasy football has provided baseball players with a fun outlet. It brings clubhouses together. Trades, trash talking, checking scores — and it keeps players close in the offseason."
Through his charitable foundation Big League Impact, Wainwright took things to another level this fall. He commissioned a "Players Only League" that benefits not only his own foundation but 31 other charities. Each participant, 32 MLB players in all, played for the charity of his choice. The league, which conducted drafts every week with teams having $50,000 to spend on players, had two-week running matchups and is down to the final four: Wainwright is taking on Cincinnati Reds pitcher Sonny Gray in one semifinal, while former big leaguer Matt Holliday faces off against Arizona Diamondbacks shortstop Nick Ahmed in the other.
And while the competition has been fierce, the passion comes in earning money for charitable causes. Each round resulted in more money for the winning players' charity of choice. High point totals and a "second chance" bracket provided extra ways to earn.
"That's one of the coolest parts about it," Gray said. "And if you're out early, there are still ways to make money for your charity."
Gray has raised about $15,000 so far for Project One Four, a charity created by Los Angeles Dodgers pitcher David Price to help youth organizations. Due to the pandemic, golf tournaments, celebrity cook-offs, black tie affairs and many other fundraisers have been canceled, so creativity has been needed to raise money for worthy causes. Enter Wainwright and Big League Impact, which matched each player's $5,000 entry fee in contributing to the pool for the charities.
"We're starting to catch some notoriety among the players," Wainwright said. "They know we're going to have fun and do some cool things to help out their charities. That's my goal. To empower players around the league, who have huge platforms but don't know how to use those platforms just yet."
It's the perfect mix of passions for Wainwright, who might have a fantasy football "addiction," according to those who know him. They were only half-kidding, as Wainwright is in five leagues this year.
"Let's see, there's my Triple-A team from 2005," he said. "My home league with my best friends. The clubhouse league with the Cardinals. That's A-1 priority because you're looking at those guys in the face every day."
"He's always been more concerned with his fantasy football teams than just about anything else," Holliday, a former teammate, said of Wainwright. "He's Mr. Tough Guy on game days [when he's pitching], not talking to anyone, but if you have a good trade, you can talk to him about fantasy football."
Holliday is playing for his own foundation, Homers for Health, which has raised nearly $3 million for Cardinal Glennon Children's Hospital in St. Louis.
You might think Wainwright, as a free agent, would be more concerned with where he'll play baseball next season after spending the last 15 years with the Cardinals. But a recent 40-minute phone call produced very little baseball talk. His interest, besides fantasy football, is in helping people. After hanging up, he texted back, not about who he's starting at quarterback this week, but to emphasize the best part of the whole tournament.
"The coolest thing about everything we do is knowing that there are people around the globe who have clean water that didn't," Wainwright wrote. "That have a feeding program that were hungry. That have access to doctors and medicine that had no hope of help before. That have a roof over their head for the first time. And that are free from the bondage of trafficking. All because of a bunch of baseball players working together to make a difference."
That same sentiment was echoed by the other final four participants. The baseball players have a passion for helping, while at the same time enjoying some competition against each other. The combination wasn't lost on Holliday, a good friend of Wainwright's, who is hopeful they meet in the final. Holliday also openly wondered how the commissioner of the league made it to the semifinals.
"I question it," Holliday said with a laugh. "He's in charge of this deal, but he always finds his way into the finals. If I didn't know him so well, and his character, I would question some of the shadiness."
That's just a taste of the trash talking that goes hand-in-hand with fantasy football. Wainwright beat Washington Nationals star Max Scherzer in the previous round and made sure to let him know about it.
"Max is a great trash talker," Wainwright said. "No doubt about it. We've had battles on the baseball field, pre and postgame. This was big for me. It's not as important as baseball, but it's pretty close as far as bragging rights go.
"He's really ticked off about it. I won a side bet off of him too."
While Wainwright, Gray and Holliday are talking some trash, Ahmed, the fourth semifinalist, wants to be known as the "quiet assassin," though he did question why he was the 30th seed going into the tournament. Ahmed has raised $12,000 so far for Compassion International, which sponsors children in the world's poorest countries.
"I have to take that up with Waino," Ahmed said of being the 30th seed. "What's that all about?"
The Diamondbacks star might feel like he's playing with house money after beating Clayton Kershaw in the last round.
"He [Kershaw] has beaten me so many times on the field, it's hard to count them so it feels good to get that little revenge," Ahmed said. "I didn't know the format at first. First couple of weeks, I went over budget every time. I had to re-edit and adjust my lineup."
Texas Rangers pitcher Kyle Gibson was eliminated from the main bracket in Round 1, losing to former teammate Jason Castro. Gibson has continued on in the second-chance bracket as he's making a difference for his charitable organization, Help One Now, which is building a high school in the Haitian village of Ferrier.
"It's really cool to see the charities impacted," Gibson said.
Asked who the best trash talker is, Gibson picked another player eliminated in Round 1.
"Lance Lynn likes to talk," Gibson said. "When he wins, he definitely lets you hear about it. He's not doing very well in the Rangers league either, so it'll be a little quieter in the clubhouse."
So who does he like in to win it all and make $50,000 for his charity? (The charity of the runner-up gets $25,000.)
"[Wainwright] took out Scherzer," Gibson said. "He was on fire all year. Waino has found his groove. I'll go with my guy. He set [the league] up and had a big year."
Several players kidded about the issue of Commissioner Wainwright making it to the semifinals.
"Man, it's always a little sketchy when the host makes a deep run," Gray said, enjoying the chance to sting his semifinal opponent. "This is the best thing to be able to trash talk about. Baseball is your career, everyone is doing their own thing and competing. But this is a different level."
Wainwright had plenty to say on the subject of winning his own tournament, suggesting his dedication to the competition, rather than his being commissioner, has been the key.
"I don't know how good it looks to win your own event, but I'm going to try to do it," he said. "I don't care about the optics because it will help our charities do a lot of great things in this world. … I won our clubhouse league last year and that's what everyone said. 'Oh, he sets his own rules. He does whatever he wants to win.'"
Mentioning the Cardinals' clubhouse league gave Wainwright an opening for a shot across the bow there too.
"I'm all over [teammate] Tommy Edman right now because he has one good player, Patrick Mahomes," Wainwright said. "Everyone else is the worst player times eight."
Wainwright's secret is simple. He'll bother you until he gets what he wants.
"I'm relentless on trades," he explained. "If I want a player and the guy says, 'No, I'm not trading him', by the fourth week in a row of asking, I might wear him down."
Players find the trash talk comes much easier in fantasy football than in baseball, where livelihoods are at stake. Wainwright said there have been many times when he has faced a hitter on the same Sunday he was playing him in fantasy football, and the fantasy matchup gets much more attention. Gray loves it because nothing is off limits.
"Oh, for sure," he said. "Everything comes up when you're running around out there. It'll be talked about. This is a big matchup."
It also gives the players a bit of an understanding what baseball fans go through when they play fantasy baseball.
"I don't take any offense to it," Gray said. "A lot of times, baseball fantasy owners are very accurate in their statements."
Trash talking while earning money for charity is about as good as it gets for these players. The back and forth could go on and on, but the semifinals are underway. Two weeks from now, the players only league will be down to just two.
"This is just a great way to raise awareness and money," Ahmed said.
And what of that 30th seed?
"It's giving me a little added motivation to win the whole thing," he said with a laugh. "We miss that competitive outlet in the offseason, so this is good. I'm enjoying it and want to do it for years to come."
And that's Wainwright's goal as well, to grow the league and earn as much money as possible, not just for his own charity but for many around baseball. If he wins his own tournament, so be it.
"It's happened a lot over the years," he said. "I have five leagues I play in."
And beating Wainwright will make it that much more special for his competitors.
"That's why you play, to beat the host, right?" Gray said. "He has the home-field advantage. And I already know it's all over his mind so that makes it even more fun. I'll sit back and watch Project One Four fantasy points roll up. He knows he's going to have to bring it."