Ex-Cowboys DE David Irving joining Las Vegas Raiders
HENDERSON, Nev. — Former Dallas Cowboys pass-rusher David Irving has signed with the Las Vegas Raiders.
He joined the practice squad, while the Raiders activated quarterback Marcus Mariota off injured reserve.
Irving must still complete the NFL's new six-day player intake process.
Irving, 27, last played in the NFL in 2018. After being suspended by the league indefinitely for violating its policy and program for substances of abuse for the second time, he "quit" on an Instagram Live story last year in opposition to the NFL's drug stance, particularly in regard to marijuana.
The league reinstated him on Friday and Irving, perhaps buoyed by the thought of reuniting with Raiders defensive line coach Rod Marinelli, for whom he played in Dallas, began the COVID-19 testing process.
Still, while Irving will be eligible to enter the Raiders facility and sign his contract on Thursday, as long as his COVID tests remain negative, he is not expected to be added to Las Vegas' 53-man roster at that time. Nor will he play Sunday night against Tom Brady and the Tampa Bay Buccaneers at Allegiant Stadium.
Irving, a cannabis advocate, retweeted a statement last September that said he was being suspended for choosing "#plantsoverpills and was forced into a 3 month closed door rehab with a bunch of #opioid #addicts and only so I could go back to the league and be prescribed opioids."
The 6-foot-7, 290-pound Irving had 12.5 sacks in 37 games over four seasons for the Cowboys, including seven in eight games in 2017, but has played in only two games since the start of the 2018 season.
The Raiders, meanwhile, are coming off their bye week and could use help rushing the passer as their seven team sacks rank tied for 29th in the NFL, with defensive end Maxx Crosby leading Las Vegas with four sacks.
The Houston Chronicle first reported Irving would be signing with Las Vegas.
Titans vs. Colts – Game Summary – November 29, 2020
first Quarter
TEN
IND
TD
9:12
Derrick Henry 12 Yard Rush, S. Gostkowski extra point is GOOD,. Center-M.Overton, Holder-B.Kern.
10 plays, 75 yards, 5:48
7
0
TD
2:34
Trey Burton Pass From Philip Rivers for 11 Yrds, R.Blankenship extra point is GOOD, Center-L.Rhodes, Holder-R.Sanchez.
12 plays, 75 yards, 6:38
7
7
TD
0:09
A.J. Brown Pass From Ryan Tannehill for 69 Yrds, S.Gostkowski extra point is GOOD, Center-M.Overton, Holder-B.Kern.
4 plays, 75 yards, 2:25
14
7
second Quarter
TEN
IND
TD
12:51
Jacoby Brissett 1 Yard Rush
6 plays, 75 yards, 2:18
14
13
Sources — Bruce Arians hoped to get Patrick Mahomes in draft while with Arizona Cardinals
Tampa Bay Buccaneers coach Bruce Arians will face Kansas City Chiefs quarterback Patrick Mahomes on Sunday, but he easily could have been coaching him.
Back in 2017, Arians coached the Arizona Cardinals and the team was planning to pick Mahomes with the draft's No. 13 overall pick, league sources told ESPN. Prior to that draft, the Cardinals sent a large contingent of officials, including Arians and team president Michael Bidwell, to Texas Tech to work out Mahomes.
What they saw that day stayed with them.
"He probably had the best workout of any kid I went and worked out personally — he and Andrew Luck were the two by far on the board," Arians recalled this past week while preparing for Sunday's game against Mahomes. "Unbelievable ability."
Arizona planned to take Mahomes and even attempted to trade up in the draft to get him. But before they could, the Chiefs beat them to it, trading up to the No. 10 spot, three slots in front of Arizona.
That changed the course of both franchises, and Arians will be reminded of it again Sunday. The Cardinals stayed at No. 13, drafted Temple linebacker Haason Reddick in 2017 and then quarterback Josh Rosen in 2018.
Arians retired as coach after the 2017 season before returning to the league as Tampa Bay's coach ahead of the 2019 season.
That day that the Cardinals spent in Lubbock, Texas, also helped bring about another result. It gave Cardinals officials the chance to spend extensive time with then-Red Raiders coach Kliff Kingsbury, who left his own mark on team officials.
One year later, Arizona hired Kingsbury as its head coach.
Arizona lost out on Mahomes but landed Kingsbury, which also led to landing Kyler Murray.
NFL Week 12 arrivals – Best entrances, outfits, cleats and more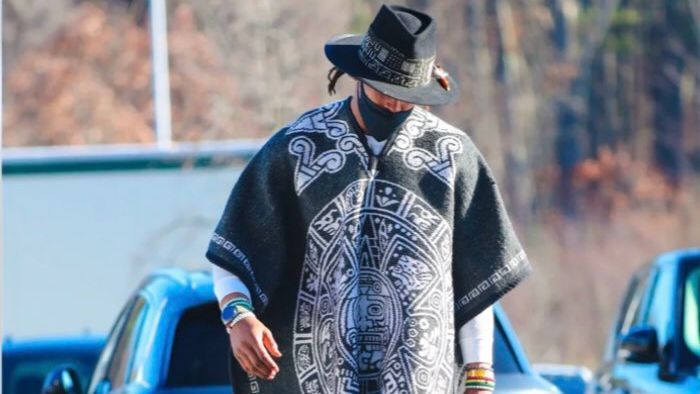 Week 12 of the 2020 NFL season continues Sunday, including a showdown between the Colts and Titans that will determine the new leader in the AFC South race, and a headlining battle in the late window featuring Tom Brady and the Buccaneers against Patrick Mahomes and the Chiefs.
While the action on the field will surely be captivating, we're here to highlight the best of what the players have to offer from a sartorial standpoint. Dropping temperatures in some NFL cities means we're on to winter wear in earnest.
For more on the matchups today, look no further: Our NFL Nation reporters bring us the keys to every game, a bold prediction for each contest and final score picks. Check out ESPN's NFL Week 12 game guide.
More: Sunday's fantasy football inactives: Who's in and who's out?
---
Cam's latest look
Patriots quarterback Cam Newton is pretty much a weekly staple in our roundup, and he doesn't disappoint with his arrival garb for Week 12:
Cam Newton's arrival at Gillette, with @EricJAdler on the scene for @PATRIOTSdotCOM.

Full slideshow: https://t.co/FAXGfE9ejo pic.twitter.com/qhFAzQGjBI

— Mike Reiss (@MikeReiss) November 29, 2020
Best inter-collegiate color representation
Before he was a dominant presence for the Titans, Derrick Henry starred at the University of Alabama, though his suit on Sunday reminds us a bit more of the University of Texas:
📍 Indianapolis pic.twitter.com/UcIvkjDhkI

— Tennessee Titans (@Titans) November 29, 2020
Best throwback to a fictional hockey team
Colts safety Julian Blackmon hopes to channel the fighting spirit of Charlie Conway, the heart and soul of the Mighty Ducks:
Julian Blackmon and Charlie Conway:

both playmakers pic.twitter.com/ydcb1S7c5v

— Indianapolis Colts (@Colts) November 29, 2020
Best fashion tech debut
Thanks to the Chiefs, we now have the Swag Cam!
Introducing the Swag Cam 🎥 pic.twitter.com/hha0jkZeQj

— Kansas City Chiefs (@Chiefs) November 29, 2020
Best sight for one person in every fantasy league
Is that Austin Ekeler's music?!
👀👀👀@AustinEkeler | #BoltUp pic.twitter.com/SdOlpjPqMK

— Los Angeles Chargers (@Chargers) November 29, 2020
Best warmth provider
Today's temps aren't as bad as they'll be in the coming weeks in Minneapolis, but Panthers wideout Robby Anderson was prepared this morning:
puffy jacket 🤝 Yeezys@chosen1ra too cold 🥶 pic.twitter.com/eV84Xn4fAh

— Carolina Panthers (@Panthers) November 29, 2020
Best shoe game
It hasn't been the greatest on-field season in Falcons history, but that hasn't deterred them bringing the heat with pregame kicks:
Arriving in style. 🥾 pic.twitter.com/Iy0KPTEImf

— Atlanta Falcons (@AtlantaFalcons) November 29, 2020
Best of the rest
📍 Let's get to work pic.twitter.com/medh6WJLi8

— New York Giants (@Giants) November 29, 2020
Your Bills have arrived. #LACvsBUF | #BillsMafia pic.twitter.com/XtFRPuMcog

— Buffalo Bills (@BuffaloBills) November 29, 2020
Gameday fits 😎 #TENvsIND pic.twitter.com/Z872enXzwS

— Tennessee Titans (@Titans) November 29, 2020
heat check 🔥 pic.twitter.com/pVpt7C4Rcf

— Los Angeles Chargers (@Chargers) November 29, 2020
📍 MetLife #FinsUp pic.twitter.com/FhCNqQh8BU

— Miami Dolphins (@MiamiDolphins) November 29, 2020
📍 Ready to work. pic.twitter.com/8iH7rSlhSO

— Cleveland Browns (@Browns) November 29, 2020
Back home.#MIAvsNYJ | #TakeFlight pic.twitter.com/xWiAEq1yAp

— New York Jets (@nyjets) November 29, 2020
Always bringing the heat.@DeAndreHopkins x #RedSea pic.twitter.com/Brcg4emgw7

— Arizona Cardinals (@AZCardinals) November 29, 2020
Today's goal: 1-0 pic.twitter.com/yHHiHTEmV4

— Indianapolis Colts (@Colts) November 29, 2020
📸📸📸 » https://t.co/xaOndHZ8JF pic.twitter.com/0fUHOKhQrA

— Las Vegas Raiders (@Raiders) November 29, 2020