Tennessee Titans LT Taylor Lewan confirms he suffered torn ACL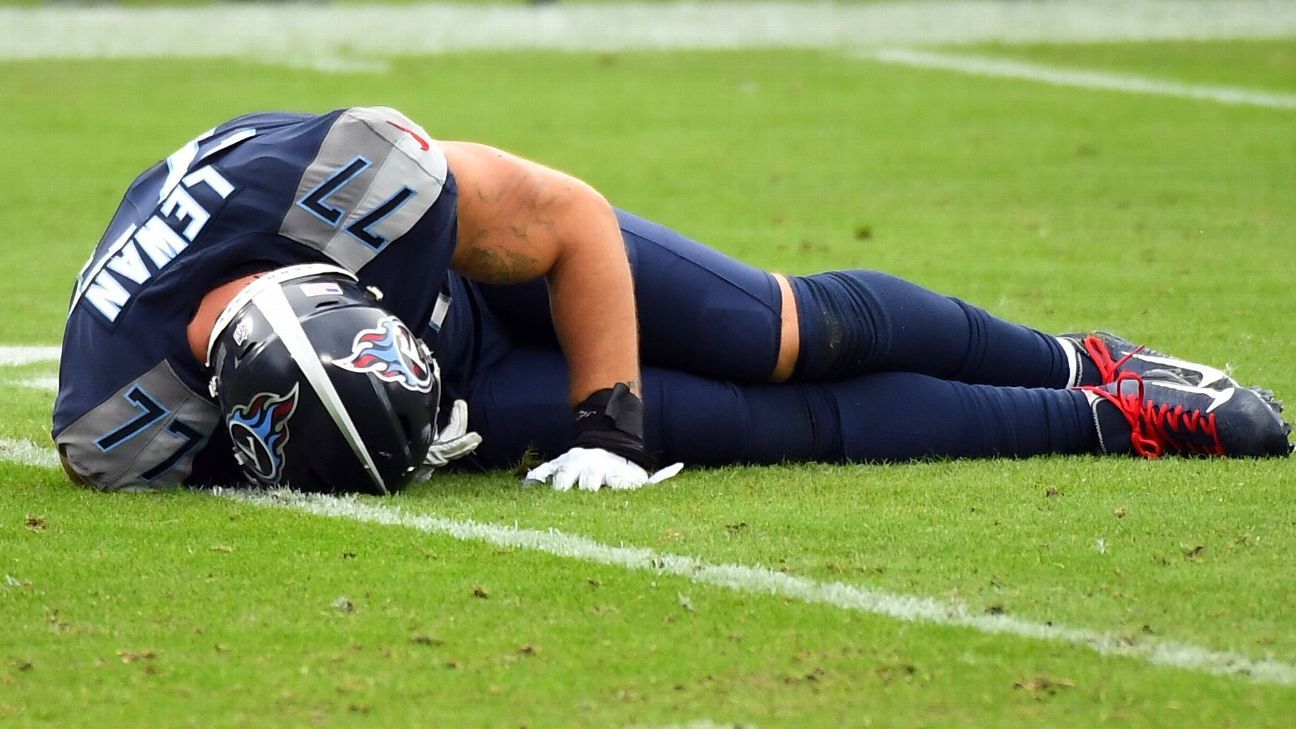 Tennessee Titans star left tackle Taylor Lewan confirmed Monday that he has a torn ACL and will miss the remainder of the season.
Lewan tweeted that an MRI taken Monday confirmed the ACL tear and added: "Don't feel sorry for me, I'm going to handle this rehab like a Pro and come back better than ever."
Lewan suffered the injury in the third quarter of Sunday's overtime victory over the Houston Texans. Tennessee rallied without the three-time Pro Bowler to improve to 5-0.
Lewan played 226 offensive snaps for the Titans this season. He played 40 snaps before suffering the injury Sunday. The Titans gained an average of 3.9 yards per rushing attempt when running to Lewan's side.
Veteran offensive tackle Ty Sambrailo came in when Lewan was injured. Sambrailo gave up a strip sack to J.J. Watt on his first snap but settled in as the game went on. Sambrailo will likely be the left tackle going forward.
"I can't wait to watch my guys crush it," Lewan said Monday in a follow-up tweet. "I'm going to be the biggest titans fan each and every Sunday. We are doing something special here and this small set back doesn't change a thing!"
I wanted to let everyone know I got an MRI today. I Tore my ACL yesterday against Houston. Don't feel sorry for me, I'm going to handle this rehab like a Pro and come back better than ever. Thank you @Titans fans for your support. #NoBadDays

— Taylor Lewan (@TaylorLewan77) October 19, 2020
Now in his seventh season, the 29-year-old Lewan has been selected to three Pro Bowls.
Also, Titans tight end Jonnu Smith is dealing with a "minor" ankle sprain and is expected to be considered questionable for Sunday's game against the Steelers, a source told ESPN's Adam Schefter.
Titans-beater Philip Rivers goes with the 'flow' as Colts go for sweep – Indianapolis Colts Blog
INDIANAPOLIS — The early-season bumps appear to have smoothed out for Indianapolis Colts quarterback Philip Rivers.
Rivers is playing like the quarterback the Colts envisioned when they signed the 38-year-old to a one-year, $25 million deal back in March after 16 seasons with the Chargers. With Rivers, the Colts (7-3) have an opportunity to put a stranglehold on the AFC South when they play the Tennessee Titans (7-3) on Sunday (1 p.m., CBS). A victory would give the Colts a one-game lead in the division and a tiebreaker because of a season sweep.
Rivers has had success against the Titans his entire career. He is 8-2 with 18 touchdowns and four interceptions in 10 career starts against the Titans. One of those victories was two weeks ago, when Rivers was 29-for-39 for 308 yards and a touchdown.
About the only thing that can slow Rivers these days is an injured toe. He suffered the injury when he acted like a fullback and tried to make a block in the game against Green Bay last week. He didn't practice Wednesday. Rivers has started 234 straight games, which is the second-longest streak in NFL history.
"That probably wasn't the best decision there," Rivers said. "There was no issue with the shoulder whatsoever, but yeah, it probably wasn't the best decision. I guess sometimes the 16-year-old linebacker and 17-year-old free safety comes out every now and then. I can't help myself. A little bit of me, at least — not really redemption, but at least to show there is a little bit of something in there after that Baltimore tackle debacle."
The transition to Indianapolis didn't figure to be easy for Rivers no matter how familiar he was with coach Frank Reich's offense. It takes time to get used to throwing passes to new teammates, taking snaps from a new center and handing off the ball to new running backs.
Rivers didn't have the usual offseason program or preseason games to help with the transition.
"I feel like there were stretches even early on, going back to Minnesota and the Jets, where we were really efficient and doing things well, but it still wasn't just smooth, I guess," Rivers said. "I don't know if it's ever smooth. It's the National Football League; every yard has to be earned, nothing is given to you. Probably Detroit is when you just kind of felt things — I guess, in a real flow."
Rivers doesn't hide behind his mistakes. He quickly points out his two interceptions in his debut game at Jacksonville in Week 1 and then two more interceptions and a safety for intentional grounding, which led to nine points in their nine-point loss at Cleveland in Week 5.
"I'm not glad those happened, but for me with a new team, I do feel there was some benefit there, knowing how we were going to respond," Rivers said. "… I'm not necessarily happy they happened, but I think going through some of those experiences together, both me personally having that, and as a team, definitely. I think the 21-point deficit, losing in Cleveland, losing the opener in Jacksonville when we felt like we should have won. I think those are times that you grow closer together; it can be beneficial."
Rivers has been solid in the past five games, four of which have been victories for the Colts. He has completed 130 of 195 attempts for 1,216 yards, 10 touchdowns and three interceptions in those games.
"I do think there has been a natural progression," Reich said. "I think offensively, we've all gotten better as the season has gone on. … We keep getting better, I think that's natural and I think Philip's command and presence of the offense — there was a quick transition as far as knowing what to do. But knowing his teammates more and more, having more command, doing more and a few more changes here or there, a few more checks — getting a little bit more of that as the season goes on."
Joe Burrow injury gives Bengals a sobering look at holes on roster, staff – Cincinnati Bengals Blog
CINCINNATI — Great players are able to mask a team's flaws and produce winning moments.
That's why even during a truncated rookie year, Cincinnati Bengals quarterback Joe Burrow proved he's already a transcendent quarterback. As the 2020 top overall draft pick turning into one of the NFL's top rookies, he helped transform Cincinnati into a franchise that was trending upward in its rebuild.
• Game picks from our NFL experts »
• PickCenter » | ESPN Chalk »
More NFL coverage »
That was before the sobering moment he went down last Sunday against Washington with a season-ending knee injury. The 20-9 loss highlighted a few of the issues that had previously been overlooked because of the optimism surrounding Burrow.
Over the final six games of 2020, the Bengals have no choice but to face their flaws. That process has already started with the preparation for Sunday's home game against the New York Giants (1 p.m. ET, FOX).
Cincinnati (2-7-1) is expected to start Brandon Allen at quarterback, a decision that indicates their previous backup, second-year QB Ryan Finley, isn't the best option for winning games. It's a firm evaluation that will likely be a trend as the Bengals try to salvage the 2020 season with a few wins.
"Ultimately, winning is what it comes down to," coach Zac Taylor said. "We have to find ways to finish off games and get a complete game in all three phases from our team because we got to go win."
A postseason appearance in 2020 was always unlikely. But if the Bengals showed some promise, a playoff push in 2021 could be more than realistic.
Stephania Bell goes into detail about Joe Burrow's injury and explains how so much damage was done.
With Burrow out for an undetermined amount of time, Cincinnati is forced to evaluate the shaky parts of the roster. That apparently included its No. 2 quarterback.
Finley, a fourth-round pick in 2019, was the primary backup since the beginning of last season and held that role throughout training camp. However, after last Sunday's outing in which he went 3-of-10 passing for 30 yards after Burrow's injury, the Bengals opted for Allen against the Giants (3-7). By going with the sparsely-used veteran, it was an admission that Cincinnati's depth chart wasn't as strong as it previously believed.
The quarterback spot doesn't appear to be the only position that received a hard look after Burrow's devastating injury. Based off Wednesday's practice, recent signee Quinton Spain could replace Michael Jordan, another 2019 fourth-round pick, at left guard. Jordan struggled against Washington and was beaten on the play when Burrow suffered his knee injury in the third quarter.
The coaching staff won't be the only ones evaluating the roster the rest of the way.
Bengals safety Jessie Bates, who has three interceptions and has been among the NFL's top safeties, noted that it will be easy for players to become disengaged at practices as the temperature dips and the work feels even more tedious. Bates said it will be up to the team leaders to set an example to those who want to remain in Cincinnati after 2020.
"If you're not playing to that standard or not doing everything to that standard, then I think it should make it clear what is going to happen next year, who is going to be here in this locker room and stuff like that," Bates said.
If Burrow can make a full recovery as anticipated and return to the field around next September, the Bengals will have a realistic opportunity to end a five-year playoff drought. The Bengals will get another opportunity to address their weaknesses, fortify the roster and coaching staff and give Burrow and the team a chance to truly be successful.
Bengals safety Vonn Bell, one of last offseason's big additions, views the remainder of 2020 as a time for self-reflection and to find ways to improve and push forward.
"That's when you dig deep," Bell said. "And that's when you find out who you truly are."
'Improvise and adjust': Broncos won't have NFL QB in uniform vs. Saints – Denver Broncos Blog
ENGLEWOOD, Colo. — All season long, right from the first day of an abbreviated training camp in the August sun, Denver Broncos coach Vic Fangio has said 2020 would be a season "to improvise and adjust."
Now, Fangio and the Broncos' coaching staff and players have been handed the biggest adjustment anybody in the league has faced. Unless there is some late reprieve from the NFL's offices, the Broncos will face the New Orleans Saints on Sunday at Empower Field at Mile High with no available quarterbacks.
As in: No. Available. Quarterbacks.
As in the nightmare on-field scenario of a season played in the middle of a pandemic. And as of Saturday evening, with all sorts of details about salaries, timing and available room on the schedule, there had been no indication the league would be willing to move the game to another date with the Saints already in Denver.
The Broncos have been in exponential scramble mode, almost from the moment they pulled Drew Lock, Brett Rypien and Blake Bortles, who is on the practice squad, off the practice field early Saturday afternoon. The three were sent home and told to isolate.
They were deemed to be high-risk close contacts to Jeff Driskel, the Broncos' quarterback who received a positive test result Thursday morning for COVID-19. Diskel was moved to the reserve/COVID-19 list later that day.
The Broncos determined Lock, Rypien and Bortles were in close contact with Driskel at one point and had not been wearing masks.
Just before practice Saturday morning, Fangio had been asked how he believed his team had handled the updates to the league's COVID-19 protocols, the team's positive test results and three canceled practices in recent weeks.
"It's improvise and adjust," Fangio sad. "We talked about that the first day of training camp. We knew it was going to be a season where that was going to be called upon several times probably, and that's held true. I think our players have done a great job of improvising and adjusting when we've had to, and I believe they'll continue to do that."
And when asked, at that point, how contact tracing concerns with Driskel as well as wide receiver/returner Diontae Spencer, who tested positive Friday morning, Fangio said: "No, no one — all those questions — no new ones [Saturday]. Nothing from contact tracing with those two guys and everything was all positive this morning."
A little over four hours after Fangio said that the Broncos were pulling the quarterbacks off the field and were in a place no other team has been in during a unique, unprecedented season full of unique, unprecedented moments.
So, with no practices remaining for the week, all of the game plans they spent the week creating having been cratered. The Broncos could potentially face the NFC South-leading Saints (8-2), who have the league's No. 9 scoring defense and No. 2 rushing defense with a practice squad wide receiver named Kendall Hinton and running back Royce Freeman taking snaps behind center.
Hinton spent three seasons at Wake Forest as a quarterback — he threw for 245 yards in his first career start, in 2015, as he finished with 1,319 total yards to go with 11 total touchdowns that season in nine games — so he at least could get under center or in the shotgun and not be totally out of place.
The Broncos once went into total-makeover mode, during the 2011 season, from a traditional NFL passing offense to an option-oriented attack for Tim Tebow between Weeks 8 and 9 that season. But this isn't that.
This is hours to get something in place. Hours to put the communications devices in the helmets and play the team that currently has the No. 1 seed in the NFC.
In the days to come, there will be plenty of discussion about if the game should have been moved or how, exactly, players did not wear masks as cases rage nationwide. This might be one, very public way, for the NFL to reinforce that masks are considered an important part of the equation and not a chinstrap.
But, right now, right in this moment, the Broncos might wake up Sunday morning and have to figure out how to play NFL football without an NFL quarterback in a uniform.