Minnesota Vikings QB Kirk Cousins — Won't finish season if interceptions continue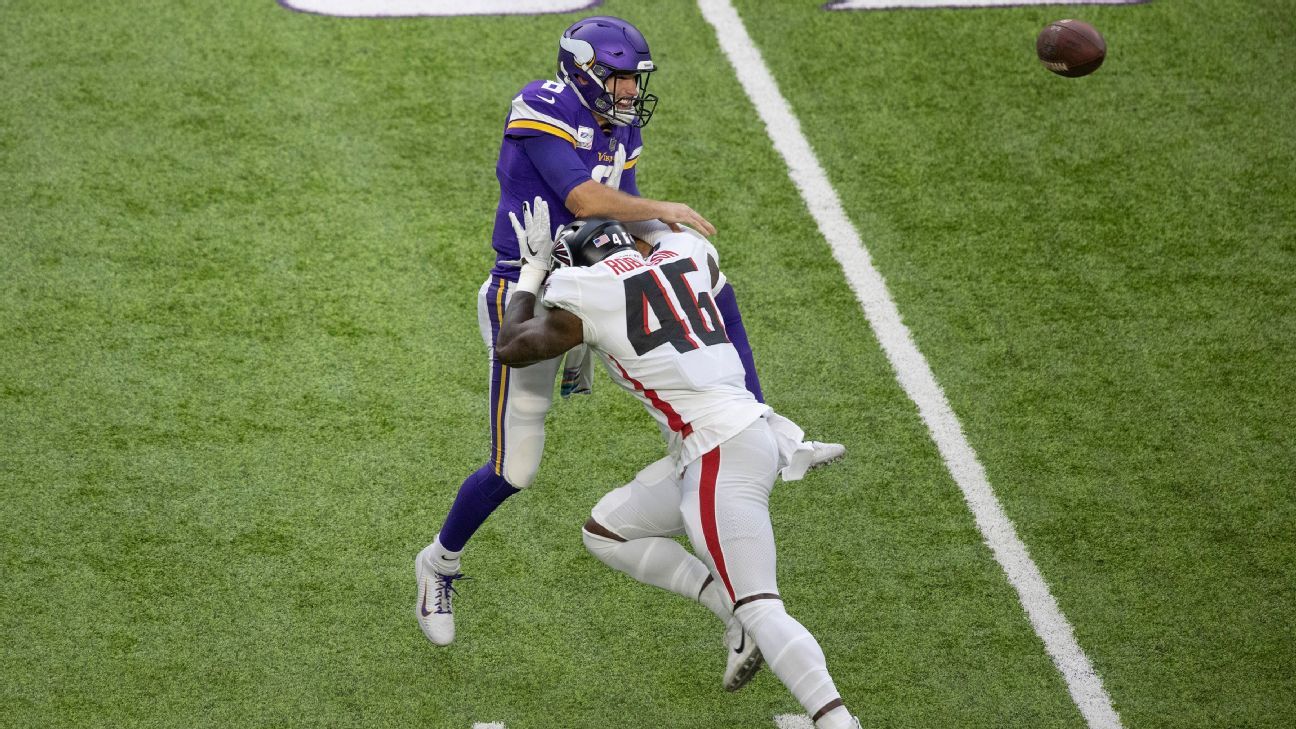 MINNEAPOLIS — Mike Zimmer didn't give much thought to whether he would pull Kirk Cousins amid a first half in which the Minnesota Vikings' quarterback threw three interceptions that resulted in an eventual 40-23 loss to the Atlanta Falcons, replying with a simple "no" when asked if he considered making a change.
But although the head coach dispelled any notion over the QB's job security, Cousins is aware of the consequences that could come if his interception trend picks up following the Vikings' bye week.
"The reality is if the pace I'm on in terms of the interceptions, if that were to continue, I won't finish the season," Cousins said. "I won't — you know what I mean? There's a little bit of, you got to improve. Whether it's them telling me, 'Hey, we gotta improve,' or them pulling me; we got to get better. That's what the rest of the season will be about for me, is trying to protect the football as best I can. Because when you turn the ball over, it really hurts your chances to win. I know that. I just need to improve as we look ahead to the rest of the season."
The three interceptions Cousins threw before halftime Sunday were his most in a first half in his career, according to ESPN Stats & Information. Cousins was given a two-year, $66 million extension in March that keeps him under contract in Minnesota through the 2022 season. In six games, the 32-year-old quarterback leads the NFL with 10 interceptions; he tossed just six in 2019.
"I need to correct it," Cousins said. "I need to finish the season with a different story, regarding the interceptions, so that's something I need to improve with the remaining games we have. I don't know that I'd limit it to the interceptions. I think it's just the entire offensive performance. It's just, I need to be better, we need to be better."
Minnesota won the coin toss and started the game on offense. Cousins threw an interception on the first play of the game on a pass intended for rookie Justin Jefferson. Atlanta linebacker Deion Jones returned the ball to the Vikings' 24-yard line, where the Falcons jumped out to a 7-0 lead after orchestrating a five-play drive that went 29 yards and ended with QB Matt Ryan hitting Julio Jones for a 20-yard touchdown.
From that point, the Vikings never were able to recover and truly test the previously winless Falcons.
"I thought the first one was the worst one, if you will," Cousins said of his three interceptions. "First play of the game, and the coverage was not confusing. It was just a zone drop, and I simply forced the football into coverage, tried to do too much. That's a mistake I may have made in Year 1, but I'm disappointed that I would do that now. The second one, third down, saw Cover 2, felt them squeeze Adam [Thielen], doubled Adam, and wanted to replace the squeeze with throwing it to Justin, and the cloud corner jumped it and made a good play. The third one, was just trying to work the bender to [Chad] Beebe. My arm got hit, and obviously it went up in the air and was intercepted."
Cousins finished the game having completed 24 of 36 passes for 343 yards with three touchdowns and three interceptions.
As the Vikings head into their Week 7 bye with a 1-5 record, the worst start in Minnesota since 2013, the opportunity for introspection and potential changes is on the minds of many within the franchise.
"I think that's something we need to look at here starting tomorrow when we get back in and figure out where we're at, where we plan on going and kind of go from there," Zimmer said.
Jefferson, drafted 22nd overall, reached another career milestone in the loss with his third 100-yard receiving day (166 yards, 2 TDs). The last Vikings rookie to reach that feat was Randy Moss in 1998 (4). Jefferson is also the second player in NFL history with 500 or more receiving yards through his first five career games (537).
Dallas Cowboys mourn strength and conditioning coach Markus Paul amid loss
ARLINGTON, Texas — Dallas Cowboys coach Mike McCarthy did not know Markus Paul long, but he quickly learned Paul's impact went beyond being a strength and conditioning coordinator.
Paul passed away Wednesday evening after being rushed to a local hospital on Tuesday after suffering what the team termed a medical emergency in his weight room office. Less than 24 hours after Paul's death, the Cowboys had to play the Washington Football Team at AT&T Stadium and suffered their second-worst loss of the season, 41-16.
"Markus was a special man," McCarthy said. "He was definitely someone, when I think of him, obviously had a lot of success in his professional life, but if you really look at the mark of a man, it's more about significance than success. I can't tell you the impact he's made on our football team, really the whole organization. I obviously only worked with Markus since January, but it was clearly evident through these last 48 hours, 72 hours, what he means to everybody.
"The team meeting (Wednesday) night was powerful and obviously we're going to miss him. It's unfortunate for his family, but we had the opportunity to celebrate him last night as a team and we'll definitely continue to do that. His memory and impact has touched a lot of people and will always live with us."
Linebacker Jaylon Smith said Wednesday's meeting at the Omni Hotel in Frisco, Texas, was emotional and celebratory and helped players work through their emotions.
"Just to get the opportunity to celebrate his life, his impact, everything he instilled in each individual that he touched," Smith said. "Five-time Super Bowl champ, successful player, coach and strength coach. Just a great mentor and a servant leader. I learned a lot from him in his time here and a lot of people got to share their stories on how he touched the individual."
Players wore decals with the letters "MP," on their helmets. Coaches had the decals on their hats or shirts. After finishing their pregame warmup, players, coaches and staff took a knee in prayer to remember Paul before heading to the locker room. Before the game started, there was a moment of silence and remembrance for Paul.
Paul, who joined the Cowboys in 2018, won five Super Bowl rings with the New England Patriots and New York Giants and has been an NFL assistant since 1989 with the New Orleans Saints. He also had a two-year stint with the New York Jets before spending 11 seasons with the Giants.
He was a safety for the Chicago Bears and Tampa Bay Buccaneers from 1989-93, starting 15 of 71 games after an All-American career at Syracuse. In Chicago, he was a teammate of Washington coach Ron Rivera.
Amari Cooper called Tuesday a "surreal day." When he arrived at The Star, he headed to the weight room to pick up a cherry drink and beet juice when he saw players standing around.
"It just didn't look like what every other day looks like," he said. "They were all just standing there with certain looks on their faces. I was like, 'What's going on?' and then someone told me."
Tuesday's practice was cancelled after Paul was rushed to the hospital after being treated by Cowboys' medical personnel. On Wednesday, the Cowboys went through a 75-minute workout but his loss was felt almost immediately.
"Every day he was the one leading stretch so we're lining up for practice to get ready to stretch and you get that reminder that he's not here with us anymore," Ezekiel Elliott said. "It definitely was tough. We just got to lean on each other and help each other get through this tough time."
McCarthy and the players did not use the loss of Paul as an excuse for their loss to Washington.
"A lot of heavy hearts," McCarthy said. "But I can't say enough about our football team, about our players, the way they came out and started the game. We had a number of adverse things during the game and we just didn't get it going to where we wanted to get it going in the second half. In times like this, you find out a lot about people. I can't tell you how proud I am of our football team. It's been a week I don't think any of us will forget."
Source– Baltimore Ravens QB Lamar Jackson tests positive for COVID-19
Baltimore Ravens quarterback Lamar Jackson tested positive for COVID-19 on Thursday, a source confirmed to ESPN.
The reigning NFL MVP is the biggest star player to become infected in what has become one of the biggest outbreaks in the NFL.
Jackson is among the four latest Ravens players and one staff member to test positive Thursday, a source told ESPN's Adam Schefter. The Ravens now have had at least a dozen players test positive for the coronavirus this week.
This latest round of positive tests could threaten Sunday's game between the Ravens and the undefeated Pittsburgh Steelers, which was already postponed from Thursday night. Ravens coach John Harbaugh told players that they would not be allowed back to the team facility until Monday at the earliest in the interest of safety, a source said.
With Jackson testing positive, Baltimore is down to two quarterbacks: backup Robert Griffin III and practice squad player Tyler Huntley. No. 3 quarterback Trace McSorley is currently on the reserve/COVID-19 list.
News of Jackson's positive test was first reported by NFL Network.
Washington vs. Cowboys – Game Summary – November 26, 2020
first Quarter
WSH
DAL
FG
8:33
Greg Zuerlein Made 33 Yrd Field Goal
11 plays, 57 yards, 4:38
0
3
TD
1:37
Antonio Gibson 5 Yard Rush, D.Hopkins extra point is GOOD, Center-N.Sundberg, Holder-T.Way.
12 plays, 75 yards, 6:53
7
3
second Quarter
WSH
DAL
TD
14:16
Amari Cooper Pass From Andy Dalton for 54 Yrds Greg Zuerlein Made Ex. Pt
5 plays, 75 yards, 2:29
7
10
FG
7:16
Dustin Hopkins Made 23 Yrd Field Goal
14 plays, 67 yards, 6:55
10
10
TD
2:30
Logan Thomas Pass From Alex Smith for 5 Yrds Dustin Hopkins Made Ex. Pt
5 plays, 19 yards, 2:51
17
10
FG
0:23
Greg Zuerlein Made 32 Yrd Field Goal
10 plays, 61 yards, 2:07
17
13
third Quarter
WSH
DAL
FG
10:51
Dustin Hopkins Made 36 Yrd Field Goal
6 plays, 15 yards, 3:29
20
13
FG
2:35
Greg Zuerlein Made 28 Yrd Field Goal
4 plays, -6 yards, 1:38
20
16
fourth Quarter
WSH
DAL
TD
12:07
Antonio Gibson 23 Yard Rush, D.Hopkins extra point is GOOD, Center-N.Sundberg, Holder-T.Way.
1 play, 23 yards, 0:06
27
16